Chocolate Bliss Cake, this cake will cure any chocolate craving!
Oh yes, make sure you take a good look at all that chocolate heaven almost dripping off the plate.
I was so excited when Tina announced what this month's challenge would be for the Crazy Cooking Challenge!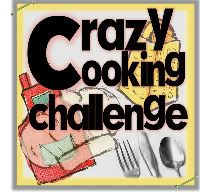 Chocolate Cake!
And all I had to do was find a recipe from someone else's blog, bake, and then write about it. I had scoped out a few possibilities then Affair from the Heart posted this. Chocolate Bliss Cake. But it's not just the cake, it was also raspberry sauce and devonshire cream. When Michaela makes something you get the whole experience!
I gathered up my ingredients and headed into the kitchen.
Chocolate Bliss Cake
adapted Affair from the Heart
Chocolate Bliss Cake
Ingredients
1 package chocolate cake mix
1 package instant chocolate pudding mix (4 serving size)
1 cup sour cream
4 eggs
1/2 cup oil
1/2 cup water
for the Ganache
3 cups thawed Cool Whip
1 cup semi sweet chocolate chips
For the Devonshire Cream
1 cup heavy whipping cream
3-6 tablespoons powdered sugar
1 teaspoon vanilla
1 cup sour cream
Instructions
Preheat oven to 350 degrees, spray bundt pan with cooking spray. Combine cake mix, pudding, sour cream, oil, water and eggs with mixer till combined. Beat for an additional 2 minutes on medium speed.
Pour batter into prepared bundt pan
Bake for 50-60 minutes, until a toothpick comes out clean. Remove from oven and let cool for 10 minutes before flipping onto a plate.
Let cake cool completely.
For the chocolate topping. Microwave Cool Whip and chocolate chips in microwave safe bowl on high for 1-2 minutes until melted and creamy, blend well with spatula.
Pour Ganache pour over cake.
For the Devonshire Cream
Whip cream, sugar and vanilla till thick, then fold in sour cream.
Slice and serve cake with a dollop of Devonshire cream and a few Raspberries, or serve the cream and raspberries on the side.
Hubby loved the Devonshire Cream but the kids and I preferred the sweeter whipped cream.
This cake didn't last long in our house.
Chocolate, Raspberry and Whipped Cream, how could you go wrong with this combination?
Perfection!
Need more chocolate?
Chocolate Applesauce Bundt Cake
Chocolate Kahlua Coffee Pound Cake