Dense chocolate cake moistened with rum syrup, mini chocolate rum cake goes great with coffee. Make them in mini bundt pans for individual servings – you'll need portion control.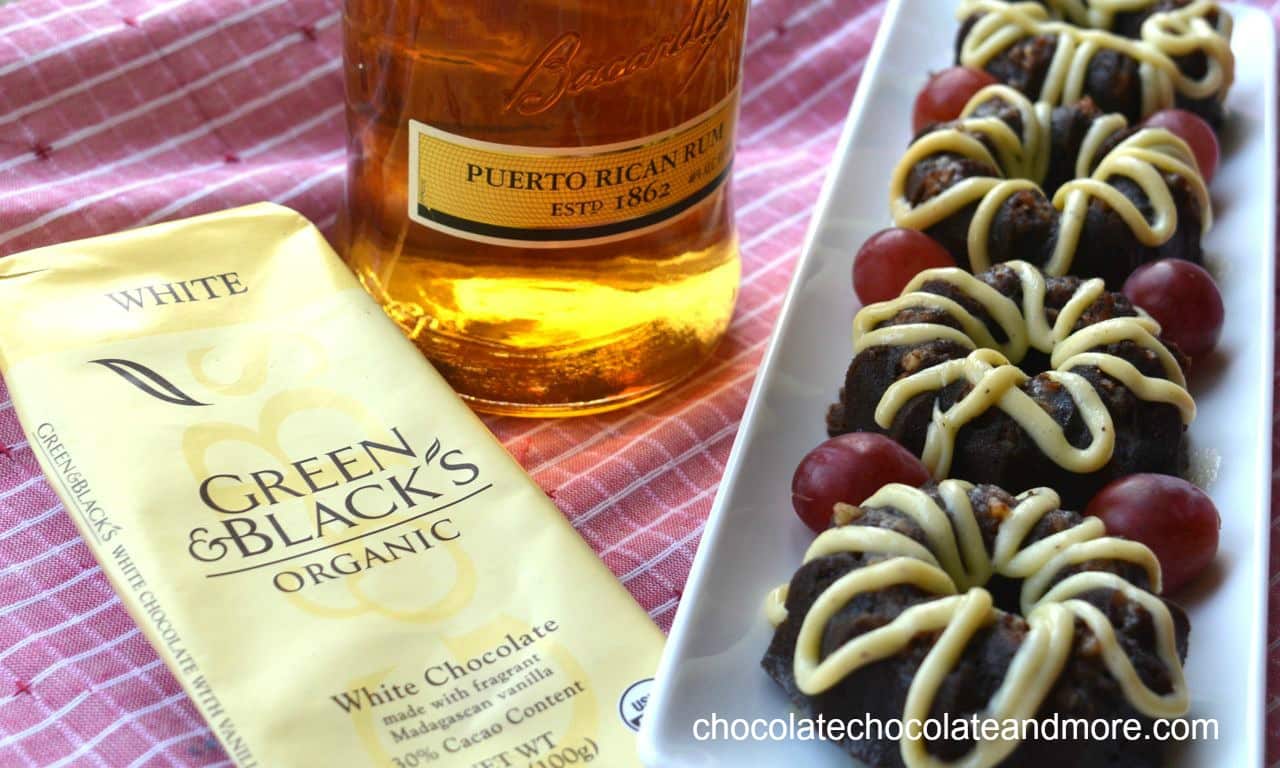 When I was a kid, my best friend was Italian and her family was ALWAYS cooking. If you've seen the movie My Big Fat Greek Wedding, it was a lot like that. Plastic on the furniture, wonderful aromas wafting through the house, loud, gregarious people hugging and kissing you, and food, glorious food! It was a good thing I had a high metabolism because there were days that just walking into their house would probably add 10 pounds to your weight.
One of the dishes they always made at Christmas time was Bacardi Rum Cake. If you've never had one, you should try it. Dense, buttery cake topped with pecans and soaked in a butter rum sauce.
The recipe tells you to add the rum to the hot sauce which cooks off the alcohol. My friend's family always let the sauce cool a little so the rum didn't cook off. It gave the cake a little extra holiday cheer. Either way, rum cake is one of my favorites. The recipe was simple. Just add pudding and rum to yellow cake mix. Pour on top of chopped pecans in a bundt pan and bake. Then drizzle with rum sauce.
This Christmas I thought I'd make one but discovered that cake mixes come in smaller boxes so my recipe proportions were out of whack. I went searching for a from-scratch recipe and came across this Rum Cake recipe from King Arthur Flour. It came out perfectly so I'll definitely be making it in future years. I left out the rum flavoring and replaced their pecan flour with 1/2 cup chopped pecans to give more pecan flavor to the cake.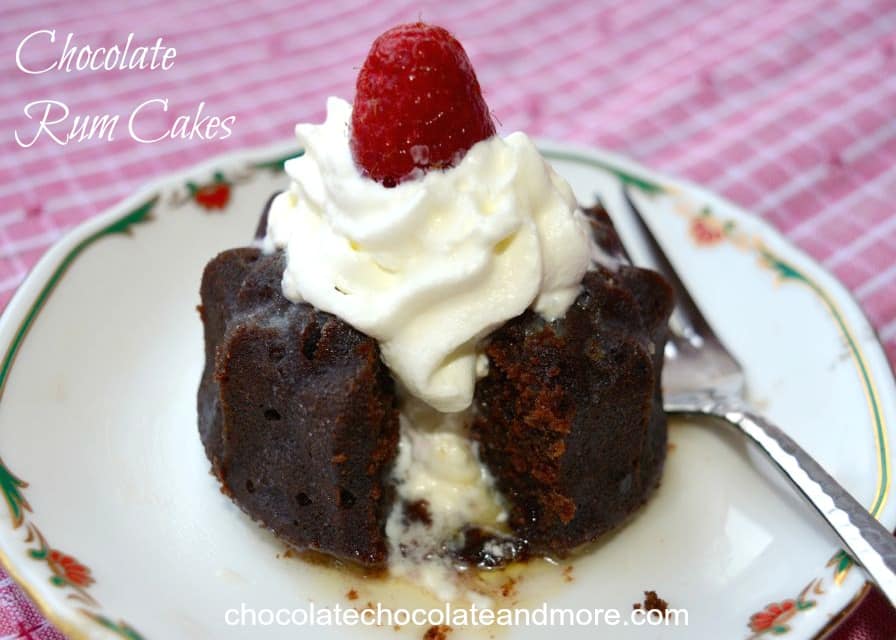 When I was thinking about how I could modify a rum cake for this blog, I was reminded of a trip to St. Thomas that Joan organized for Christmas one year.
We'd always celebrated Christmas at my grandparents' house in Pennsylvania. It was a huge house that was originally built in the 1700's so there were "secret" winding staircases hidden behind wooden paneling and lots of great places to play hide and seek.
My grandparents had passed away and it was our first Christmas without them so Joan decided we needed to do something really different – a holiday in St. Thomas. We pooled our funds and bought plane tickets for ourselves and our mom and somehow even came up with funds for a hotel. It was so relaxing and the food was wonderful.
The rum balls our hotel made were rich, dark chocolate with enough rum to knock your socks off. They were so potent one was quite enough. I thought I could tone those down by making them in cake form so I adapted the King Arthur recipe to be a chocolate cake base with rum soaking syrup. This chocolate rum cake has a great balance between rum and chocolate flavors.
If you want non-alcoholic chocolate rum cakes, just add the rum to the hot soaking syrup. If you want the adult version, wait until the syrup cools and then add the rum. Either way, the rum flavor is not overpowering.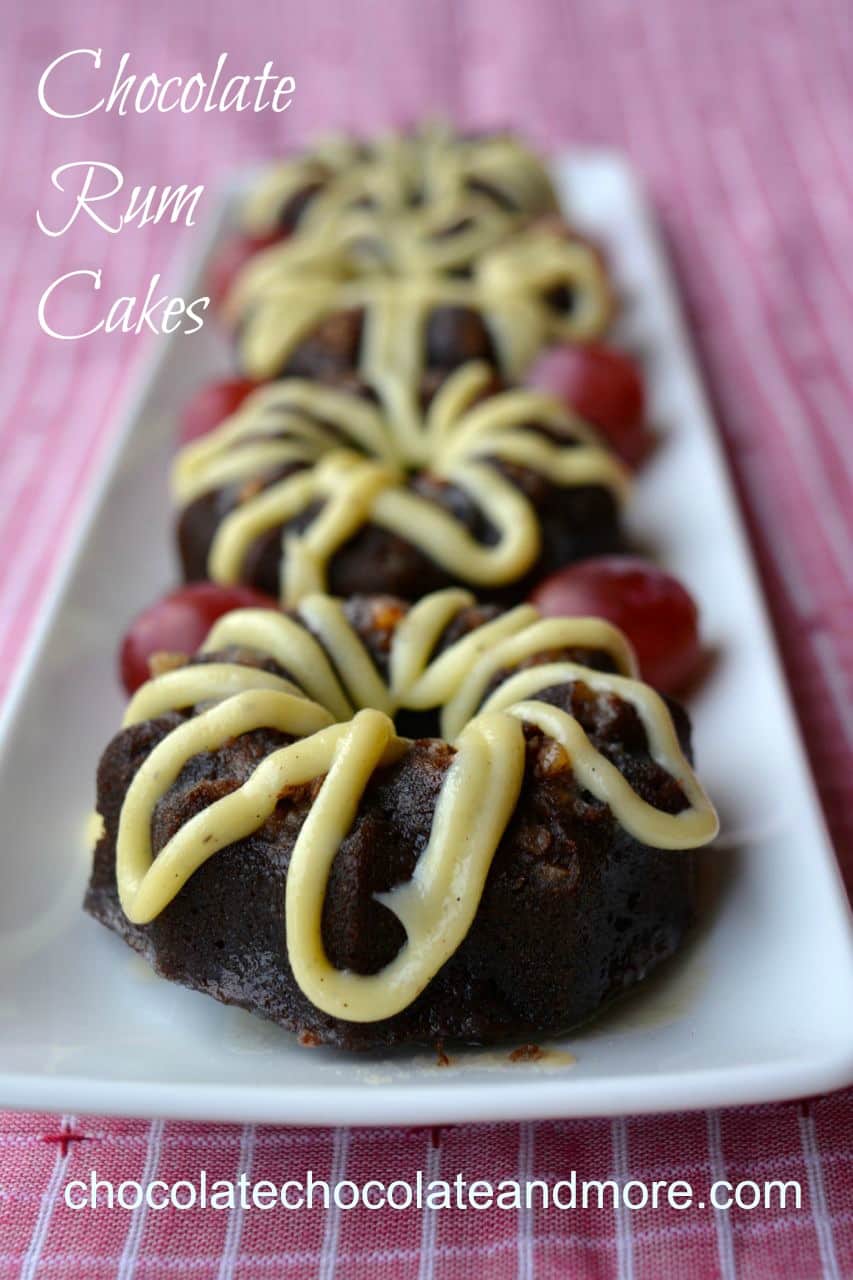 I sometimes feel like living in Cambodia is like living on a remote island. Things we take for granted at home are either very expensive or just not available here.
I didn't bring a bundt pan with me and they don't sell them here so I used a springform pan form my rum cake at Christmas. It worked OK but I had to put extra batter in a small pan so the slices weren't quite as tall.
A friend of mine was coming over from the States so I asked him to bring a few things. I wasn't sure how much weight he would be willing to carry or how much space he'd have so I decided to order this mini bundt pan:
Freshware SL-119RD 6-Cavity Silicone Fancy Bundt Cake, Muffin, Cupcake, Brownie and Cornbread Mold
When silicone bakeware first came out, I bought a cake pan and muffin pan. I tried making muffins in the muffin pan and wasn't too happy with the results. The muffins always stuck to the pan so I had to use liners anyway. Silicone also lacks structure so I needed a cookie sheet under it to get it in and out of the oven. Based on my not so great experience with the muffin pan, I don't think I ever even bothered with the cake pan. It's just sitting in my cupboards at home gathering dust.
The Amazon reviews for this mini bundt pan said to let the cakes cool until they were lukewarm before removing and they would come out fine. I followed their advice, brushed the molds with cooking oil, and waited until the cakes were lukewarm before removing. My chocolate rum cakes came out without sticking at all. I'm loving this pan!
I did find I had to fill each cake a little more full than I would have expected (about 4/5 full) but they cook up quickly and the individual cakes are so fun to serve. If you don't have a mini bundt pan, you can use a muffin pan but it will probably take a little longer to cook.
This recipe makes 6-8 mini chocolate rum cakes. If you want a large cake, double the recipe and bake for about 50 minutes.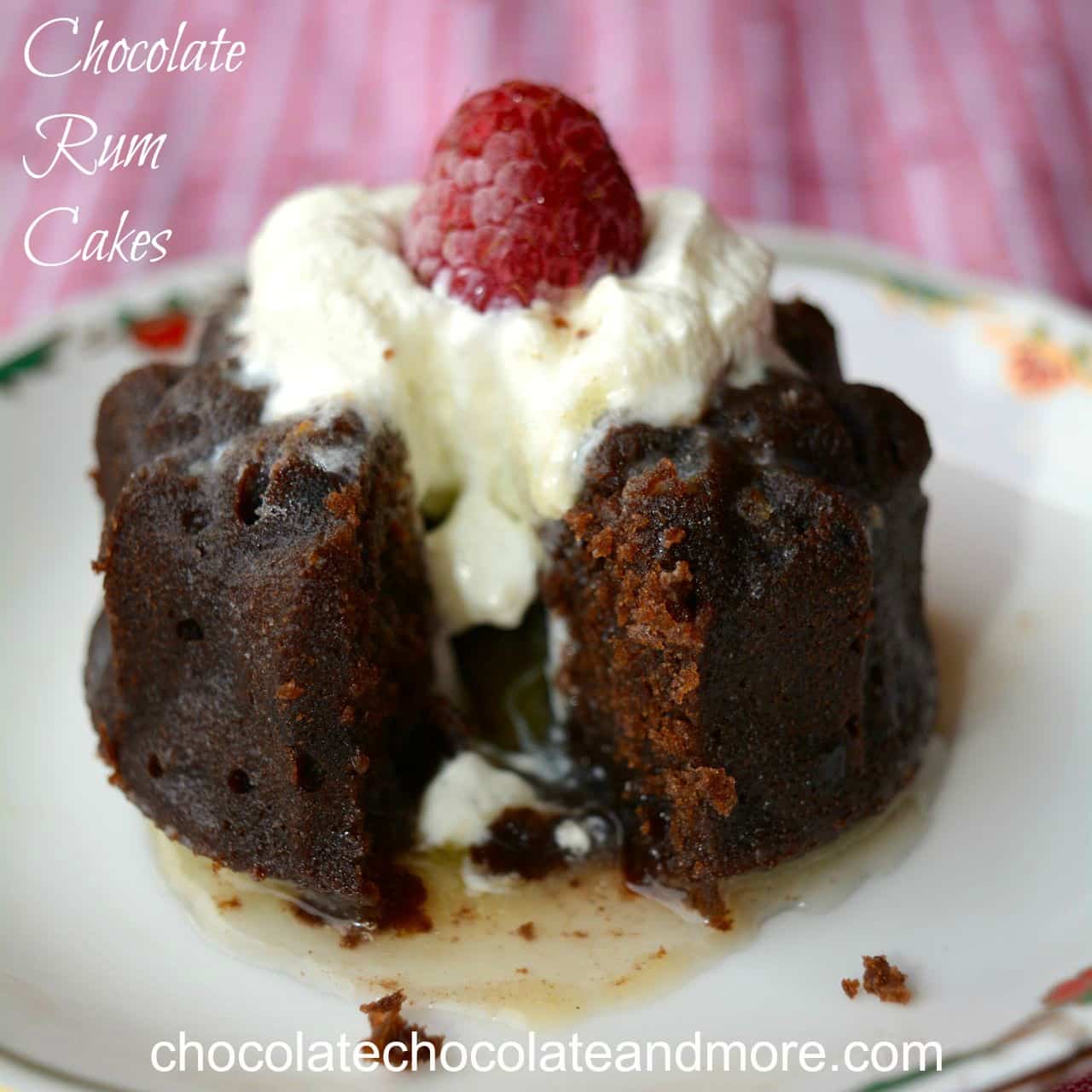 Yield: 6 mini bundt cakes
Chocolate Rum Cake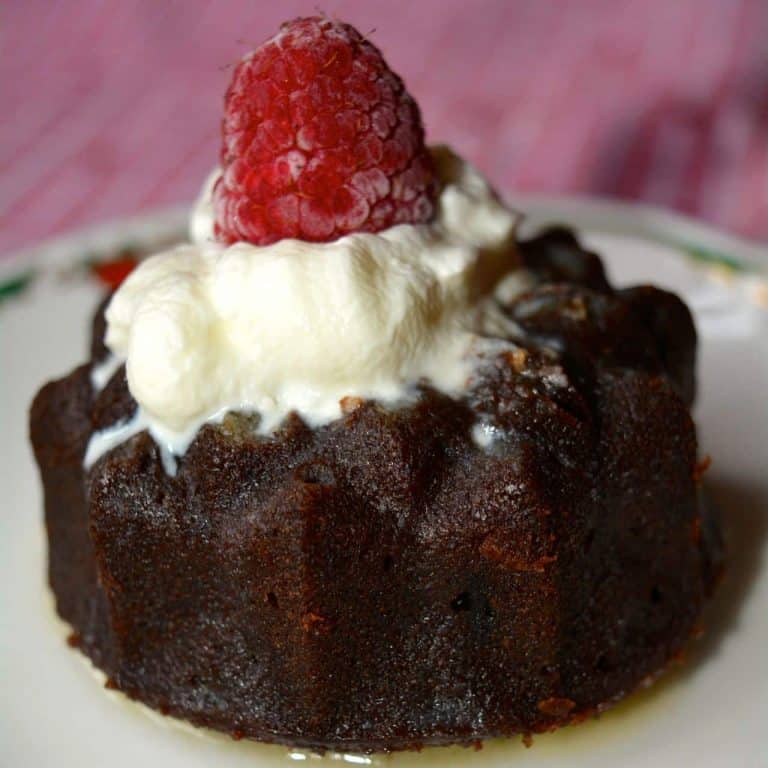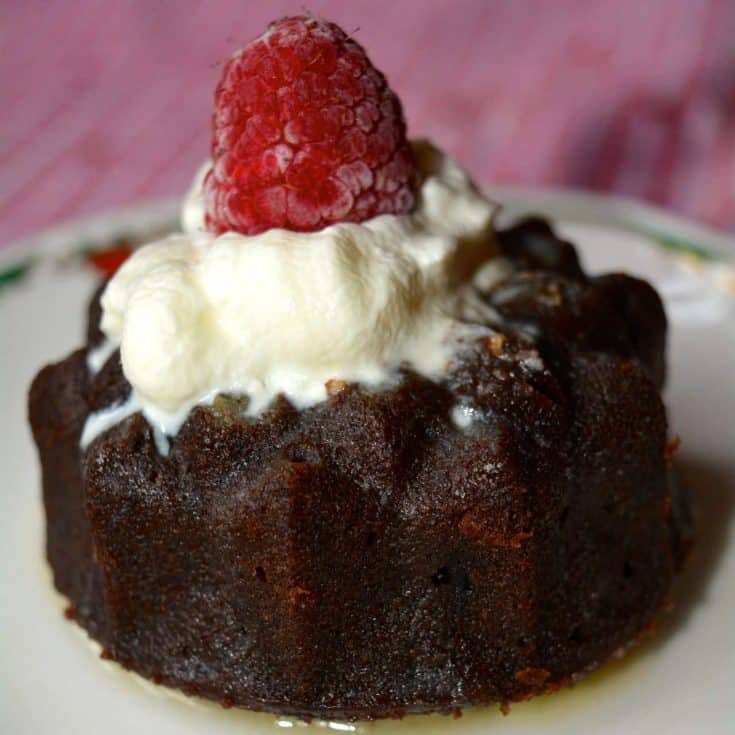 Ingredients
For the cake
¾ cup flour
¾ cup light brown sugar (loosely packed)
¼ cup unsalted butter, softened
¼ cup cocoa
¼ cup vanilla pudding mix (or vanilla custard mix)
1 teaspoon baking powder
½ teaspoon salt
¼ cup vegetable oil
¼ cup milk
¼ cup dark rum
2 eggs
1 teaspoon vanilla
¼ cup mini chocolate chips
¼ cup finely chopped pecans
Rum soaking syrup
¼ cup unsalted butter
2 Tablespoons water
½ cup sugar
¼ cup dark rum
¼ teaspoon vanilla
White Chocolate Ganache (optional)
1.75 ounces (50 grams) white chocolate, melted
2 teaspoons whole milk
Instructions
Preheat oven to 325° F. Lightly brush your mini bundt pans with cooking oil and put a few teaspoons of chopped pecans in the bottoms.
Cakes
Cream together butter and sugar. Add the rest of the ingredients except chocolate chips and blend for 2 minutes on medium speed.
Fold in chocolate chips.
Fill mini bundts 4/5 full and bake for 10 -15 minutes or until toothpick comes out clean.
Cool until lukewarm before removing the cakes from the pan (about 5 minutes). Cool completely
Use a skewer, cake tester or dry spaghetti noodle to poke holes in the cakes.
Slowly drizzle rum soaking syrup over the cakes a few teaspoons at a time so that the syrup soaks in. Cover with saran wrap and let sit overnight.
To garnish, top with whipped cream and raspberries or drizzle top with white chocolate ganache.
Rum Soaking Syrup
In a small saucepan combine the butter, water and sugar. Bring it to a boil and then cook for about 5 minutes until the syrup thickens slightly. Remove from heat and let cool until lukewarm. Add rum and vanilla.
White Chocolate Ganache
Break chocolate bar into pieces. Put in a small bowl with milk. Gently melt chocolate by sitting smaller bowl in a larger one containing boiling hot water (a pie pan works well for this). Stir together until smooth.
Notes
If you don't have mini bundt pans, you can use a muffin pan. You will probably need to cook for 20-25 minutes.
To make a large bundt cake, double the recipe and bake for 50-55 minutes.