Homemade Peanut Butter Granola-eat it for breakfast or as a snack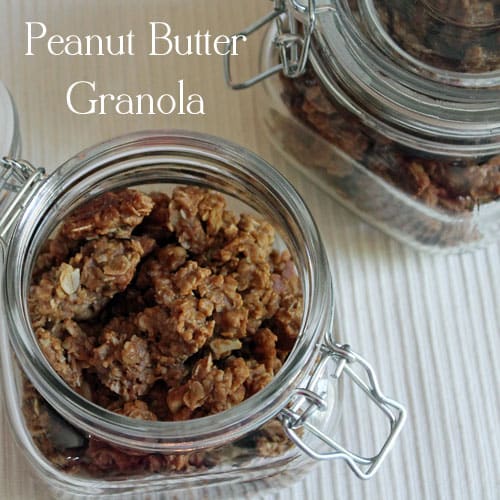 Who knew how easy granola was to make? I didn't.
We've been trying to find healthier snacks for the kids to take with them to school and for after school. For my youngest, it's no problem, throw some fruit at her and she's in heaven. A bunch of grapes don't stand a chance around her. And she's not embarrassed to carry a cute lunch bag to school. For the other two, it gets a bit more challenging. My son is in high school. It's not cool to carry that cute lunch bag around. He is willing to take his lunch, mainly because in an effort to be more healthy, along with budget cuts, school lunches just suck.They don't even provide salt or pepper. So we have to get a little creative in what he takes. It has to be able to survive his backpack.
My middle child, in Middle School, is my picky eater. Fruit, no way. Vegetables, good luck trying that. This girl could live on cheese alone. I used to love granola as a kid. Just a little sweet, grab a handful and keep going.
Wanting to try my hand at making granola I found a recipe. It was terrible. But I knew I could work with it.
I can't tell you how easy it is to make granola, well yes I can, and I will. But you're going to have to head over to Chef Dennis to see. I was thrilled when he asked me to guest post for him. Men are so underestimated in the kitchen arts but let me tell you, any man that wants to cook and bake can and they can do it well. I have a good friend who is a chef and everything he makes seems so effortless. And delicious! My hubby still brings up the pizza we had 15 years ago, every time we talk about this friend.  So while you're visiting Dennis be sure to also check out his Chocolate Mousse Cake, Italian Strawberry Cake with Cream and Seven Cheese Pizza Roll Ups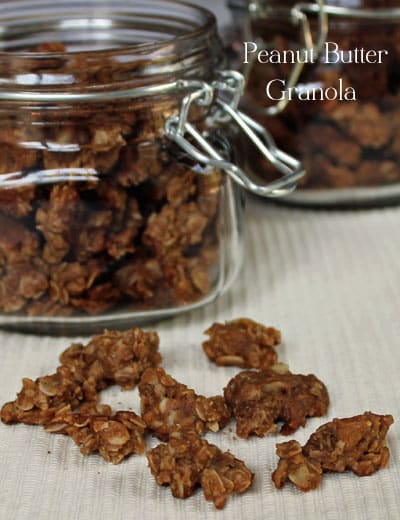 Added the recipe 12/29/2012

Homemade Peanut Butter Granola
Ingredients
1/4 cup creamy peanut butter
1/4 cup honey
1/4 teaspoon cinnamon
1/2 teaspoon vanilla
1 cup old fashioned oats
1/2 cup chopped pecans or other nuts (optional)
Instructions
Preheat oven to 325 degrees. Lightly spray a cookie sheet with cooking spray and set aside.
Combine peanut butter and honey in a medium bowl and microwave about 20 seconds, until peanut butter melts. Stir to combine.
Add in cinnamon and vanilla, stir again. Add oats and pecans and stir till oats are completely coated with peanut butter mixture.
Spread out on prepared cookie sheet. Bake for 10-15 minutes until granola starts to brown.
Remove from oven and let cool completely. Store in airtight container.
http://chocolatechocolateandmore.com/2012/11/homemade-granola/
Copyright Chocolate Chocolate and More
Peanut Butter Granola
I'm sharing at some of these great parties.
want more snack ideas?