Grandma's Sugar Cookies-a Christmas Tradition.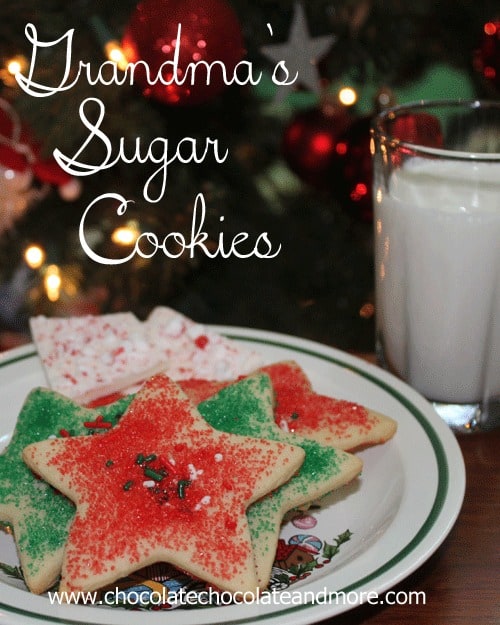 This recipe is a special one. It's just a simple sugar cookie, made with lots of love. What makes it special is it come's from a book Grandma's Christmas Cookies. It's a sweet book reminding us the true reason for the season. We've had our copy for 11 years now. It was given to my son in 4K by his teacher. Best gift ever from a teacher. My son was reading already. That first year we sat together, he read me the story and then we made cookies together. Every time I see this cookbook, tucked away in the back, up above the stove, I'm reminded of that first time. Of a sweet little boy (who's now bigger than me) sitting on the sofa, in front of the Christmas tree, reading the story to me.
Sadly the book appears to be out of print, the prices I found online for this book were outrageous, I'm talking over $50, so if you ever see it at a used book sale or a yard sale, grab it up.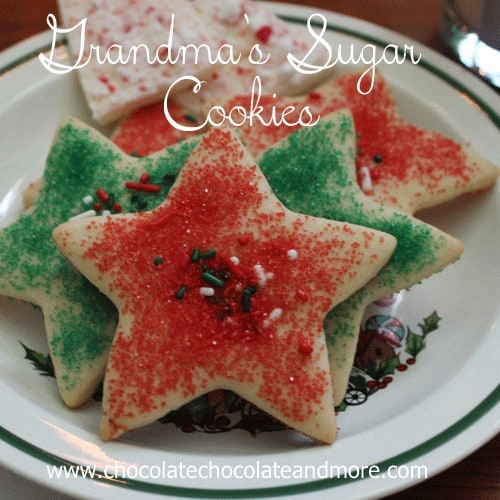 We don't make these every year. We should. The cookies are easy to make, of course any cookie made with kids will have lots of sprinkles and I know Santa loves finding them under the tree each time.
Now I'm the Grandma and I can't wait to read it this year and make these cookies with my grandbabies.
Connect with Chocolate Chocolate and More!
Save your favorite recipes to your personal recipe box with the 

 button on all my recipes! Create a Meal Plan with your "favorite" recipes and the ingredients will automatically be added to your own Grocery List!
Grandma's Sugar Cookies
from Grandma's Christmas Cookies
Be sure to place at least 4-5 cookies out for Santa with a glass of ice cold milk or eggnog.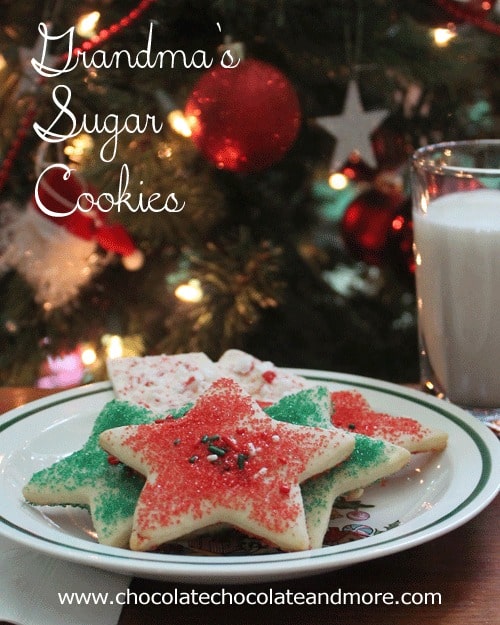 Looking for more great cookie ideas? Check these out from the 1st Annual Blogging Buddies Virtual Cookie Exchange
Need more Cookie Inspiration?