Eggnog Fudge-Smooth and creamy. A subtle eggnog flavor but not overwhelming, the perfect Christmas Fudge.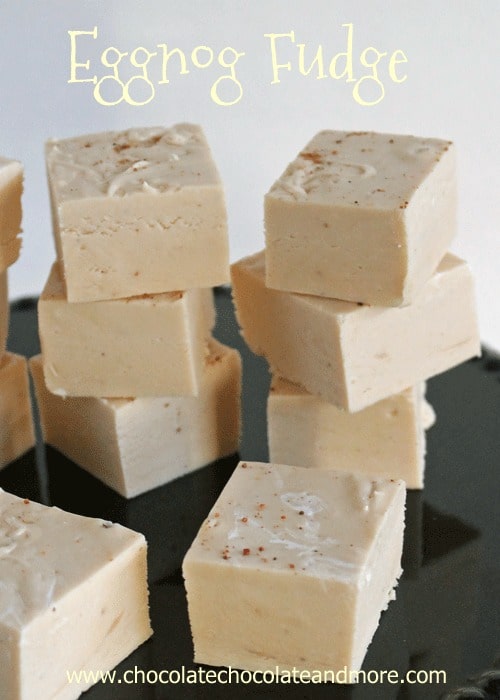 I adore Eggnog. Creamy, thick, that eggy, sweet flavor. I just can't get enough of it. As soon as I see it on the shelves, I start stocking up. I have no idea why grocery stores and really, dairies, torture me all year long. Only selling it for about 4 weeks out of the year. Usually it shows up the week before Thanksgiving, and then about the second week of December is the last shipment shipped to stores.
And 2 of the kids love it as much as I do. I have to fight for every drop. Is it wrong of me to say I'm glad the hubby and the picky eater don't like it? And why can't you buy it by the gallon? My local grocery store only sells quarts. Common, really? I can't walk into the house with just a few quarts of this heavenly nectar. I'f I go to the "big" store I can get a half gallon. I'm still buying 3 at a time.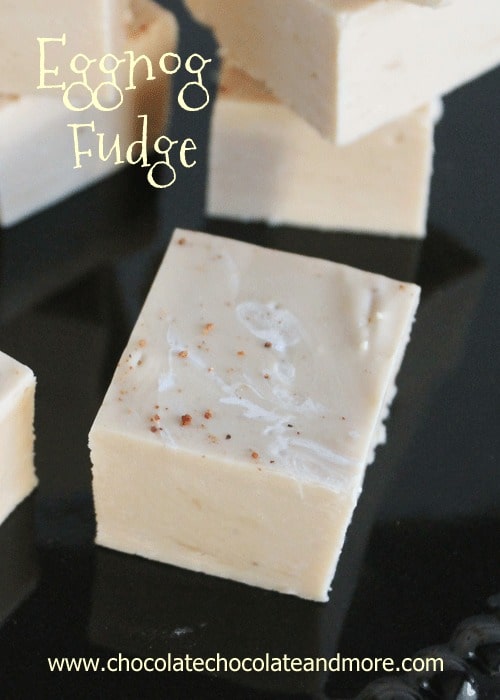 Don't think this is a lot. Remember, it's only half gallon jugs. When I buy milk, I buy 3 GALLONS at a time. If we have fresh, still warm out of the oven cookies, you can see close to a gallon disappear at that one sitting. There are 5 of us after all.
And I know I can make my own eggnog but I haven't found a recipe I like yet.
So, since it's eggnog season, and I can get my hands on it for the next few weeks, I'm taking full advantage.
I've got a few treats you can make with eggnog and I'll share them all but I wanted to start with this fudge.
Smooth and creamy. A subtle eggnog flavor but not overwhelming. My picky eater loved it.
Crap, now she likes eggnog too.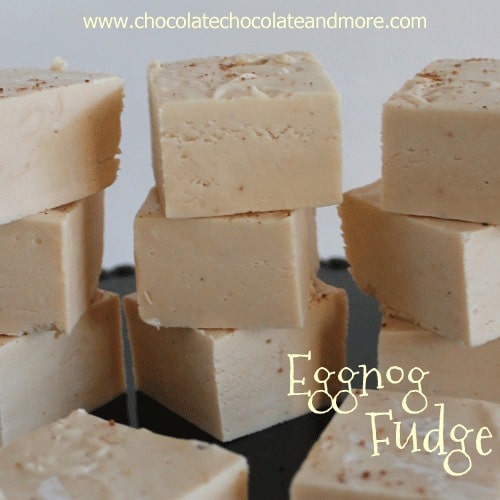 Connect with Chocolate Chocolate and More!
Eggnog Fudge
adapted from Taste of Home and Not So Humble Pie
Eggnog Fudge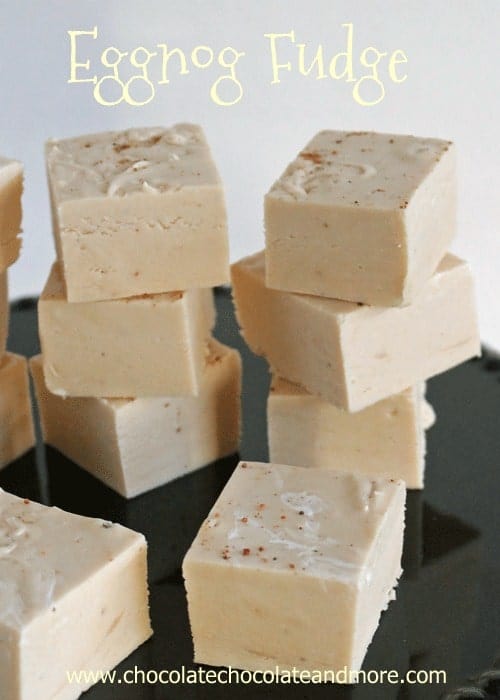 Ingredients
1/2 cup butter
2 tablespoons heavy whipping cream
3/4 cup eggnog minus 2 tablespoons
2 cups sugar
10-12 ounces chopped white chocolate (chips are fine)
1 jar Marshmallow Creme (7 ounces)
1 /2 teaspoon nutmeg
2 teaspoons vanilla extract
Instructions
Line a 9 x 9 pan ( 8 x 8 works too) with foil, then butter foil well. Set aside.
Combine butter, eggnog, cream and sugar in a heavy medium saucepan. Bring to a boil over medium heat stirring occasionally Once boiling, reduce heat a bit and using a candy thermometer, continue cooking until temperature reaches 234 degrees (soft ball stage) remove from heat, stir in white chocolate. Continue stirring until chocolate is completely melted and blended in. Add in Marshmallow, nutmeg and vanilla. Stir till smooth. Spread into prepared pan.
Garnish with a bit more nutmeg if desired. Let cool at room temperature completely before removing from pan and cutting into squares. Store at room temperature for up 2 a week or in refrigerator for up to 3 weeks.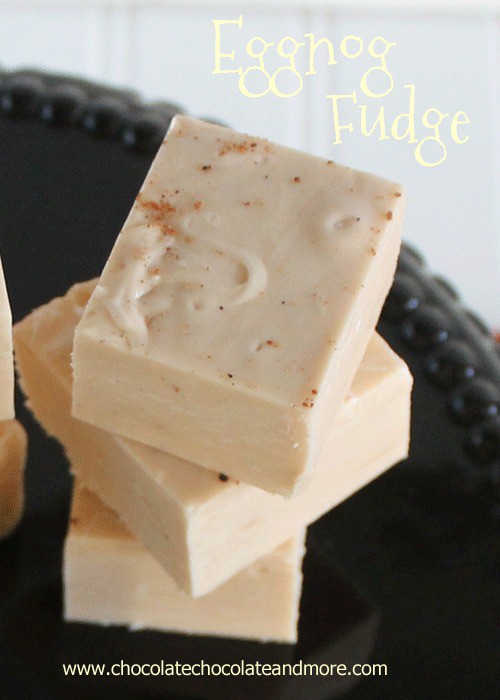 Want more Fudge?