Cake Mix Cookies-so yummy, who cares if it started with a box mix!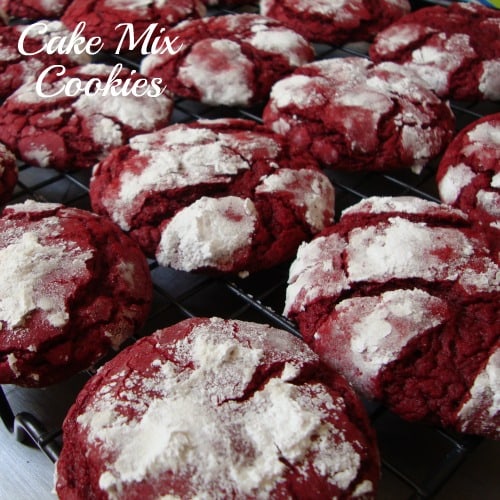 OK, don't hate me. I know how some of you feel about cake mixes. And I usually like to make everything from scratch. But I do always keep a few cake mixes on hand for emergencies. You know the ones, the kids or the hubby comes home and says "hey, can you make something up for me for tomorrow morning?" And it's already 8:00 pm? I'm tired. Give me some notice and I'll be creative. Once the dinner dishes are done though, the kitchen's closed. So I have cake mix in my pantry.
I never would have thought to try these if it wasn't for the Novice Chef posting these Red Velvet Crinkle Cookies. They look so pretty and so festive. And they were made with Red Velvet cake mix. One of the cake mixes in my cabinet is/was Red Velvet. I don't care for Red Velvet but there was a great sale at the store, and Mom, being kind, just grabbed me an assortment of mixes and restocked my pantry. Can't complain about that, now can I. So of Course when I saw Jessica's cookies, I knew what I was going to do.
And Grace is still selling cookies every week to raise money for her DC trip.
Cake Mix Cookies
Makes 2 dozen cookies
Play around with your cake mixes.
We made some with Red Velvet
Some with Funfetti
and we even took a plain old yellow cake mix and added in some mini chocolate chips (about 3/4 cup)
These cookies were a huge hit! Fast to make, and since it's a cake mix, your possibilities are endless for the flavors. How about a spiced cake mix with some nuts thrown in?
I'm linking up at some of these great parties.
Want some more cake mix recipes?