Sweet and Salty Crackers-a great way to use up leftover crackers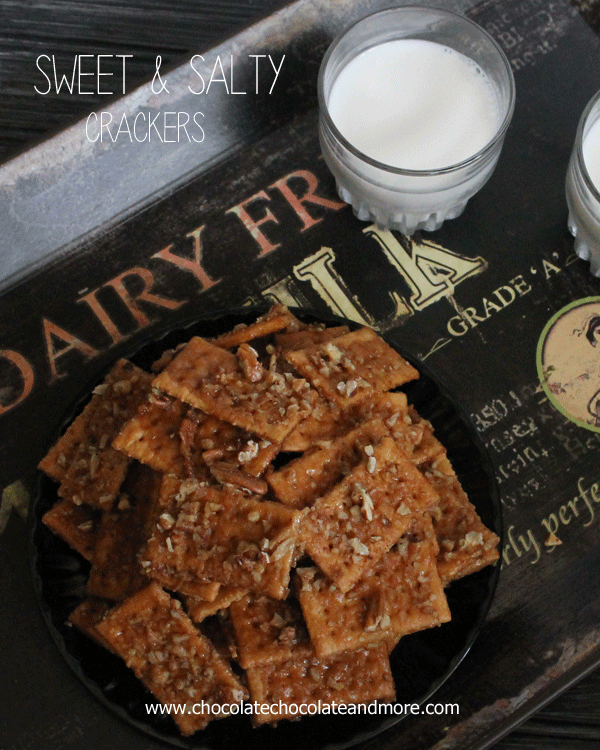 We're snackers in my house. We love to forage through the kitchen for something to snack on. We tend to go for the easy snacks. I can have a block of Cheddar Cheese in the fridge and it will sit there for weeks…until I slice it. Then it magically disappears. In less than a day. I promise you, everyone in this house know how to use a knife, they're just to lazy to do it.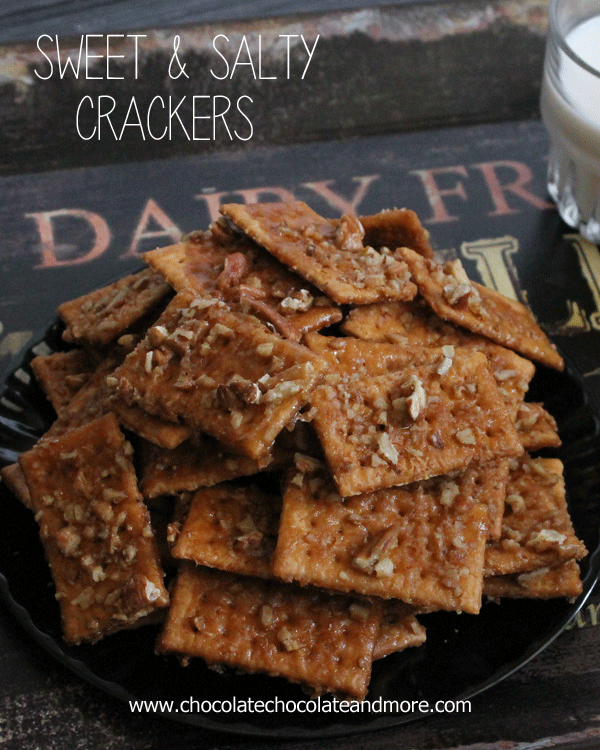 Seriously, my kids would rather eat Ramen soup than a cold cut sandwich. Not because they like it better but because it's easier for them, less work. You see, raman soup requires a bowl and some water.  Put it in the microwave for a few minutes and done. They don't even break it up.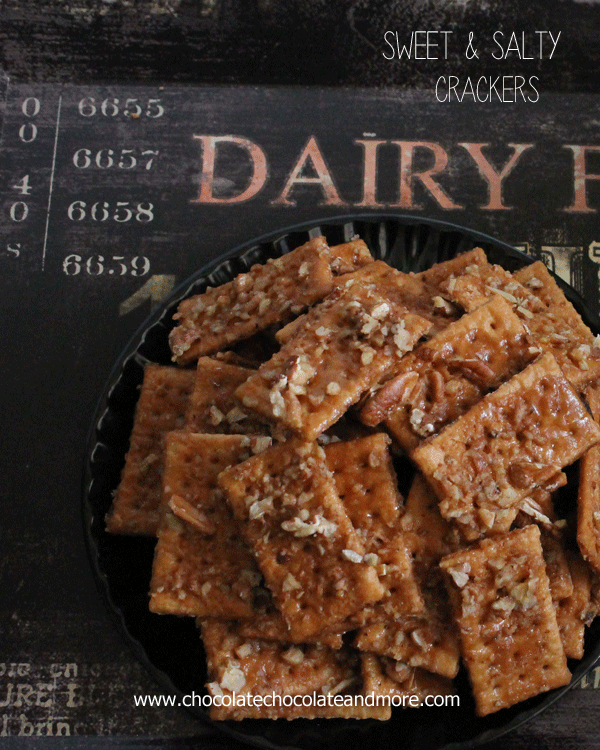 Now for a sandwich. You need a plate. Then 2 slices of bread. Then you have to open the refrigerator and get out the cold cuts and cheese. Oh, and either mayonnaise or mustard. I'm getting tired just writing this labor intensive chore.
Let me rest a minute.
Ok, back to making a sandwich. You'll need a knife to spread the mayo/mustard, add the meat and cheese to the sandwich.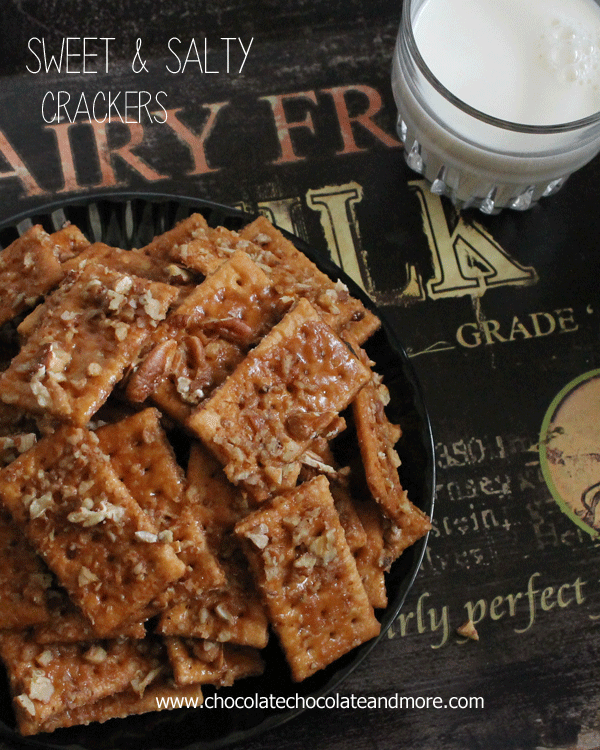 Now that could be it, but….you still have to put everything away. And we didn't even touch on adding extras like lettuce.
So, yeah, snacks need to be easy.
These Crackers are the perfect balance of sweet and salty and the pecans on top give just the right nuttiness (wow, I thought that was going to be my new made up word but spell check let it go!)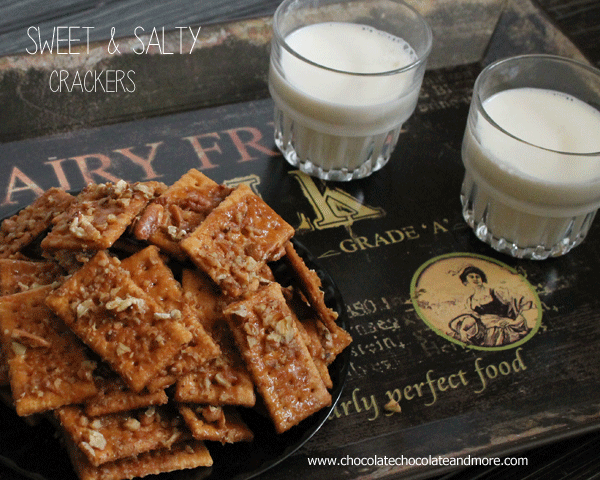 Sweet and Salty Crackers
Ingredients
1 sleeve of crackers (your choice, I use Club Crackers)
1/2 stick of butter (1/4 cup)
1/4 cup brown sugar
1/2 teaspoon cinnamon
1/4 cup chopped nuts
Instructions
Line a sided baking sheet with foil. Place crackers side touching on baking sheet.
Melt butter then add brown sugar and cinnamon, stir till well combined.
Spread or dab butter mixture onto crackers, be generous, the more the better.
Then sprinkle nuts on crackers. Place in a preheated 350 degree oven for about 10 minutes. Remove from oven and let cool before trying to remove from pan. Gently peel crackers off aluminum foil and enjoy!
Notes
http://chocolatechocolateandmore.com/2011/12/sweet-and-salty-crackers/
Copyright Chocolate Chocolate and More
And my kids love to make these, so more fun in the kitchen.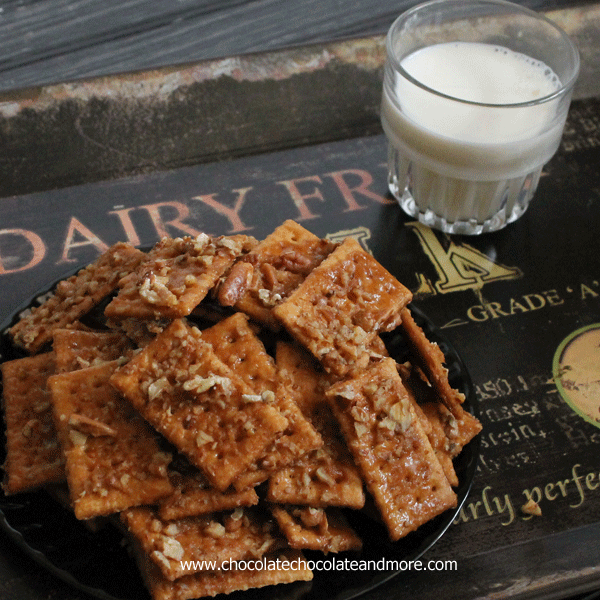 Need more snack ideas?