These Key Lime Lemon cupcakes are packed with citrus goodness. Zest in the cupcake and both lemon and key lime juice in the frosting are sure to make this a hit with citrus lovers!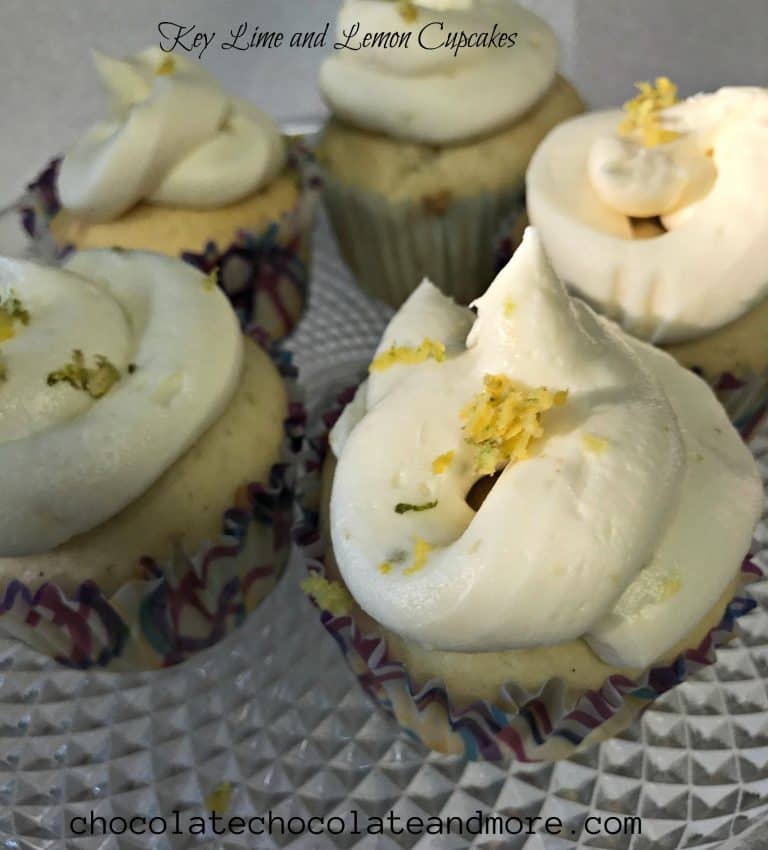 Having been born and raised in south Florida, I am a huge fan of everything citrus. Growing up, we had grapefruit, orange, and key lime trees in the back yard, and could just wander out and pick what we needed for breakfast or cooking.
Key limes are not like your regular limes — they are small, seedy, and have a taste that is a little more sweet and tart than your standard lime. Most people only experience these little bits of citrus heaven in a pie form (and by the way, that pie should be a creamy yellow — never green!) — but you can actually use them in pretty much anything that requires a regular lime.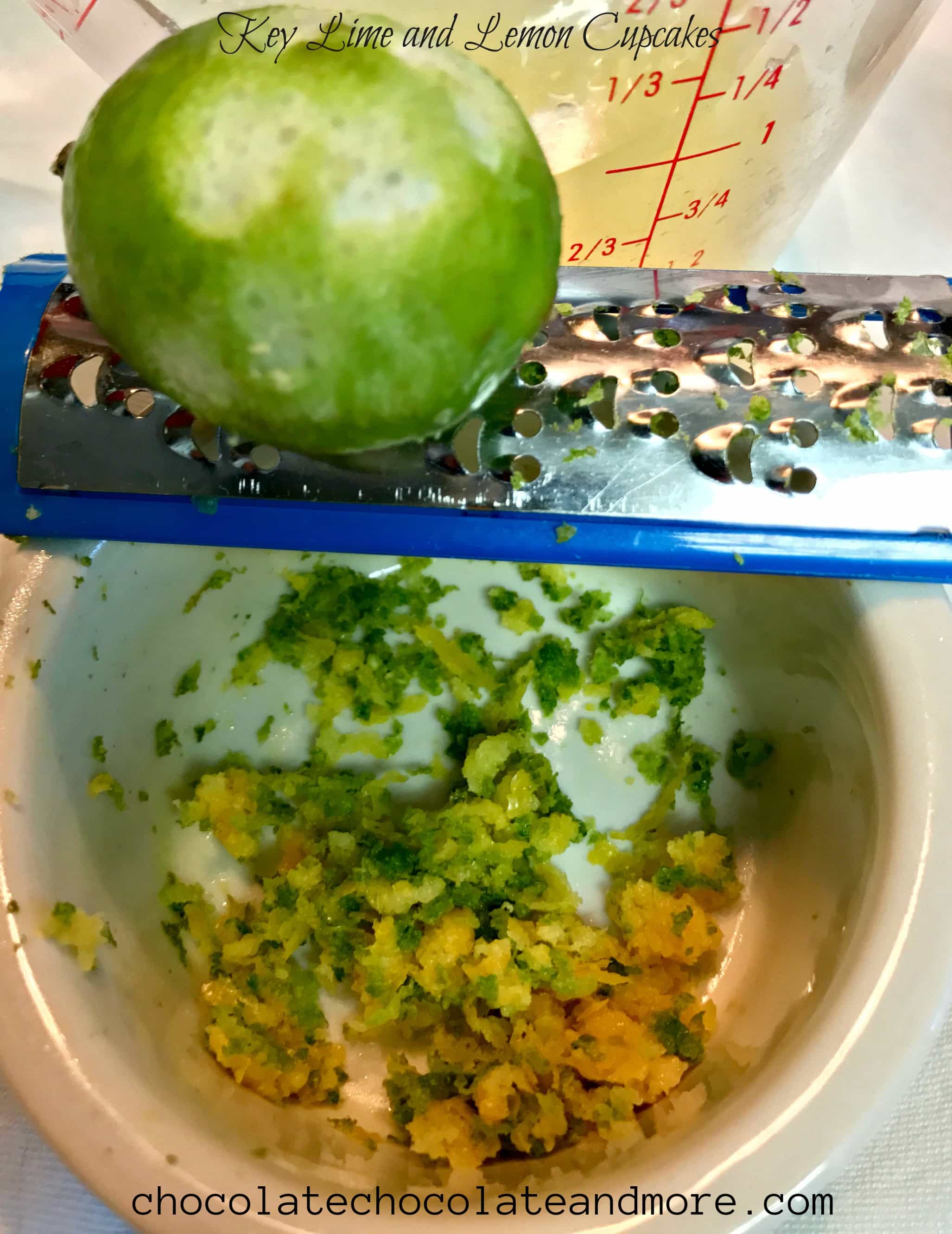 This recipe is adapted from a recipe that used regular limes. Key limes can sometimes be a challenge to find — I was able to get a small bag at my local Giant grocery store for $1.99.
If you can't get them at your local grocery store get a bottle of Nellie & Joes Famous Key West Lime Juice — it is sold in a yellow bottle, and you can find it almost anywhere. And you can also just default to regular limes if all else fails. Key limes are about the size of a walnut, so it takes 3-4 Key limes to equal one regular sized lime. In this recipe, if you have to use a regular lime, just use one lime in exchange for the number of Key limes listed.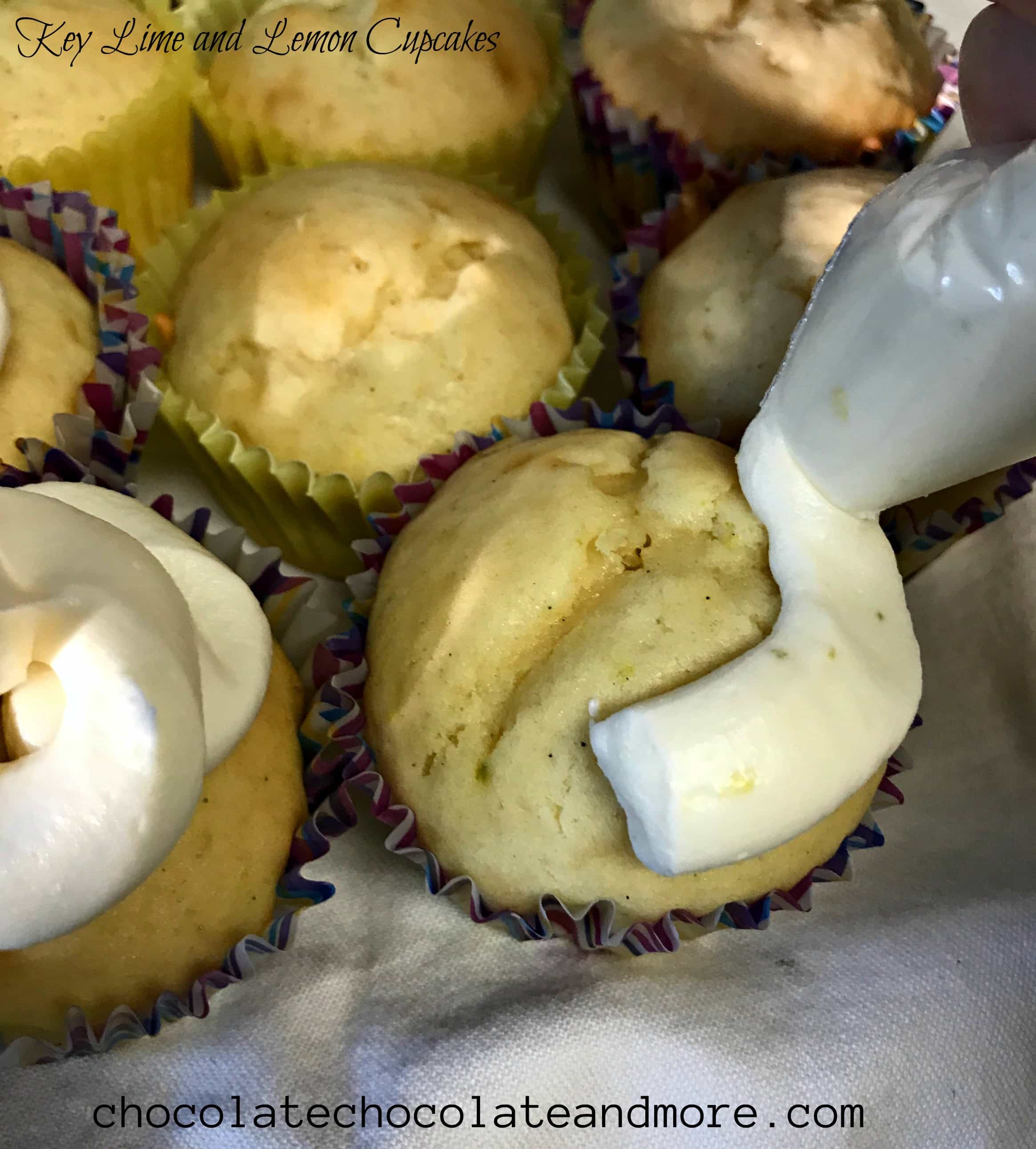 The zest in the cake batter adds just a hint of citrus to the finished cupcake. It is the juice from the Key limes and lemon in the buttercream frosting that really adds the flavor to these key lime lemon cupcakes.
Enjoy with some zest sprinkled on top or without. Either way, it is delicious!
Yield:
Key Lime and Lemon Cupcakes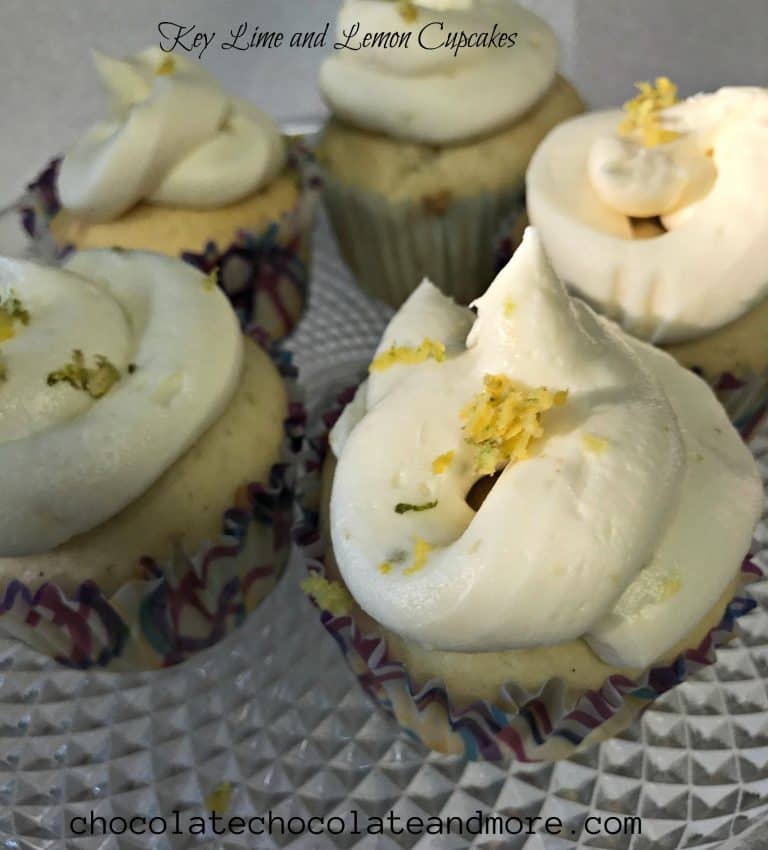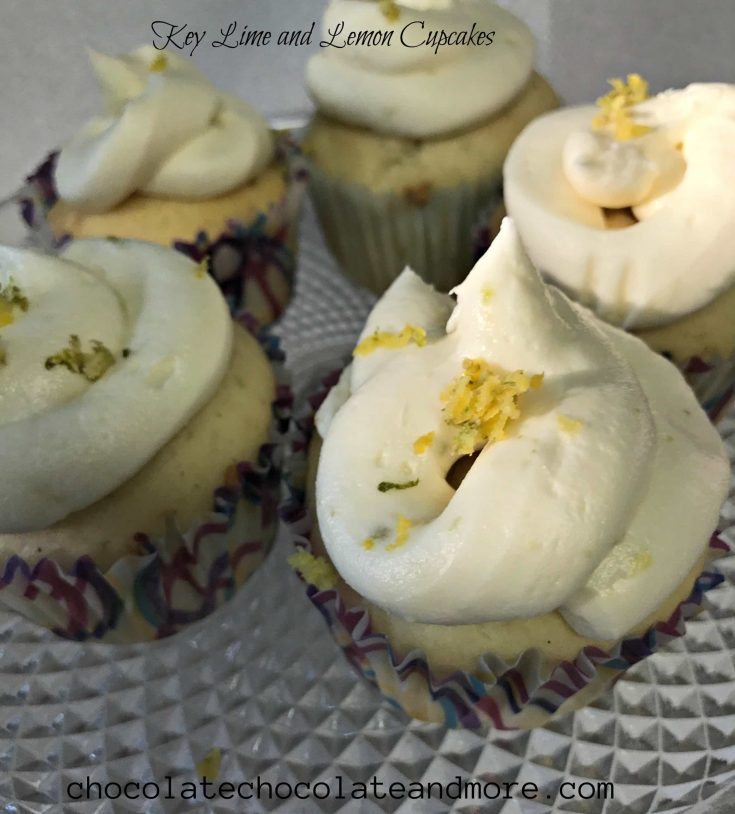 Ingredients
For the cupcakes:
2 1/4 cups Cake Flour
1 tablespoon Baking Powder
1/2 teaspoon Salt (preferably Kosher)
1 1/4 cups Whole Milk, room temperature
4 large Egg Whites, room temperature
Lemon Zest (finely grated), from one medium lemon
Key Lime Zest (finely grated), of 2-3 key limes
1 1/2 cups Granulated Sugar
1 stick Unsalted Butter, (8 tablespoons), at room temperature
2 teaspoons Pure Vanilla Paste (or extract)
For the Icing:
3 sticks Unsalted Butter, softened (1 1/2 cups)
1 1/2 pounds Powdered Sugar, sifted (24 ounces)
2 teaspoons Pure Vanilla Paste (or extract)
Lemon Zest (finely grated), from 1 medium lemon
Key Lime Zest (finely grated), from 2-3 key limes
1 tablespoon Fresh Lemon Juice
1 tablespoon Fresh Key Lime Juice
1-2 tablespoons Milk, if necessary to thin out icing
Instructions
For the cupcakes:
Preheat oven to 350°F.
Line cupcake pan with paper liners.
In a medium bowl, sift together the flour, baking powder and salt.
In a small bowl, whisk together the milk and egg whites.
In a medium bowl, combine the lemon zest and key lime zest with the sugar and mix until fully incorporated.
In a large bowl (either using a stand mixer or hand mixer) beat the butter and sugar at medium speed for about 3 minutes, or until the butter and sugar are light and fluffy.
Add in the vanilla paste/extract and one third of the flour mixture, still beating on medium speed.
Beat in half of the milk-egg mixture, and then beat in half of the remaining dry ingredients until well incorporated.
Add the rest of the milk and eggs, beating until the batter fully incorporated and smooth, and then add the last of the dry ingredients.
Once ingredients are thoroughly incorporated, continue to mix for approximately 2-3 more minutes to ensure no lumps remain.
Distribute the batter between the prepared cupcake cups, filling each 2/3 full.
Bake for 18-24 minutes, or until a toothpick inserted into the centers of the cupcakes comes out clean. Cool on wire rack.
For the Frosting:
In a large bowl (either using a stand mixer with paddle attachment or hand mixer), beat the butter on medium-high speed for five minutes.
With the mixer on low speed, slowly add in the powdered sugar, and continue beating until well blended.
Add in vanilla paste/extract, zest, and lemon and key lime juices. Blend on low speed until moistened.
Turn the mixer back up to medium-high speed and beat the buttercream for an additional 5 minutes.
If the buttercream is too thick, add in a bit of milk, one teaspoon at a time until you reach a "spreadable" consistency.
If you don't have a pastry bag for piping icing, place icing into a ziplock bag, cut approx 1/4 in. off one corner of the bag, and pipe buttercream onto the tops of cooled cupcakes.
If desired, top with additional zest or colored sugar
You might also like