Jello Popcorn, the color and flavor possibilities are endless!
So, I've shown you Peanut Butter Popcorn, Cherry Cotton Candy Popcorn and Chocolate Popcorn.
Now it's time for Jello Popcorn!
Jello, I love the colors Jello comes in. So bright, so cheerful, so fun.
And I was thrilled with my Jello Swirled Cupcakes and Jello Buttercream Frosting.
So why not add it to candied popcorn.

It wasn't hard to find a recipe. Apparently it's been around forever. Nana Jones Has been making it for over 45 years. More recently I found recipes from The Black Peppercorn, Our Best Bites, Kraft Recipes and The Baking Beauties.
All these sites say how wonderful it is. And they're right. Hubby's comment was "this is really sweet and addicting."  Plus, you can use any flavor you want so the possibilities are endless.
Jello Popcorn
adapted from everyone mentioned above
Pour syrup over pop corn and toss to coat.
Spread out on cookie sheet and bake in a preheated 200 degree oven for 45 minutes, stirring every 15 minutes.
Remove from oven and let cool completely.
A note on the temperature, for the red Jello batch, I baked at 250 degrees,  The red stayed pretty true to color just darker. For my first batch of blue it was also at 250 and turned my popcorn from a beautiful blue to a Grinch Green. So I've lowered the temperature, the blue still turns green but now it's a pretty green.
Like popcorn, check out these other yummy ways to make it!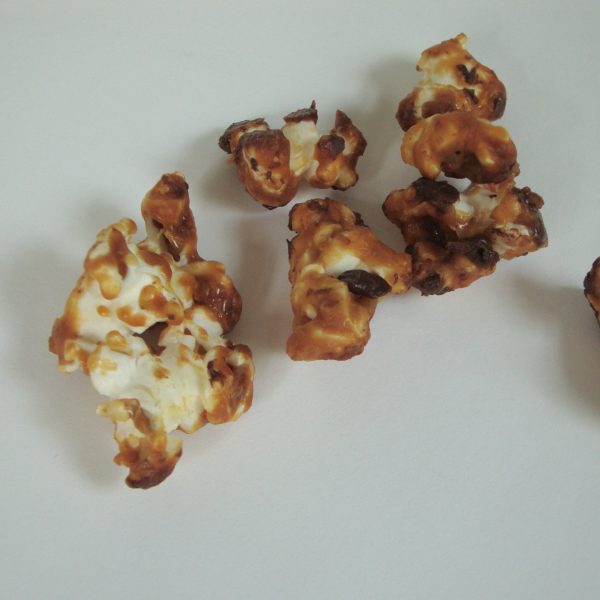 I'll be linking up at some of these great parties!