Chocolate Turtle Cupcakes are rich, decadent, and loaded with gooey caramel and crunchy pecans in every bite.
Hi everyone! I'm Kelly from
Life Made Sweeter
and today I am sharing some decadent chocolate cupcakes since I know Joan loved chocolate.
These Chocolate Turtle Cupcakes are perfect when you need an impressive dessert and they couldn't be more simple to make.
The cupcake batter comes together easily in about 5 minutes with just one bowl! You can definitely use your favorite box of cake mix if you prefer but these homemade ones are just as easy since you won't even have to pull out your stand mixer.
Once the cupcakes are baked and cooled, a generous swirling of caramel buttercream frosting gets piped on top.† This fluffy buttercream pairs perfectly with cupcakes, brownies, cakes, cookies and even straight off the spatula.
We finish these cupcakes off by topping them off with chocolate chips, pecans and a drizzle of rich caramel sauce. They are sweet, indulgent and will totally satisfy any craving for those days that calories don't count. †They are my†go-to dessert I make for special occasions and they are always the first to go.
Hope you enjoy them as much as we do!
Yield: 12 cupcakes
Homemade Chocolate Turtle Cupcakes
Ingredients
For the Cupcakes:
1 cup all-purpose flour
3/4 cup granulated sugar
1/2 cup unsweetened cocoa powder
1/2 teaspoon baking powder
1/2 teaspoon baking soda
1/4 teaspoon salt
1 large egg
1 teaspoon pure vanilla extract
1/4 cup milk
1/4 cup vegetable oil
1/2 cup boiling water
Caramel Buttercream Frosting
3/4 cup (1 1/2 sticks) salted butter, softened to room temperature
3 1/2 cups powdered sugar
1/3 cup your favorite caramel sauce, homemade or storebought
1 teaspoon vanilla extract
1-2 tablespooons heavy cream
Toppings
Caramel Sauce – homemade or storebought
Chocolate chips
Chopped Pecans
Instructions
Preheat oven to 350°F.
In a large mixing bowl, whisk together the flour, sugar, cocoa powder, baking powder, baking soda, and salt.
Mix in egg, vanilla, milk, and vegetable oil until combined. Whisk in boiling water until smooth and incorporated.
Divide batter among 12 paper lined muffin cups, filling each cup about 2/3 full. Bake in preheated oven for 16-18 minutes or until toothpick comes out clean and tops spring back.
Remove from oven and allow to cool in pan for about 10 minutes before cooling completely on wire rack prior to adding frosting.
Meanwhile, make the frosting: In a bowl using a stand mixer or your hand mixer, cream butter on medium-high speed until pale and fluffy, about 3 - 4 minutes. Beat in powdered sugar and slowly mix on low speed until mixture comes together. Add caramel sauce then vanilla and beat on medium-high speed. Add heavy cream, 1 tablespoon at a time until light and fluffy or desired consistency is reached.
Fill a pastry bag with frosting and pipe onto cupcakes. Top with chocolate chips, chopped pecans and drizzle with caramel sauce.
More sweet treats†you might like: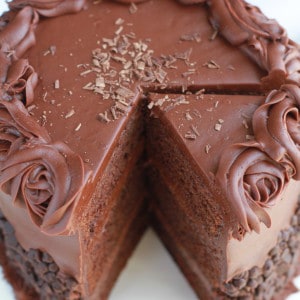 {No-Bake} Samoa Peanut Butter Cereal Bars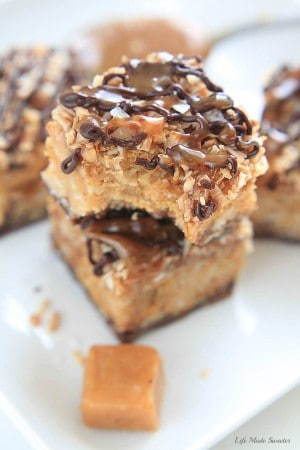 Easy Chocolate Peanut Butter Layered Fudge