Caramel Cinnamon Nut Buns are so delicious and didn't last 15 minutes in our house and I bet they'll disappear quickly in yours too. The dough isn't very sweet but the filling really shines.
I could totally tell you I got this recipe from somewhere else, and it started out that way, but when I actually got into the kitchen to start making these, I didn't have half of the ingredients called for in that recipe so I just made do and made this recipe my own. This is not an overly sweet dough, letting the caramel, nuts, and cinnamon flavors shine through.
I love using this vanilla with butternut flavoring instead of plain old vanilla
The rolls look crammed in the pan but that's OK.

The kids loved the caramel topping, hubby and I preferred a pat of butter on these. Both ways were yummy, and not a bun left after 15 minutes, yummy! Next time I make these I'm going to use mini chocolate chips instead of the caramel, just thinking about it, may happen soon…….very soon!
Caramel Cinnamon Nut Buns are great.
If you don't feel like making these from scratch or just simply don't have the time, there's a much quicker (and easier) way! Just grab a pack of the pre-rolled cinnamon rolls from your local grocery store, sprinkle with nuts and caramel bits. Then you'll bake according to the directions on the package. Lastly, you'll want to make the caramel topping and drizzle it over the top!
Then you'll serve and they'll be gone faster than you can say the name Caramel Cinnamon Nut Buns!
The Caramel Cinnamon Nut Buns are perfect for any occasion, especially breakfast!
Caramel Cinnamon Nut Buns
Ingredients
Dough
Caramel-Cinnamon Nut Buns
1 cup lukewarm water (not higher than 110 F 43 C) 236 mL
2 teaspoons Active dry yeast 6.4 g
2 tablespoons sugar 24 g
3 1/2 cup all-purpose flour 348 g
3 tablespoons milk 45 mL
3 tablespoons butter, softened 45 g
1 1/4 teaspoons salt 6.25 g
2 teaspoons baking powder 7.5 g
2 teaspoons vanilla flavoring 10 mL
Filling
2 Tablespoons softened butter 30 g
3 Tablespoons granulated sugar 24 g
1 Tablespoon cinnamon 7.5 g
1 Tablespoon Brown sugar 12.5 g
1 cup chopped nuts 120 g
1/2 cup caramel bits 164 g
Topping
1/2 cup caramel bits melted over low heat with 164 g
3 tablespoons cream (heavy or half and half) 45 mL
Instructions
Combine yeast, water and sugar in a bowl and let sit for about 10 minutes (until the top is foamy). In large bowl combine dry ingredients (flour, salt, baking powder) make a well in the center and add yeast mixture, milk, butter and flavoring. mix until you have a soft dough. Cover with a towel and let rise about 1 hour.
Remove dough from bowl and roll out to approximately an 18 x 18 inch square 42 cm x 42 cm.
Spread softened butter over top of rolled out dough. Combine sugars and cinnamon, sprinkle over rolled out dough leaving 1 inch 2 cm uncovered on 1 edge only. Repeat sprinkling with nuts and caramel bits.
Roll up jelly roll style starting at end opposite of the uncovered edge. Now slice into rolls about 1 inch 2.5 cm thick. Place on greased pan, sides touching. Cover and let rise again, about 1 hour.
Don't worry if they look sloppy. Bake in a preheated 350 F 177 C oven for 20-24 minutes, until they are a light golden brown.
Topping
Put Caramel bits and cream in a saucepan and melt over low heat. Stirring until smooth.
Here are the
chocolate swirled breakfast rolls
!
Or these Apple Cinnamon Rolls

You might also like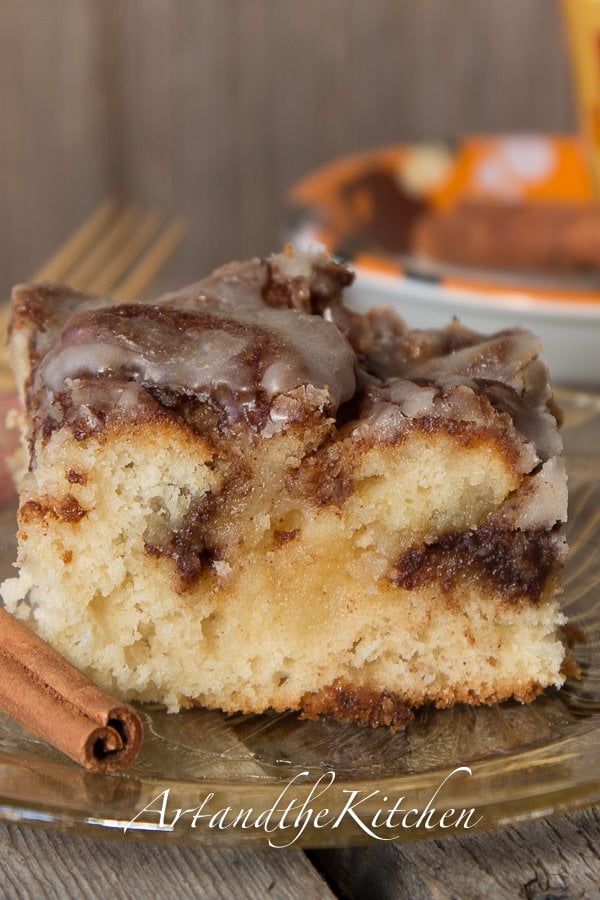 Cinnamon Roll Swirl Cake from Art and the Kitchen