It's time for the Crazy Cooking Challenge again.
Blue Berry Muffins, one of my family's favorites!
I really love participating in this challenge. Finding the recipe, meeting new bloggers, seeing all the different twists on the same idea. Tina from Mom's Crazy Cooking works so hard every month coming up with the challenge, e-mailing us updates and reminders, then on post day linking up everyone's posts. Want to join in? It's easy, just click here and Tina will take care of you!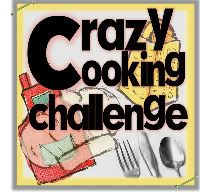 From previous Challenges I've made
All wonderful recipes I found and tried through other blogs, not to mention the recipes everyone else found!
So to find my recipe, I went to Pinterest. Clicked on the little search button and enter blueberry muffins. Oh wow. All the choices. I've pinned several I want to try. I can't wait till my blueberries come in this summer.
I decided on this one from A Cook's Quest. It just spoke to me, that's all I can tell you.
Yield: 18 muffins
Blueberry Muffins
Ingredients
Topping
3 Tablespoons granulated sugar
3 tablespoons brown sugar
2/3 cup flour
5 tablespoons melted butter
Muffins
2 cups fresh blueberries (frozen would also work)
1 1/8 cup sugar plus 1 teaspoon
1 tablespoon water
2 1/2 cups all purpose flour
2 1/2 teaspoons baking powder
1 teaspoon salt
2 large eggs
4 tablespoons butter, melted and cooled
1/4 cup vegetable oil
1 cup buttermilk
2 teaspoons vanilla extract
Instructions
In a medium saucepan place 1 cup blueberries, 1 teaspoon sugar and 1 tablespoon water.
Let simmer over low heat, stirring occasionally. Once warmed, use a potato masher and mash the berries. I left a few small lumps of berry. Just easier.
Continue to simmer until sauce simmers and becomes jelly like. Remove from heat and let cool.
In a small bowl combine topping ingredients. Set aside.
In a large bowl, whisk flour, baking powder and salt together.
In another bowl, I used a large measuring cup, combine eggs and remaining sugar, whisk well. Add melted butter and oil, whisking again till combined. Add in buttermilk and vanilla. Stir well.
Add blueberries to flour mixture and stir to coat. Pour buttermilk mixture into flour mixture, stir just till combined. Small lumps are ok.
Spoon into prepared muffin cups (either sprayed or lined)
Add a teaspoon of your blueberry jelly to each cup, carefully swirl jelly into muffin using a chopstick or other narrow utensil. I used a lollypop stick.
Now top with streusel topping. Bake in a preheated 425 degree oven for 17-19 minutes. Until golden and perfect on top.
Remove from oven and let cool in pan 5 minutes before removing to wire racks.
Best Ever Blueberry Muffins
from
A Cook's Quest
My youngest ate 7 of them in one day! And there were cookies in the house.
These are that good.
Just look at all that blueberry goodness.
Be sure to check out all the other wonderful recipes for blueberry muffins in the links below.