Homemade Chicken Noodle Soup-is there anything better on a cold day?

It's time for the Crazy Cooking Challenge again.
This month's Challenge-Chicken Noodle Soup.
Sounds easy, doesn't it?
Remember, the only qualifications are, you must get the recipe from another blogger, make the recipe then post about it.
Simple enough. I start searching, do a google search, after about page 25-30, I give up on that idea…
Then the light bulb goes off in my head, go to some of your favorite foodie friend's blogs and see if they have a post.
Success, on my first look. My dear friend Carrie at Carrie's Experimental Kitchen has exactly what I want. It's her Chicken Ditalini Soup, Ditalini is just a specific kind of noodle.
So Crazy Cooking Challenge here we go!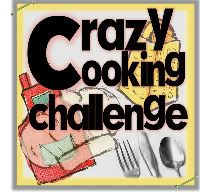 Chicken Noodle Soup
adapted from Carrie's Experimental Kitchen
1 large chicken breast bone in
1 stalk celery
8 baby carrots
1/4 cup red onion
1 tablespoon canola oil
4 cups chicken broth
4 cups chicken stock water
1/2 cup noodles
1 tablespoon parsley, finely chopped
salt and pepper to taste
Right off I had to vary from Carrie's recipe because I already had some leftover baked chicken (I planned this)
And those beautiful drippings
So I picked up on her recipe at the Chicken Stock water. After removing the meat from the skin and bones, I placed the skins and bones into a saucepan.
I added about 4 cups of water, making sure to cover the top of the bones, and simmered on a low heat for 2 hours.
The stock is wonderful.
So now in my large saucepan,
I placed my cut celery, carrots and oil over a medium heat (you should also place your onions but I used minced onions to avoid 12 year old rants about seeing onion in her soup.) Saute until celery and onions begin to become translucent. Add chicken, chicken broth and chicken stock to your pot. Bring to a rolling boil then reduce heat to simmer for about 45 minutes.
Add noodles (I probably used about a cup of egg noodles) and cook for another 15-20 minutes.
I have to tell you, my hubby says this is the best soup I have ever made. So thanks Carrie, this was delicious, simple and easy!
If you like this recipe, be sure to vote for my post by clicking on it (#17) and check out all the other great versions of Chicken Noodle Soup!
I've also linked this up over at Church Supper
You might also want to try my