Eggnog Pound Cake with an Eggnog Glaze!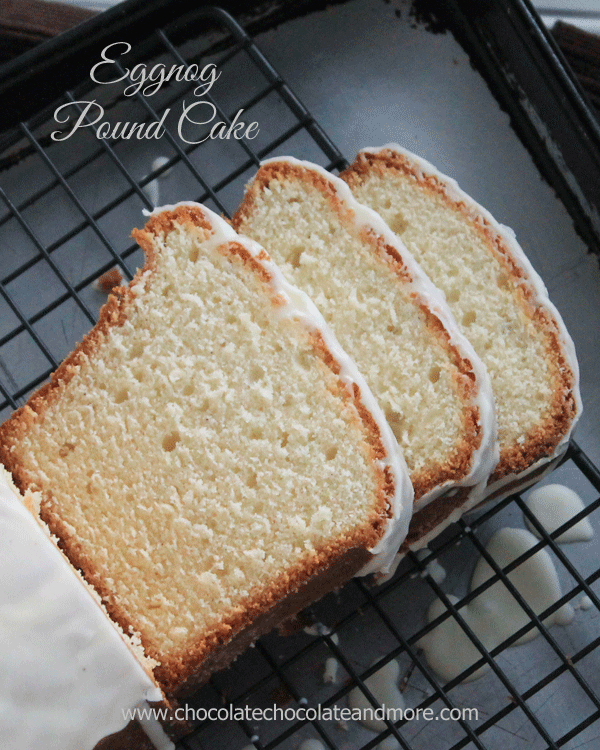 Eggnog. You either love it or hate it. Here in our house, 3 of us adore it. I start looking for it in the stores the day after Halloween and usually withing a few days, I'll find my first jug of it. For the 7-8 weeks my grocery store stocks it, I buy it weekly.  Sometimes 2 half gallons at a time.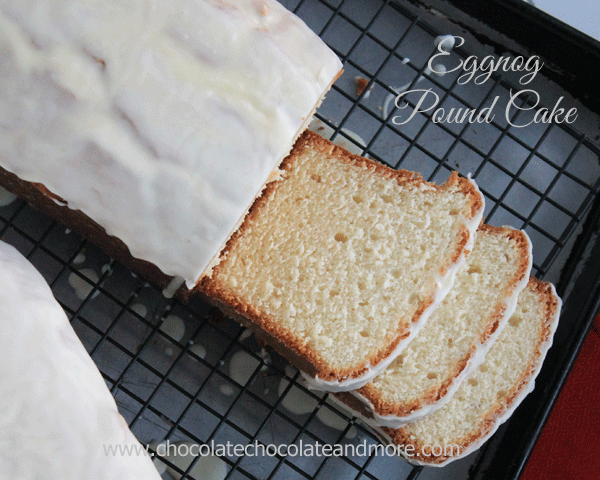 My son and youngest daughter will come in after school and grab a small glass, as their afternoon snack. Honestly, we just can't get enough. That eggy, creamy, custardy, vanilla-y yumminess.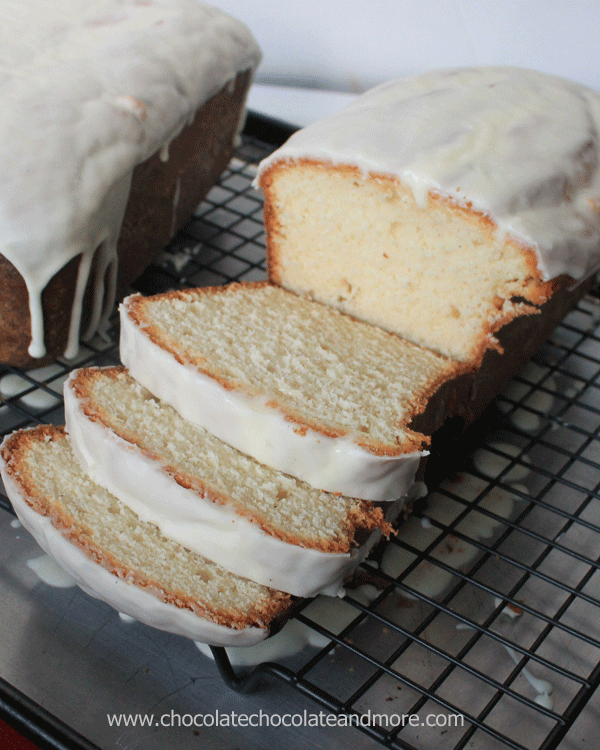 I've used Eggnog to make Fudge but I wanted something more. I wanted cake. And I wanted a cake that would make a nice gift.
This Eggnog Cake will delight anyone who gets a taste. Not overly eggnoggy but you know it's eggnog and not just ordinary vanilla. And the glaze on top. Well…I'm gonna say it…It's the icing on the cake!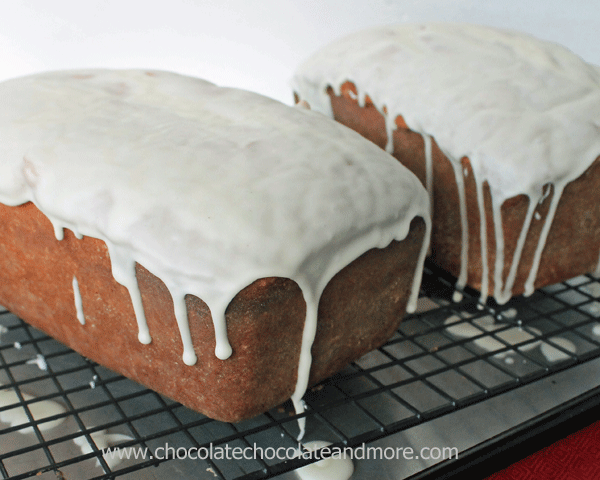 Egg Nog Pound Cake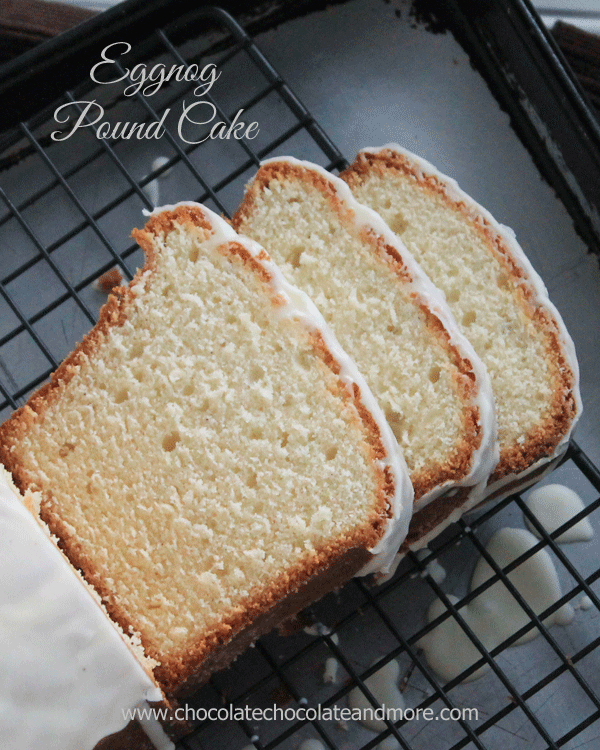 Ingredients
3 cups all purpose flour
2 teaspoons baking powder
1/4 teaspoon salt
1/2 teaspoon nutmeg
1 cup butter, room temperature
2 cups sugar
4 eggs
1 teaspoon vanilla
1 1/4 cup egg nog

for the glaze

1 cup powdered sugar
1-2 tablespoons egg nog
Instructions
Sift together flour, baking powder, salt and nutmeg, set aside.
In the bowl of a mixer, cream butter until smooth, slowly add in sugar until all combined. Beat butter on medium speed until light and cream and color pales.
Add in eggs, one at a time, beating well after each addition. Add in vanilla.
Alternating the flour mixture and egg nog, starting and ending with the flour add in both. Mix until smooth.
Spoon batter into greased and floured two 9 inch loaf pans or a bundt pan. Bake in a preheated 350 degree oven for 50-55 minutes, until toothpick inserted in center, comes out clean. Let cake rest in pan for 20 minutes before turning out onto rack to cool completely.
For the glaze, whisk together egg nog and powdered sugar, adding egg nog until desired consistency. Spoon over cooled cake. Let glaze set up for a few hours before serving or storing.
Notes
http://chocolatechocolateandmore.com/2013/12/eggnog-pound-cake/
Copyright Chocolate Chocolate and More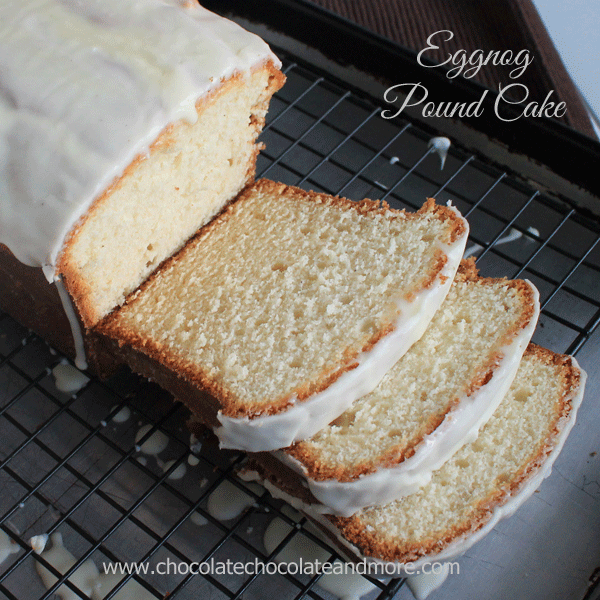 This cake is part of the 12 Days of Cakes.  Be sure to check out the other cakes being made this holiday season.
1. Chocolate Truffle Pirouette Cake from Lemony Thyme
2. Strawberries and Cream Cake from Cooking from a Stay at Home Mom
3. Coconut Tres Leche Cake from Moore or Less Cooking
4. Smore's Cake from 365 Days of Baking
5. Pomegranate Lime Bundt Cake from It's Yummi
6. Brownie Bombe Cake from The Rowdy Baker
7. Chocolate Roll with Candy Cane Whipped Cream from Hun, What's For Dinner?
8. Eggnog Pound Cake from me!
stay tuned for the rest!
Still need more cake?