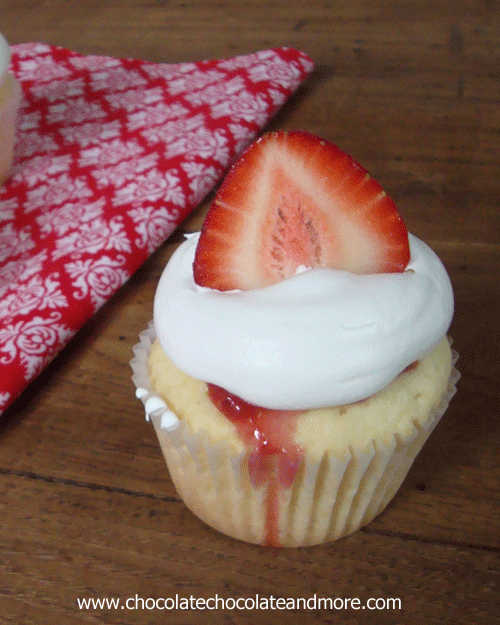 Look Mom! I'm on WordPress! I still have lots to learn and more tweaking to do but I've been baking up a storm and just couldn't wait any longer to share with you all again.
One of the things I found during the move were these cupcakes. I don't know how I missed posting them. I sure remember eating them. Especially the strawberry filling. We had some syrup left over and just used a spoon to finish it.
With Strawberry season just a few day/weeks away, these will be back on out treat list.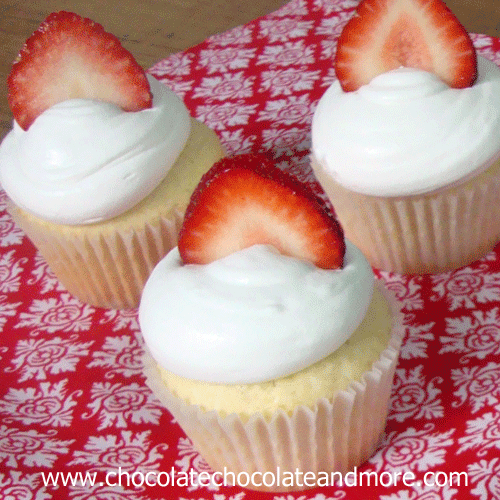 Strawberry Shortcake Cupcakes
2 eggs
7 tablespoons butter, softened
1/2 cup granulated sugar
1 cup flour
1 teaspoon baking powder
1/4 teaspoon vanilla
Filling
1 cup strawberries, cut
1/4 cup sugar
1 tablespoon corn starch
1/2 teaspoon lemon juice
1/2 cup water
Frosting
1 1/2 cups frozen topping (Cool Whip)
1/2 cup powdered sugar
1/2 teaspoon vanilla
Preheat oven to 325 degrees, line muffin tin with 8 liners.
Sift flour and baking powder together. Set aside.
Cream Butter and sugar together. Add eggs. Cream again. add in vanilla. Mix. Lastly blend in flour.
Spoon into prepared muffin tin. Bake for 20 minutes until golden brown. Let cool completely.
Combine all filling ingredients in a small saucepan. Cook over medium heat until mixture thickens, mushing strawberries as you stir. This should only take about 5 minutes. Once thickened. Place in refrigerator to cool. This will set up similar to jello or a thick jelly.
Remove a small spoonful of cake from the center of your cupcake. Go ahead and eat the centers, you earned it. Place a teaspoon of strawberry filling into each hole, just a bit over the tops of each cupcake.
Gently blend sugar and vanilla into whipped topping and frost cupcakes as desired. Keep refrigerated util ready to serve. Just before serving add a slice of strawberry for garnish.