Remember those delicious brownies from school lunch? I've made them in another form: Peanut Butter Lunch Lady Brownies.
Hello there, fellow chocolate lovers! I'm Mandy from Mandy's Recipe Box and do I have a nostalgic treat for you.
I made this recipe with Joan and her chocolate loving readers in mind. With a site that has "chocolate" in the name, I knew I wanted to make a chocolate dessert to share with you all. Do you guys remember when school lunch was delicious and they served those delectable brownies you couldn't get enough of? Well, I made Peanut Butter Lunch Lady Brownies in remembrance of a great time when school lunch was great. How can anyone resist peanut butter and chocolate together?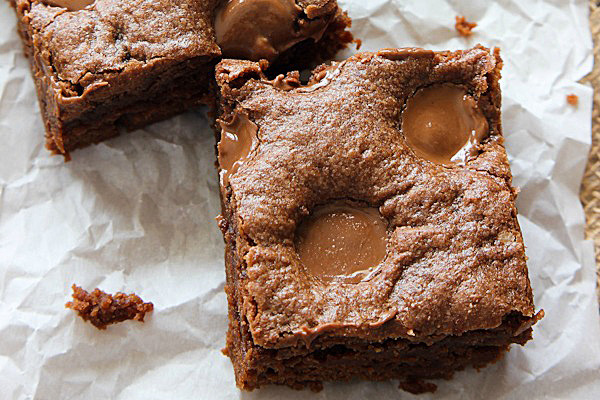 I also remember loving those Lunch Lady Peanut Butter Bars. Do you remember those? Oh so good and I always got an extra if they had leftovers. These Peanut Butter Lunch Lady Brownies are made from scratch. There is no boxed brownie mix involved. I do love brownies from a mix, but these are made with pure love. It's definitely worth the extra effort and you probably have the ingredients in your pantry. And then there are the Reese's Minis. Ok. Those things are completely dangerous. I only have them around when baking, otherwise I would eat the whole bag. I do save a few for myself, you better believe it. I hope you like these brownies. Be sure to take an extra bite for Joan!
Peanut Butter Lunch Lady Brownies
Ingredients
1/2 cup butter, melted
1/2 cup creamy peanut butter
1/2 cup unsweetened cocoa powder
2 cups all-purpose flour
2 cups granulated sugar
4 large eggs
1 Tbsp. vanilla extract
1 cup Reese's Minis
Instructions
Preheat oven to 350° F. Line a 9x13-inch baking dish with foil and spray foil with non-stick spray. Set aside.
In the bowl of a stand-mixer, add the melted butter, peanut butter and cocoa powder. Beat until smooth.
Add the flour and sugar. Mix together and add eggs and vanilla. Mix just until combined. The batter will be thick.
Scrape the batter into prepared baking dish and spread out evenly. Press Reese's Minis into the batter throughout the pan.
Bake 25 to 30 minutes or until toothpick inserted in center comes out clean. Remove brownies from oven and cool.
Cut into squares and serve.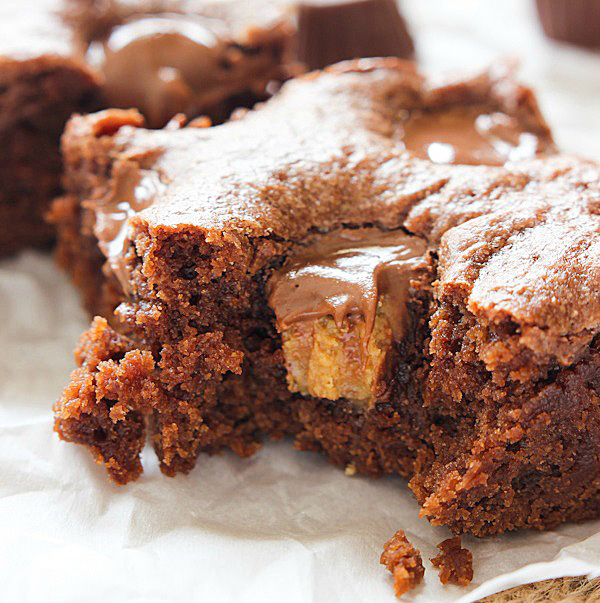 Here are some other tasty brownie recipes you should try: