This Milk Chocolate and Toffee Fudge Pie is a simple but decadent dessert perfect for any occasion!
Hi Y'all! I'm Milisa from Miss in the Kitchen and I am super excited to share this delicious pie recipe with you today! It doesn't get any easier than a no bake dessert, making this perfect for after dinner with the family or the holidays!
This no bake pie starts with cream cheese, a bit of powdered sugar, chocolate ganache and a pre-made chocolate crust. I threw in the toffee bits for a little crunch and topped it off with a little whipped topping and a few more toffee bits. You could totally substitute the toffee for chopped up peanut butter cups, peppermint patties or what ever floats your boat.
I will take a slice of pie any day over cake and I can't resist chocolate pie. My entire family absolutely loved this fudgy variation and it has definitely earned a spot on our holiday menu!
Milk Chocolate and Toffee Fudge Pie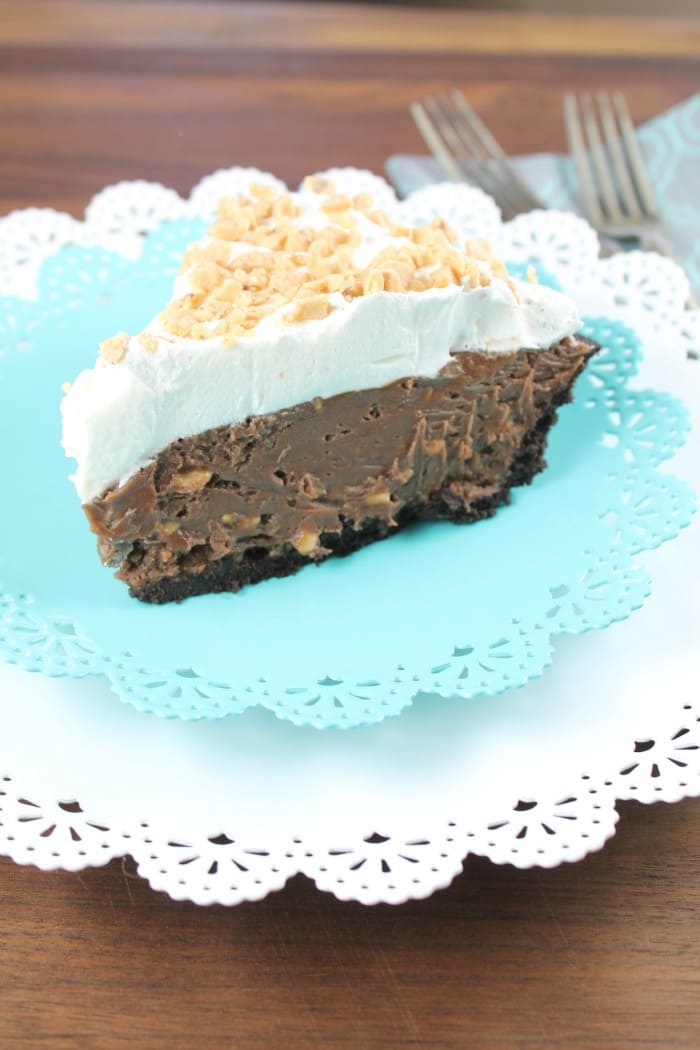 Ingredients
1 pre-made chocolate crust
2 cups milk chocolate chips
1/4 cup heavy cream
8 ounces cream cheese, softened
1/2 cup powdered sugar
1 1/4 cups toffee bits, divided use
8 oz whipped topping, divided use
Instructions
Add milk chocolate chips and heavy cream to a microwave safe bowl and cook on medium-high in 30 second intervals, stirring in between until chips are melted and smooth.
Add cream cheese and powdered sugar to a mixer bowl and beat at medium speed until smooth. Add chocolate ganache and beat until smooth. Add half of whipped topping and 1 cup toffee bits and mix until combined.
Pour into pre-made crust and top with remaining whipped topping and toffee bits. Refrigerate 4 hours or until chilled through.
You might also like:
No Bake Caramel Fudge Bottom Pie
Peanut Butter Whatchamacallit Pie