These rich and indulgent brownies are made with Hershey's Kisses as the chocolate!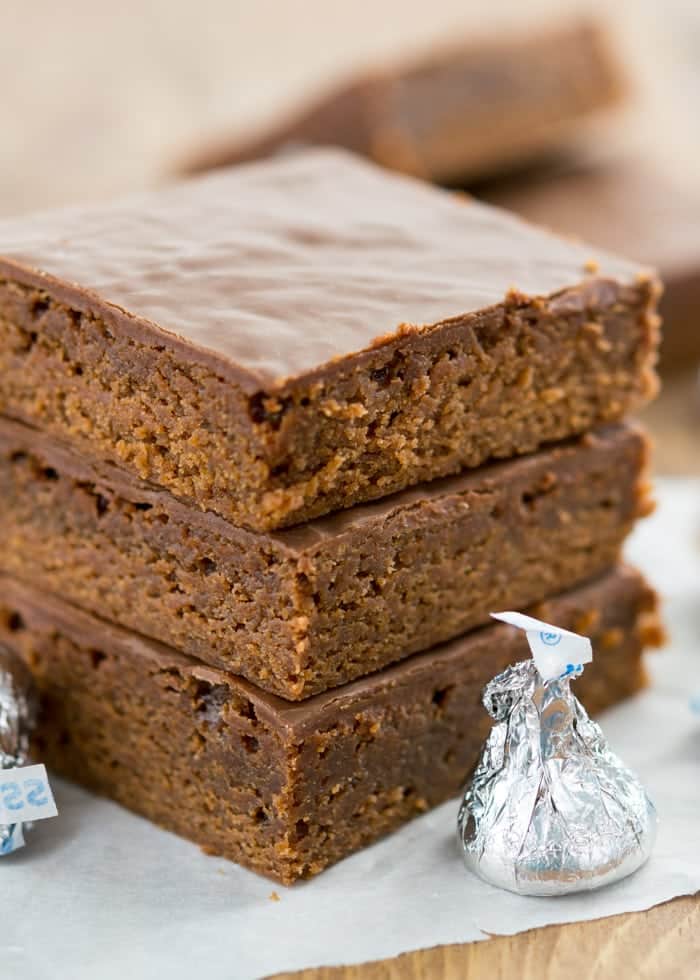 Hi everyone! It's Dorothy, from Crazy for Crust here today. And I brought chocolate!!
A few years ago I made a pie for my cookbook. It's a Milky Way Brownie Pie and when I was creating that recipe I wondered if I could melt down Milky Way bars to be the chocolate base for a brownie. And you know what? It totally worked (and tasted pretty darn good)!
So, when I had an abundance of Hershey's Kisses awhile back (I know, does that actually happen in real life?) I wondered if I could do the same thing. Could I melt down the Kisses candy and use that as the chocolate in my favorite brownie recipe instead of using baking chocolate?
Guess what? YOU CAN!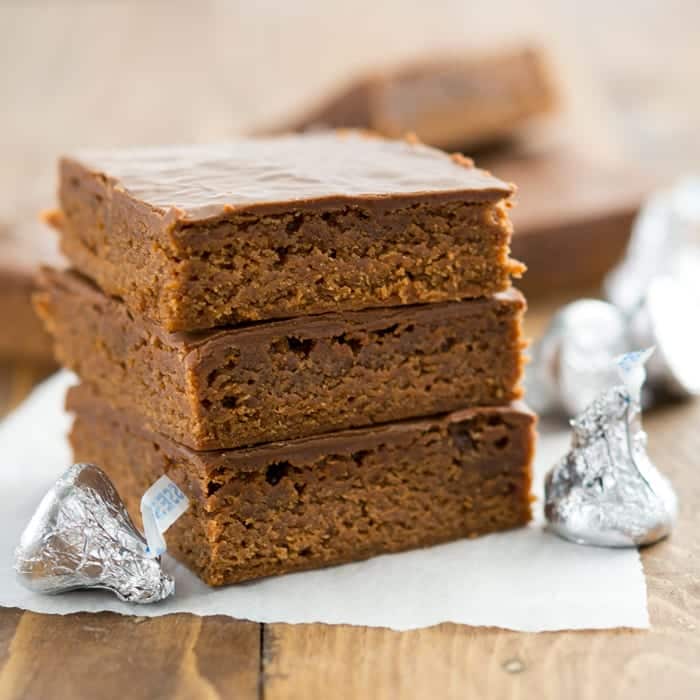 One of the best things about Hershey's Kisses brownies is that you make it all in one big bowl. No mixers, no extra bowls, no blenders needed. You only need a bowl, a wooden spoon, and your microwave.
You also need LOTS of Hershey's Kisses.
Making these brownies couldn't be easier. First, melt down the Hershey's Kisses with some butter. Then you stir in sugar, eggs, vanilla extract, salt, and flour. That's it! Pour it into your pan and bake them until they become a rich and fudgy brownie that tastes like a big Hershey's Kiss!
But that's not all. Nope, I wasn't satisfied. I decided they needed frosting too! The frosting is basically a Hershey's Kiss ganache: whipping cream melted with the Kisses. It's poured over the top of the brownies and then it hardens.
These brownies are SO good, especially if you like Hershey's Kisses. And they're super chocolaty, something Joan would have approved of! 🙂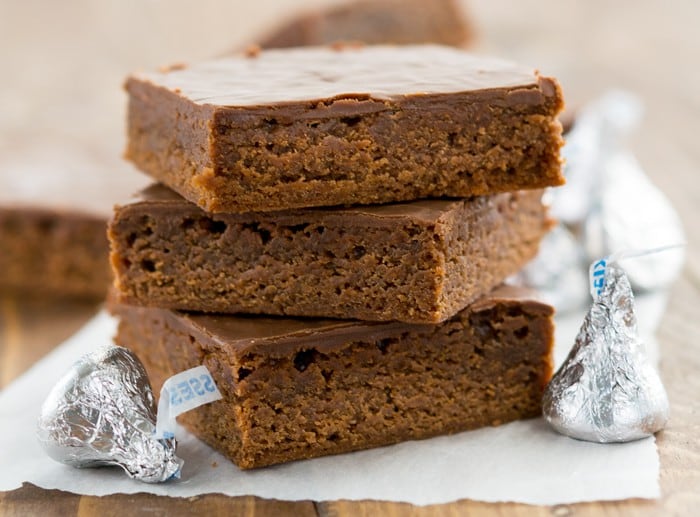 Enjoy!
Hershey's Kisses brownies
Ingredients
For the brownies:
1/2 cup unsalted butter
10 ounces unwrapped Hershey's Kisses (about 63)
3/4 cup granulated sugar
1 teaspoon vanilla
3 eggs
1/2 teaspoon salt
1 1/4 cups flour
For the frosting:
1/4 cup heavy whipping cream
1 cup unwrapped Hershey's Kisses (about 30)
Instructions
Preheat oven to 350°F. Line a 9×13" pan with foil and spray with cooking spray.
Place butter and 63 Hershey's Kisses in a large, microwave safe bowl. Heat for about 2 minutes, stirring every 30 seconds, until the Kisses are melted. Mixture will appear separated.
Stir in sugar. The mixture will appear to be seized, but mix in the vanilla and eggs and it will smooth out. Stir in salt and flour.
Pour into prepared pan. Bake about 20-22 minutes until the top is slightly cracked and a toothpick comes out almost clean. Cool completely before frosting.
To make the frosting: heat the heavy whipping cream for 30 seconds. Pour over unwrapped Kisses in a bowl and let sit for 30 seconds. Whisk until smooth. If needed, heat the mixture an additional 15-20 seconds to aid in melting. Pour over brownies, smooth to a thin layer, and let harden.
Slice into bars and store at room temperature for up to 4 days.
Some other brownie recipes I love: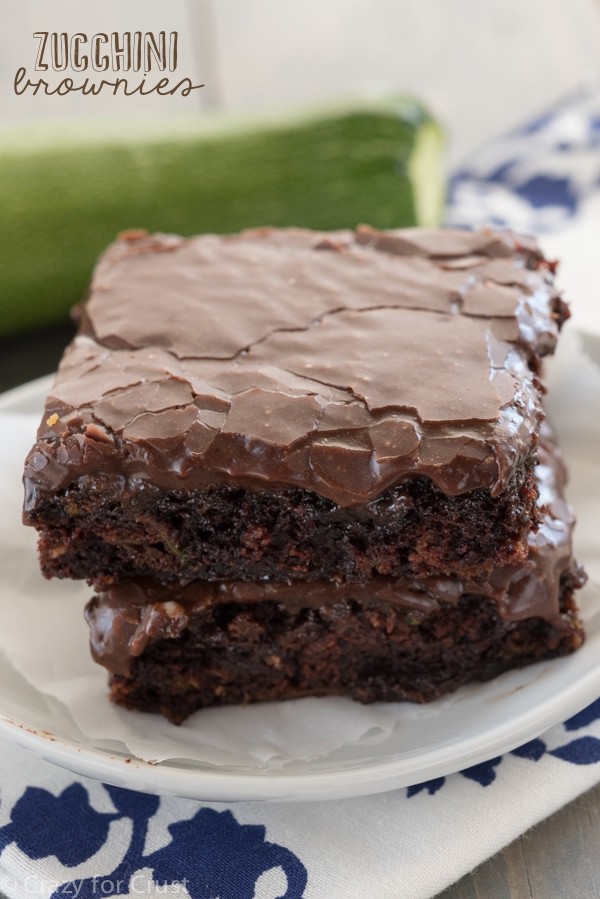 Cookies 'n Cream Extreme Brownies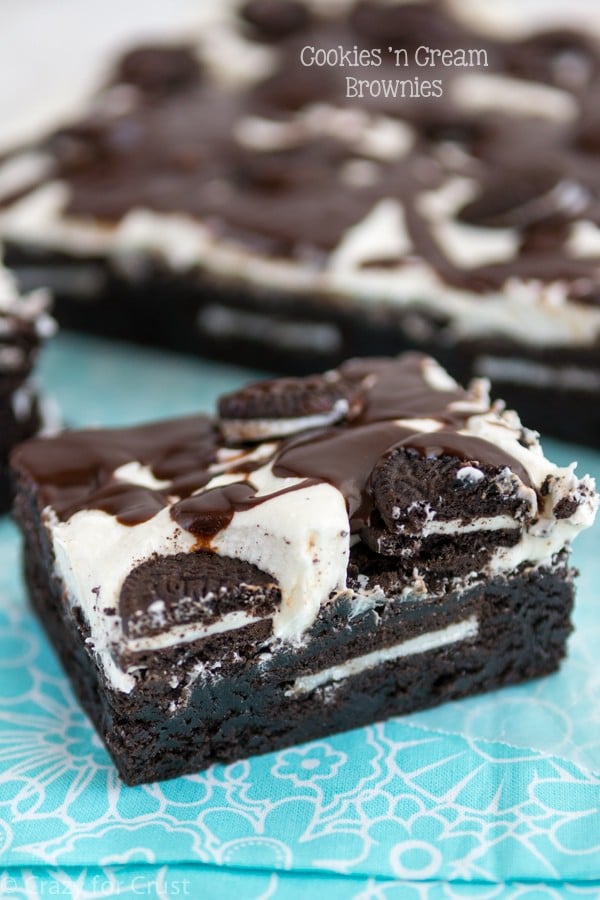 Brownie Gooey Bars