Chocolate Cherry Tarts using fresh cherries, puff pastry and chocolate. Quick to prepare and baked in 15 minutes!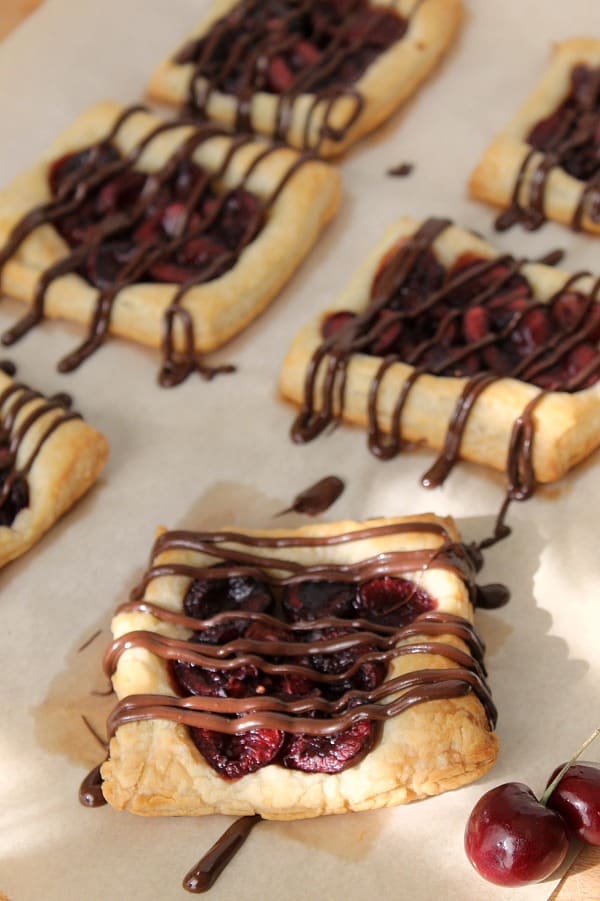 Hi Chocolate, Chocolate and More fans! This is Nancy here from The Bitter Side of Sweet. When Joan offered me the chance to take over her site for a day I was super thrilled and couldn't wait. Then life happened such as summer and kids being home, food conferences (where I actually met the lovely Joan!) and my hubby receiving a new job and we moved to the Midwest in one month so I am late to the game but here I am! Thanks Joan for having me and I hope you guys will love these tarts as much as I do!
Did you know that cherry season was still in full swing? I had no idea! In the South I was lucky to find them fresh in the stores but in the Midwest and North you can still get them through the end of September!
That totally rocks my boat because I love fresh cherries!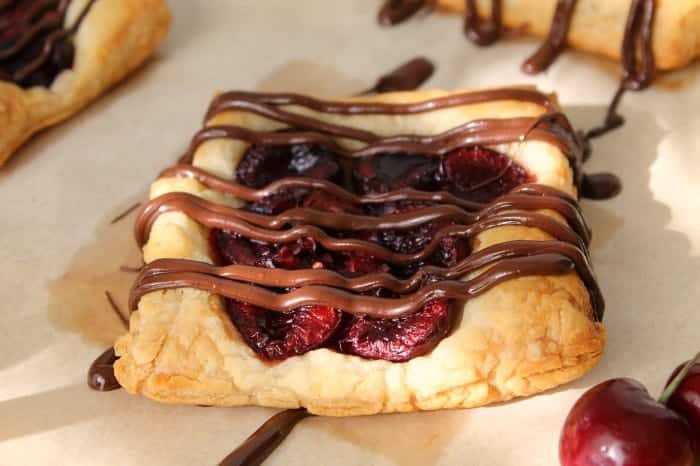 One little note about serving a dish with fresh cherries.
Please oh please take the pit out! We had a neighbor bring over a lovely and elegant cherry clafoutis but the pits of the cherries were still inside! Honestly my mind was saying, what were you thinking? Especially if you have a home with small kids, this is kind of a big no no! This is the Cherry Pitter I like.
Lately I have been obsessed with easy desserts. What better way to fix my obsession than to make a 15 minute dessert?
These Chocolate Cherry Tarts are so so super easy and very versatile! You can pretty much add anything on top of the puff pastry and bake it. My favorite thing to do is drizzle chocolate over the tops of them. I know I could add chocolate chips to the baking process but honestly I don't think it would be as pretty! But that's just me!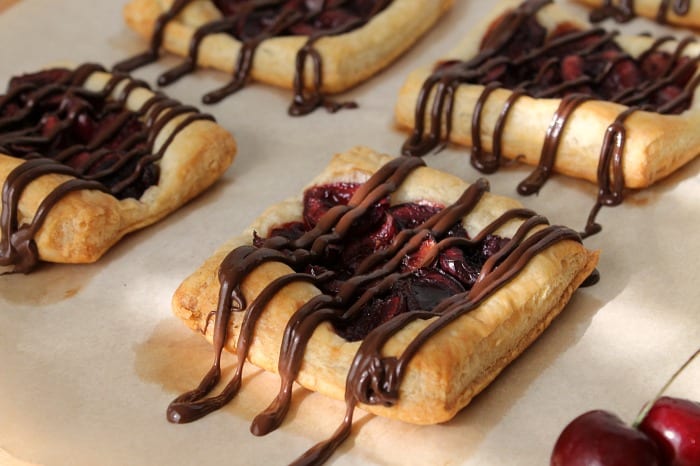 Want to connect more with TheBitterSideofSweet? Follow at:
Facebook | Bloglovin | Pinterest | Instagram | Google+ | Twitter
Yield: 6 servings
Chocolate Cherry Tarts
Ingredients
⅔ sheet of puff pastry
24 cherries, pitted and sliced
2/3 cup semi sweet chocolate chips
Instructions
Preheat oven to 350 degrees.
Thaw puff pastry according to packaging. Lightly flour counter and roll out pastry with rolling pin.
Cut into 6 equal squares.
Place 8 cherry halfs on each tart.
Cook at 350 degrees for 15 minutes. When done allow to cool for 5 minutes.
Melt chocolate in microwave for 1 minute and drizzle on tarts.
Serve and ENJOY!
Want more fresh fruit?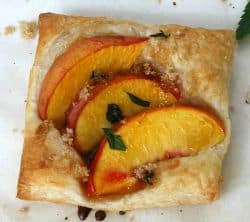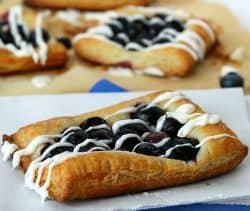 White Chocolate Blueberry Tarts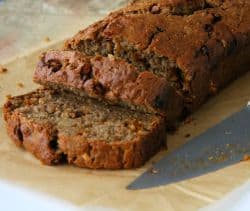 Apple Cinnamon Banana Bread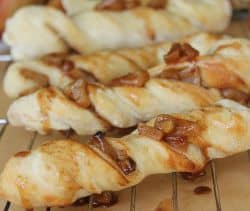 Stuffed Apple Cinnamon Sticks
Blueberry Brie Pastry Tarts from This Gal Cooks
Peanut Butter Banana Pudding Tart from The Gold Lining Girl
Grapefruit Curd Phyllo Tarts from Life Made Sweeter