Lemon Sour Cream Pound Cake-a light lemon taste makes this a perfect sour cream pound cake.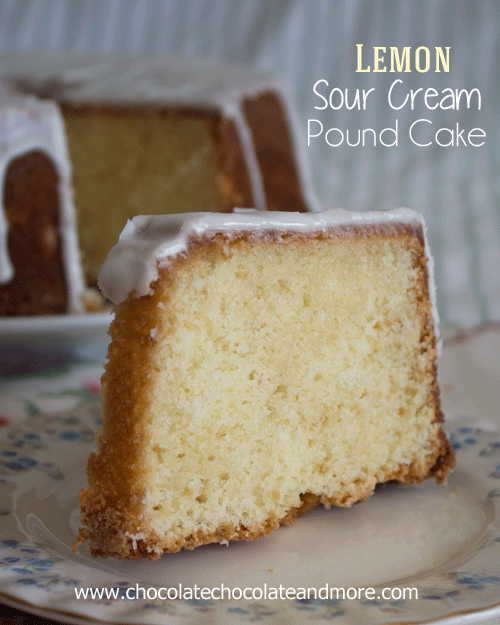 Last week I was all about Lime, this week it seems I'm going to be all about Lemon.
I get in moods. I know we all get moody, cranky, happy, excited, yeah. But I'm talking about food moods. As much as I love chocolate, I can go weeks without even wanting any. I know hard to imagine but it happens. Sometimes my moods will go with the seasons, Summer time=fresh veggies. Makes sense, and also a good thing since I,m trying to get into a bathing suit or just walk around in shorts. I need to try and cut back on a few calories.

Sometimes my moods are completely opposite of the seasons and it can get a little rough. Trying to find what I want in the store that is. Just the other day, I was wanting fresh strawberries. I thought, no problem. I had to go to Walmart anyway. Would you believe it, not a strawberry in sight! Completely ruined the shopping trip for me. I did pick up the other things on my list but they were all just excuses to go and buy my strawberries!
Then, the following day, hubby and I went to Kroger, they had strawberries but they were terrible looking. I will be so happy when strawberry season finally gets here. We have the best U-pick place in the world. Hopefully, I'll still be in a strawberry mood.
That's the nice thing about lemons, they always seem to be "in season" somewhere in the world. So you can get fresh lemons. Or you can get that big bottle of lemon juice and always have it on hand for when you get in a Lemon mood.
This cake definitely satisfied my lemon mood. Not overly lemony, not overly sweet. A good pound cake. And while you could serve it without the glaze, let's just say the glaze is the icing on the top. The perfect complement to this cake.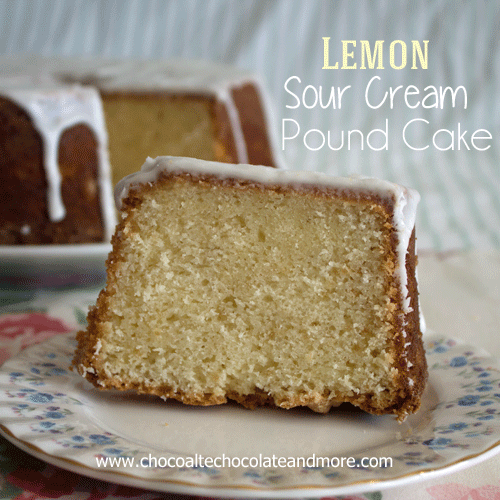 Lemon Sour Cream Pound Cake
Ingredients
3 cups cake flour
1/2 teaspoon baking soda
1/2 teaspoon salt
1 cup, butter, room temperature
3 cups sugar
6 eggs
1/3 cup lemon juice
2 teaspoons grated lemon peel
1 cup sour cream

for glaze

1 1/2 cups powdered sugar, sifted
3-4 tablespoons lemon juice
Instructions
Grease and flour a 16 cup tube or bundt pan.
Sift flour, baking soda and salt together, set aside. In mixing bowl, beat butter until fluffy, about 5 minutes. add in sugar, one cup at a time and beat for another 5 minutes. Add eggs, one at a time, beating just to combine after each addition. Add in lemon juice and peel. By hand, fold in flour mixture and then add in sour cream. Make sure everything is combined but do not over mix.
Spoon batter into prepared pan and bake in a 325 degree oven for 1 hour and 20 minutes. Test for doneness using a toothpick. Cool on rack for 15 minutes before inverting cake onto rack to cool completely.
Once cooled prepare glaze, whisk together powdered sugar and lemon juice until smooth and a thick pouring consistency. Pour over cake and let set before serving.
Notes
http://chocolatechocolateandmore.com/2013/03/lemon-sour-cream-pound-cake/
Copyright Chocolate Chocolate and More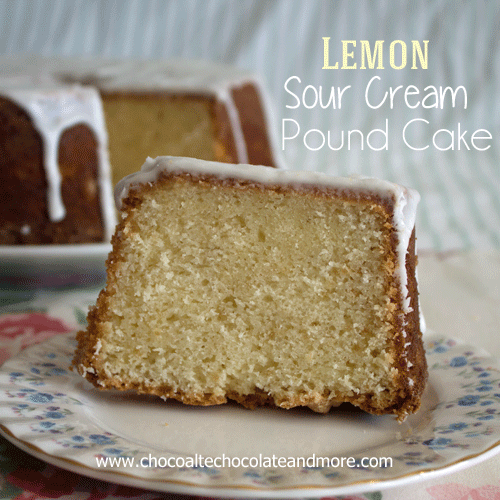 Looking for some other Lemony ideas?
I'm sharing at some of these great parties!