It's time for the Crazy Cooking Challenge again.
This month it's Grilled Cheese Sandwiches!
I've got 3 kids, I was a kid, hubby was a kid, and every kid eats grilled cheese sandwiches.
I was looking forward to the challenge of something different than just cheese between two slices of bread but when I started searching, I kept finding things like avocado, spinach, tomatoes. No way my kids are going to eat any of that in a grilled cheese.
Then I found it. over at A Cozy Kitchen. Adrianna had the perfect sandwich for my family. She adapted the famous Egg-in-a-Hole from The Pioneer Woman and made it the perfect anytime sandwich-breakfast, lunch, snack or dinner.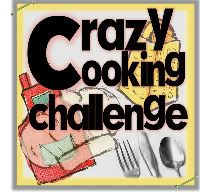 Egg-in-a-Hole Grilled Cheese Sandwich
Egg-in-a-Hole Grilled Cheese
Ingredients
2 large eggs
2 slices of your favorite bread
shredded cheddar cheese
salt and pepper to taste
butter or margarine
Instructions
Using a biscuit cutter or other round cutter, cut a hole in each slice of bread. I used my homemade Wheat Bread. Save the holes.
Butter both sides of the bread. (I found it easiest to butter the top side after it was on the griddle. ) Don't forget those little holes you cut out. Butter those too.
Place bread slices on preheated griddle, break one egg into each hole. Salt and pepper to taste. And your holes, grill them at the same time.
Cook until bottom side of egg white is cooked then flip over.
Add shredded cheese to one slice.
Continue cooking until egg is desired doneness, I recommend medium hard, otherwise it's going to be really messy to eat. Create your sandwich by flipping the naked slice (the one without the cheese) onto the other slice.
A Cozy Kitchen
And your holes, don't forget the holes.
Be sure to check out all the other wonderful Grilled Cheese options below.
I'll be linking up at some of the great parties found here.
Update: Thanks to everyone that stopped by and voted, this sandwich was named "the Ultimate" Grilled Cheese Sandwich!