Easy Orange Creamsicle Fudge ~ This Fool Proof Fudge will have everyone thinking you slaved over it! Super Simple, Smooth, Creamy Fudge!
Hi Friends! I'm Julie from Julie's Eats & Treats. I hope you all had a very Merry Christmas and a Happy New Year and are welcoming 2016 with big hopes and dreams! Today I'm swinging by Joan's blog to bring you this super easy fudge recipe. Joan was a lot like me, all about the easy treats!
If you are anything like me and you hear the word fudge you might be a little apprehensive. I always envisioned candy thermometers, certain temperatures required, seizing of chocolate and everything else under the sun. Apparently I was wrong. Fudge can be super easy like this!
All you need is some frosting, white baking chips melted together then and add your orange extract and food coloring to get this pretty Easy Orange Creamsicle Fudge!
Like I said super easy!
I made this for Christmas and people were raving about it every time they took a bite. That good people.
That good. It's like an orange bursting in your mouth, but obviously sweeter.
These pieces of fudge are rich so cut them into bite size pieces. Plus, then you can have more right because they are little! At least that's how I justify it in my life.
Who's with me on that one?
If you love this fudge recipe you can adapt it in so many ways! For example, you can do Vanilla Frosting + Peanut Butter Chips for a delicious Peanut Butter Fudge. Or you could take Andes Mint Chips + Chocolate Frosting for a Mint Chocolate Fudge. Go crazy and use Lemon Frosting + Vanilla Chips for a delicious Lemon Fudge!
Oh I want some Lemon Fudge now to act like it's almost spring! Who's with me on that?
Easy Orange Creamsicle Fudge
Ingredients
1 (15 oz) container vanilla frosting
1 (10 oz) bag vanilla baking chips
1 tsp orange extract
Yellow Food Coloring
Orange Food Coloring
Instructions
Line a 8'' x 8'' pan with tin foil.
In a medium saucepan melt the vanilla frosting over low heat until frosting is glossy.
Add vanilla chips to saucepan and cook, while stirring, until chips are melted and blended with the frosting.
Reserve 1/2 c. of mixture for later.
Mix remaining fudge mixture in saucepan with the orange extract.
Add yellow and orange food coloring and stir until completely combined. You will use about 5 drops of orange and 7 drops of yellow food coloring. Please adjust as this will depend on the brand and type of food coloring you use.
Pour orange fudge into the bottom of the lined pan.
Drop spoonfuls of white fudge you reserved on top of the orange fudge.
Drag butter knife through fudge to swirl it.
Refrigerate at least four hours until it set.
Store in fridge.
You might also like
Chocolate Covered Strawberry Fudge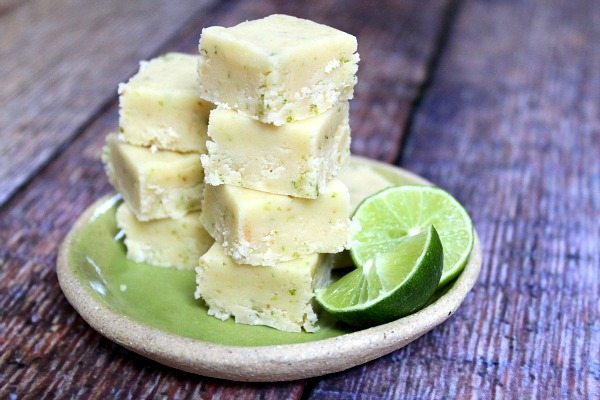 Pomegranate Fudge from Buns in My Oven