Chocolate Kahlúa Pecan Pie – a pre-made pie crust, chocolate chips, a touch of Kahlúa and chopped pecans make this one dessert you'll want front and center on your Thanksgiving dessert table.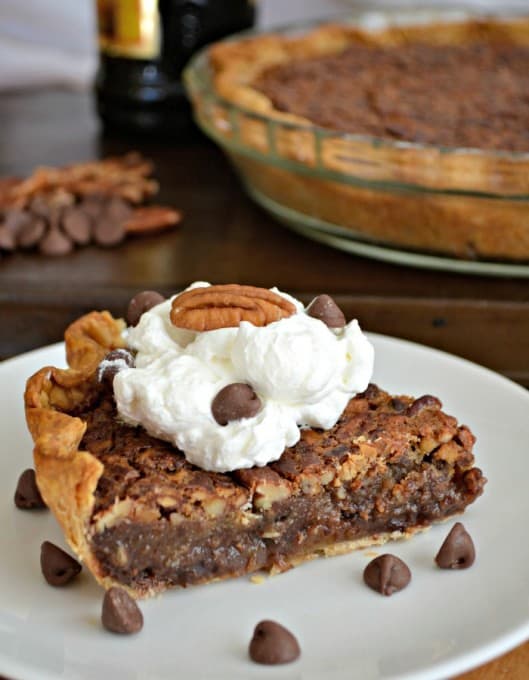 Hi everyone! I'm Lynne from 365 Days of Baking and More, and I am so very honored to be guest posting today on Chocolate, Chocolate and More. Coincidentally, it's National Chocolate Day and I can't think of a better way to celebrate Joan, her love for chocolate, Kahlúa and pecans than with this pie.
I found this recipe on Epicurious.com and it couldn't be any easier. Other recipes I looked at combined ingredients on the stove top and required a crust made from scratch. But while I love to immerse myself in the kitchen and make my own pie crust there are just some times, especially during the holidays when I would rather save the time and spend it with my family and friends. I had also thought about coming up with my own recipe, but I'm not one to reinvent the wheel when there's a perfectly good recipe out there waiting to be made.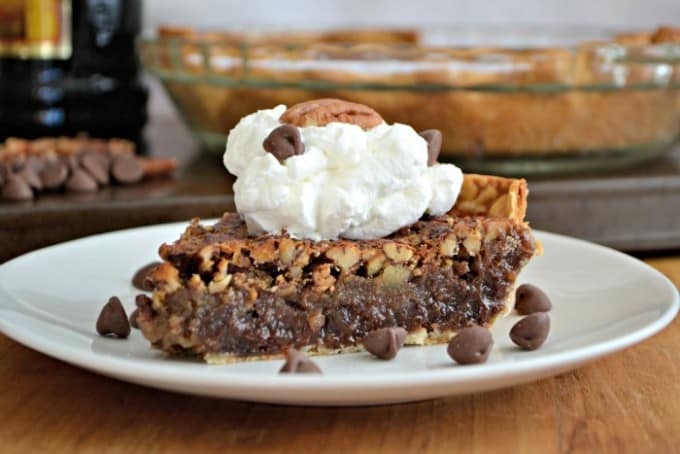 This pie has the perfect amounts of all ingredients. The taste of Kahlúa is subtle, your teeth sink into the slightly melted chocolate chips towards the end of each bite and the pecans, oh, the pecans! It's no wonder Joan loved them so much – they're an awesome nut and are the pièce de résistance of this dessert. Your holiday guests are sure to smile when they see this on your dessert table!
Winnie the Pooh says it best:
"How lucky I am to have something that makes saying goodbye so hard."
I know that I am a better person, friend and blogger for knowing Joan. She's left an imprint on my life that not too many can.
Joan and I first met virtually when we were wee baby bloggers years ago. Somehow she discovered one of my posts and right after leaving her first comment we were fast friends. She had a personality that just drew people to her. Joan could (and would) talk to anybody. She always hoped to sit next to people when flying who would be talkative and not any old uptight fuddy duddy. With every new friend, Joan always made sure they felt welcomed and comfortable.
We finally met in person when we roomed together for a cruise conference in January, and it was like we'd always known each other. We also roomed together last month for a conference in Seattle and were able to enjoy time with great friends while eating some delicious food and plenty of chocolate!
Some of my best memories were of her unlocking the door to our hotel rooms and announcing, "Honey, I'm home!" with that huge smile and a sparkle in her eyes.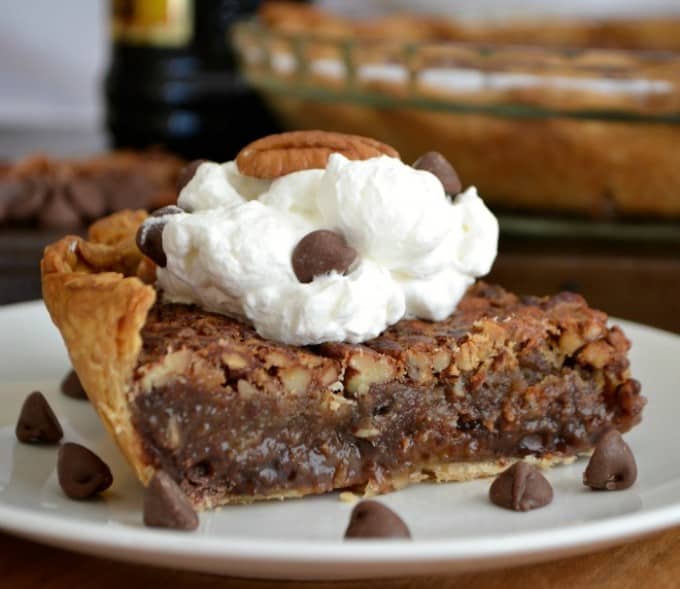 Please celebrate Joan's life and love for chocolate with us by following along on Twitter and Instagram using #ChocolateForJoan and #ChocolateEveryDamnDay. Many bloggers have gathered together today to honor our sweet friend with their amazing recipes and memories of her, and we'd love for you to tag the things you make from Joan's blog as well.
Her passion for chocolate and blogging lives on, so please continue to make her recipes, and share them with family and friends. You all meant so very much to her and all had a part of making Chocolate, Chocolate and More what it is today. For that we are all very, very grateful. Thank you.
Chocolate Kahlúa Pecan Pie
Chocolate Kahlúa Pecan Pie - a pre-made pie crust, chocolate chips, a touch of Kahlúa and chopped pecans make this one dessert you'll want front and center on your Thanksgiving dessert table.
Ingredients
1/2 cup sugar
1/4 cup (1/2 stick) unsalted butter, room temperature
1 tablespoon all-purpose flour
3/4 cup dark corn syrup
1/4 cup Kahlúa
1 teaspoon pure vanilla extract
3 large eggs
1 cup chopped pecans
1/2 cup semisweet chocolate chips
1 pre-made frozen pie crust or 1 pre-made frozen pie shell
Instructions
Preheat oven to 375°F.
Thaw the frozen pie crust according to package directions and place into plate, forming and crimping edges.
In a mixing bowl, cream butter and sugar until smooth.
Mix in the flour. Gradually add the corn syrup, Kahlua and vanilla.
Mix in the eggs and then add the pecans.
Spread the chocolate chips around the bottom of the pie crust and pour the filling on top.
Bake for 45 minutes, until the filling is puffy and just set in center.
Place on a wire rack to cool.
This pie can be prepared the day before. Store covered in the refrigerator.
Serve with whipped cream and additional pecans, if desired.