Chocolate Pumpkin Spice Cake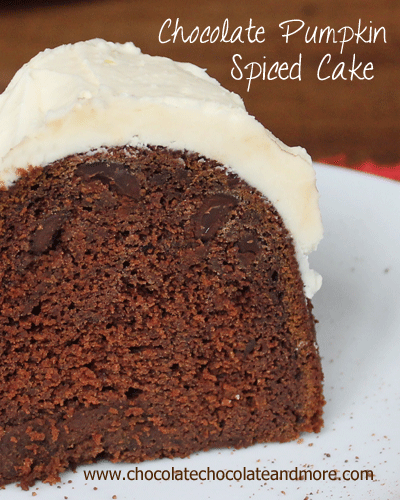 I did It! Remember my confession with the Pumpkin Spiced White Hot Chocolate where I admitted that I've never had pumpkin. I can now say I've had it, and so far, I love it! And it wasn't just a teaspoon of pumpkin. I used 2 whole cups of pumpkin in this cake. This cake was so good, when the kids had a choice of this cake or a few other goodies available, they asked for this cake! That's high praise in my house. Even my picky eater, knowing it wasn't just spice, wanted this cake.
I'm so glad Roxana created the Chocolate Party. Last month we created Chocolate with Apples. I made Crepes with Caramelized Apples and Chocolate Sauce. I even made my own Chocolate Syrup to use. I may never go back to the bottled stuff again.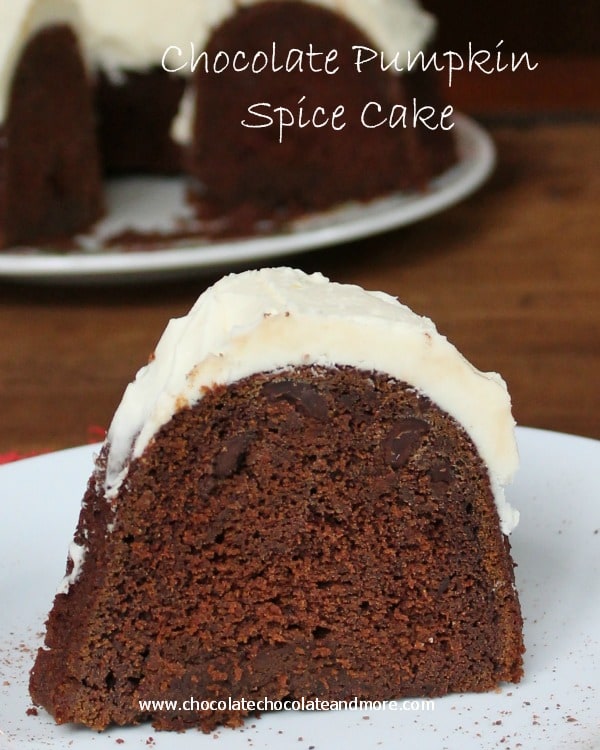 October is Chocolate and Pumpkin, all month long you can link up Chocolate and Pumpkin recipes. I've got a few more recipes to try this month. So be sure to check back often.
Chocolate Pumpkin Spice Cake
adapted from Cookstr


Chocolate Pumpkin Spice Cake
Ingredients
1 cup (2 sticks) unsalted butter, room temperature
1 1/2 cups brown sugar
4 eggs
2 cups canned pumpkin puree
2 cups cake flour
1/2 cup cocoa
2 teaspoons baking soda
1 teaspoon nutmeg
2 teaspoons cinnamon
1/2 teaspoon ground cloves
1/2 teaspoon salt
1 cup bittersweet chocolate, chopped (I chopped up bittersweet chips)
Instructions
Preheat oven to 350 degrees. Lightly grease and flour (or spray) a bundt pan.
Cream butter in a large mixing bowl, add in brown sugar and continue to cream until light and fluffy. Add in eggs, one at a time and then pumpkin puree. Beat until well combined.
Sift together flour, cocoa, baking soda, salt and spices. Slowly add flour mixture to butter mixture, mixing on low speed. Fold in chopped chocolate. Spoon into prepared bundt pan. Bake for 45-50 minutes until toothpick inserted in cake comes out clean. Let cake cool for 10 minutes before inverting onto rack to cool completely.
Notes
Top with powdered sugar or White Chocolate Buttercream Icing. Both are excellent on this cake.
http://chocolatechocolateandmore.com/2012/10/chocolate-pumpkin-spice-cake/
Copyright Chocolate Chocolate and More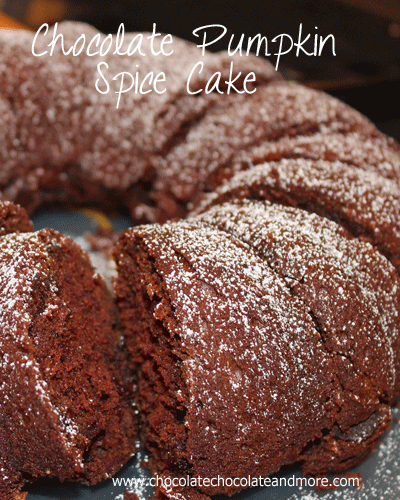 I'm linking up at a few of these great parties.