Apple Pie Milkshakes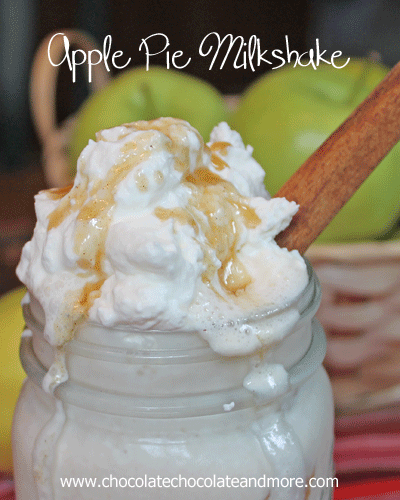 Apples really are my favorite fruit. I look forward to apple season all year long. Just something about the changing of the leaves makes it ok to make an apple pie. But here in Georgia, it's still hot. Yes the temperature will drop into the 50s at night but by three in the afternoon, It fells like the middle of summer. Ok, not the middle of summer, but we are still getting to 80 degrees. In October! It's days like these that I wish, just for a little while, that we lived farther north.
I know, In another month, I'll be freezing, our highs will probably only be in the 60s.  I'll be looking for mocha coffees and hot chocolate. But right now, we're still drinking milkshakes.
After making this Apple Pie Danish and these Fried Apples, each time we had some fried apples left over. I love apple pie with Ice Cream on top, Ala Mode as they say. My son was the one to come up with putting the leftovers in a milkshake. Such a smart boy.
This milkshake is just like Apple Pie Ala Mode! with a straw. No fork needed.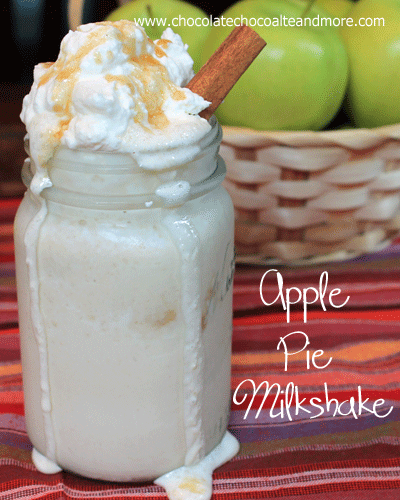 Apple Pie Milkshakes
Apple Pie Milkshakes
Ingredients
Vanilla Ice cream (3-4 scoops)
1/2 cup milk
1 half apple fried
Instructions
Place all ingredients in blender, and blend till smooth. Top with a little Whipped cream and some of the fried apple sauce for drizzle. Maybe a dash of cinnamon.
http://chocolatechocolateandmore.com/2012/10/apple-pie-milkshakes/
Copyright Chocolate Chocolate and More
I'm sharing at some of these great parties.
want some more fun drinks?