Yogurt Granola Berry Parfaits are wonderfully versatile treats — they can be eaten for breakfast, lunch, dinner, for a snack or even dessert. They are healthy alternatives to ice cream and cookies, and when you blend them together with some fruit they make a delicious combination that can be used for anything from breakfast to dessert.
Yogurt Granola Berry Parfaits can be dressed up or down. For this version, I am going to give you recipe for home made granola; combine the granola with yogurt and berries, add a little fire, and you will have a dessert that will impress your family and friends. To make it a simple process, you can replace the home made granola for your favorite store bought granola, or another crunchy filling of your choosing. Versatility is the key!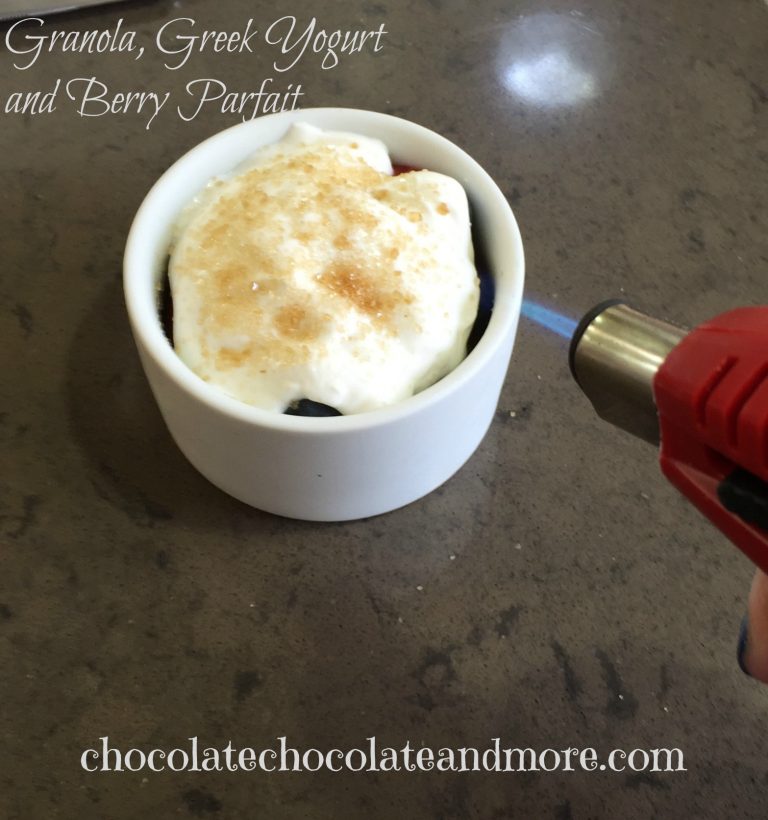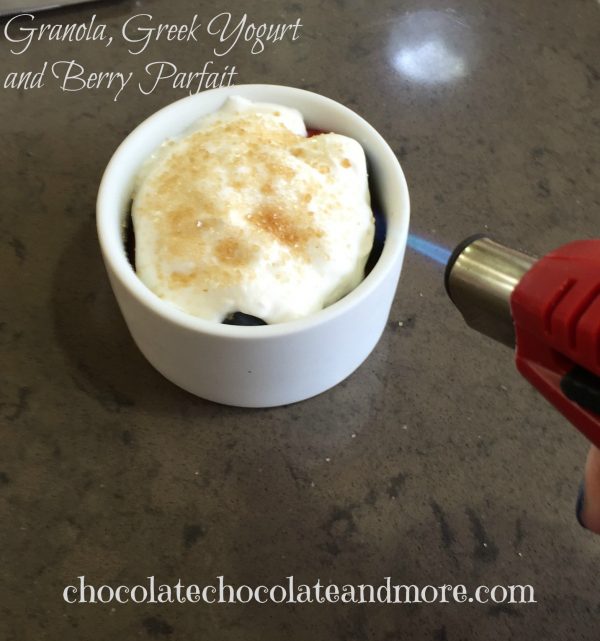 Set aside about an hour to make the granola, and about half an hour to assemble the parfait. If you have a kitchen torch, you can make this a "brûlée" by topping the end result with some turbinado sugar and a little fire. If you don't have a kitchen torch, just top with the sugar and serve as-is. Trust me, it will taste just as good either way!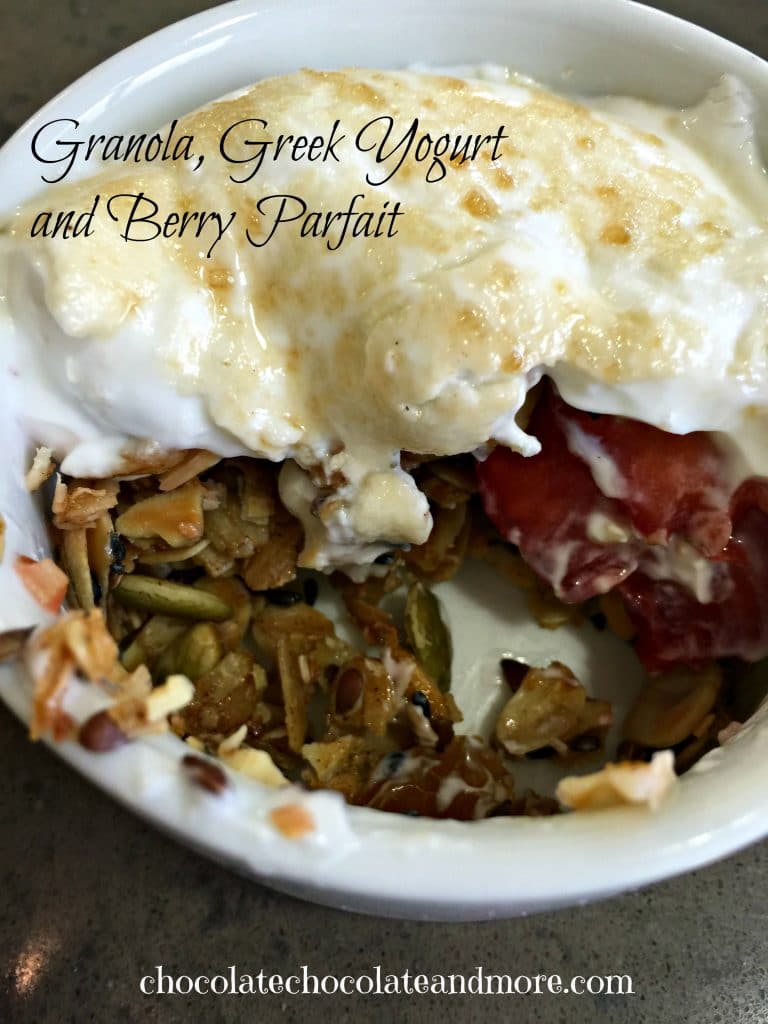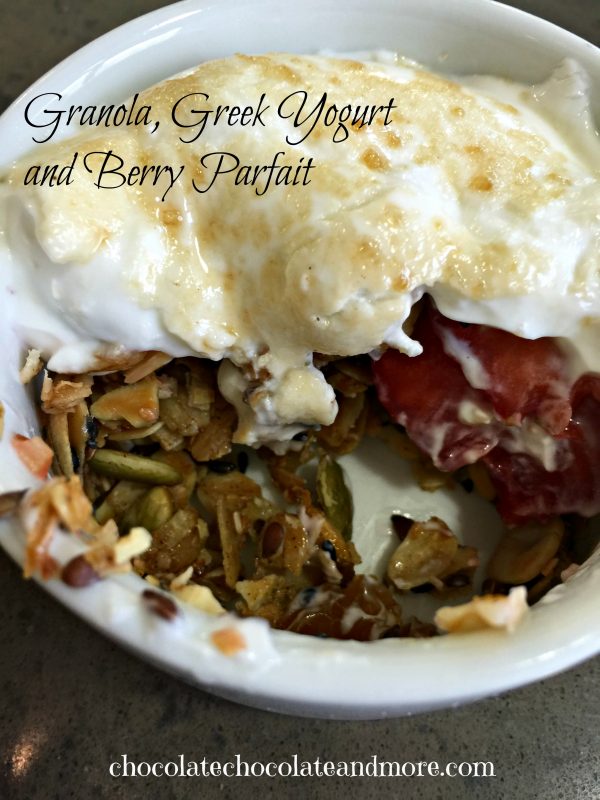 After you make your parfaits, you can combine the remaining berries and yogurt into one bowl and refrigerate…and the granola can be placed in an air-tight container set aside for later snacking. The granola will keep for several weeks!
Yield:
Home Made Granola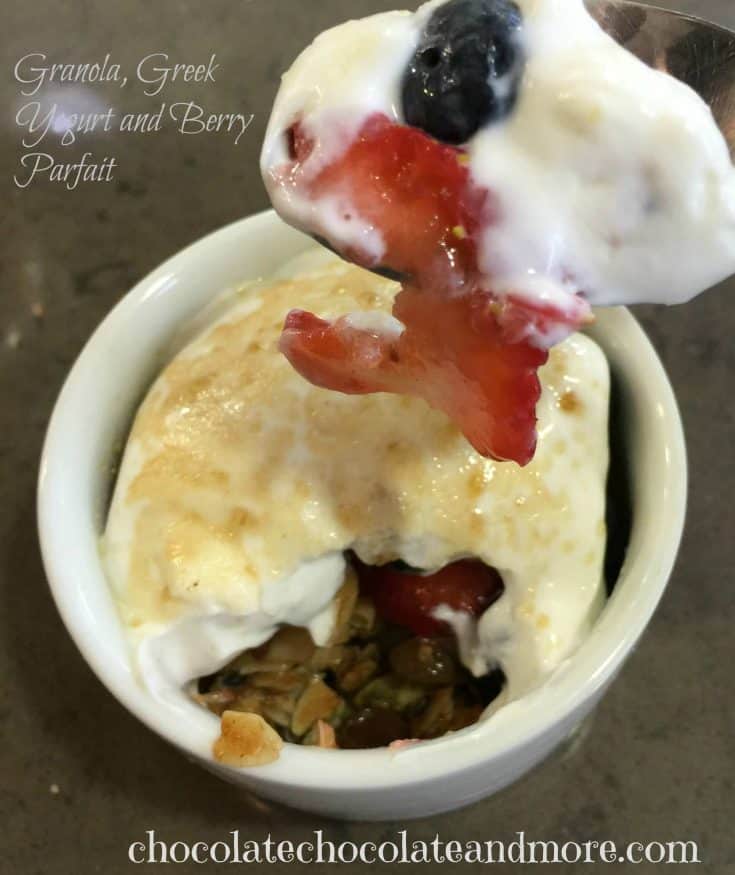 Make this granola from scratch, layer with greek yogurt and berries, and you have a delicious treat you can eat any time day or night.
Ingredients
2 Cups old fashioned rolled oats
1/2 Cup unsweetened flaked coconut
1/2 Cup sliced almonds
1/4 Cup raw cashews
1/2 Cup pumpkin seeds
1/4 Cup sesame seeds
1/4 Cup melted coconut oil
1/2 Cup honey
1/4 Teaspoon vanilla bean paste (vanilla flavoring will also do)
1/2 Teaspoon sea salt
1/4 Teaspoon ground cinnamon
1/4 Cup diced dried apricots
1/4 Cup golden raisins
Instructions
Preheat your oven to 275 degrees

In a large bowl, combine oats, coconut flakes, almonds, cashews and all of the seeds

In a small bowl, combine the coconut oil, honey, vanilla bean paste, salt, and cinnamon

Pour contents of small bowl on top of the contents of the large bowl and mix, ensuring all of the dry ingredients are covered with the honey mixture

Spread the mixture on a non-stick silicone baking mat on a rimmed baking sheet, and place in the center of the oven

Bake 40-45 minutes, stirring occasionally to ensure the mixture browns evenly (do not over-bake!)

Remove pan from oven and allow to cool

Add apricots and raisins and toss to combine

Layer granola, fresh berries, and yogurt in serving bowls, making sure the top layer is yogurt

Transfer parfaits to the freezer and chill for 20 minutes

Remove from freezer, top with 1 tablespoon turbinado sugar, and use kitchen torch to caramelize the sugar by sweeping the flame back and forth

Let the sugar harden about 2 minutes before serving