Summer Berry Trifle combines the fresh fruits of summer with sponge cake and whipped cream. Otis Spunkmeyer Golden Crème Cakes make a great shortcut for this dessert.
This time of year is PERFECT for making one of my favorite "simple" desserts – berry trifles. The grocery stores have plump and sweet blueberries, raspberries, strawberries, and blackberries just jumping out to greet you when you walk in the door — all you have to do is decide how to use them!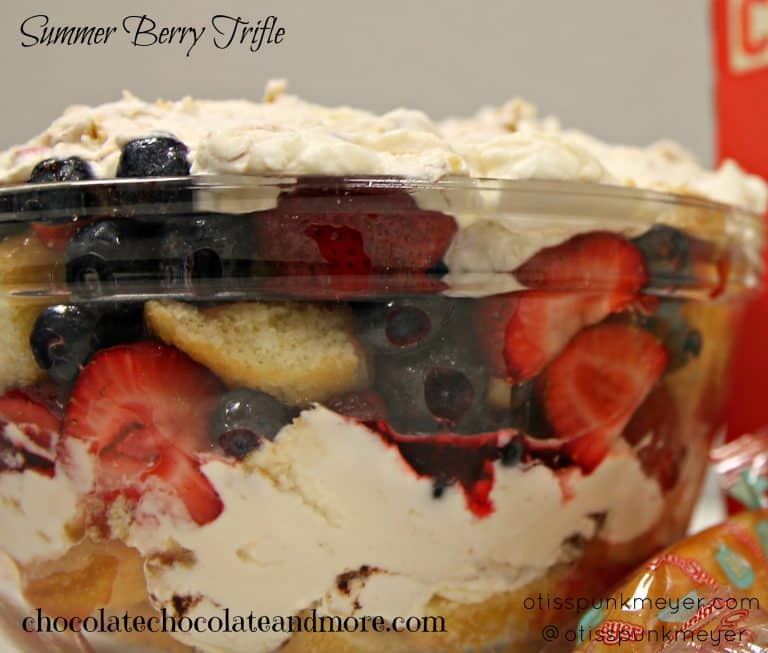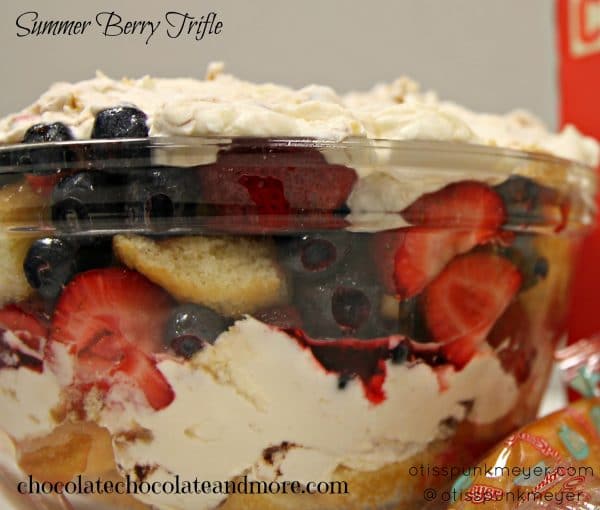 Trifles always look fancy, but aren't hard to make at all, and a new group of products by Otis Spunkmeyer made my job even easier – and tastier! Most of you know Otis Spunkmeyer because of their yummy chocolate chip cookies, but now the company makes a retail line of baked treats that tout they are made with "No Funky Stuff", and boy are they good!
For my Summer Berry Trifle, I decided to replace the standard angel food cake with OS's Golden Crème Cakes, which are golden snack cakes filled with a yummy buttercream filling. (An added bonus is the Golden Crème Cake doesn't have artificial colors, artificial flavoring, high fructose corn syrup and artificial oils/over-processed oils, which I like because I am trying to cut out a lot with the word "artificial" in it!) I used 20 of the cakes (each box comes with ten individually wrapped cakes) and cut them each into four small pieces.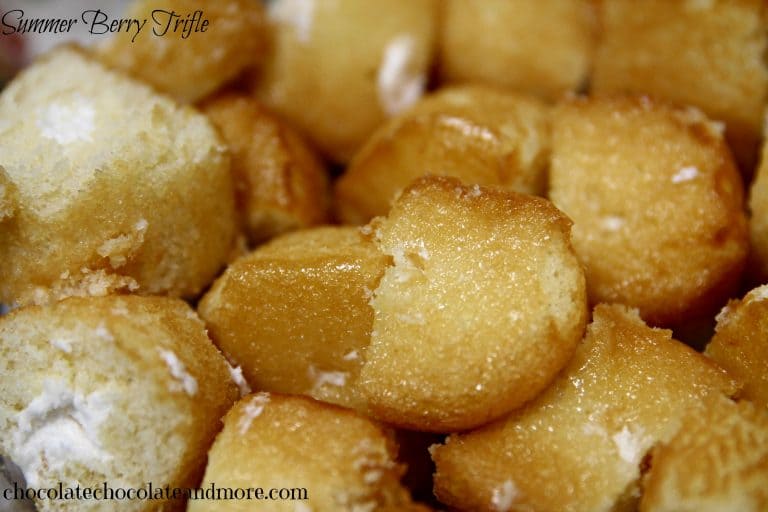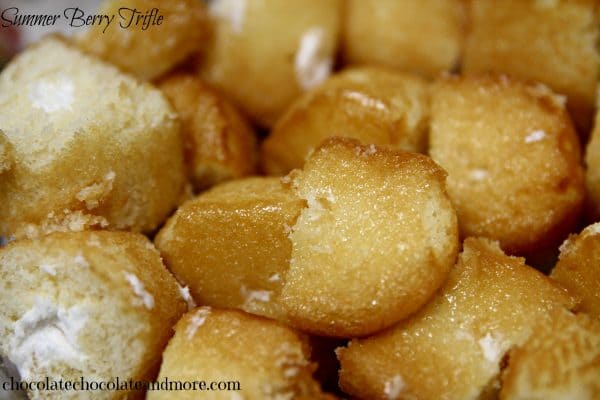 I call this simple, because you can "cheat" and use vanilla pudding for the other layers, or you can be "fancy" and do the filling from scratch – completely up to you with what works with your schedule.
Trifles usually involve a liquor of some kind. I can't drink alcohol, so I used juice instead – this also makes the trifle more kid-friendly for picnics and other family outings. (If you are making it for an adult-only gathering, pick your favorite liquor or brandy and replace the juice with it.)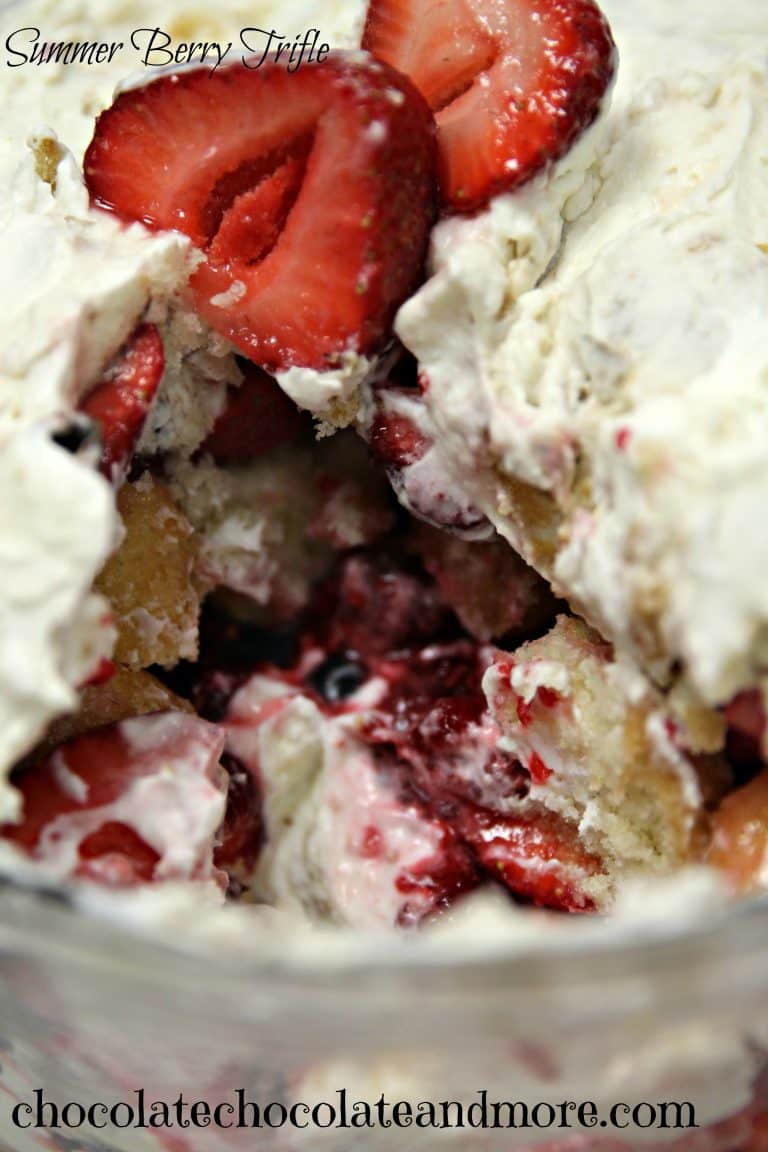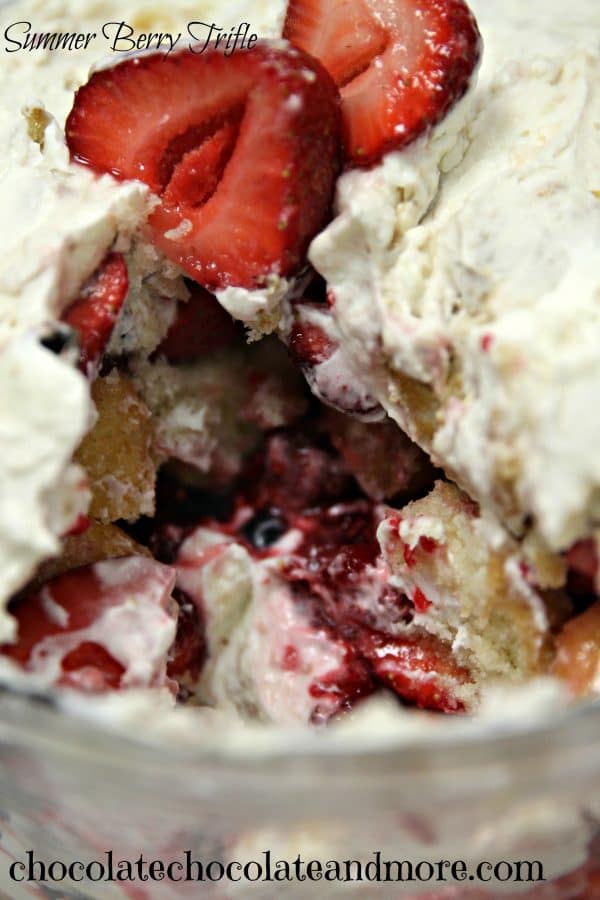 You can buy the Otis Spunkmeyer Golden Crème Cakes, or any of their "No Funky Stuff" baked goods, at Wal Mart and Sams Clubs. (To find the closest store near to you, visit their website at https://www.otisspunkmeyer.com.)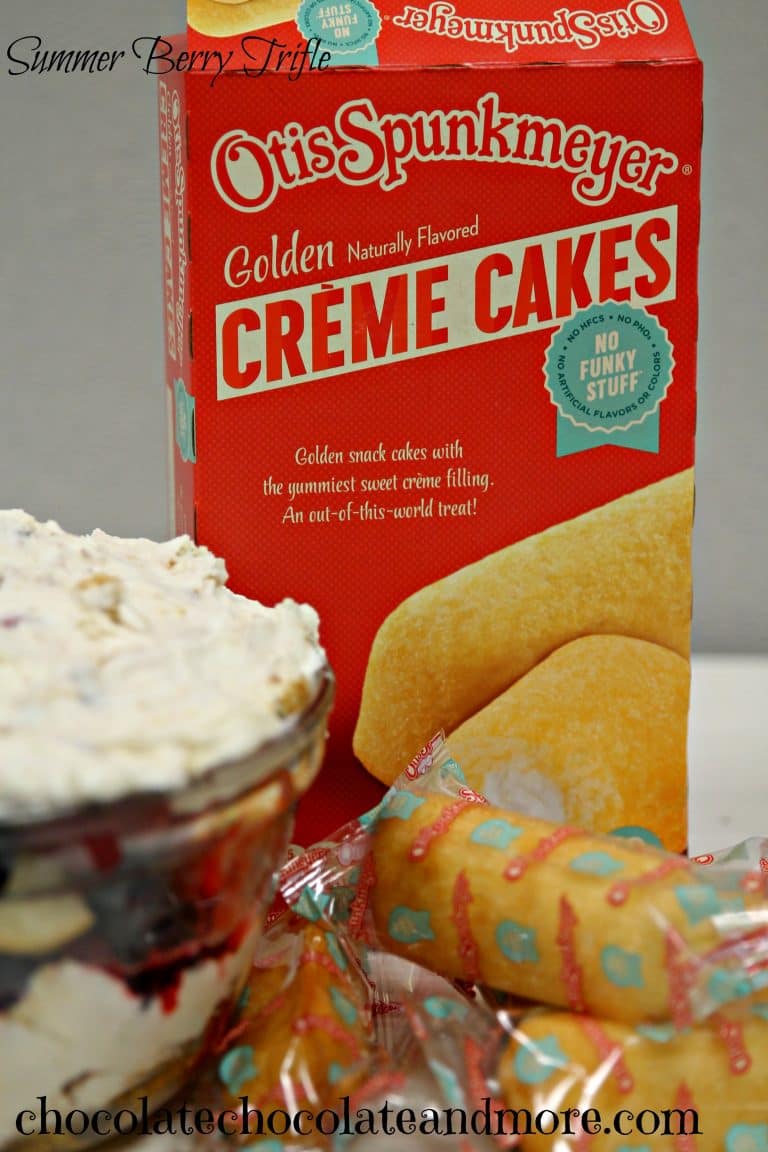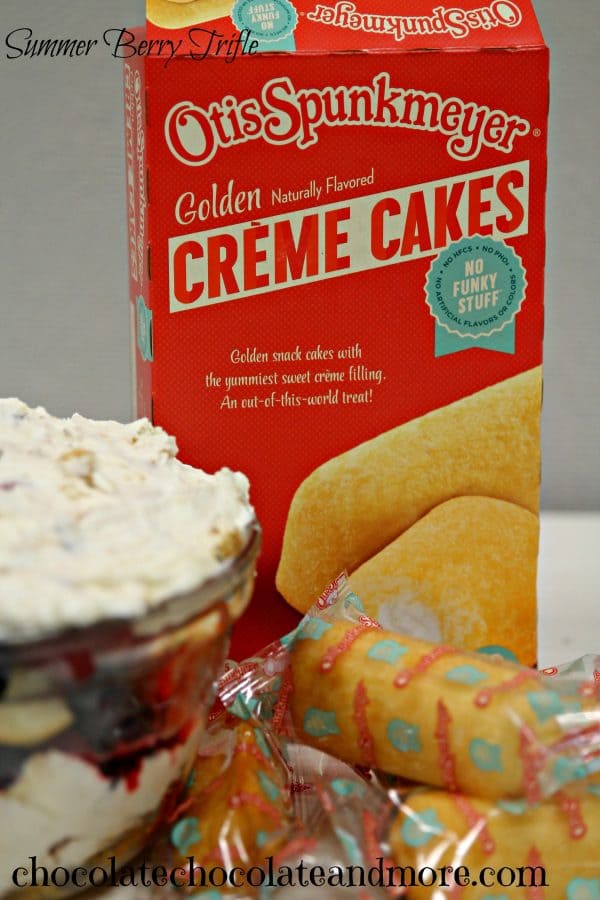 Summer Berry Trifle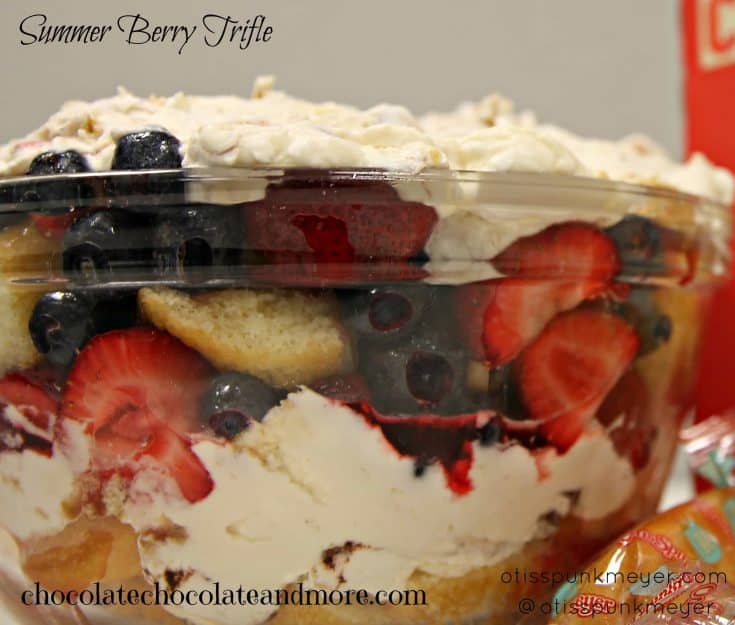 Ingredients
2 pounds mixed berries, such as strawberries, raspberries, blackberries and blueberries
1/4 cup superfine sugar
1/4 cup fresh orange juice
1/4 cup orange liqueur (or orange juice)
15 Otis Spunkmeyer Golden Creme Cakes, cut into 4ths
2 cups heavy cream
1/4 cup confectioners' sugar
1 1/2 tsp. vanilla extract
1/2 lb. mascarpone cheese, at room temperature (or cream cheese)
Instructions
Clean the berries (if using strawberries, hull them and cut in half) and place in a large bowl.
Add superfine sugar, juice and liqueur and stir gently until berries are covered.
Cover and set aside for at least an hour to let the combination macerate.
Cut the Otis Spunkmeyer Golden Creme Cakes into 4ths (you should have about 6 cups) and set aside.
In a large bowl, using an electric mixer on medium-high speed, beat together the cream, confectioners' sugar and vanilla until soft peaks form, about 3 minutes.
In a separate bowl, using clean beaters and with the mixer on medium-high speed, beat the mascarpone until soft. Using a rubber spatula, fold the whipped mascarpone into the whipped cream until evenly blended.
(In place of the above steps, you can make vanilla pudding using directions on the box.)
In a large flat-bottomed glass bowl, arrange a single layer of the Golden Creme cake pieces in the bottom of the bowl.
Spoon one-third of the berries over the cake and then spread one-third of the mascarpone mixture (or pudding) over the berries.
Repeat the layers twice, finishing with a layer of the mascarpone mixture (or pudding).
Cover with plastic wrap and refrigerate for at least 4 hours or up to 24 hours.
Notes
You can replace the cream, sugar, vanilla and mascarpone with vanilla pudding to make this a "simple" recipe. You can also replace the orange liqueur with an equal amount of orange juice for a kid-friendly version.

you might also like No Bake Cheesecake Brownie Parfaits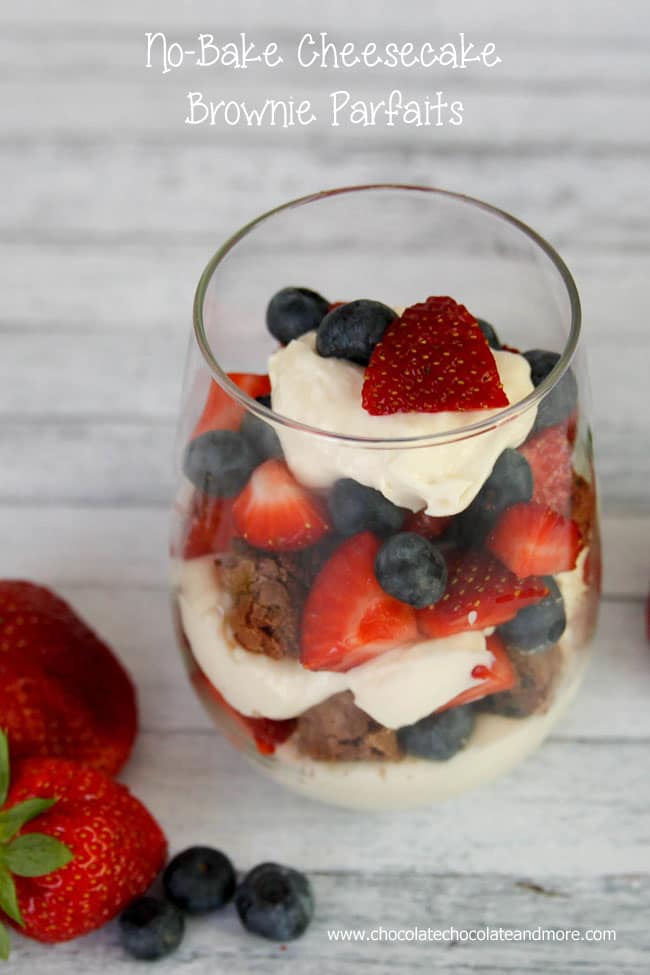 Or Red Velvet White Chocolate Cheesecake Trifle from Melissa's Southern Style Kitchen