Can you make pancakes and pudding? If so, then you're all set to make this elegant cake. Strawberry cream chocolate crepe cake is chocolate crepes layered with a thickened strawberry pudding and topped with some whipped cream and strawberries. This cake freezes well too!
Last week I baked a cake for a Pakistani family celebrating their anniversary. They own a restaurant so they've been very interested in my desserts.
Asian cakes are nothing like European, Australian and American ones. The texture is just off and then there's some strange fillings – like beans. Shudder.
I guess Pakistanis must have adopted British style baking because the family immediately commented on how my Coconut Marble Bundt Cake was like the cakes they had at home.
I offered to teach them how to bake but discovered their "oven" was a microwave. Right now they can't afford a real oven so I made this cake to show them that you can make an elegant dessert without an oven.
And this strawberry cream chocolate crepe cake freezes well so they can slice it and freeze slices until they get orders. It tastes great frozen too.
The chocolate crepes are not really good enough to stand on their own. I like my crepes crisp and these came out a little rubbery. It works in a cake but not as a breakfast dish.
The strawberry pastry cream uses the same technique I've used for years to make cream puff filling. It's pretty fool proof if you take your time to let the custard thicken (don't cook on high or let boil). If you boil the custard, you'll get a grainy texture.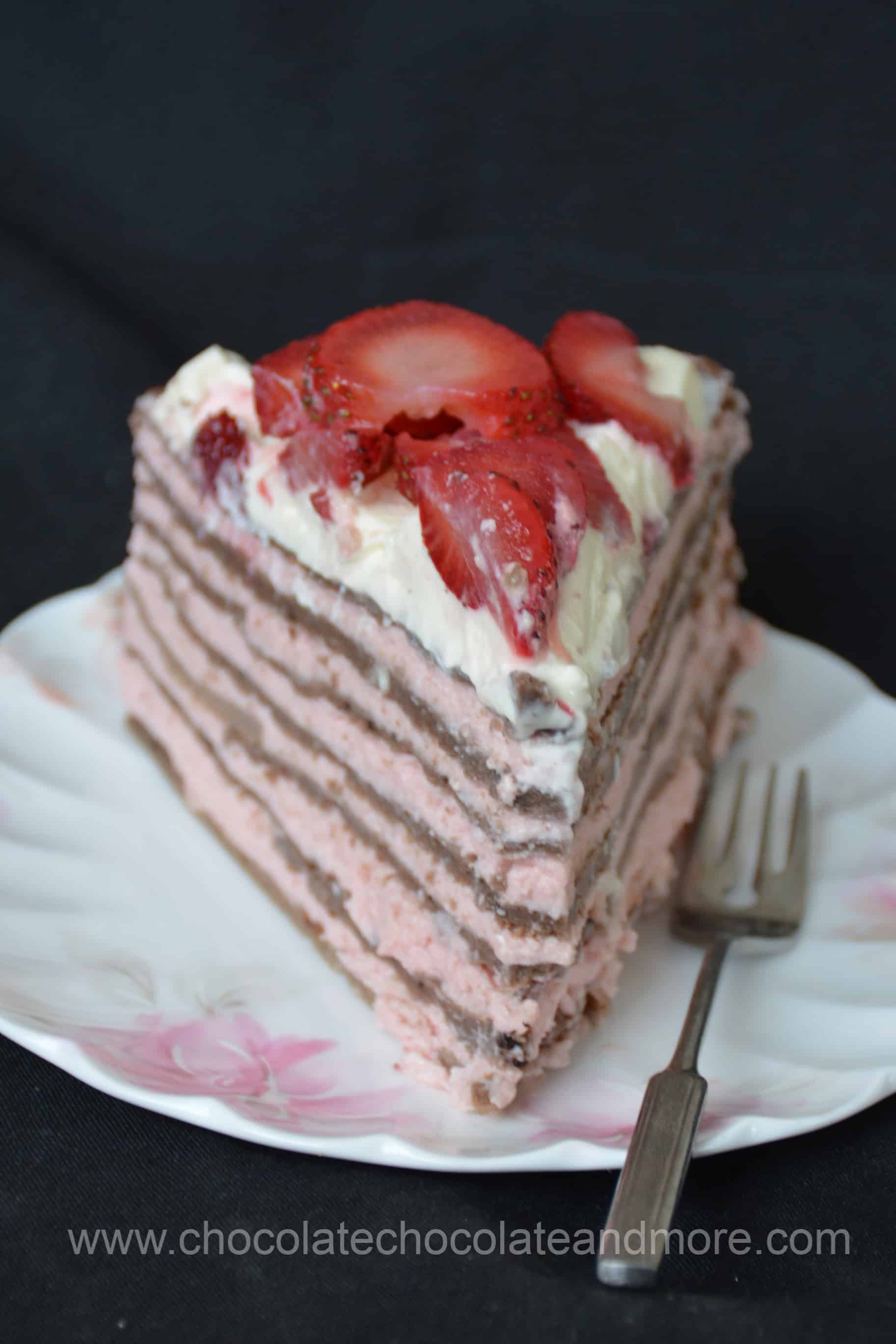 The great thing about crepe cakes is you only need 1 nice crepe for the top. You can use all the misshapen ones on the bottom and middle of the cake. No one every knows. So don't worry if your first crepes are lopsided.
I made this cake small so I could easily make crepes that fit the pan. If your more confident in your crepe-making skills, you can make this in a 9″ pan. You will need to make another half recipe of the strawberry cream filling.
Yield: an 8" cake
Strawberries and Cream Chocolate Crepe Cake
Ingredients
Chocolate Crepes
1 1/2 cup all purpose flour
1/4 cup cocoa
2 teaspoons sugar
4 eggs
1 1/2 cup whole millk
2 teaspoons chocolate or vanilla extract
1/2 cup butter melted
Strawberry Pastry Cream
1/4 cup corn starch
1 tablespoon flour
1 large (6 ounce) package strawberry gelatin
3 cups whole milk
4 egg yolks
2 tablespoons strawberry jelly (no seeds)
1/4 cup butter, cut into small cubes
1 cup whipping cream
Garnish
2 cups whipped cream
1/2 cup fresh strawberries sliced
Instructions
Pastry Cream
Mix corn starch, flour and strawberry gelatin together in a medium saucepan. Whisk in milk and egg yolks.
Heat on medium high heat stirring constantly until the mixture thickens and heavily coats a spoon. Remove from heat. Add jelly and butter. Mix well.
Cover with plastic wrap so that the plastic wrap is directly on the surface of the pastry cream. This keeps a film from forming. Refrigerate at least 2 hours until well chilled.
Crepes
Mix flour, cocoa and sugar together.
Whisk together the remaining ingredients and then whisk in the flour mixture until well combined.
Lightly oil a griddle and then heat it until a drop of water sizzles on the surface.
Quickly spread 1/3 - 1/2 cup batter in a thin layer on the surface of the griddle. I made a spiral with the batter and then quickly swirled the pan to fill in the gaps. Ideally you want at least 1 that is a good 8" circle.
Cook like pancakes. The batter on top should look almost cooked before you turn it over. Cook abut 30 seconds to 1 minute on the second side. Let cool.
Just before assembling the cake. Put whipping cream in a well chilled bowl. Beat until stiff peaks form. Fold into the strawberry pastry cream.
Assembly
Line an 8" springform pan with parchment paper (or waxed paper). Choose your best crepe. That will be the top of the cake so set it aside.
Lay the first crepe on the bottom of the pan. If the crepe doesn't fill the space, used one of the less pretty ones to make pieces to fill the spaces. Spread a thin layer of pastry cream on top of the crepe (pastry cream layer should be about the thickness of 2 crepes).
Repeat making layers until you are out of pastry cream. I had 6 layers but you will have enough crepes for 7 or 8.
Top the cake with your best crepe.
If you are not going to serve this cake right away, you can wrap it and freeze it. Freezing it makes it really easy to remove from the pan and to peel off the parchment paper on the bottom. Otherwise set in the refrigerator to firm up.
Just before serving spread whipped cream on top of the cake and then top with fresh strawberries.
Nutrition Information:
Yield:
16
Serving Size:
1 slice
Amount Per Serving: Calories: 278Total Fat: 20gSaturated Fat: 12gTrans Fat: 1gUnsaturated Fat: 7gCholesterol: 143mgSodium: 115mgCarbohydrates: 19gFiber: 1gSugar: 6gProtein: 6g

Nutrition information is provided as a guideline only. Please consult a dietitian if you have specific dietary requirements.

You might also like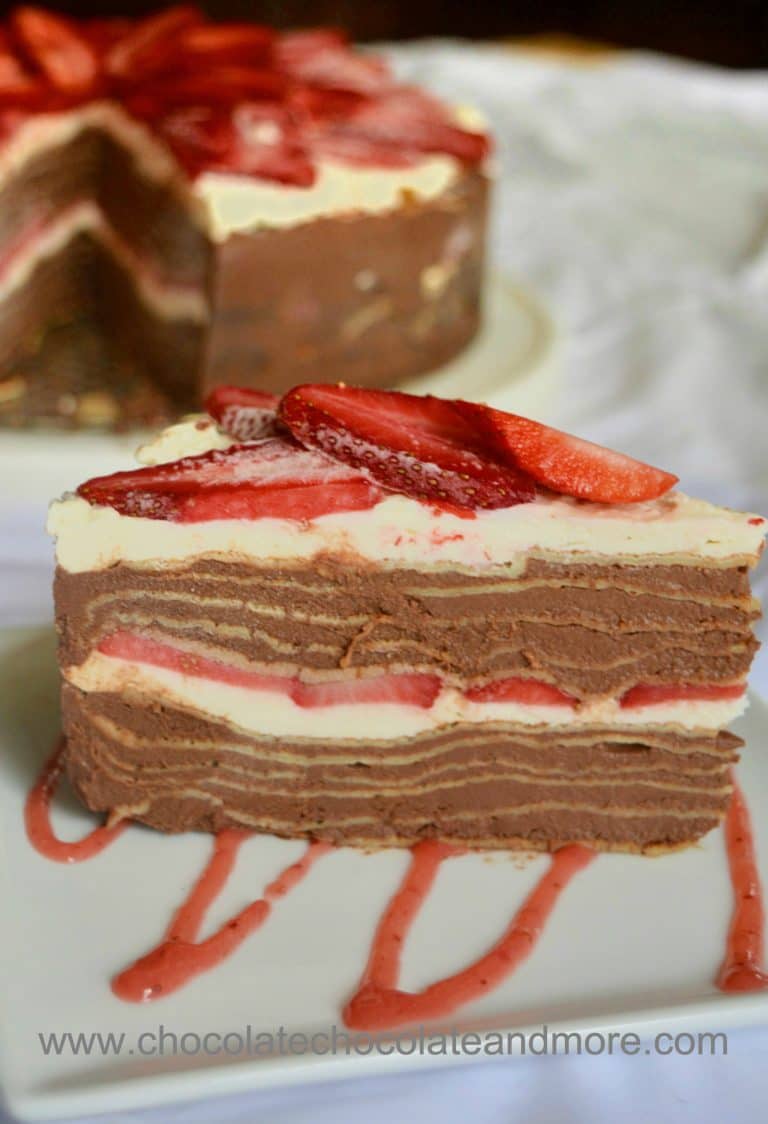 Chocolate Strawberry Crepe Cake