If you like a combination of crispy and chewy chocolate chip cookies, then these cookies are going to be right up your alley!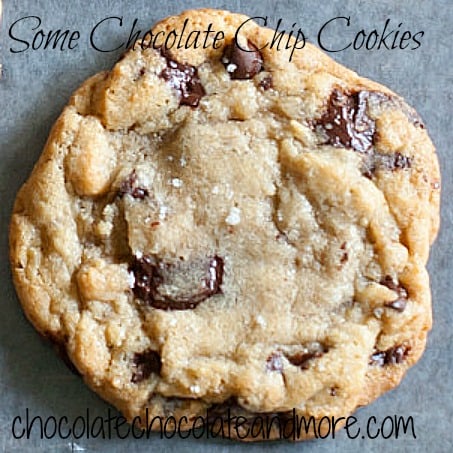 This is actually an adaption of an adaption of a David Leite recipe in the New York Times cooking section, and then a blogger updated it, and I have made a few of my own personal tweaks.
This recipe produces amazingly gooey chocolate chip cookies that are nice and soft in the middle and have a nice bit to crisp to them around the edges.
The cookies are not quick and easy — they take over 36 hours between mixing and chilling of the dough before baking.
The blog where I saw this recipe some eight years ago (Orangette.net) used this quote, and I love it "You know how, in Charlotte's Web, Charlotte writes "SOME PIG" over Wilbur's pen? Well, we've been seeing a lot of spiders around the house lately, and these cookies are sufficiently good that I half-expect to see the words 'SOME COOKIES' appear, written in spider silk, in one of the corners of our kitchen. They really are some cookies."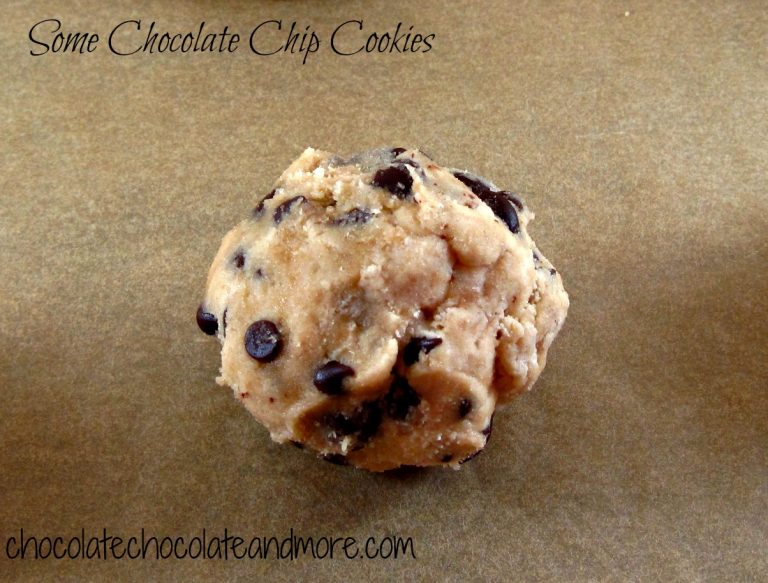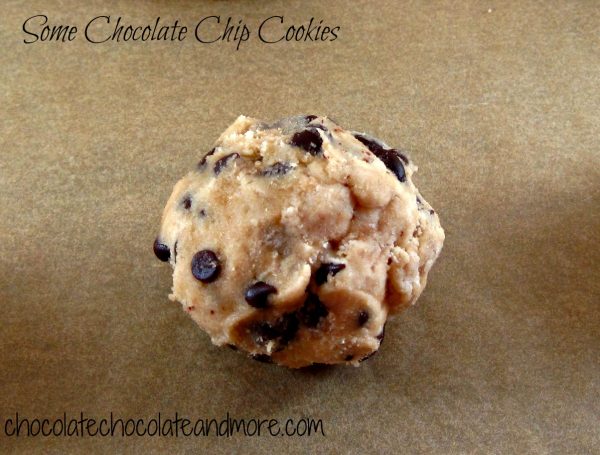 If you read Liete's original recipe, it is pretty complex beyond the long prep time, so I used as many shortcuts as I could think of to try and take some of the time off. Most importantly, I don't have time to go up to New York City to buy some Jacques Torres chocolate (although I have had it and it IS delicious) — so I just used what I could get at my local grocery store — Nestle's Chocolate Chips .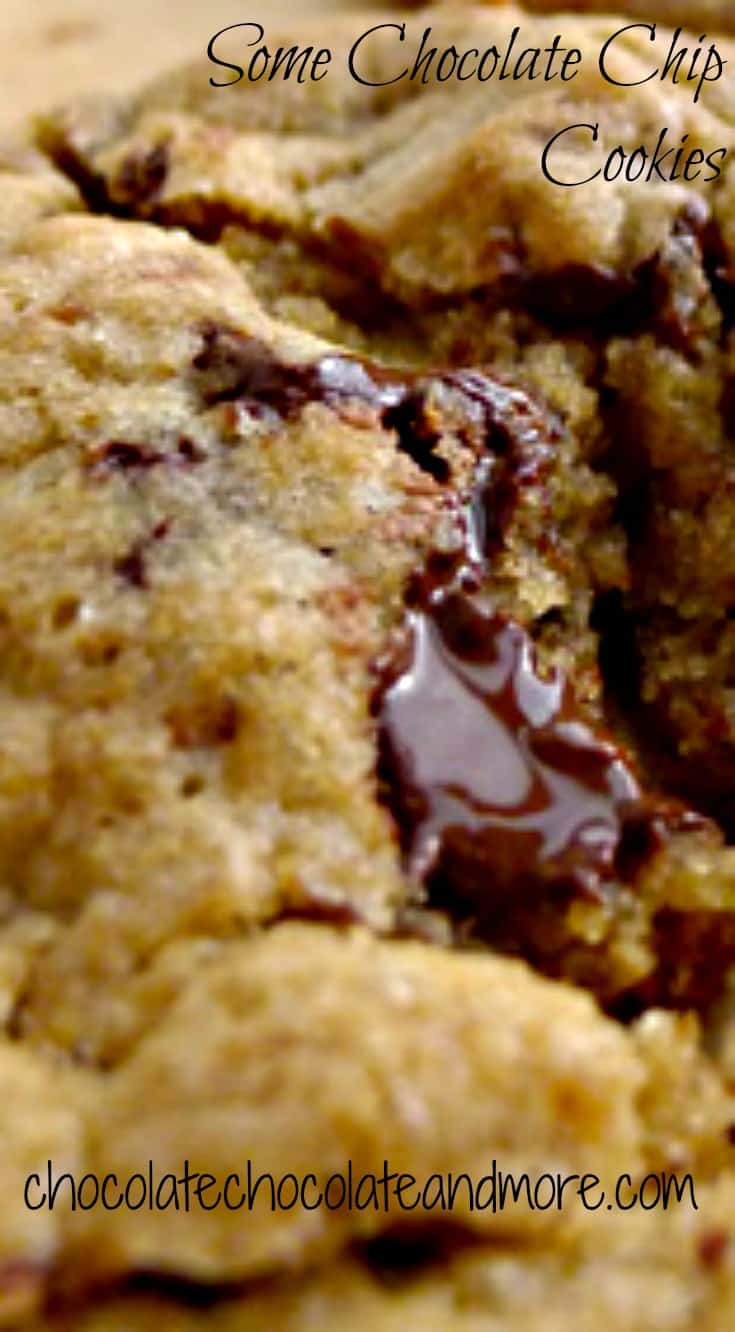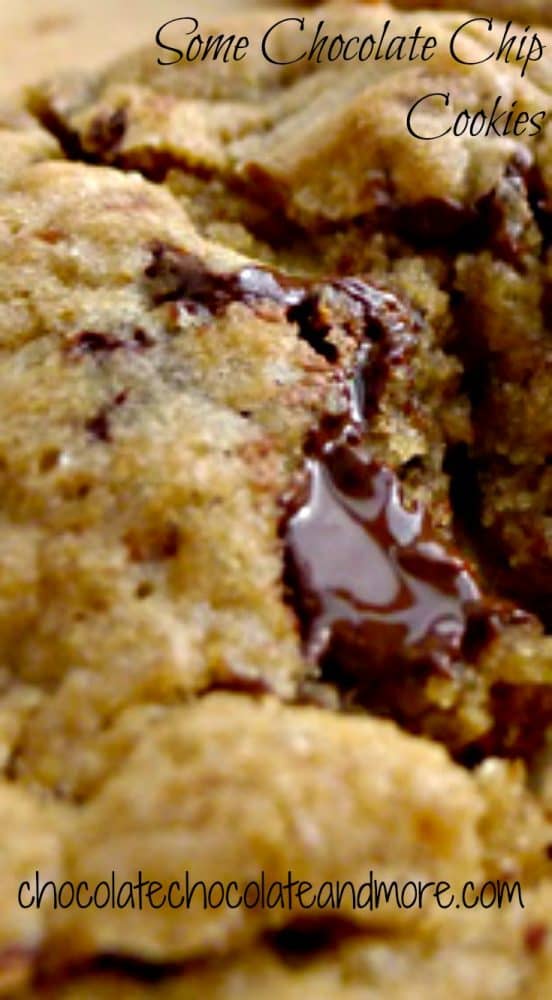 Second, I don't see the need to combine two flours, especially since the reason for doing so was never explained to us in the original article — so I used your regular brand of all-purpose flour in place of the cake and bread flours. In this case, I used King Arthur brand all purpose, but any kind you prefer works. And if you want to try the full bore recipe (which I have included), feel free! Either way, I am sure you'll love these cookies!
Some Chocolate Chip Cookies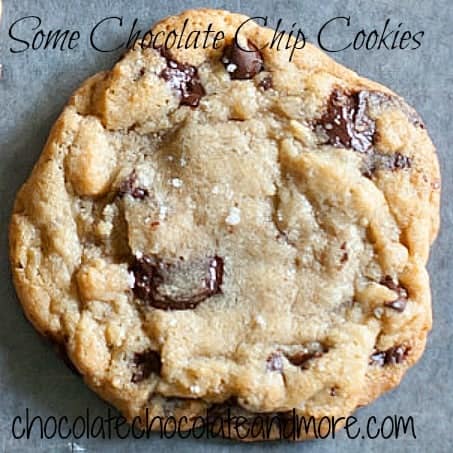 Ingredients
2 cups minus 2 tablespoons (8 ½ oz.) cake flour
1 2/3 cups (8 ½ oz.) bread flour
(To save time you can use 3 1/2 Cups regular all purpose flour in place of the two separate flours)
1 ¼ teaspoon baking soda
1 ½ teaspoon baking powder
1 ½ teaspoon coarse salt, such as kosher
2 ½ sticks (1 ¼ cups; 10 oz.) unsalted butter, softened
1 ¼ cups (10 oz.) light brown sugar
1 cup plus 2 tablespoons (8 oz.) granulated sugar
2 large eggs
2 teaspoon vanilla extract
1 ¼ pounds bittersweet chocolate chips or chunks, preferably about 60% cacao content (or, the same amount of your favorite regular chocolate chips work just as well)
Sea salt, such as Maldon
Instructions
Combine flours, baking soda, baking powder, and salt in a bowl. Whisk well; then set aside.
Using a mixer fitted with paddle attachment, cream butter and sugars until very light and fluffy, about 3 to 5 minutes.
Add the eggs, one at a time, mixing well after each addition.
Mix in the vanilla.
Scrape down the sides of the bowl with a rubber spatula as needed.
Reduce the mixer speed to low; then add dry ingredients, and mix until just combined. (Unless you have a plastic guard that sits around the rim of the bowl, this will make a big mess at first, with flour flying everywhere. I found that carefully holding a dish towel around the top of the bowl helped a lot.)
Add the chocolate chips, and mix briefly to incorporate.
Using a standard-size ice cream scoop (if you have one -- if not a large spoon will do) scoop the dough onto a sheet pan or anything that will hold about two dozen dough portions in a single layer.
Cover tightly with plastic wrap, and chill for 24 to 36 hours - and up to six days.
When you're ready to bake, preheat oven to 350°F. Line a baking sheet with parchment paper
Place six to eight or the dough balls on the baking sheet, making sure to space them evenly.
Sprinkle lightly with sea salt, and bake until golden brown but still soft, 15 to 20 minutes.
Allow cookies to cool on the pan about 10 minutes, then transfer the cookies onto a wire rack to cool a bit more.
Repeat with remaining dough, or until you have the number of cookies you need for whatever you are baking them for.
If you don't use all of the dough, place remaining balls in an airtight container and seal and place in your freezer until you need them again.




Yield: About 24 (5-inch) cookies.