Snickerdoodles are soft, cinnamon-sugar coated cookies. They're easy to make and great any time of year. This recipe makes 4 dozen so you might even have some to share.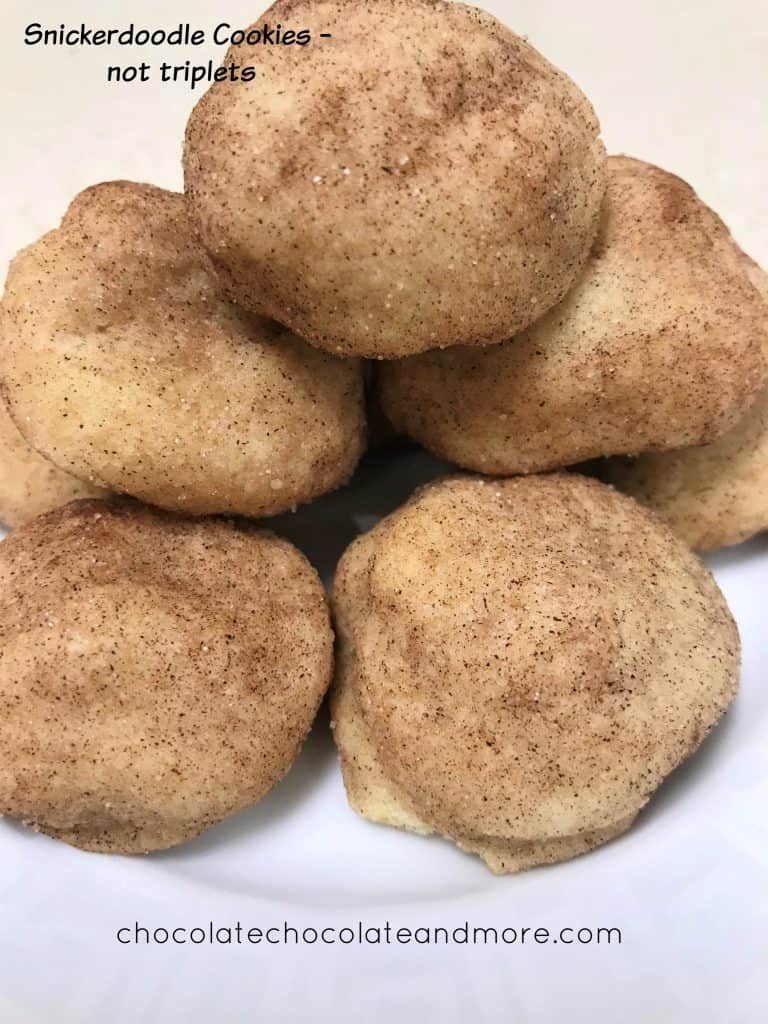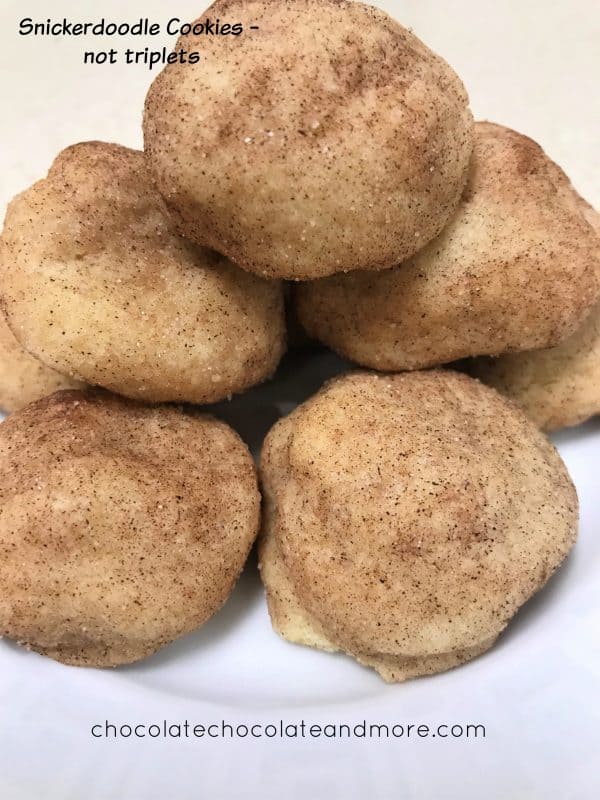 I have a dear friend in Florida who has five-year-old triplets she has always called the Snickerdoodles. Asking her about the origin of the moniker for her toe-headed trio, she says "It was a cute nickname a friend's wife called them and it just stuck because they are so yummy and sweet – just like a snickerdoodle!" They are indeed the sweetest triplets I know.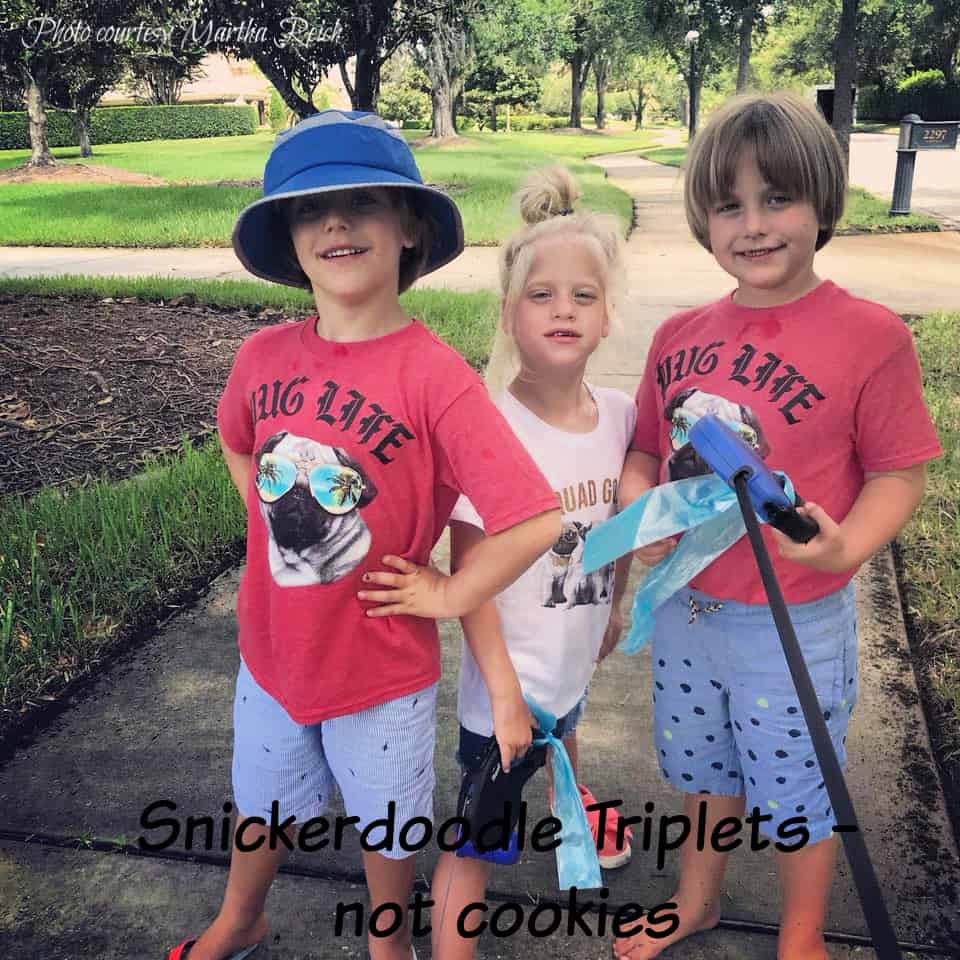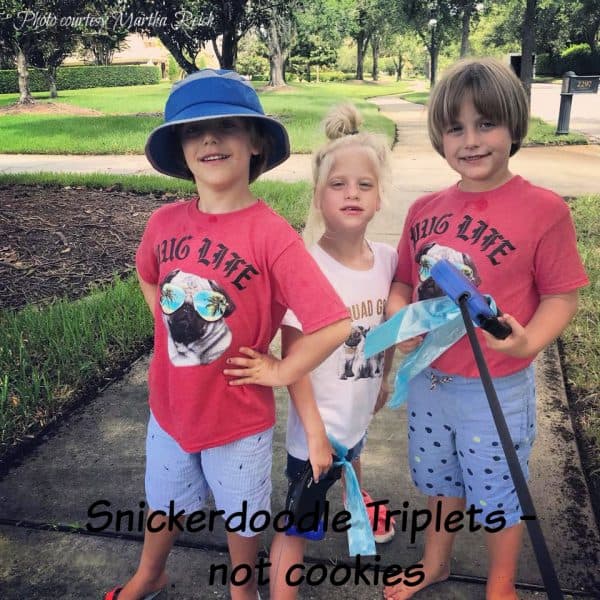 Making Snickerdoodles is a lot easier than raising triplets, no matter how sweet they are. (If you have had one five-year-old, you know there are also some very non-sweet moments involved in rearing a child — much less three at a time.) But I digress — this is about the cookies, not my inspiration for making them.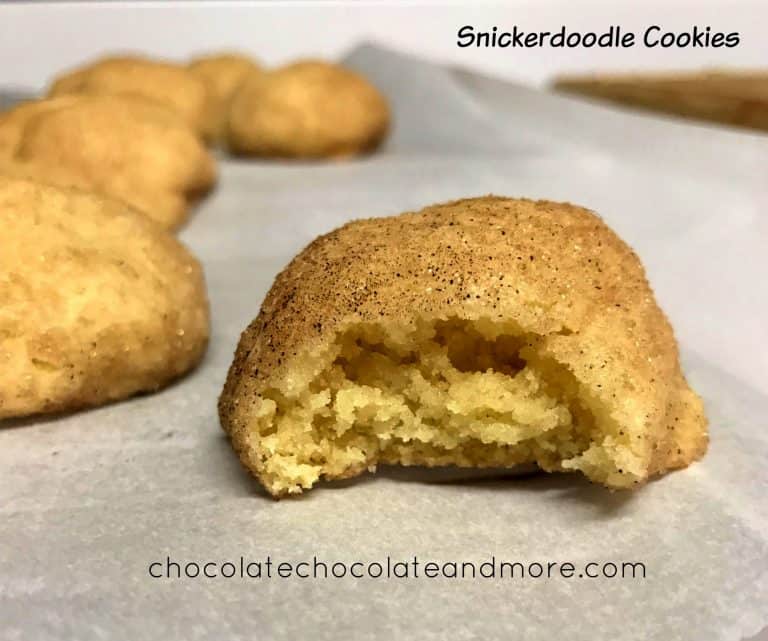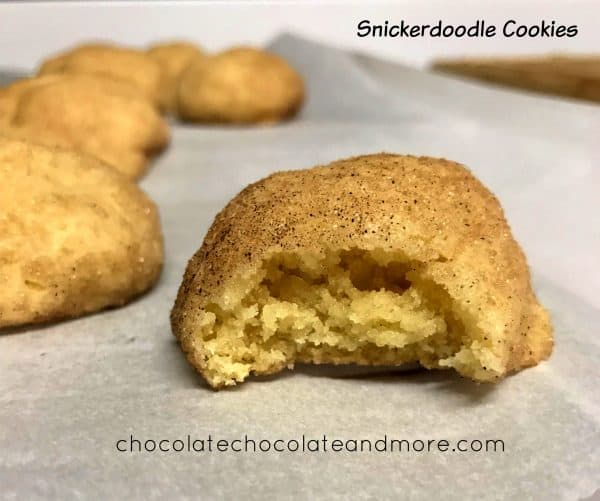 This recipe is very easy to make, although it does take a little time. Making the dough only takes a few minutes. However, you have to refrigerate it for an hour, and then cool the cookies after pulling them out of the oven. So I'd set aside at least 90 minutes to make these cookies.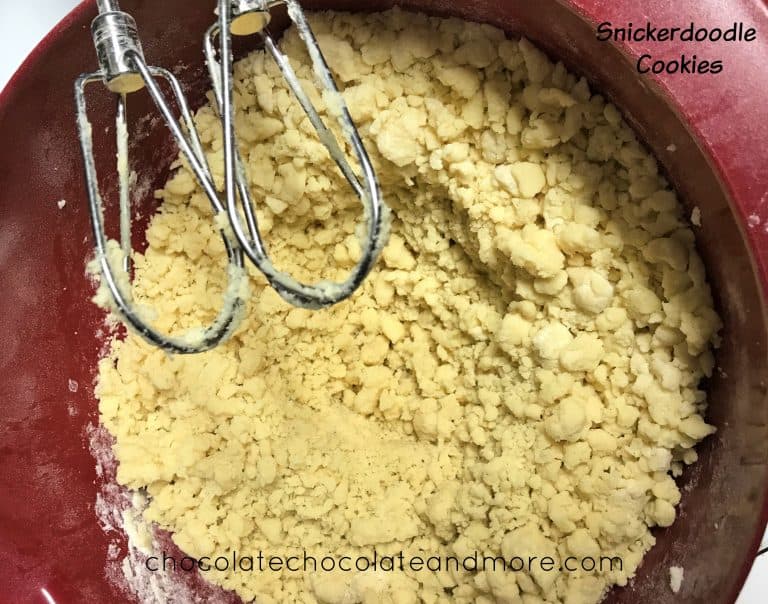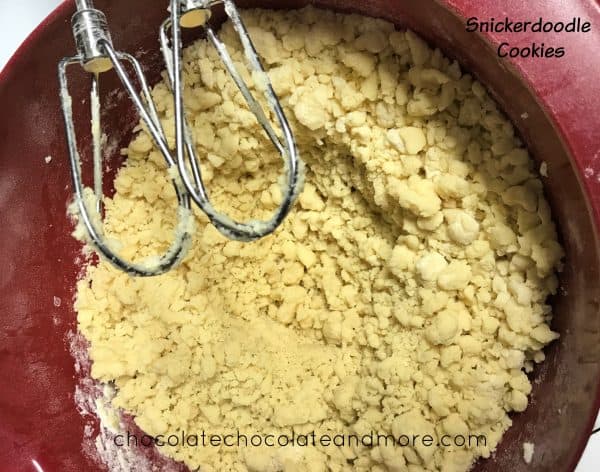 When you make the dough, it will seem very crumbly. That is why you want to make sure the dough is chilled thoroughly before preparing the cookies.
If you have arthritic fingers like I do, this might be a little challenging for you.
To mold the dough, you have to take the chilled crumbles, squish them into a single chunk of dough. Then roll it into a round ball (somewhere between the size of a large gumball and a donut hole).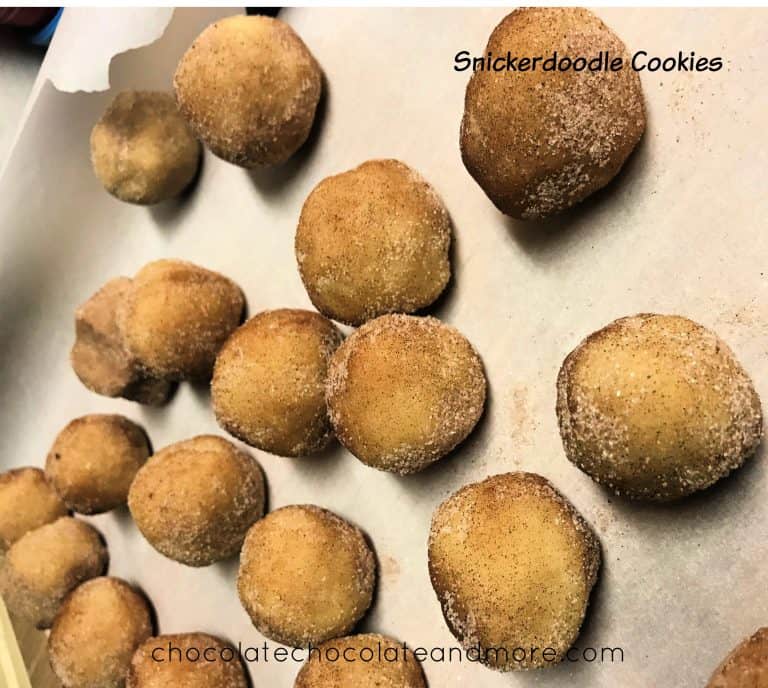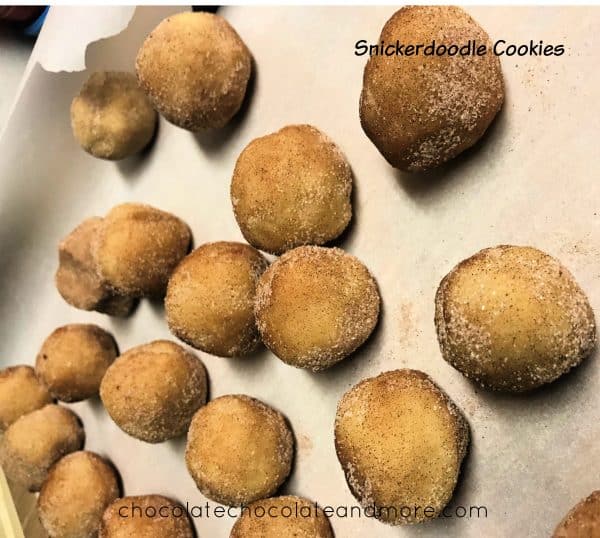 The end result is a yummy and sweet cookie that is great for the holidays, or any day.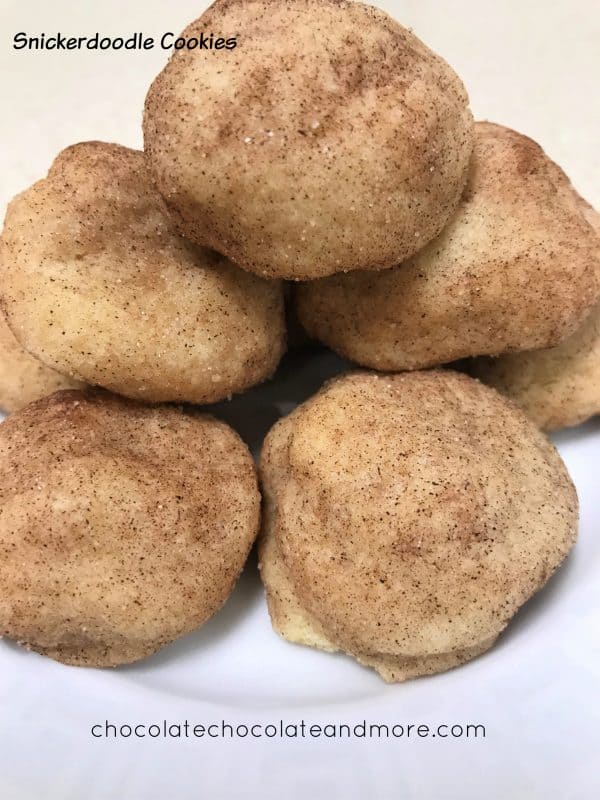 I know my three favorite little snickerdoodles would agree.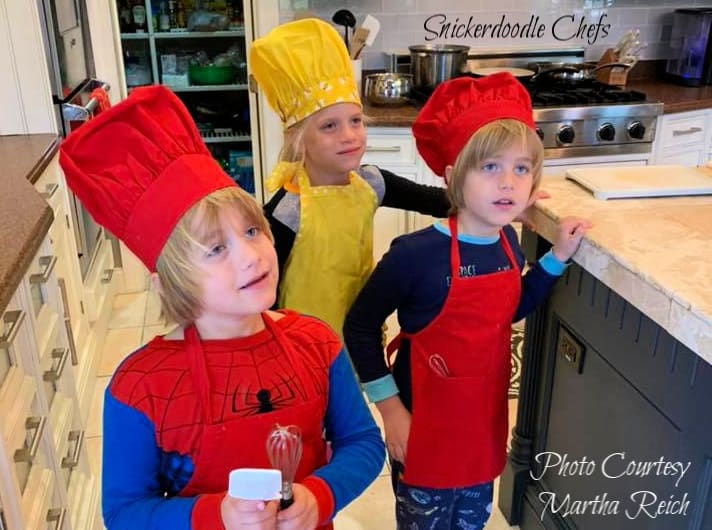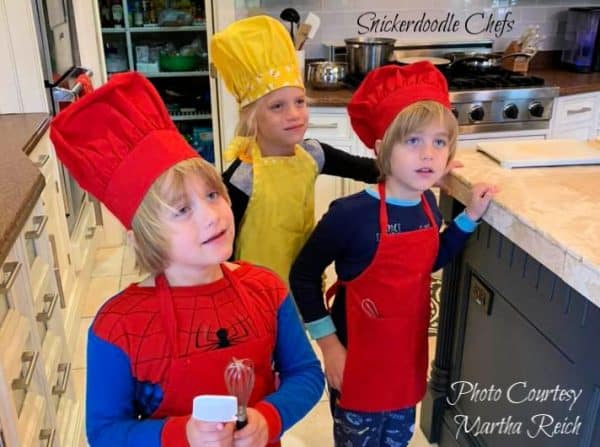 Yield: 48 cookies
Snickerdoodle Cookies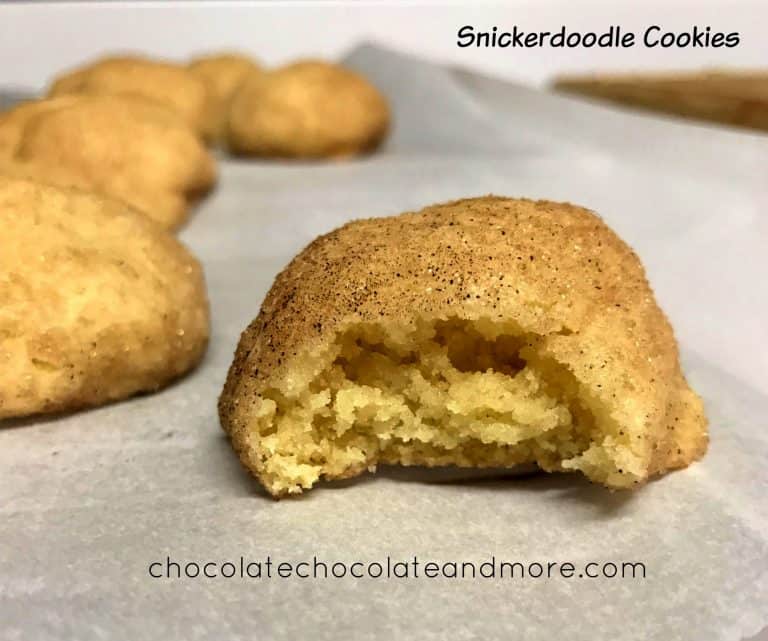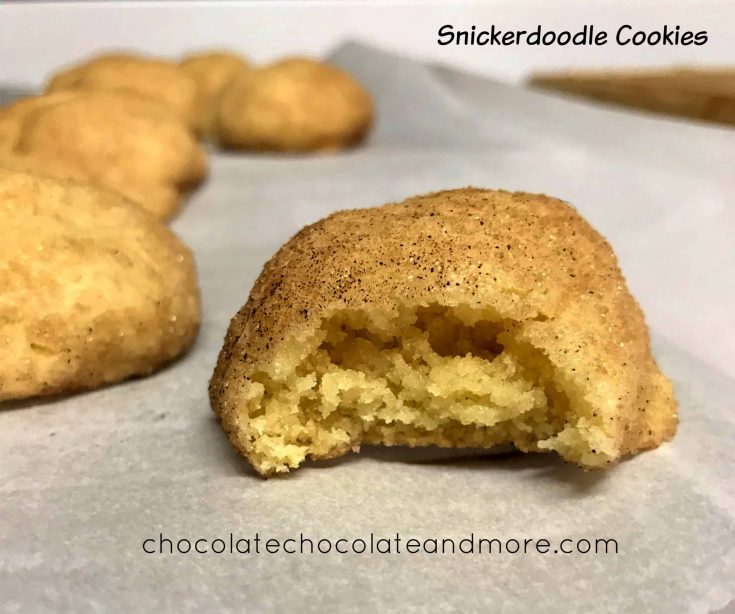 Prep Time 1 hour 25 minutes

Cook Time 10 minutes

Additional Time 10 minutes

Total Time 1 hour 45 minutes
Ingredients
For cookies:
1 cup softened butter
1 1/2 cups granulated sugar
1 teaspoon baking soda
1 teaspoon cream of tartar
1/4 teaspoon salt
2 eggs
1 teaspoon vanilla
3 cups all purpose flour
For coating:
1/4 cup granulated sugar
2 teaspoons cinnamon
Instructions
In a large bowl, beat softened butter with a mixer on medium for 30 seconds.
Add 1 1/2 cups sugar, baking soda, cream of tartar and salt, and mix until combined.
Add eggs and vanilla and mix until fully incorporated.
Slowly add in flour. (I suggest adding it in small batches so as not to create a flour storm.)
Mix until all ingredients are combined into a dough. The dough will be very crumbly, but that is OK.
Cover bowl and chill for at least one hour.
While dough chills, combine the 1/4 cup granulated sugar and cinnamon in a small bowl. cover and set aside.
Preheat oven to 375 degrees.
Remove chilled dough and shape into balls (somewhere between a large gumball or donut hole)
Roll balls in the cinnamon sugar mixture to coat, and place on ungreased cookie sheet or parchment paper, about 2 inches apart (dough will spread when baking).
Bake 12-14 minutes, or until bottoms are slightly browned.
Remove from oven and cool on wire rack.
Nutrition Information:
Yield:
24
Serving Size:
2 cookies
Amount Per Serving: Calories: 188Total Fat: 8gSaturated Fat: 5gTrans Fat: 0gUnsaturated Fat: 3gCholesterol: 36mgSodium: 142mgCarbohydrates: 27gFiber: 1gSugar: 15gProtein: 2g

Nutrition information is provided as a guide only. Please consult a dietitian if you have specific dietary requirements.