Slow Cooker S'Mores Cake is a great way to make s'mores for a crowd. Top it with ice-cream for an even better treat.
S'Mores are one of my favorite treats — they always have been. The combination of melty chocolate, slightly burned marshmallow, and graham crackers takes me back to my days at Camp Welaka as a Girl Scout, where we would sit around a campfire with our sticks and see who could make their s'more the gooiest.
Unfortunately I don't get to camp nearly as much as I would like to these days, and making s'mores tends to be more about what heat source can be found in my kitchen instead of a good campfire. Microwaves are the quick and easy way to go, but what about taking the slow way to ooey gooey goodness?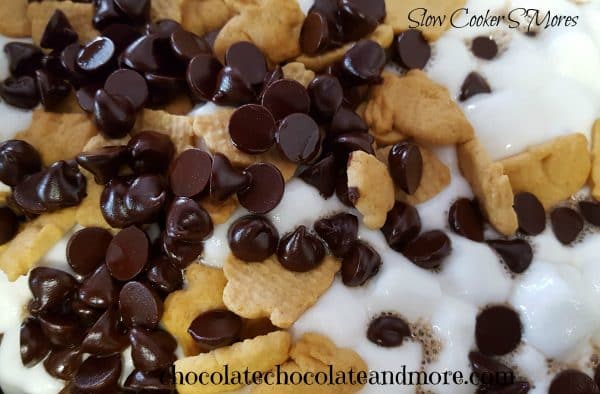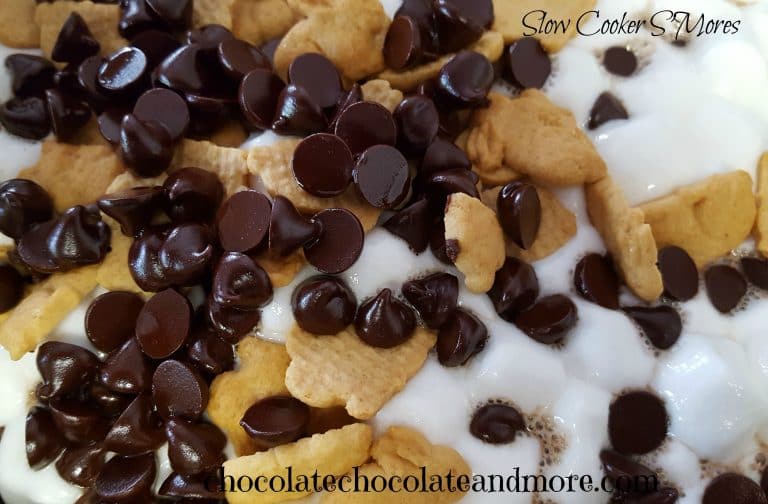 I love my Crock Pot. I usually use it for soups and stews, or for roasts and ribs, but I had never used it for a dessert — until now. I had a hankering for something s'morey, but also knew I had a bunch of errands to run in the middle of the day — and my trusty Crock Pot sat on the counter begging to be used. So I threw open some cook books to see if I could find something to fit the bill.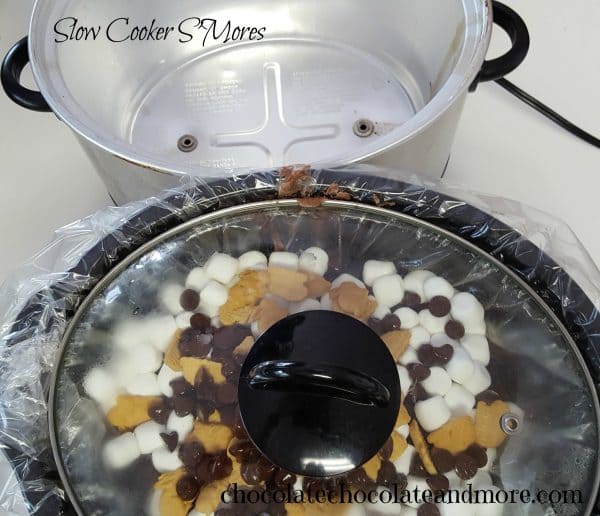 I found a recipe and then checked my pantry — no marshmallow fluff in stock, but I did have a lot of mini-marshmallows, and since I didn't have graham crackers, I used some Annie's Honey Bunny Grahams. I mixed the ingredients and put them in the cooker while I went out to run my errands. When I walked back in the door, the aroma greeted me and I have to admit, all that was missing was the smell of a good campfire to take me back to those days at Girl Scout camp. And the taste — oh so delicious! And unlike regular s'mores, you can add ice cream on top of slow cooker s'mores cake to make it even better! Just make sure you have a tall glass of milk to wash it all down with!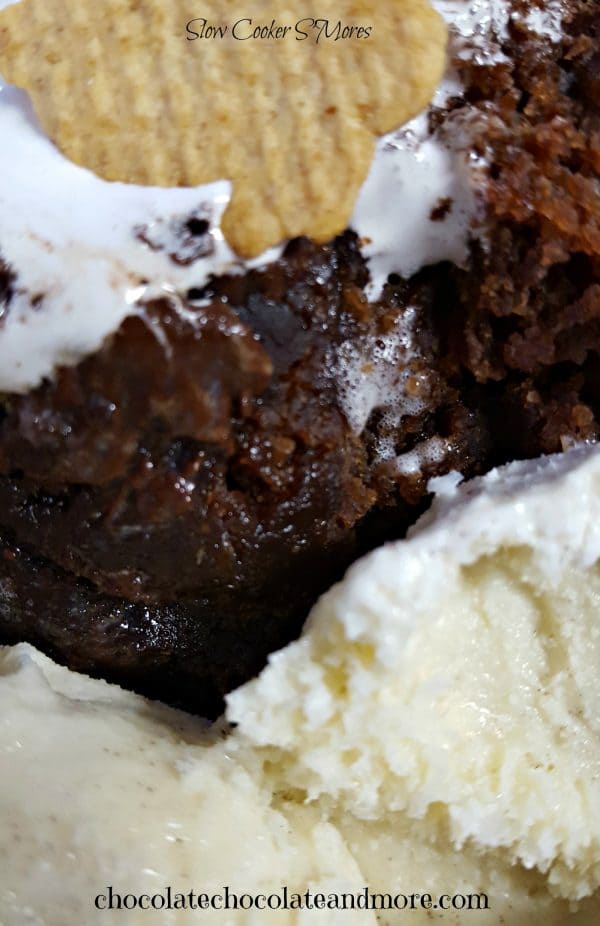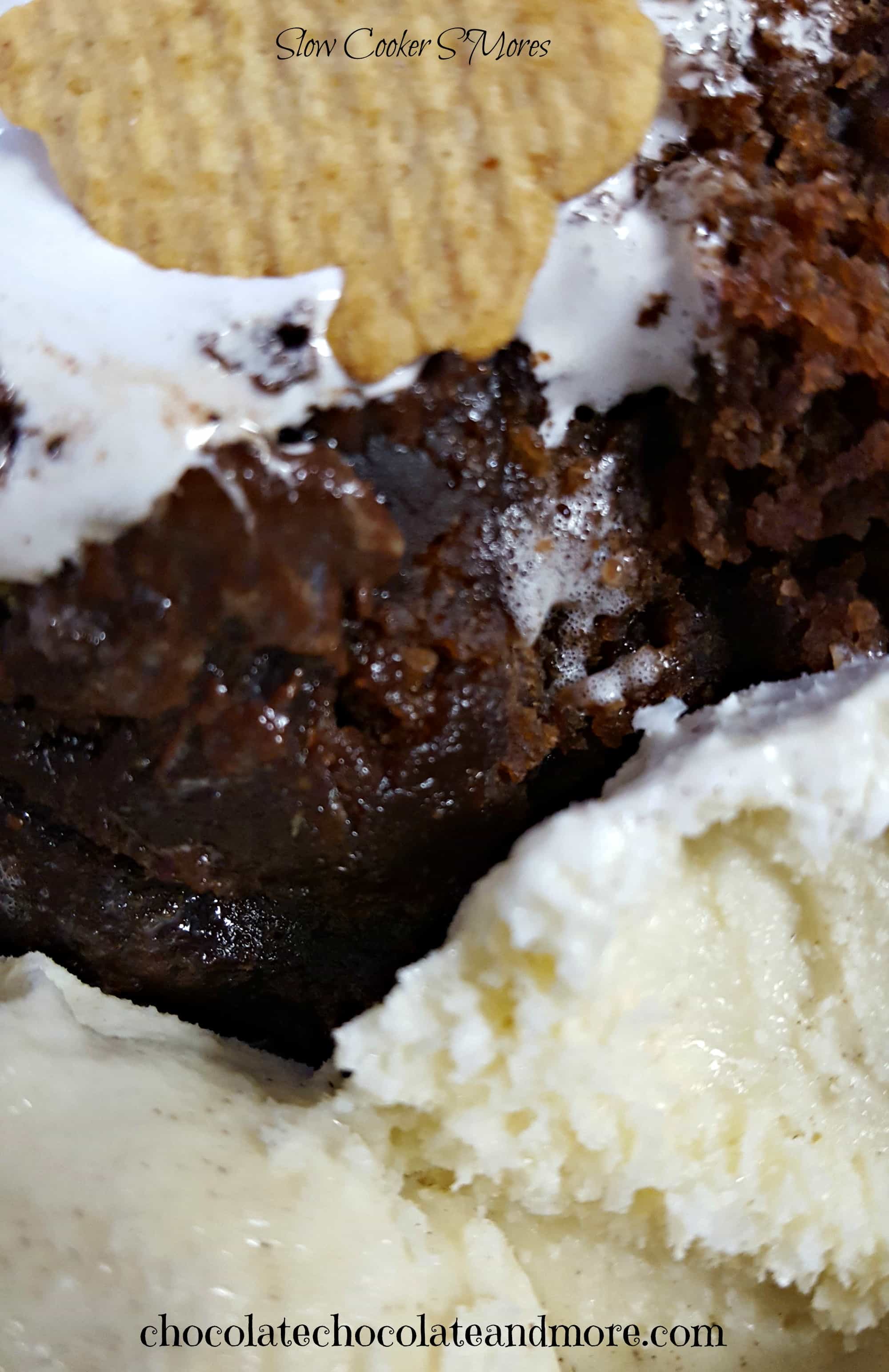 Ingredients
Nonstick cooking spray
3 eggs, lightly beaten
1 8-ounce container of sour cream
1 cup water
1 box chocolate cake mix
1 cup all-purpose flour
1 cup sugar
1 cup mini marshmallows
1 7 ounce jar marshmallow creme
3/4 cup milk chocolate pieces (chips or broken up candy bars will work)
1 cup Annies Honey Bunnies ( or 6 graham cracker squares, broken into 1 inch pieces)
Instructions
Lightly coat a 6-quart Crock Pot (or other slow cooker) with cooking spray. (I use Reynolds® Slow Cooker Liners - 4 count, but still sprayed the liner with Pam.)
In a large bowl combine eggs, container of sour cream, and water.
Mix in cake mix, flour, and sugar and stir until combined.
Add mini-marshmallows.
Pour mixture into your slow cooker and cover.
Cook on low for 3 to 4 hours or until internal temperature reaches 165 degrees F. (Cake will be wet just in the center.)
Drop spoonfuls of marshmallow creme over hot cake or top with more mini-marshmallows (creme will spread to an even layer as it warms, and marshmallows will melt).
Sprinkle with milk chocolate and graham cookie/cracker pieces and replace lid on top of cooker.
Remove crockery liner from cooker and allow to cool for 15 minutes.
Uncover and let stand at least another 15 minutes.
Serve on a plate or in a bowl with ice cream
https://chocolatechocolateandmore.com/slow-cooker-smores-cake/
Copyright Chocolate Chocolate and More