Raspberries and lemon vodka transform this plain box cake into something sensational. Raspberry Lemon Vodka Cake is perfect for coffee with friends or dinner for two. Use lemonade instead to make a kid friendly version if you like.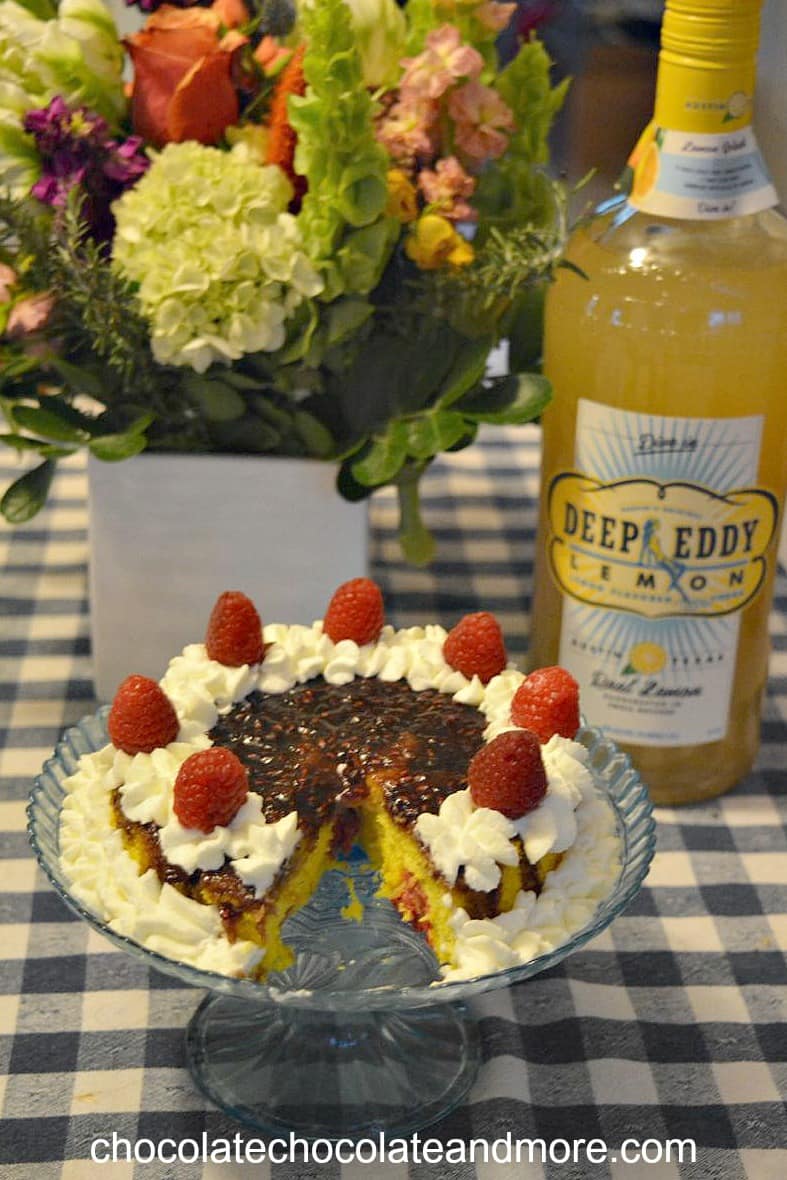 After coming back from a year in Cambodia I'm often asked if I'm experiencing reverse culture shock. I find it's usually pretty subtle except when I'm in the grocery store. The sheer volume of choices and the knowledge that things will be in stock from week to week still amazes me.
In Cambodia, baking supplies are all imported and they come in on container ships that arrive once every couple of months. Selection is always best right after the shipment arrives and then dwindles to nothing right before the next shipment.
A few weeks ago I saw these Perfect Size cake kits from Duncan Hines. Each kit comes with a paper pan, mix for a 6 inch cake and frosting mix to cover the cake. Since I'm now living alone, the small size was really attractive to me. It's the perfect size for coffee with friends or a dinner without kids. I bought two flavors: Chocolate Lover's and Golden Fudge.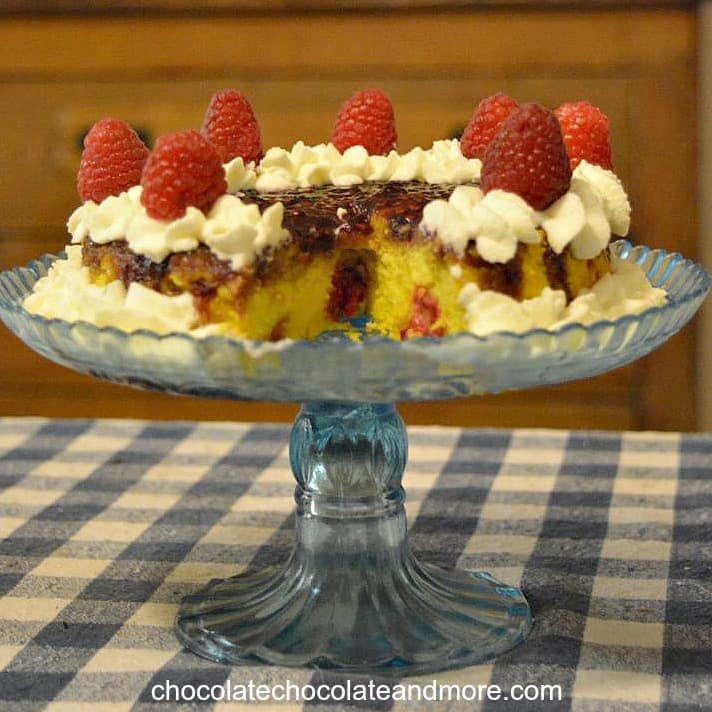 Box cakes are kind of boring though so I decided I'd doctor up the cakes to make them more special. With no kids around and the holidays coming up, I splurged on an adult cake. Raspberries go great with golden cakes so I started with them and added some lemon to bring out the flavor more. I was hoping to use Limoncello but could only find lemon vodka in the store so here we are – raspberry lemon vodka cake.
You can easily flavor any cake mix by replacing the water with a liquid of the flavor you want. If you want a kid-friendly version of this cake, just substitute, lemonade for lemon vodka in the recipe. To give the cake even more zing, it's topped with lemon vodka raspberry soaking syrup. You can stop there if you like or pipe some whipped cream on top too.
Raspberry Lemon Vodka Cake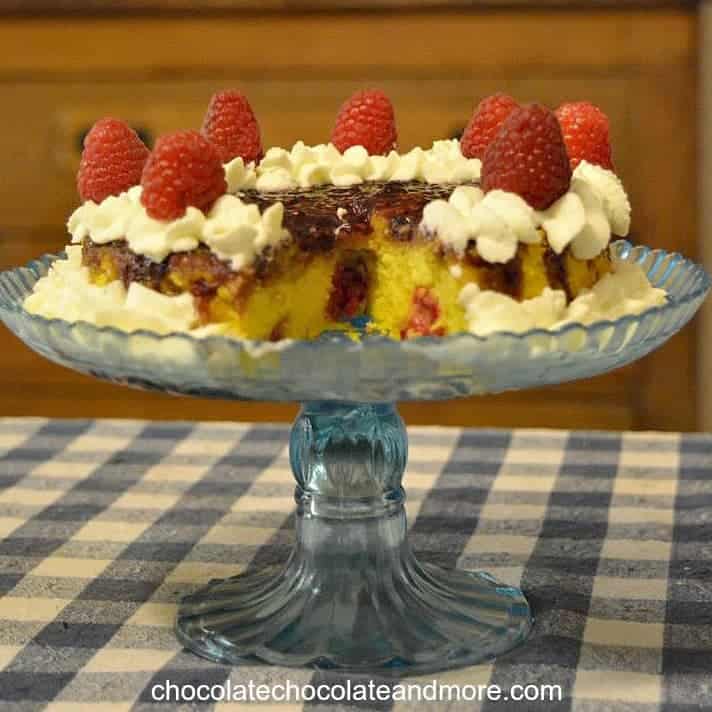 Ingredients
Cake
1 Duncan Hines Golden Fudge Perfect Size Cake Mix
¼ cup lemon vodka (or lemonade)
1 egg
2 Tablespoons butter softened
8 fresh raspberries
Soaking syrup
1 Tablespoon water
2 Tablespoons butter
¼ cup sugar
¼ cup fresh raspberries, crushed
2 Tablespoons lemon vodka or lemonade
Whipped Cream and fresh raspberries for garnish
Instructions
Make boxed cake mix according to directions except substitute the lemon vodka for water. After you spread the cake mix in the pan, press 8 raspberries into the cake in an evenly spaced pattern.
While cake is baking, mix water, butter and sugar in a small pan. Cook on medium high heat until the mixture boils. Add raspberries and cook until the mixture thickens. Set aside to cool. Add lemon vodka.
When the cake is cool, invert onto serving platter. Use a skewer to poke holes in the top of the cake and drizzle soaking syrup on top.
Garnish with whipped cream and fresh raspberries.