Raspberry grapefruit marmalade is beautiful to look at and the flavor pops. Make your morning routine a little brighter by topping your toast or biscuits with this delicious treat!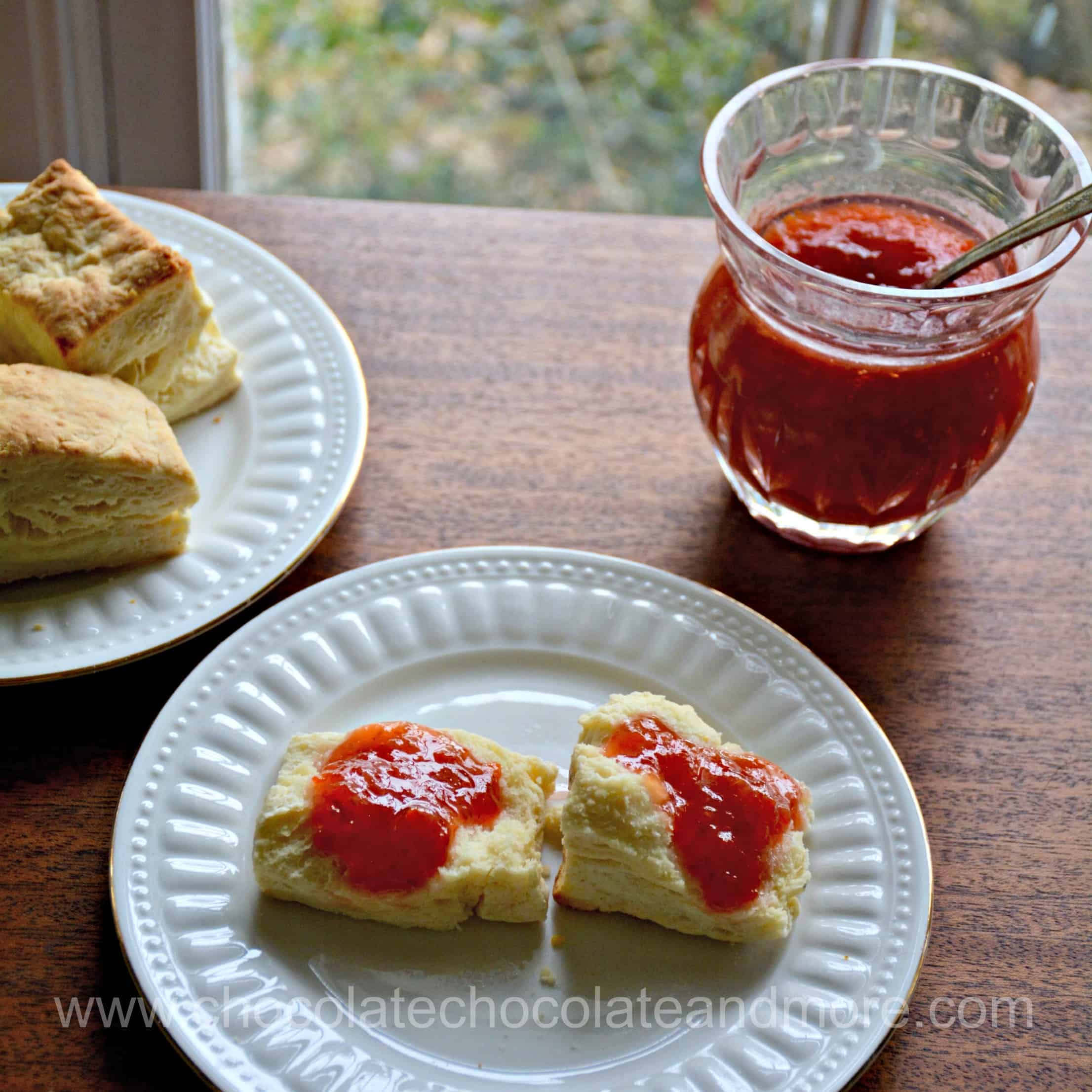 My son, Tim, has always loved grapefruit. I mean this kid lives for it. He even loved it as a baby. The problem was his little digestive system wasn't ready for it. He'd cry if we ate grapefruit in front of him. so we had to eat our grapefruit in secret.
We always buy big bags of grapefruit when they're in season. It's a little expensive even here in Texas. So when I saw a little grapefruit tree for five dollars at our local grocery store, I snagged it.
The tree sat in a pot for a few years and then I planted it in the ground. It's on the side of my house so it's kind of hidden. While I was in Cambodia, this little tree shot up. It's now as tall as my house and it's producing grapefruit like crazy.
I lost count this year of how many I collected this year. It was probably around 400. I gave some away to neighbors and friends but there was still way too much to eat.
This is less than half what I collected. They were dirty off the tree but they cleaned up well.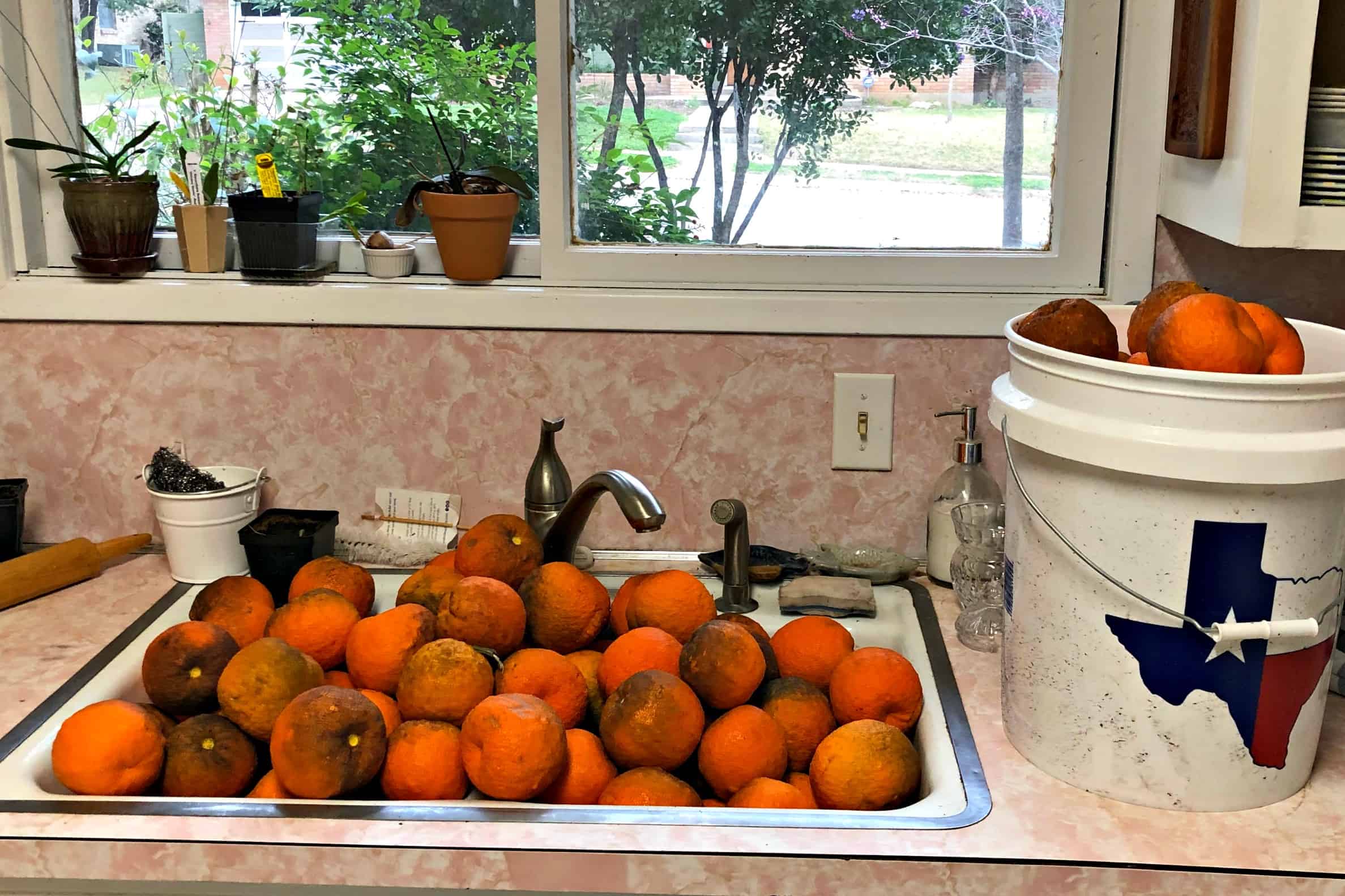 So it was time to make some marmalade. I tried the natural pectin for my first batch. To use the grapefruit's natural pectin, you put all the membranes and seeds in a cheesecloth bag and boil that with the juice. It didn't work at all for me. I had a lovely grapefruit syrup but not marmalade.
When I gave jars to a neighbor and my hairdresser, they both told me that marmalade is the most difficult jam to make. They both said I'd need to buy some pectin to add.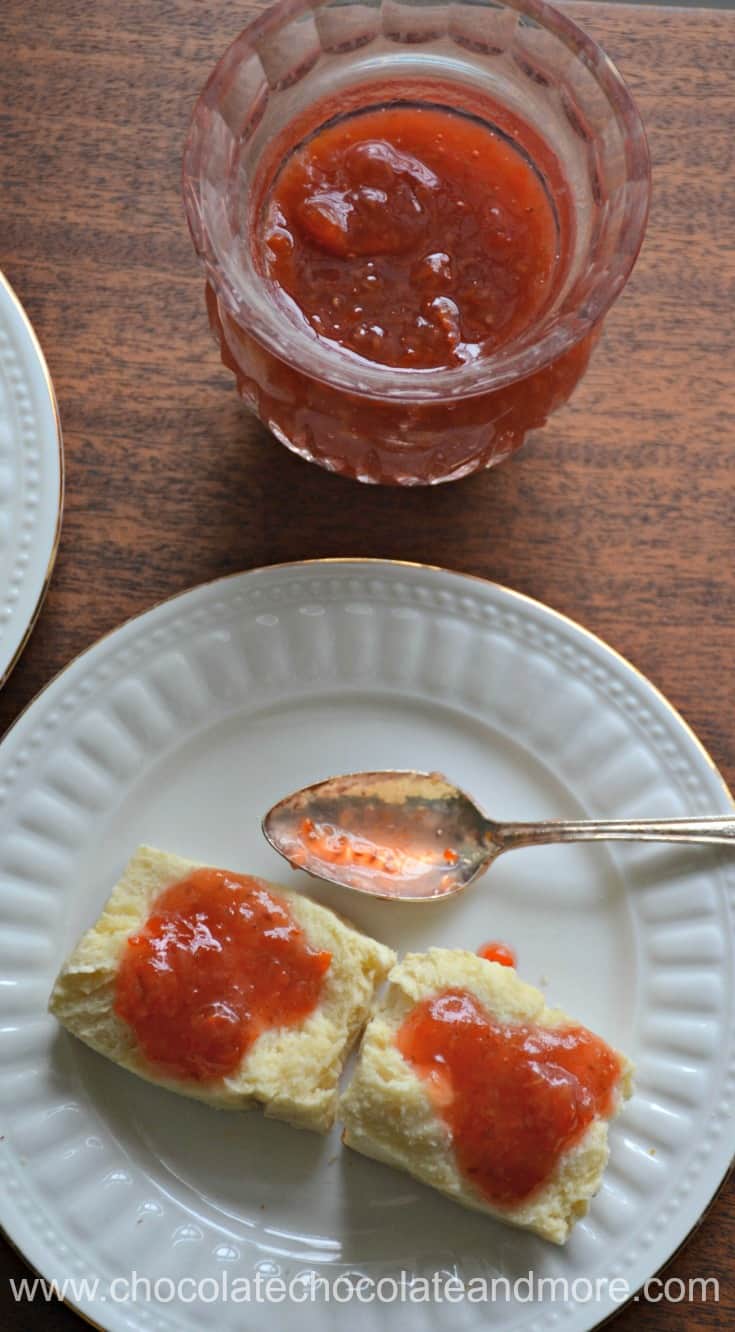 My neighbor also suggested adding a different fruit. She made a cranberry grapefruit marmalade that worked well. Cranberries are out of season but Costco had loads of raspberries.
Raspberries have some natural pectin and they go so well with citrus that I decided to try a raspberry grapefruit marmalade. I boosted the pectin in the raspberries with some Ball low sugar pectin.
Initially, my raspberry grapefruit marmalade was a bit syrupy but it's been firming up after sitting on the shelf for 2 weeks.
Yield: 9 1/2 pints
Raspberry Grapefruit Marmalade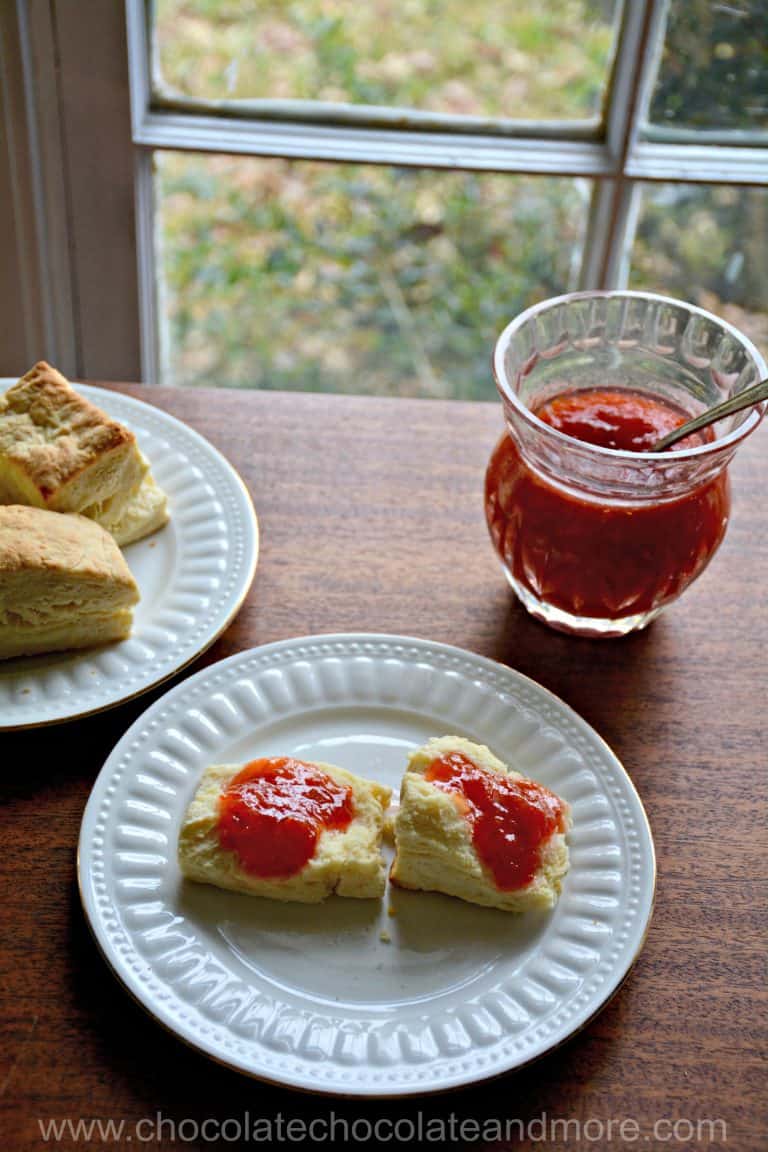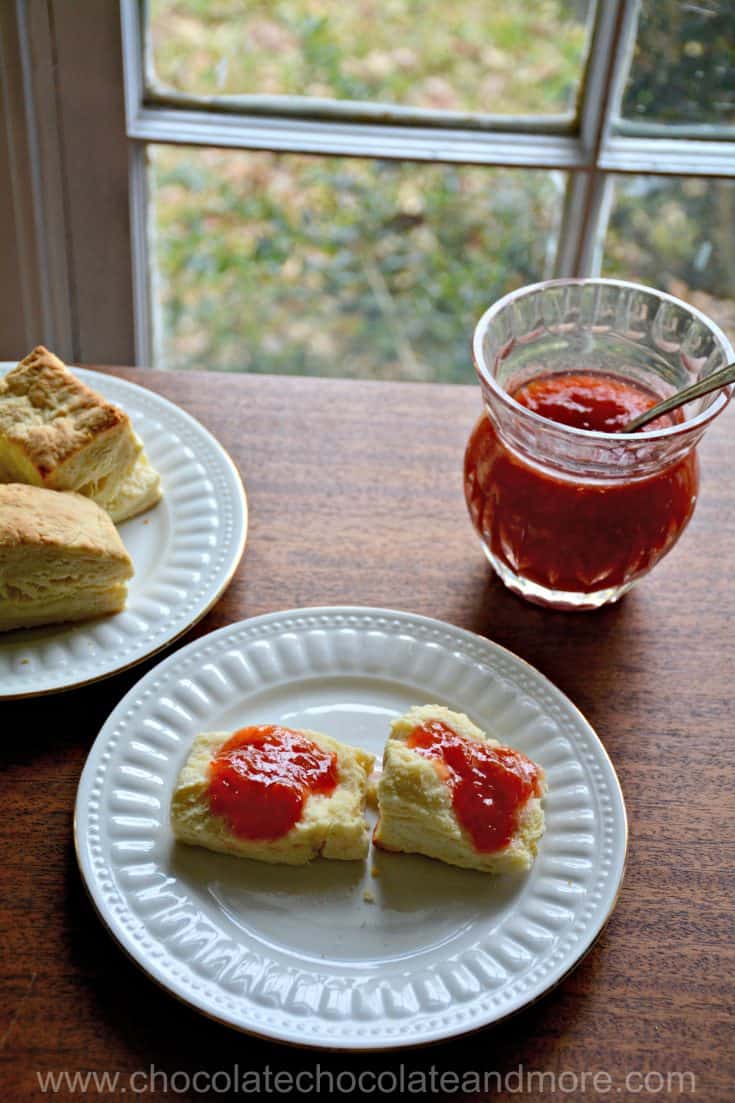 Tangy raspberry grapefruit marmalade has amazing flavor and the flavor will brighten up your morning!

Prep Time 1 hour

Cook Time 1 hour 45 minutes

Total Time 2 hours 45 minutes
Ingredients
4 cups grapefruit juice
4 cups fresh raspberries
2 2/3 cups honey
4 cups water
1 1/3 cup sugar
5 Tablespoons Ball Low sugar pectin
Peel from 16 grapefruit
Instructions
Wash your grapefruit. Use a vegetable peeler to remove the peel from your grapefruit. You only want to take off the outer layer (not the white pith below the peel).
Place the peel in a large pot and cover with water. Bring to a boil. Boil for 15 minutes and then drain the water. Do this three times.
Put the grapefruit peel, raspberries, water, and grapefruit juice in a large, heavy pot and boil for 40 minutes.
While the juice is boiling, you can prepare sterile jars if you want to store your marmalade outside the refrigerator. Place jars and lids in a pot filled with water above the level of the jars. Bring to a boil and boil for 20 minutes. Keep the jars in the hot water until you're ready to fill them.
While the juice is boiling, mix the honey, sugar and pectin together. Also place a small plate in the freezer.
Add the sugar/honey/pectin mixture to the boiling juices. I turned my heat down a little at this point but you want a rolling boil. STIR the mixture continuously while it boils for 20 more minutes.
After 20 minutes, test to see if the mixture is ready by dropping about a dime-sized drop on your frozen plate. Wait a minute and then run your finger through the middle of the drop. If the liquid separates so the middle is clean and wrinkles at the end below your finger, then your marmalade is ready. You can also test the temperature. 219°F -220°F will five you the brightest citrus flavor but will still be a bit runny. 221°- 222° F will have a more bitter flavor but will be more solid.
Use sterile equipment to fill your jars if you are keeping outside the refrigerator. To completely sterilize, twist the rim of the ball jar until it's finger tight (you want air to escape when you boil them). Place jars in a pot of boiling water that is at least 2 inches above the level of the jars. Boil half pint jars for 20 minutes. Remove, let cool and then tighten the rings completely.
Nutrition Information:
Yield:
152
Serving Size:
2 tablespoons
Amount Per Serving: Calories: 43Total Fat: 0gSaturated Fat: 0gTrans Fat: 0gUnsaturated Fat: 0gCholesterol: 0mgSodium: 1mgCarbohydrates: 11gFiber: 1gSugar: 9gProtein: 0g

Nutrition information is provided as a guideline only. If you have specific dietary requirements, please consult a dietician.

Looking for more raspberry citrus flavor?
Raspberry Citrus Desserts