Raspberry Buttermilk Cake has raspberries *inside* the cake instead of just on top of it. It's a yummy treat that can be used as a dessert, or put in a lunch box for a lunch-time treat at school.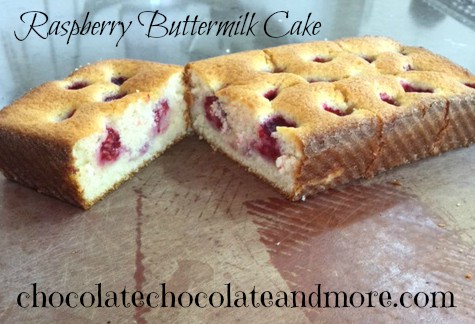 Being from the south, I use buttermilk in a lot of my baking. The richness of the buttermilk just adds something extra to what might ordinarily be a rather plain recipe. Buttermilk cake is a great basic recipe that can be used for anything from birthday cakes to breakfast treats. This recipe is from one of my cooking classes at Sur la Table.
The key to this cake is not just the buttermilk, but the butter. You need to make sure it is at room temperature, and you don't want to rush the creaming of it as it is the key to ensuring a good crumb in your cake slices!
You also want to make sure you have berries that aren't over-ripe or too soft. We used raspberries in this recipe, but you can use pretty much any other berry (or combination of berries) that you want. That is the great thing about a good base cake — it goes well with pretty much anything you want to add to it!
Lastly, I used a rectangular pan for my recipe. In the class, we worked with half recipes, so what we made wouldn't have filled the 8″x 8″ round cake pan called for in the recipe. Using a square or rectangular pan is certainly an option — I would suggest a 9″ x 9″ square pan or two small loaf pans if you want to take that route. We used the mini loaf pans and you can see the end result was four slices of the cake for our half recipe.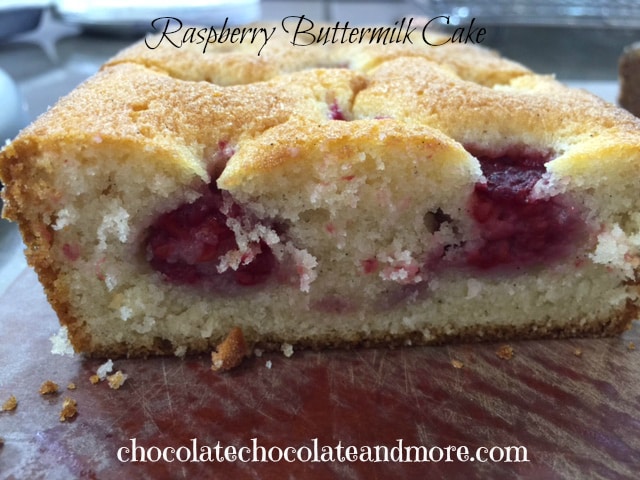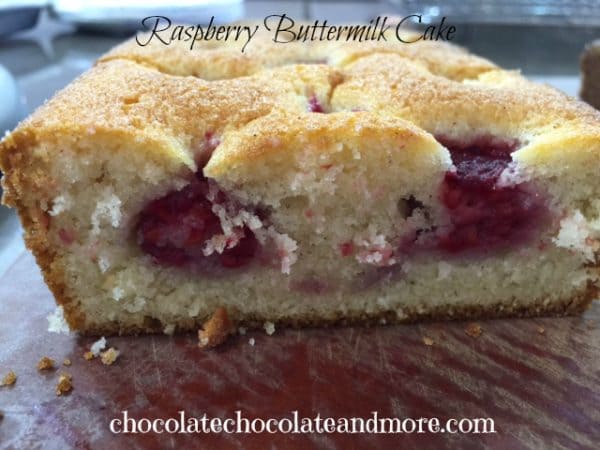 If you are interested in taking cooking classes, Sur la Table has classes for everything from sweet to savory, and how to use those fun cooking utensils you can find at their store. Just click the link and find the store near you!
Raspberry Buttermilk Cake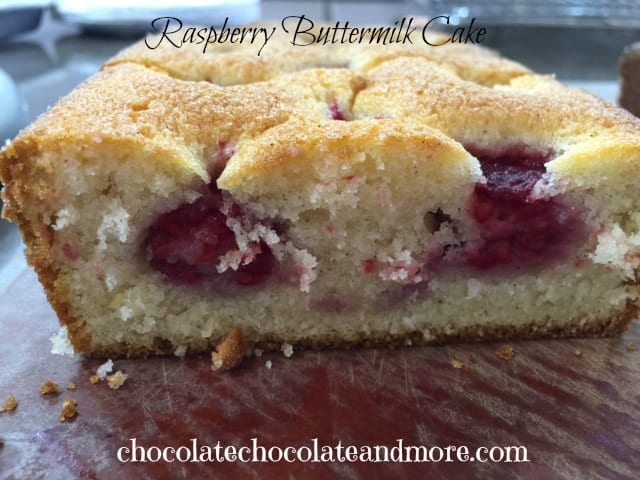 Ingredients
4 ounces (1 stick) unsalted butter, room temperature, plus more for greasing cake pan
1 1/2 cups unbleached all-purpose flour, plus more for dusting cake pan
1 1/4 teaspoons baking powder
1/2 teaspoon fine sea salt
1 cup plus 3 tablespoons granulated sugar, divided
1 teaspoon vanilla bean paste or extract
2 large eggs
3/4 cup buttermilk
1 1/2 cup fresh raspberries
Lightly whipped cream, for serving
Instructions
Preheat oven to 400-degrees F
Prepare 8" x 8" round cake pan by greasing it with butter and coating with flour, tapping out the excess
In a medium bowl, whisk together flour, baking powder and salt
In a separate bowl, add butter and 1 cup sugar
Using a mixer with a whisk attachment, cream at medium-high speed until pale and fluffy, stopping to scrape down the sides with a silicone spatula, 3 to 4 minutes
Add vanilla and eggs, one at a time, fully incorporating the first egg before adding the next
Replace whisk attachment with a paddle attachment
At low speed, add flour in three batches, alternating with buttermilk, beginning and ending with flour, and mixing until just combined
Spoon batter into cake pan, smoothing top
In a small bowl, gently toss raspberries with remaining 3 tablespoons of sugar
Evenly distribute berries over top of cake, pushing some down into the batter
Bake until cake is golden and tester inserted into center comes out clean, about 30-35 minutes
Cool cake in pan for 10 minutes, and then turn out to wire rack to cool further
Serve cake warm or at room temperature with lightly whipped cream or ice cream
Looking for more buttermilk recipes? Try these


Chocolate Cinnamon Brownies