Porridge cookies are a tasty way to use left over porridge or oatmeal. They go great with a cuppa tea.
Jen here — Happy St. Patricks Day! In honor of the day dedicated to the Irish, I want to tell you about one of my favorite tasty weekend treats from those small islands across the pond: some delicious slow-cooked porridge.
Don't laugh! I love that I can make it in my rice cooker overnight, and even better is being able to tailor the taste to suit whatever I'm craving that particular morning. The only problem I have is portions: I have found it completely impossible to make exactly the right amount of porridge for breakfast. I'm terrible at dealing with leftovers, too, so I usually wind up with this sad little bowl of cold abandoned leftover porridge, staring at me from the counter.
Porridge? I hear you say. But that's just oatmeal! Well, yes, sort of. I got my porridge recipe from a lovely older Scottish woman on vacation one year (OK, yes, I said Scottish and not Irish, but I'm trying to stick with today's theme here…), and she was Quite Particular that she was giving me a porridge recipe and not an oatmeal one, pointing to the "pinhead oats" she'd listed as the reason. Who am I to argue with her on that?
Fortunately, I've figured out a way to use that leftover porridge: Cookies! I'm quite fond of oatmeal cookies in general–something about the richness of the oatmeal with the wonderful warmth of cinnamon and brown sugar just makes me feel all cozy inside. These cookies are just like that, although I'll tell you the texture is slightly different due to using pinhead oats instead of rolled ones.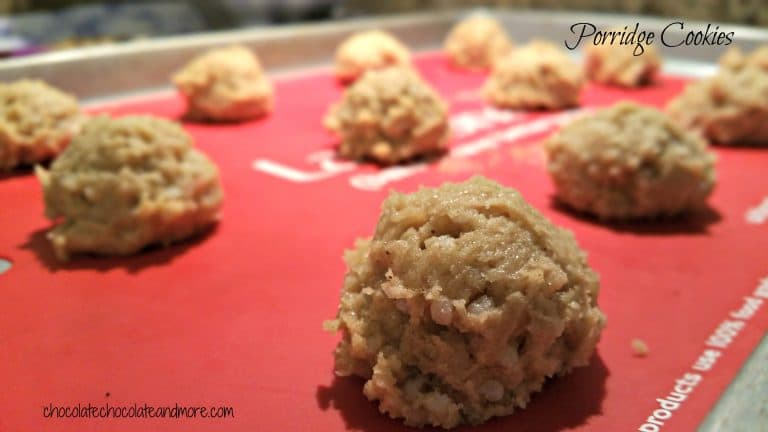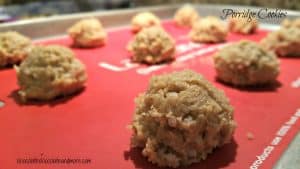 A few notes on cooking: the amount of moisture in your leftover porridge (or cooked oatmeal, because you can absolutely substitute that in) will influence where your cookies fall on the chewy-cakey scale. Further, I tend to put a splash of milk or cream in my porridge, and I've found it lends some extra richness to these cookies. Finally, a wonderful perk of these porridge cookies is that they get even moister when you store them in a bag or container overnight. Delicious!
By the way, Kim and I were lucky enough to visit Ireland last fall, and did indeed kiss the Blarney Stone. Now you know where we get our gift of — recipe sharing. And always remember: Tús maith leath na hoibre!
Porridge Cookies
Ingredients
2 cups flour
1 teaspoon salt
1 teaspoon cinnamon
1 teaspoon baking soda
½ teaspoon ginger
¼ teaspoon baking powder
½ cup white sugar
½ cup brown sugar
⅔ cup butter
2 eggs
1-½ cups cooked porridge (steel-cut oats)
Instructions
Pre-heat oven to 375°F
Cream together the butter and sugars (I like to let my mixer run for a good five minutes to get things light and fluffly).
Add in the eggs, one at a time.
Sift together the remaining dry ingredients, then add to the mixing bowl and beat on medium until blended.
Add in the porridge and, once again, mix until blended.
Scoop tablepoon-sized balls of dough onto a parchment paper-lined baking sheet, keeping them at least an inch apart (they spread a little)!
Bake at 375°F for 12-15 minutes, or until golden brown.
Remove from the oven and move the cookies from the pan to a wire rack to cool.
Notes
These can be stored in a sealed plastic bag or storage contained for a few days, although I've never had the cookies last that long--they get eaten too quickly