Peaches are an amazing fruit. You can do almost anything with them — eat them raw, bake them, puree them, grill them, turn them into chutney. I decided to take some fresh from the farmers market peaches and try them in a cakey Peach Streusel Pound Cake, and boy is it yummy!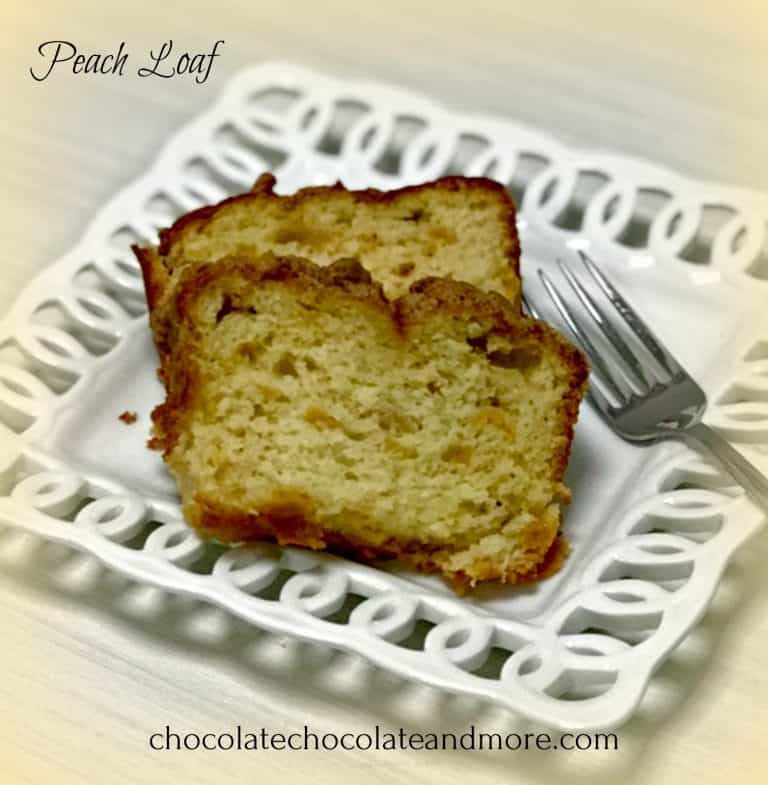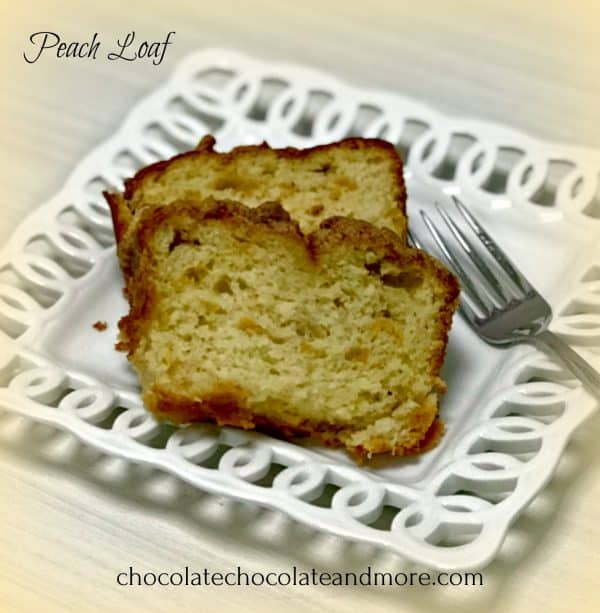 When Joan started this blog, she was living in Georgia, the home of the best peaches in the USA.
Every time I come up with a recipe using peaches, it makes me think of her, and that makes me smile. I'm hoping this sweet and easy treat will result in smiles on the faces of everyone who tries it.
This peach streusel pound cake recipe is derived from one I found in Southern Living about a year ago, but updated because I can't eat nuts like I used to.
The end result is more like a pound cake — moist and just a little crumbly, but still with the yummy streusel topping.
If you don't have access to fresh peaches, you can use frozen or canned peaches that have been drained (remember the versatility I mentioned?!) Because you can use any kind of peach, you can make this recipe any time your heart desires — or the craving arises.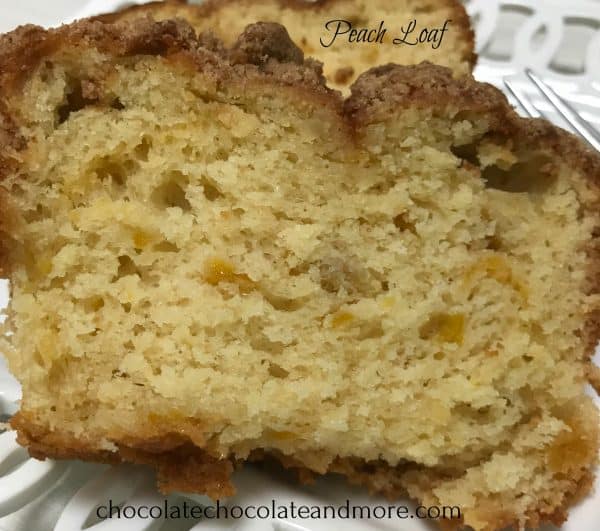 The great thing about this loaf is that you can use it for dessert (serve it with some peach ice cream – YUM!), for breakfast, or you can toss a slice in the kid's lunch box now that they are back in school.
If you have leftovers, you can freeze it in an air tight container and bring it out as needed. Serve it warm, or at room temperature. No matter how you serve or slice it, it is sure to please!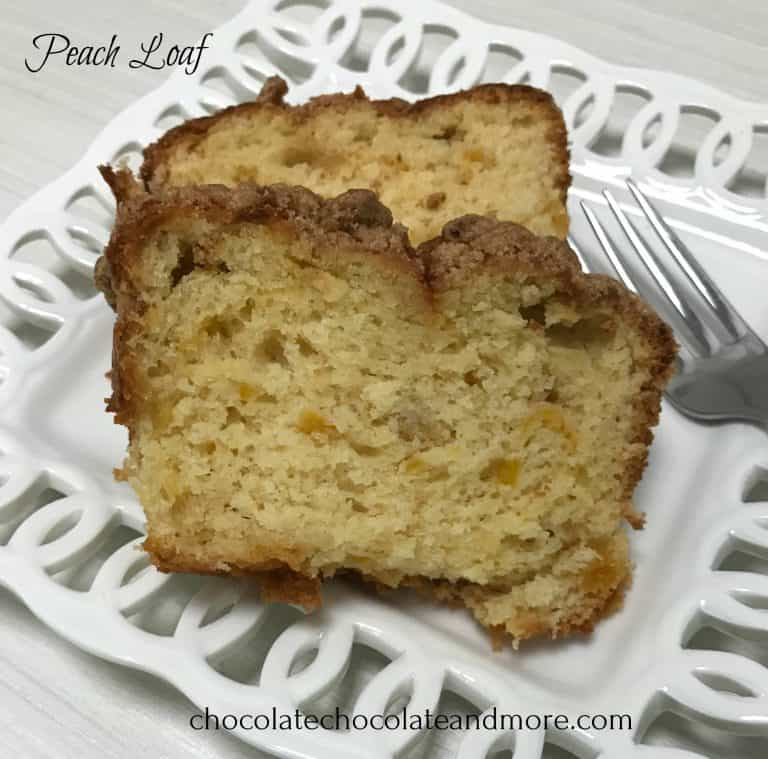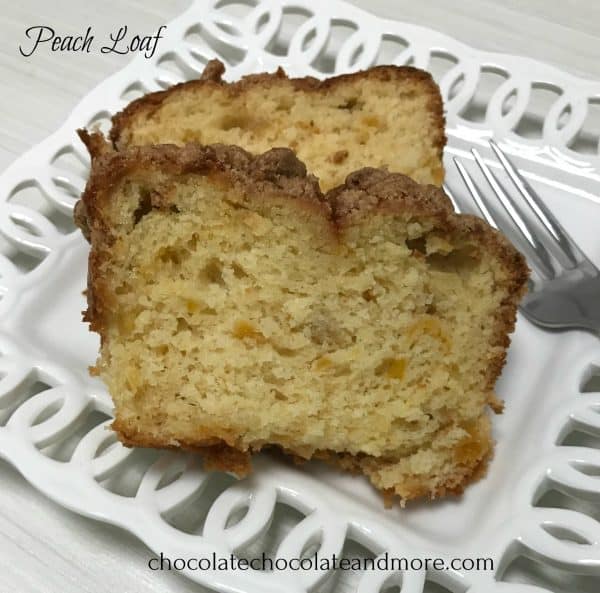 Peach Streusel Pound Cake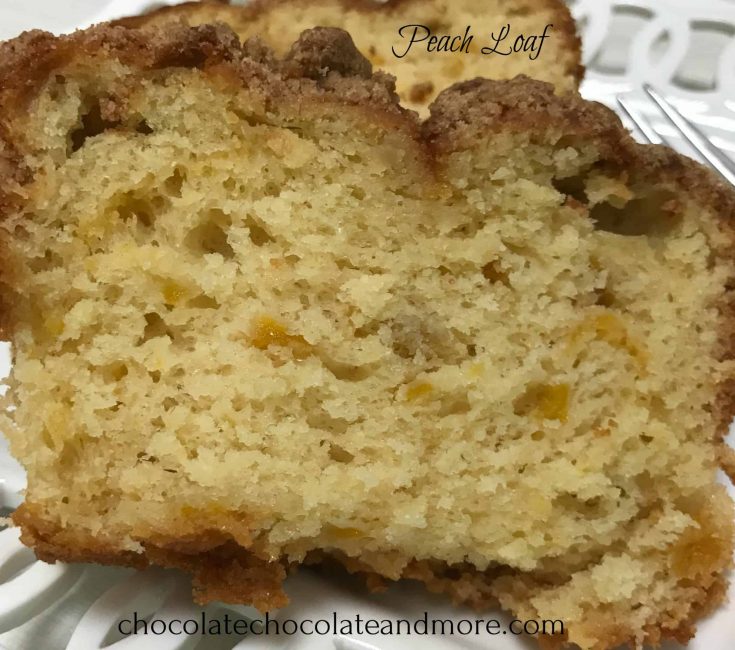 Ingredients
For Loaf
3 sticks unsalted butter (1 1/2 cups)
3 cups granulated sugar
5 eggs, room temperature
2 teaspoons vanilla paste or extract
3 cups all-purpose flour
1 teaspoon baking powder
½ teaspoon salt
½ cup heavy cream
2-3 large peaches, cut into small pieces (about 2 cups or 1 lb frozen equivalent)
For Streusel Topping:
1/2 cup packed light brown sugar
1 teaspoon ground cinnamon
1 teaspoon kosher salt
3/4 cup all-purpose flour
1/2 cup granulated sugar
1 teaspoon ground cardamom
1/2 cup cold unsalted butter, cut into pieces
Instructions
Preheat oven to 325 F.
Create Streusel topping first.
In a medium bowl, combine brown sugar, cinnamon, salt, 3/4 cup flour, 1/2 cup granulated sugar, and 1 teaspoon ground cardamom
Add 1/2 cup cold butter pieces, and using your fingers, combine until a crumbly texture forms.
Cover with towel and set aside in refrigerator.
For the loaf:
Grease and flour a loaf pan. Set aside.
Sift together flour, baking powder, and salt.Set aside.
Using hand or stand mixer, cream together butter and sugar.
Mix in eggs one at a time.
Add vanilla extract.
Slowly add dry ingredients to wet ingredients and combine thoroughly.
Mix in heavy cream.
Fold in peaches.
Pour batter into prepared pan.
Top with streusel.
Bake for approximately 1 hour
Let cake cool in pan until pan is warm to the touch.
Remove cake from pan and let finish cooling on a cooling rack
Slice and serve!
Nutrition Information:
Yield:
9
Serving Size:
1 slice
Amount Per Serving: Calories: 998Total Fat: 49gSaturated Fat: 29gTrans Fat: 0gUnsaturated Fat: 17gCholesterol: 226mgSodium: 460mgCarbohydrates: 134gFiber: 2gSugar: 92gProtein: 10g

Nutrition information is provided as a guideline only. Please consult a dietitian if you have specific dietary requirements.

Looking for more peach recipes?