Summer berries combine to give beautiful shading and flavor to Ombre Berry Cheesecake. Your guests will be impressed even though it's no-bake and only takes about 1 hour to put together.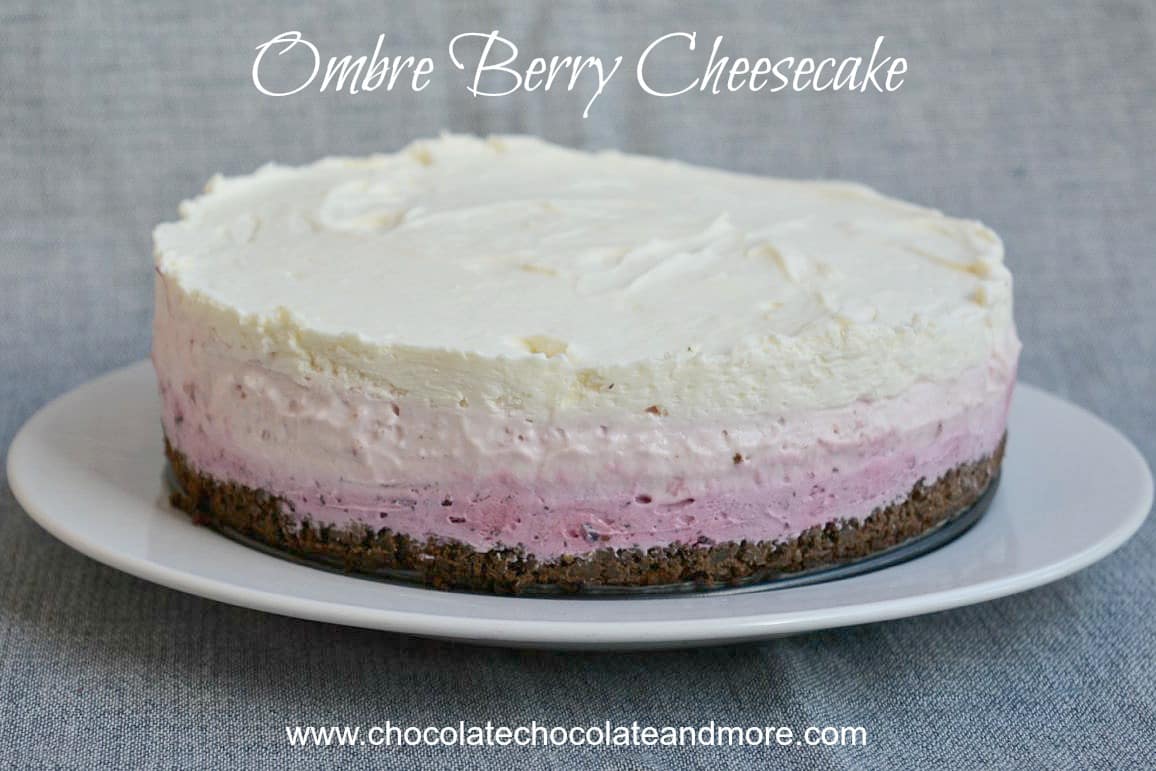 I've been thinking about the Fourth of July. Our neighborhood back in Texas has a parade and a picnic. Kids decorate their bikes. Parents decorate strollers and wagons for kids who are too small to ride bikes. The fire department leads the parade with a fire truck and all the neighbors turn out to cheer everyone on.
Our neighborhood parade started as an annual event in the 1950's making it the oldest neighborhood parade in Austin. The parade used to start at the end of my street and end at the elementary school that is 7 blocks away but now the city won't let us close off the street for very long so the parade is only 2 blocks long now.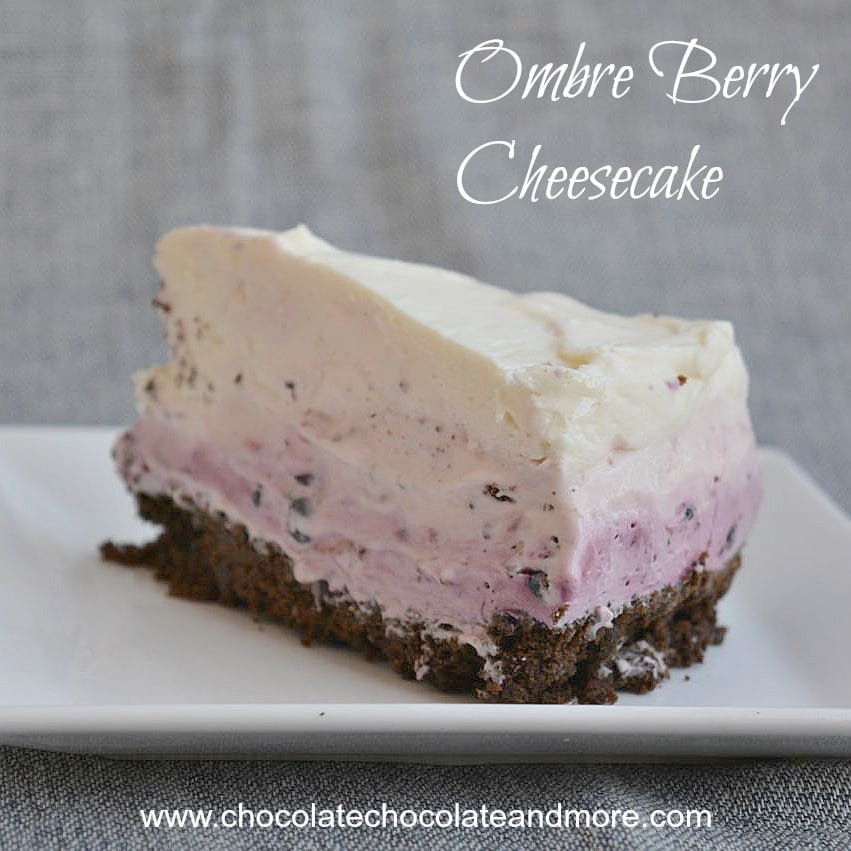 There's a picnic at the elementary school after the parade. The neighborhood association provides hot dogs and everyone brings something to share. It's a great time to get to know neighbors and to let the kids have some fun.
I won't be home this year for the Fourth but I wanted to make something to celebrate anyway. This started as a red, white and blue cheesecake for the Fourth of July (or Bastille Day) but the blueberries were too purple and I realized after my first attempt that the purple, blueberry layer would look better on the bottom.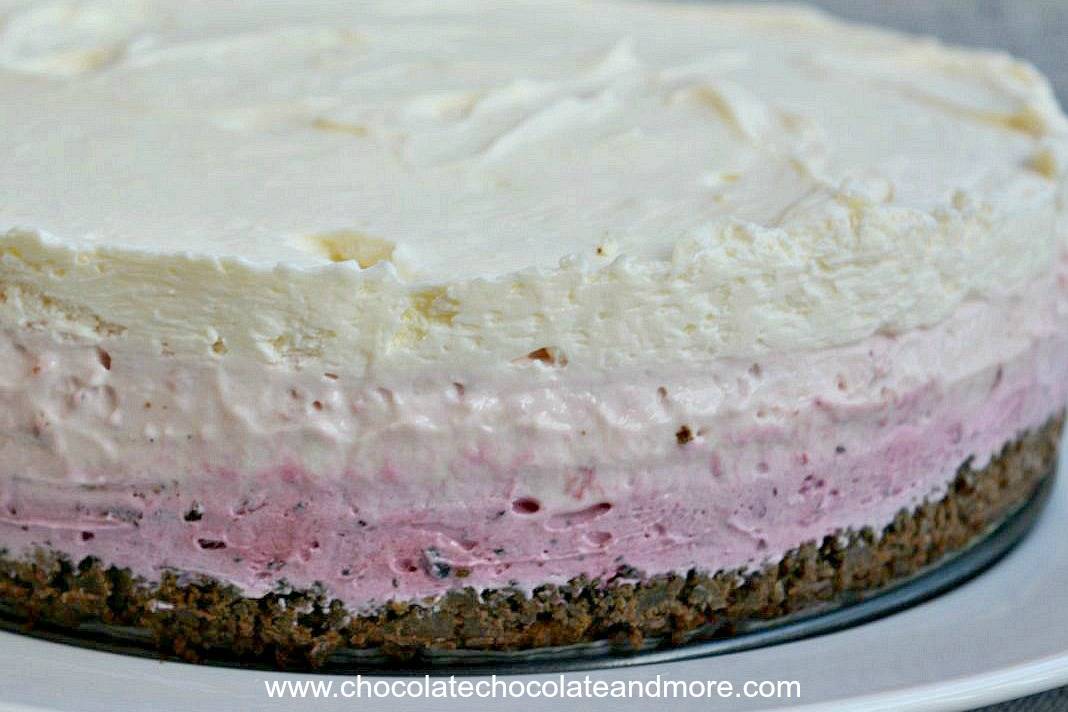 Since I'd already made the red, white, and blueberry cheesecake in my 9-Inch Round Springform Pan, I decided to make the Ombre Berry Cheesecake in an 8-Inch Springform Pan
. So, the recipe gives the ingredients for both 9 inch and 8 inch pans.
Cambodia doesn't have fresh berries so I used frozen berries and I measured the volume while they were still frozen. If you use fresh berries, you may need to make some adjustments. Ombre Berry Cheesecake is not very sweet so if you like your cheesecake sweet, then you might want to increase the sugar. You can taste the plain cheesecake mixture before you add the berries to adjust the sugar content.
Yield: 1 9-inch cheesecake
ombre berry cheeescake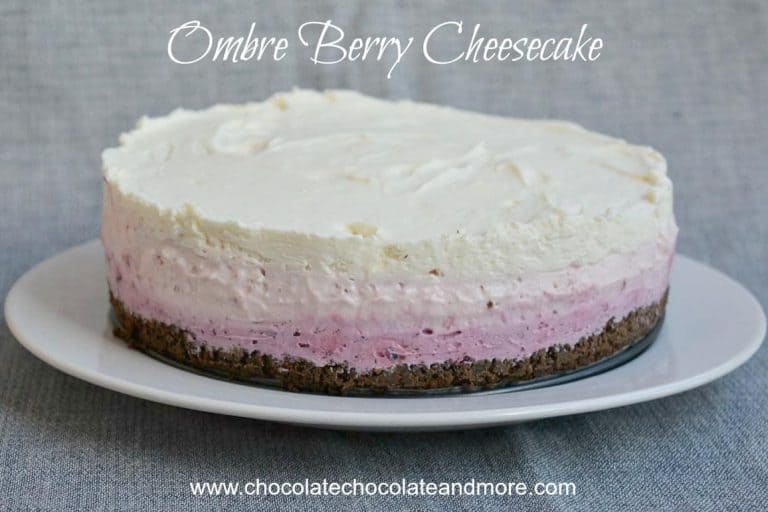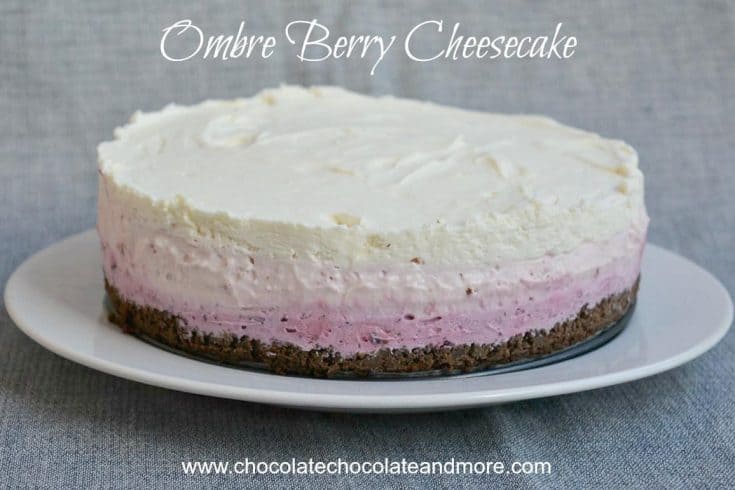 Ingredients
3 cups chocolate wafer crumbs (I used plain chocolate cookies)
1 cup butter, melted
1 cup frozen strawberries, pureed
1 cup frozen blueberries, pureed
½ cup sugar
⅓ cup boiling water
1 tablespoon gelatin
4 teaspoons vanilla
3 ½ (8 ounce) packages cream cheese (28 ounces total), softened
2 cups whipping cream
Instructions
Put mixing bowl and beaters into freezer and freeze for 30 minutes.
Line a 9 inch springform pan with parchment paper
Mix melted butter and chocolate wafer crumbs together. Press into the bottom of the springform pan.
Mix gelatin and water and set aside to cool.
Put whipping cream in cold mixing bowl and beat until stiff peaks form.
In a second bowl beat cream cheese together with gelatin mixture, vanilla, and sugar. Beat until smooth. Fold in whipped cream.
Put a little less than ⅓ of the cream cheese mixture into a new bowl (I used the whipped cream bowl to save on dish washing). Fold in pureed blueberries. Spoon onto the prepared crust and spread evenly.
Spoon a little less than ⅓ of the cream cheese mixture in a new bowl. Fold in pureed strawberries and then spoon on top of the blueberry layer. Refrigerate for 30 minutes to solidify.
Spoon the remaining plain cream cheese mixture on top of the strawberry cream cheese.
Refrigerate overnight until set.
Notes
For an 8 inch cheesecake use the following ingredients:

2 cups chocolate wafer crumbs (I used plain chocolate cookies);

½ cup butter, melted;

¾ cup frozen strawberries, pureed;

⅔ cup frozen blueberries, pureed;

⅓ cup sugar;

¼ cup boiling water;

2 teaspoons gelatin;

2 ½ teaspoons vanilla;

2 ½ (8 ounce) packages cream cheese (20 ounces total), softened;

1 ⅓ cups whipping cream;

You might also be interested in Raspberry Chocolate Cheesecake cups.

Or a Strawberry Cheesecake Smoothie.

Or a Summer Berry Cheesecake salad from The Slow Roasted Italian.


Or Strawberry Cheesecake Dream Bars from 365 Days of Baking.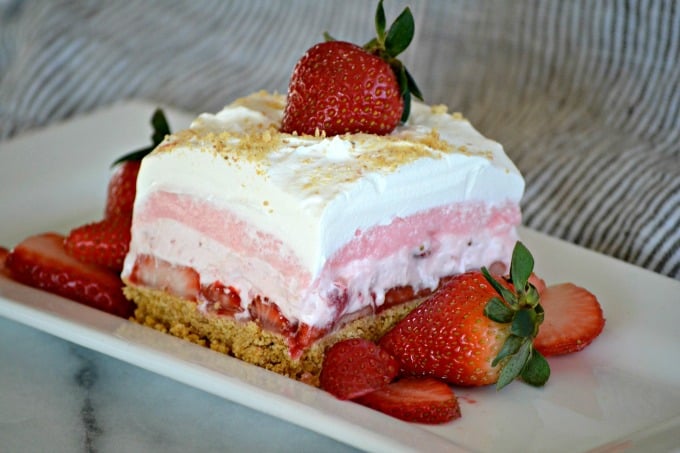 Or Strawberry Brownie Cheesecake from Life Love and Sugar.