Three main ingredients, 20 minutes cooking time, and voila — Nutella Pear Tart, a delicious dessert that combines Nutella and pears.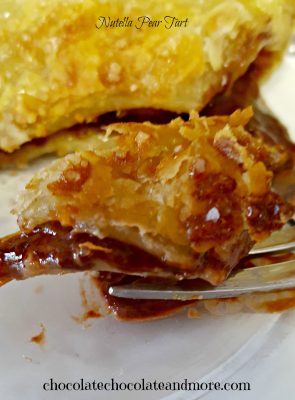 I recently had some company over and realized I had nothing prepared for dessert. A quick glance in my pantry showed a can of sliced low-sugar pears and a container of Nutella, and I knew in my freezer I had a box of Pepperidge Farm puff pastry. A little egg and a tablespoon of brown sugar and voila, I have all I need for a Nutella Pear Tart.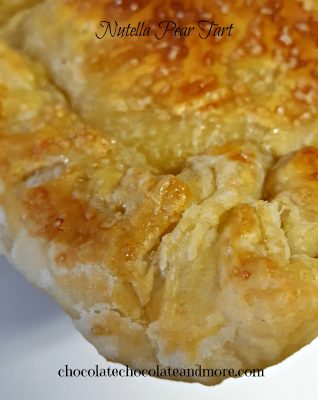 I remember seeing a version of this recipe last fall, and I thought it was in a copy of the Daily Mail I had brought back with me from England (because it had the recipes from the Great British Bake Off!) A quick glance proved it was not there, and the exact recipe I remembered was no where to be found. However, I figured it couldn't be all that hard to combine so few ingredients, and winged it.
Nutella Pear Tart really is simple — the longest part is thawing out the frozen pastry. Once that is done, I grabbed a 9″x9″ pan, sprayed a little Pam on the bottom and sides, and went to work. Prep time was what was needed to lay out the pastry, top it with Nutella, drain the pears and layer them on top of the spread, put the second sheet of pastry on top, and curl and crimp the edges. A quick egg bath on the top, a tablespoon of sugar in the raw across the top, and in the oven it went. 20 minutes later, ding! All done!
I cut it into small squares, had a variety of great Gourmesso Coffee for my Nespresso to allow my friends to chose the kind of coffee they wanted to drink with it, and boom! Perfect dessert and drink that looked and tasted fancy, but in reality it was made in less than 30 minutes (minus the thawing of the pastry).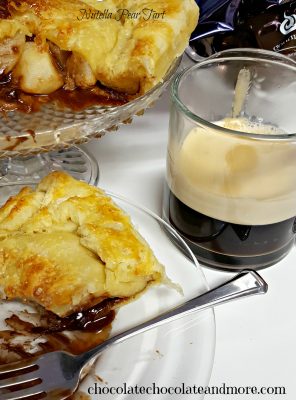 Nutella Pear Tart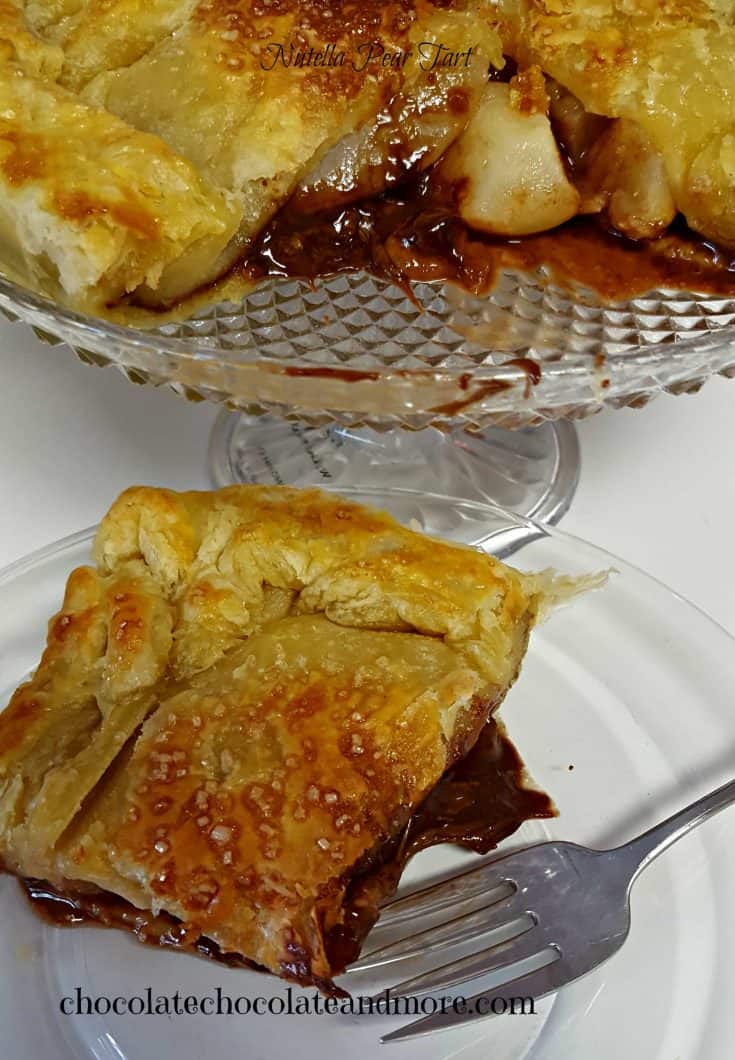 Ingredients
1 can sliced pears (14.5 ounce)
1 cup Nutella spread
1 package frozen puff pastry
1 egg
1 tablespoon sugar in the raw (turbinado sugar)
Instructions
Thaw frozen pastry dough.
Preheat oven to 400°F.
Spray inside of 9"x9" square pan with cooking spray (like Pam).
Lay one sheet of pastry dough in bottom of pan.
Spread Nutella evenly across the dough.
Drain can of pears; lay slices evenly in three rows across the top of the Nutella spread.
Place second sheet of pastry dough across top of pears. Fold and crimp edges.
Beat the egg and brush it across the top of the puff pastry, covering all parts of the dough.
Sprinkle Sugar in the Raw evenly across the top of the dough.
Bake for 20 minutes, or until top of dough is golden brown.
Remove from oven and allow to cool 10 minutes before serving.
Notes
You can skip the Sugar in the Raw before cooking and instead sprinkle a cup of powdered sugar across the top of the baked tart while it cools if so desired.

If you like pears and chocolate together, you might also like this chocolate pear galette

Or this pear sauternes stracciatella ice