You might wonder why a chili recipe is showing up on a chocolate blog — but this recipe for Mole Chili includes chocolate, and trust me, it's worth the try!
One of my favorite things to make in my Crock-pot is chili — and after the recent events on the NBC series "This is Us", crock-pots have been getting a bad rap. I wondered what I could do to show this wonderful slow cooker some love and yet also involve something sweet. I have to admit, this recipe was not my idea — my friend Megan just returned from a vacation to Grenada with her husband and brought me back some wonderful baking chocolate from  Jouvay Chocolates. When I pondered the best way to use it, she remembered my love of chili and suggested giving Mole Chili a try.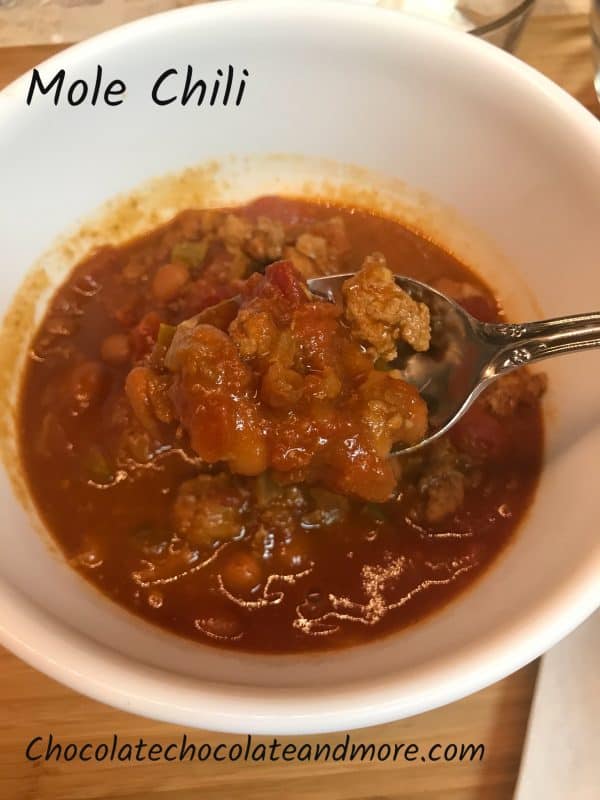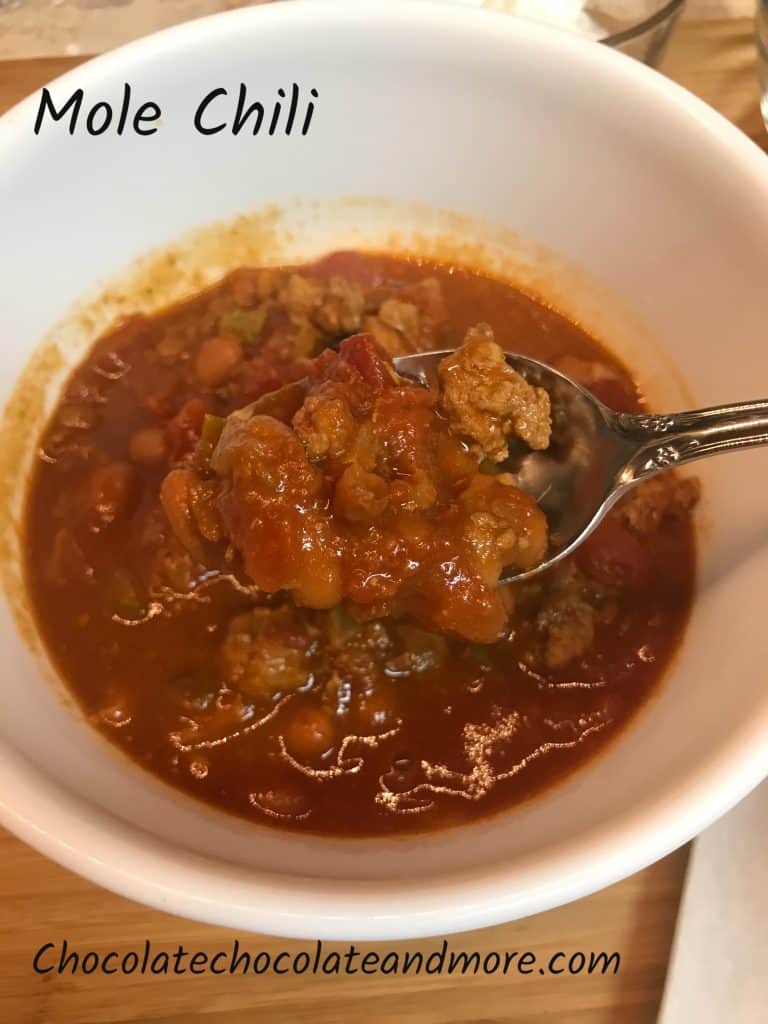 Moles (pronounced mol-ayes) come in various flavors and ingredients, but almost always containing chilis and chocolate in some form. According to an article entitled "1001 ways to savor mole",  the classic moles of Central Mexico and Oaxaca include two or more of the following types of chili pepper: ancho, pasilla, mulato and chipotle. In most recipes, other ingredients can include cumin, cloves, cinnamon, chocolate, and even dried fruits. Mole recipes are tied to celebrations in Mexico, and many regions actually host Mole Festivals to tout the many ways mole can be used in recipes.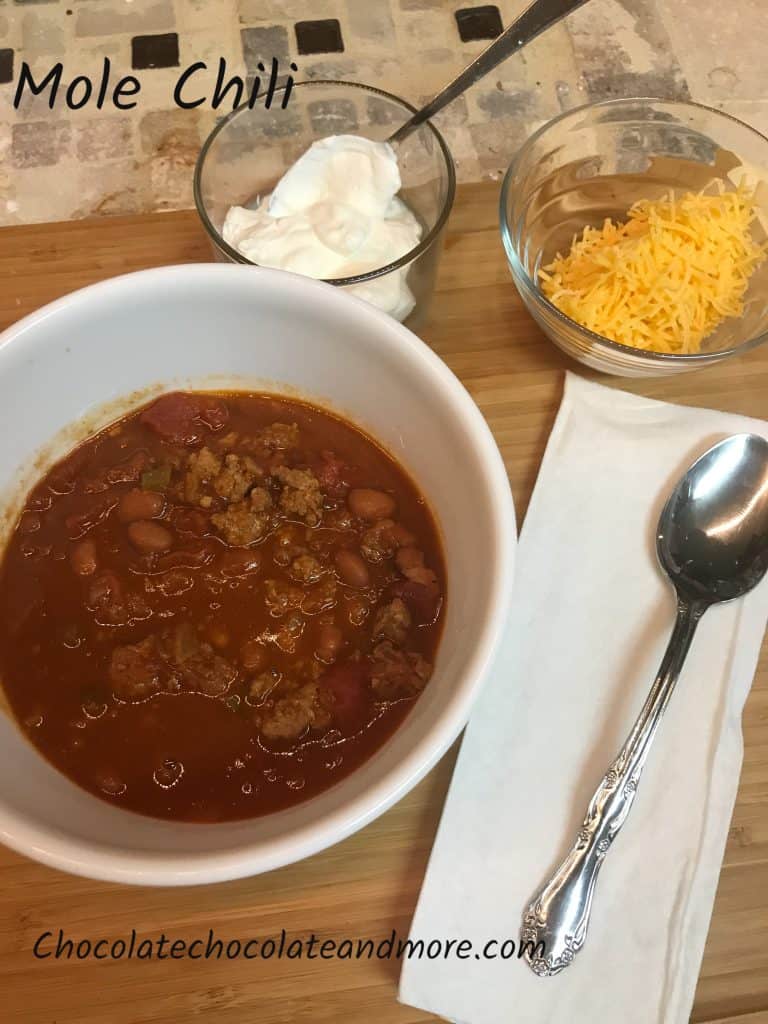 While a traditional moles are very time consuming to make and require many ingredients ( some complex recipes can contain more than 50 ingredients, with 10 different varieties of chiles alone) this chili recipe is much simpler. You can do the prep and pour into your slow cooker in the morning before beginning your day. By mid afternoon, your house will smell amazing and your chili will be ready to serve.  What I really like about the end result is that it tastes as good as a leftover as it does straight out of the pot — maybe even a little better!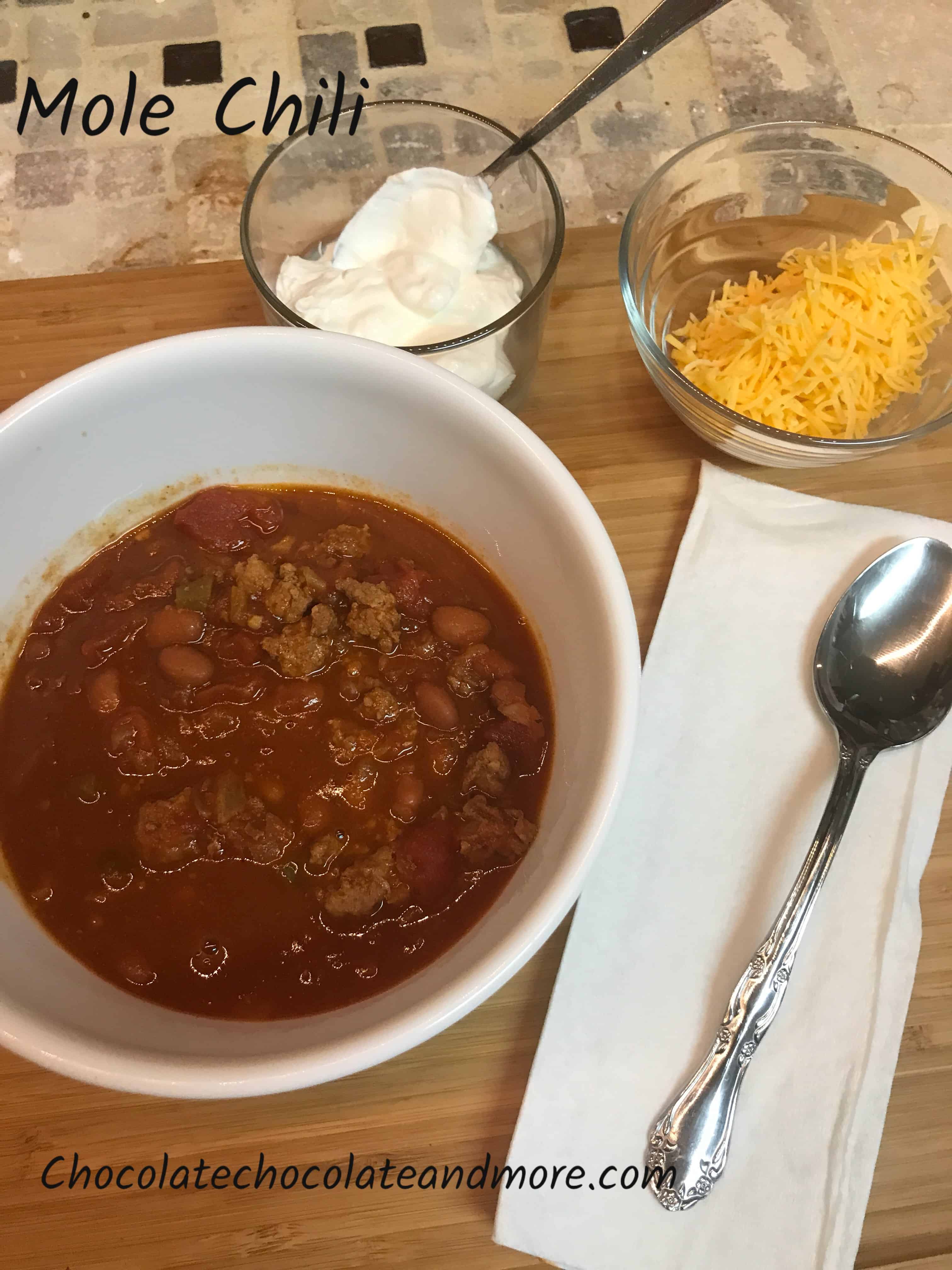 Ingredients
1 lb lean ground beef or turkey
1 cup chopped sweet onion
6 cloves garlic, diced or finely chopped
1 can (28 oz) diced tomatoes, undrained
1 jar (16 oz) chunky salsa (mild or medium)
2 cans (15 to 16 oz each) pinto beans, undrained
2 tablespoons unsweetened baking chocolate or cocoa powder
1 tablespoon chili powder
2 teaspoons smoked paprika
2 teaspoons ground cumin
1 to 2 teaspoons chipotle chili powder
1/2 teaspoon salt
Sour Cream, Cheese or Cilantro for topping
Instructions
Over medium heat, cook meat, onion and garlic, approximately 5 to 7 minutes, until meat is thoroughly cooked.
Drain any excess fat from pan and pour pan contents into Crock-Pot or other slow-cooker.
Add remaining ingredients except Sour Cream/Cheese/Cilantro, and stir to combine.
Cover, and cook on low heat setting for 7 hours.
Serve, and top with sour cream, cheese, and/or cilantro.
https://chocolatechocolateandmore.com/mole-chili/
Copyright Chocolate Chocolate and More