Mocha Caramel Popcorn Bark is a great gift for the holidays — if you can part with it. Use Trail's End Toffee Caramel Popcorn and support your local Boy Scouts while you enjoy this treat!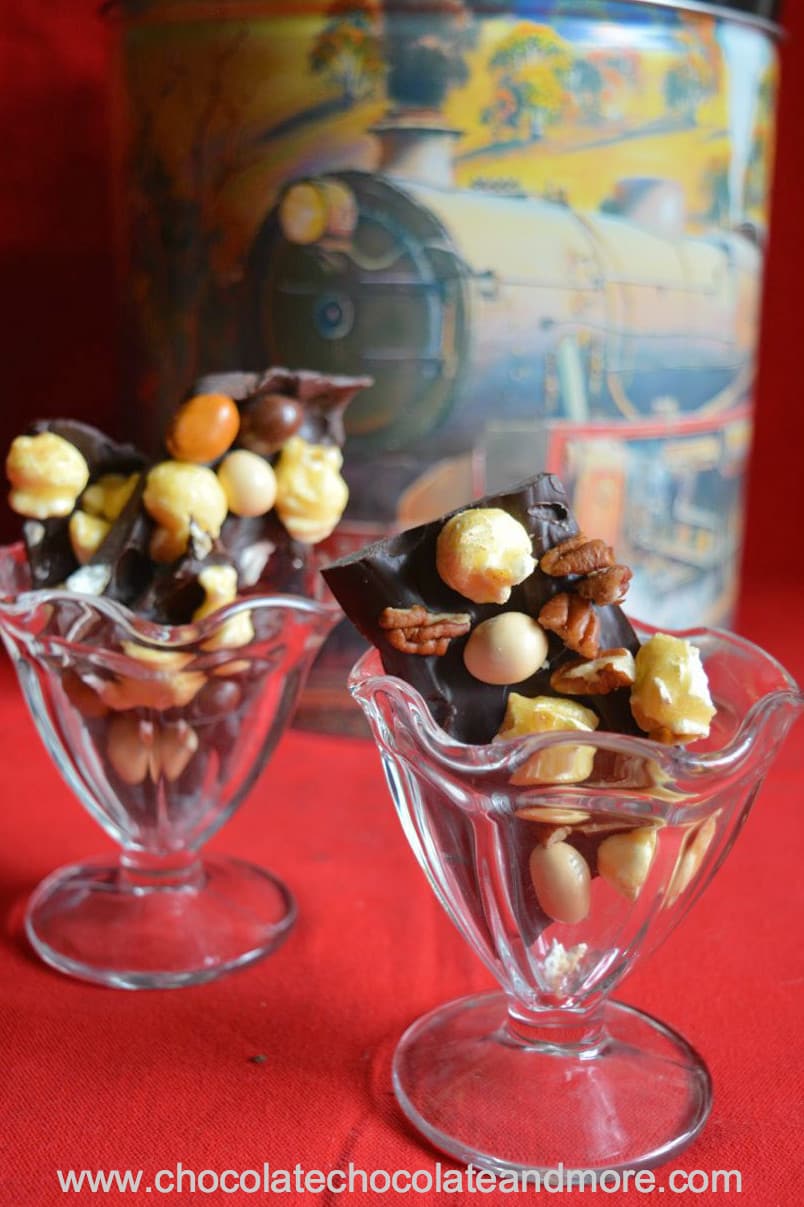 I recently got a call from Trail's End Popcorn asking if I would review their holiday tins. Both of my sons were active scouts so I've sold a LOT of Trail's End popcorn in my day. Even though my sons have moved on from scouts, I still buy from scouts selling in my neighborhood.
When my sons were scouts, you could only buy Trail's End Popcorn during the brief door-to-door sales period. This meant stocking up in the fall. Now that Trail's End has a website, you can order any time of year. You can support a specific scout, an area council or the military. So if your grandson or nephew is a scout and lives far away, you can order your popcorn and support him year round. Seventy-five percent of the price goes to the scout or council of your choice.
I love that you can also donate your popcorn to the military. When you choose this option, 75% of the price will still go to the scout or council of your choice but the popcorn will ship to a military base, National Guard unit or VA hospital.
In addition to classics like Movie Theater Butter popcorn and gourmet popcorn like Sweet Caramel with Sea Salt (new in 2016), this year the Boy Scouts are also offering Milk Chocolate Pecan Clusters and Coffee (Donut Shop Blend and French Roast, as grounds and K-Cups). Just like the popcorn, 75% goes to scouting.
I have often bought Trail's End holiday tins. I store my cookie cutters in one of them. Other tins from past years are filled with blocks, legos, Playmobil, and so many other toys. There are four tins available online:
Chocolate lover's (2 bags Chocolaty Caramel Crunch, 1 bag milk chocolate pretzels, 1 bag white pretzels)
Sweet & Savory (1 white cheddar popcorn, 1 butter toffee caramel corn and 1 Chocolaty Caramel Crunch)
Cheese Lover's (2 white cheddar popcorn, 1 jalapeno cheddar popcorn)
Chicago Cubs World Series Champs (2 bags Chocolaty Caramel Crunch, 1 bag milk chocolate pretzels, 1 bag white pretzels)
Now for a confession. I don't drink coffee so I never have any around my house (except instant). Most mocha barks call for fresh ground coffee which I didn't have so I used Kahlua. If you don't like alcohol, you can always substitute finely ground coffee for the Kahlua. Don't use instant because it will not dissolve in the chocolate (unless you like the taste of instant coffee granules).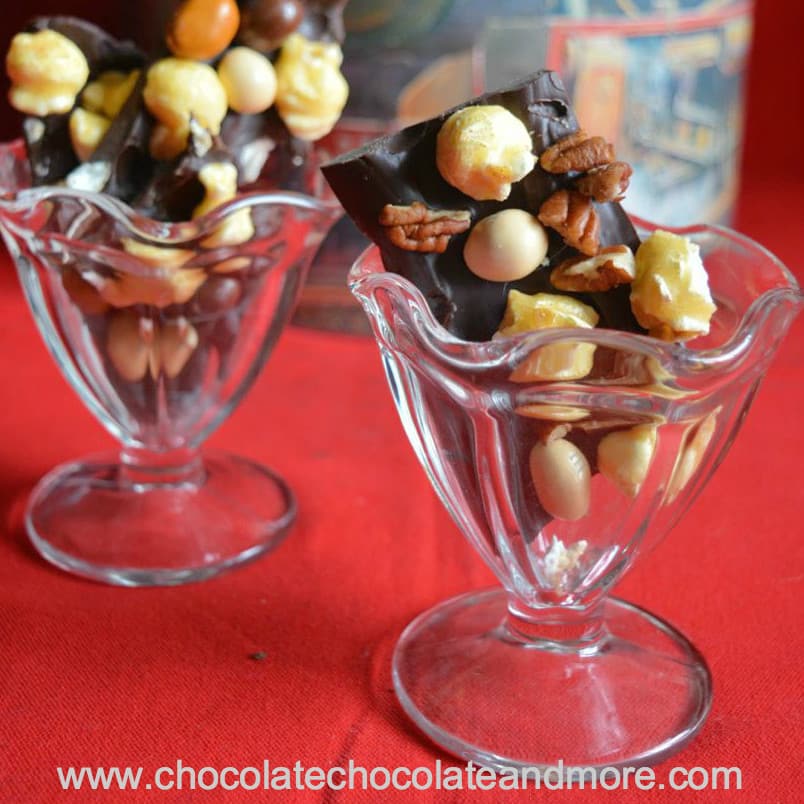 I was in a bit of a rush for my first batch of Mocha Caramel Popcorn Bark so I threw the Kahlua and chocolate chips into the microwave and forgot to take them out at the 30 second mark. The result was melted fudgy chocolate. I'm not one to waste good chocolate so I used it anyway. The result is a softer bark. It still solidified, just not as hard as a chocolate bar is. I also packed my first batch with the butter toffee caramel corn from the Sweet & Savory tin and coffee nut M&M's.
Have you tried coffee nut M&M's? They are amazing! And, they really go well with the salty sweet flavor of the butter toffee caramel popcorn and dark chocolate.
I tempered the chocolate for my second batch of Mocha Caramel Popcorn Bark and added less Kahlua. I also cut back on the toppings so it's more chocolaty. Both recipes are below.
Mocha Caramel Popcorn Bark (2 versions)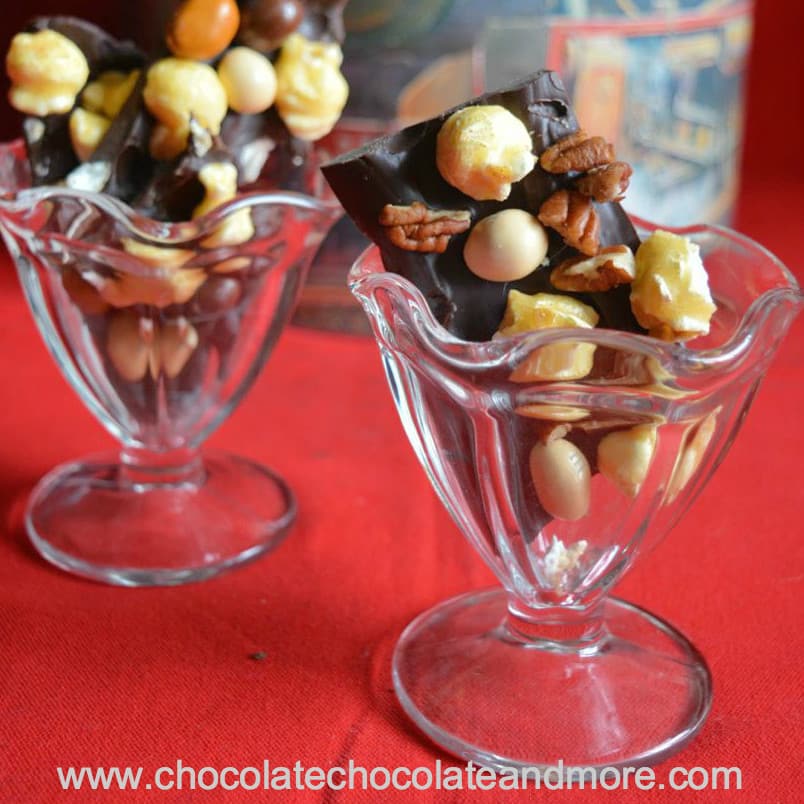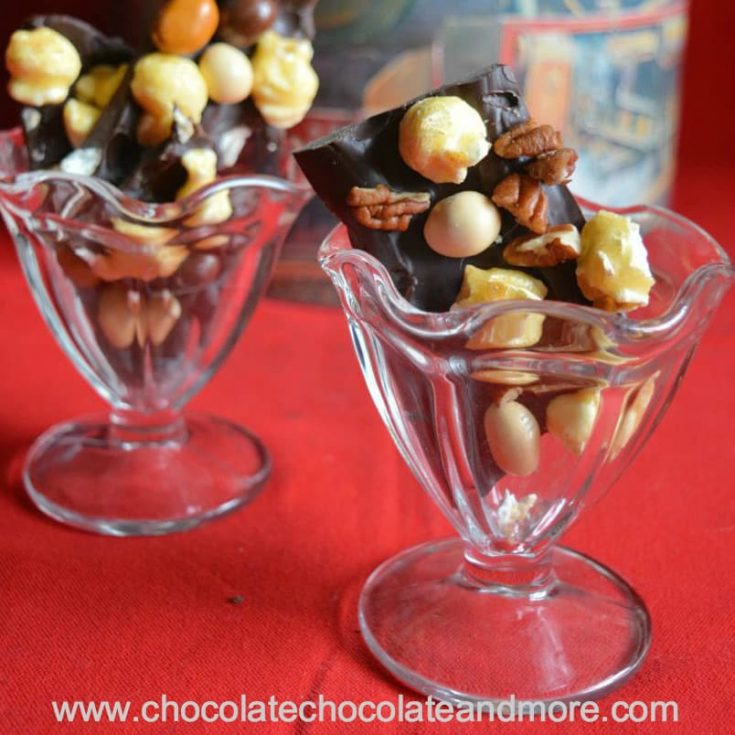 Ingredients
Version 1
Version 2
3 cups dark chocolate disks or chocolate chips
2 tablespoons Kahlua
1 cup Trail's End Butter Toffee Caramel Popcorn
½ cup Coffee Nut Chocolate M&Ms
½ cup pecans
Instructions
Line a 9 x 13 inch baking pan with aluminum foil. Make sure there are no wrinkles.
Version 1
Put Kahlua and dark chocolate disks in a bowl. Microwave on high for 1 minute and stir to blend chips and kahlua.
Spread into prepared pan. I used my hands because the chocolate became fudge-like.
Spread popcorn and M&M's across the surface of the bark and press into the chocolate.
Refrigerate until firm and then break into pieces.
This makes a softer bark - not quite fudge but not hard like a chocolate bar.
Version 2
Put chocolate disks into a bowl and microwave for 30 seconds. Stir and repeat until the chocolate just melts. As the chocolate cools, add a few more disks or chips and stir until melted (This tempers the chocolate).
Mix in the Kahlua and pour into prepared pan.
Sprinkle popcorn, M&M's and pecans over the top. Refrigerate until firm.
This makes a bark that is more like a candy bar.
You might also like
White Chocolate Cranberry Pistachio Bark