Meyer lemons give Meyer Lemon Thyme Cake a bit more sweetness than plain lemons and the thyme really makes the lemon flavor pop.
I have to admit, I love Meyer Lemons. This cross between a lemon and a mandarin orange is a sweeter cousin to your standard lemon, and as such I think it adds a pleasant surprise to most any recipe I use it in.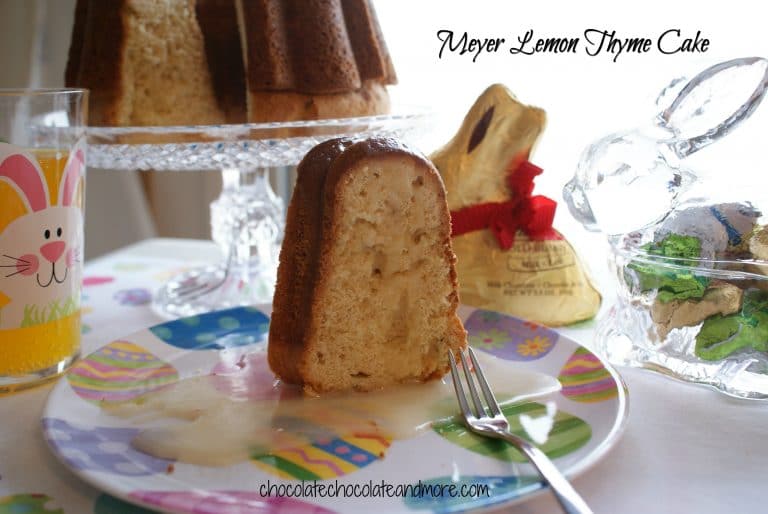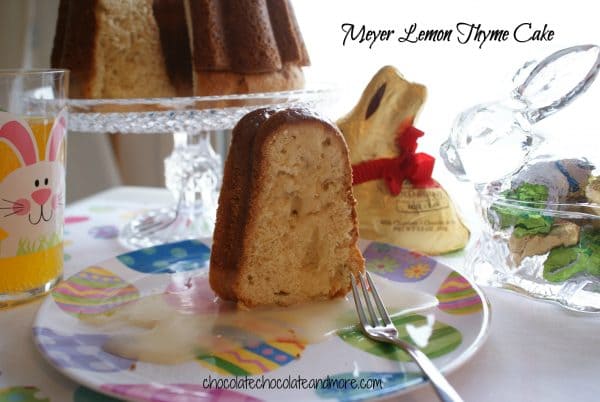 Easter usually signals to me the formal change over from "wintery" foods to "spring and summery" foods. Having been born and raised in Tequesta, Florida, we would go to the back yard and pull fresh oranges and grapefruit off the trees for Easter breakfast. Now we all live in Virginia, so going out back for fresh citrus isn't an option, but we always find some way to make citrus part of holiday events. I decided to make this Meyer Lemon Thyme Cake as part of my offering for this year's holiday events, and I have to say, it was a big hit across the board.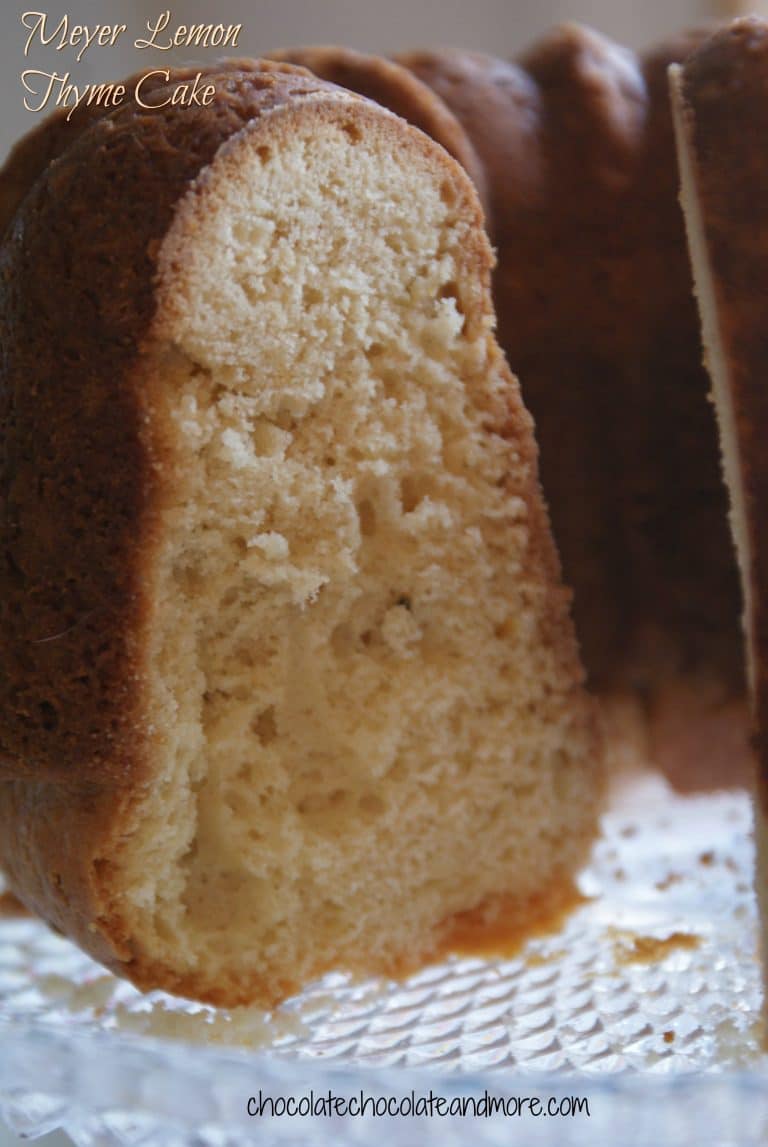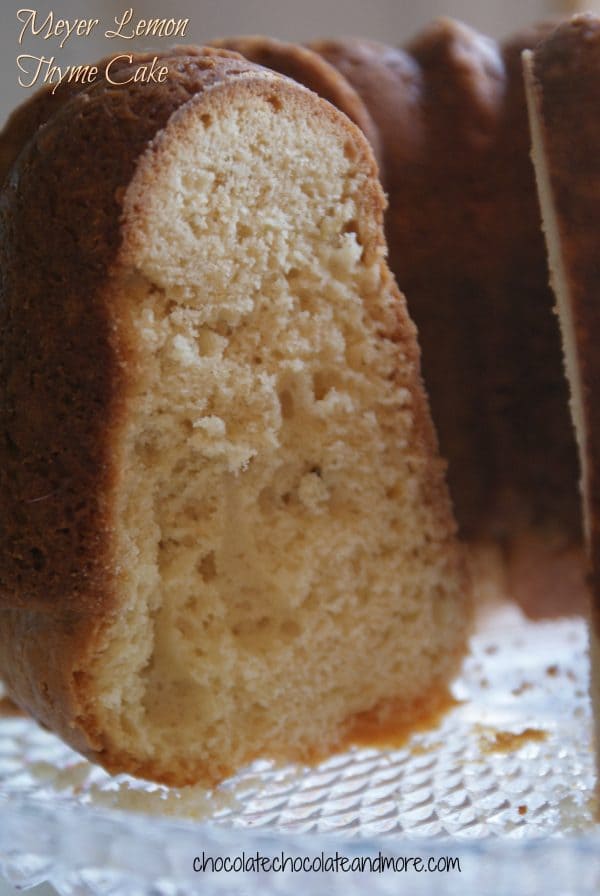 When I originally found this lemon thyme Bundt cake recipe in a friend's cookbook (Simply Nigella, Feel Good Food), the combination of thyme and lemon didn't sound as appealing to me as Nigella was making it out to be in the recipe. I'm admittedly not an adventurous cook when it comes to mixing greens into my sweets, but after talking to my friend, who swears everything is better with herbs, I decided to give it a try.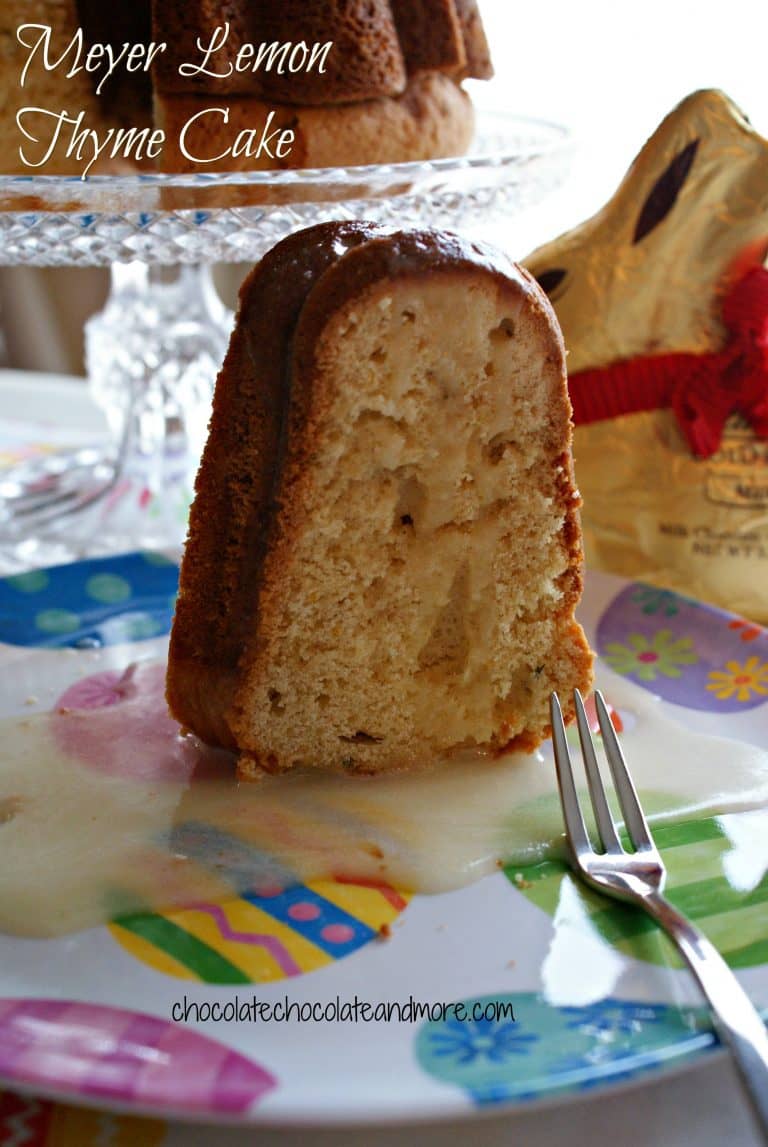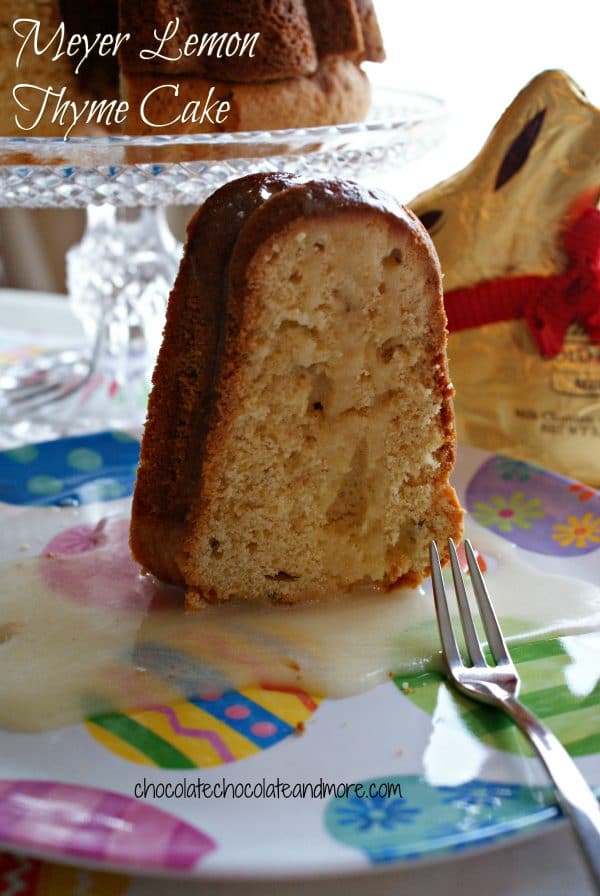 If the idea of using thyme doesn't appeal to you, you can remove it from the recipe and just make a very delicious lemon Bundt cake; the same goes for the Meyer lemons. They can be hard to find, so you can switch them for standard lemons – and if you want to give it a real twist, swap the lemon for lime and see how you like it!
A quick thank you to the folks at Lindt USA for providing me with the delicious chocolate bunnies and chicks. You can find Lindt products at most grocery stores in the United States.
Meyer Lemon Thyme Cake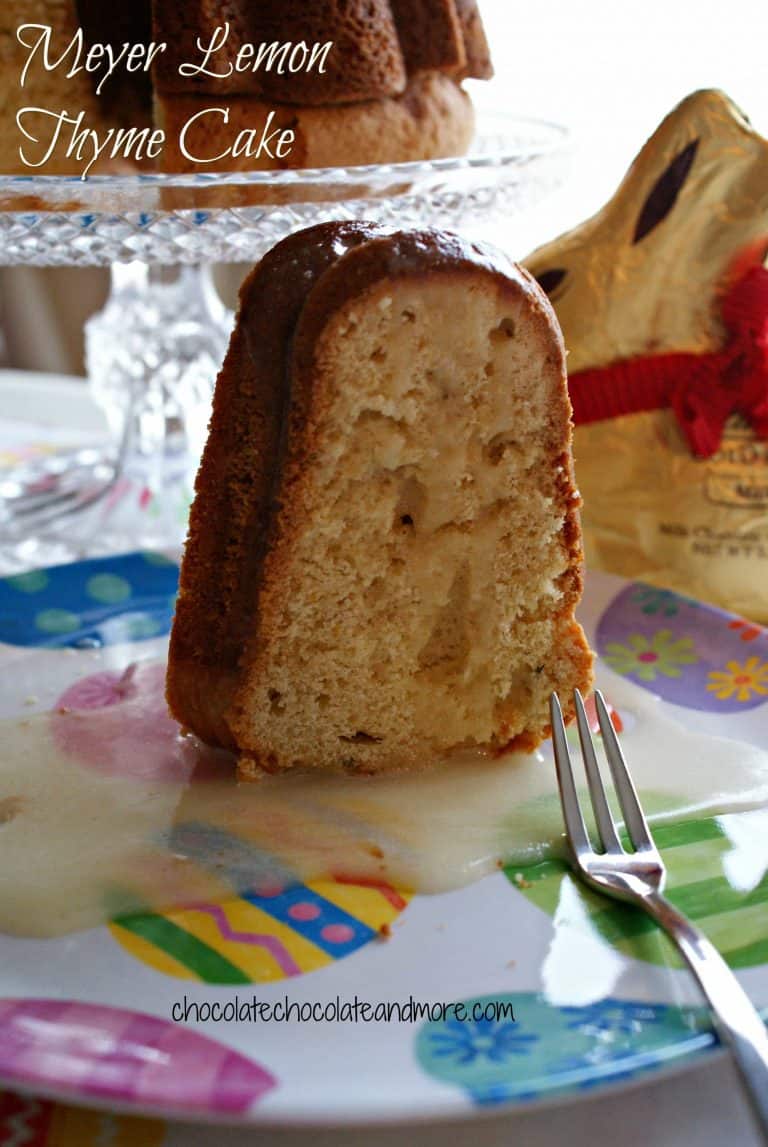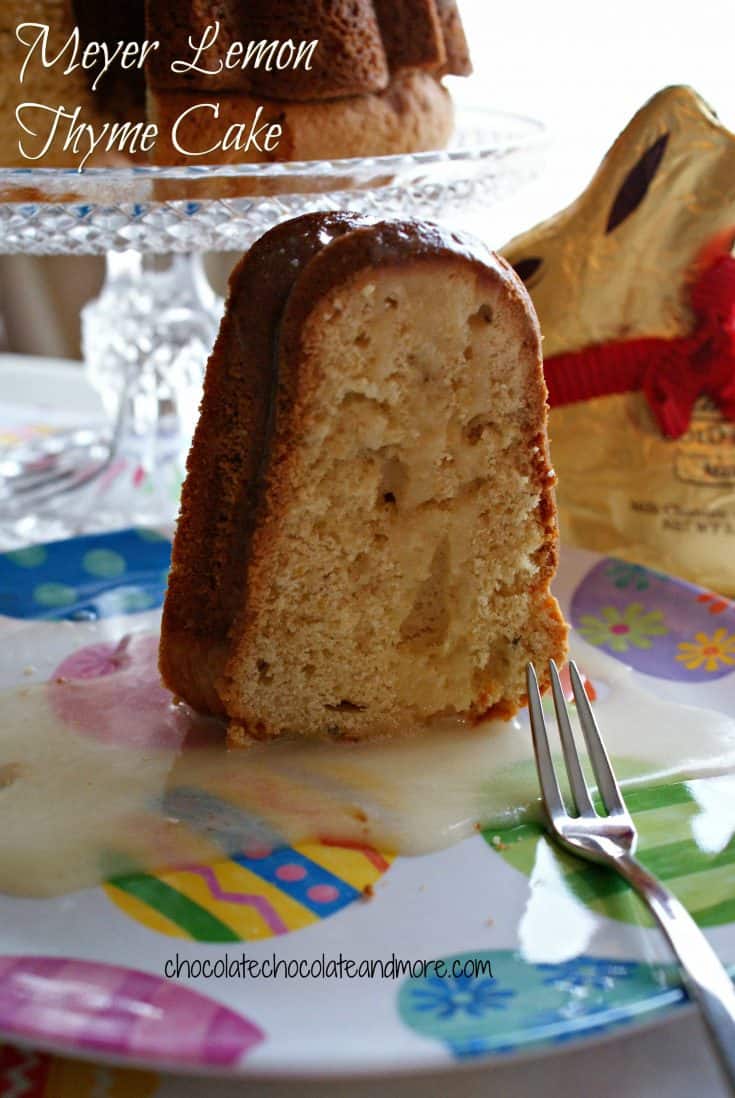 Ingredients
3 Cups all-purpose flour
3/4 teaspoon baking powder
3/4 teaspoon baking soda
13 tablespoons soft unsalted butter
2 Meyer Lemons, washed and dried
1/4 cup of fresh thyme
1 1/4 cups sugar
3 extra large eggs
1 cup buttermilk
1 1/4 cup confectioners sugar
Instructions
Preheat oven to 325 degrees (F)
Zest the skins of the Meyer lemons into a small bowl and set aside.
Squeeze the juice of the Meyer lemons in a separate small bowl and set aside.
Pull the leaves of the fresh thyme from the stems until you have approximately 1/4 cup of fresh herbs. Discard the stems.
Combine the flour, baking powder, and baking soda in a bowl and set aside.
In a large mixing bowl (or the bowl of a free-standing mixer), combine the butter and lemon zest on until creamy.
Add the thyme and sugar and beat until mixture is fluffy.
Add the three eggs and slow the mixer speed to low.
Add 1/3 of the flour mixture, and 1/3 of the buttermilk, alternating between flour and buttermilk until both are completely incorporated into the mixing bowl.
Add half of the lemon juice to the batter and mix until blended.
Pour batter into greased Bundt pan (or a 8 inch square pan), and bake for an hour to an hour and 20 minutes at 325 degrees.
After removing cake from oven, allow to cool 15 minutes in pan before turning out onto wire rack.
For the glaze
Sift confectioners sugar into bowl
Beat in juice of remaining Meyer lemon until a glaze is created
You can either drizzle over entire cake, or on each individual slice as desired
This cake can be frozen without the icing for up to three months in an airtight container.
If you like this bundt cake you might also like Chocolate Chip Coconut Bundt Cake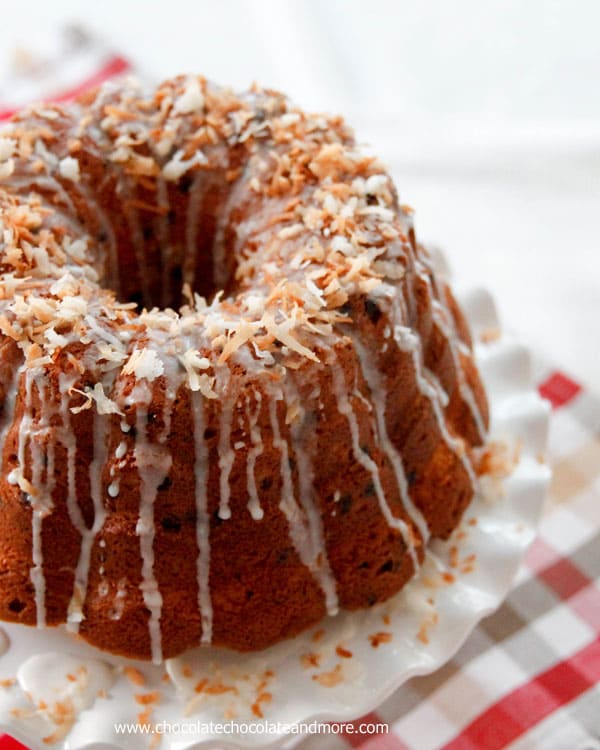 Or this Greek Yoghurt Pound Bundt Cake from Roxana's Home Baking.

Or this Chocolate Turtle Bundt Cake from Melissa's Southern Style Kitchen.