I love cheesecake but it takes so long to bake that I tend not to make it in the summer. These marbled coffee mini-cheesecakes bake in 15- 20 minutes and they have all the creamy goodness of a full sized cheesecake.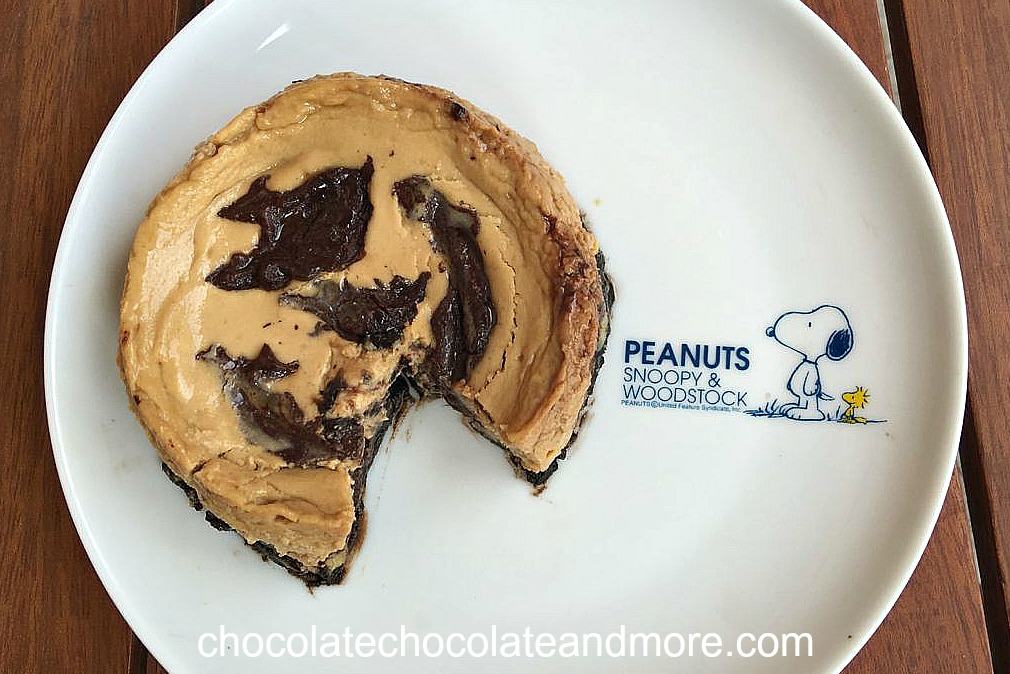 I grew up outside Philadelphia in a neighborhood where Italian food reigned supreme. One of my favorite desserts on a hot summer day was cheesecake. It's cold and creamy and so versatile. The only problem is that it takes forever (over an hour) to cook. Now that I live in Texas, I'm not into heating my kitchen up for that long when it's scorching hot outside.
I also have the issue of almost being an empty-nester. My sons are now grown and my daughter is off to college in the fall. The difference in food consumption is huge. When my sons lived at home, I bought 10 – 12 gallons of milk per week (yes, milk savings alone paid for my Costco membership). They went through food like ravenous locusts. So baking large desserts was no problem. A cheesecake would only last a couple of days max and I'd only get a slice or two.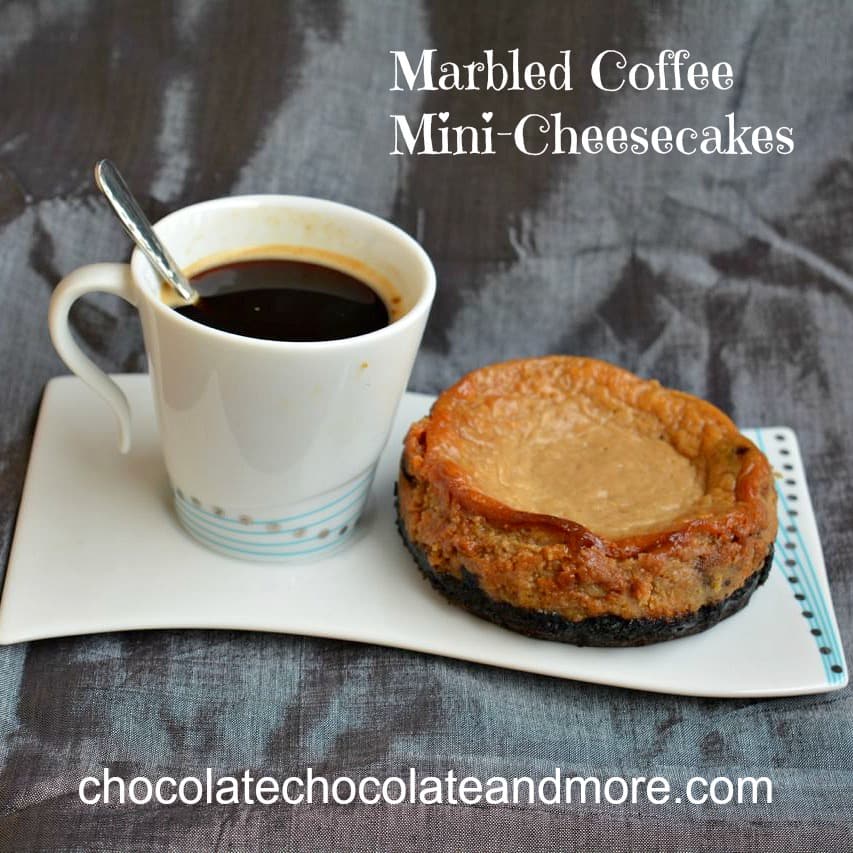 Now, it's just Becky and me and we don't consume nearly as much food. I usually take what I make to work or church so things don't go to waste. Still, making some smaller portions isn't a bad idea and when I saw mini- springform pans, I thought maybe I satisfy my cheesecake cravings with individual cheesecakes.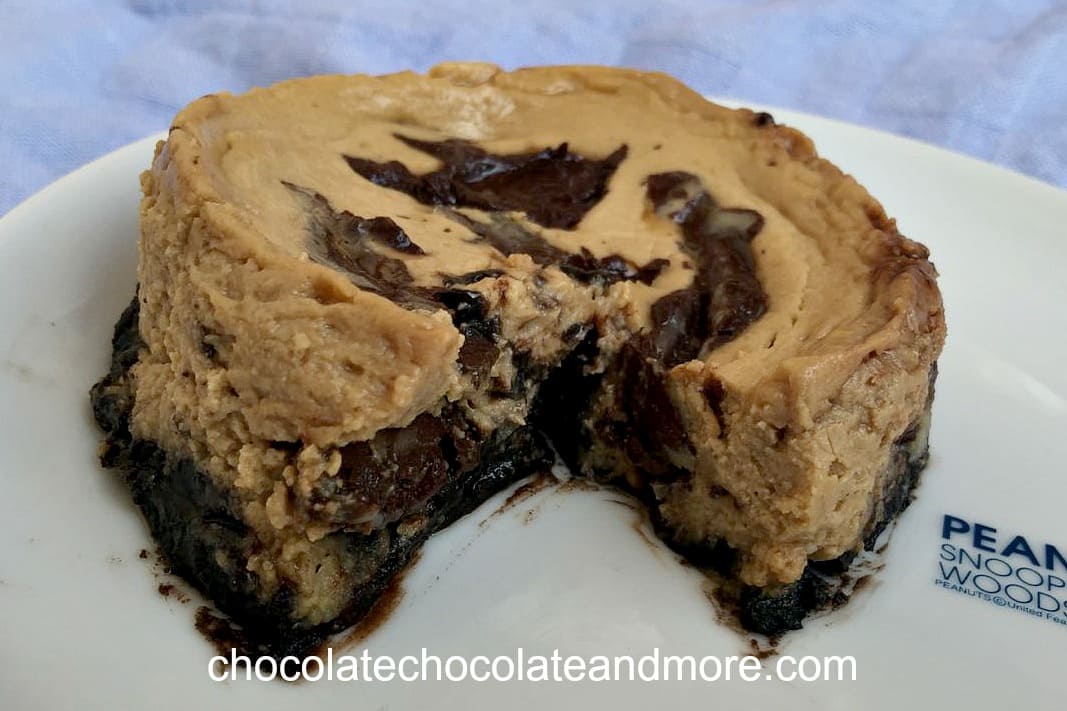 This recipe makes 2 marbled coffee mini-cheesecakes. Perfect for Becky and I or for tea with a friend. I love that they only take 15-20 minutes in the oven and there's no slicing – just put on a plate and serve.
To tell if cheesecake is done, the top should be shiny, a little more golden around the outside edges and it should just be a bit jiggly in the center.
Marbled coffee mini-cheesecakes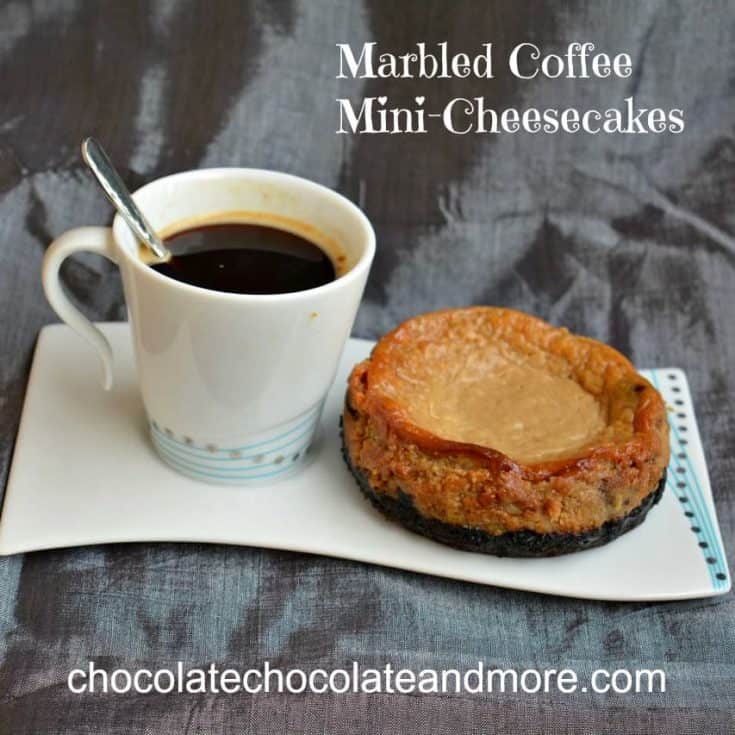 Ingredients
1 package cream cheese (8 ounces or 250 g)
⅓ cup sugar
1 egg
⅓ cup sour cream
2 tablespoons Kahlua (or strong coffee)
2 teaspoons coffee powder
⅔ cup semi-sweet chocolate chips
2 tablespoons heavy cream
8 oreos - food processed into crumbs
Instructions
Line the bottoms of 2 mini-springform pans (3.75 - 4") with parchment paper. Food process the oreos and press the crumbs into the bottom of the two pans.
Beat together cream cheese, sour cream, sugar, egg, coffee powder, and coffee liquor.
Put chocolate chips and heavy cream in a microwave safe bowl. Microwave on high for 1 minute (till chocolate is soft). Stir until smooth. Depending on your microwave, you may need to add more time to soften your chocolate.
Put 1/2 cup of the cream cheese mixture in each mini-springform pan. Add swirls of chocolate (about 1/4 of the chocolate in each). Add more cheese cake mixture and top with remaining chocolate.
Bake at 350°F for 15-20 minutes. Center should be shiny and almost firm. Cool in pans.
Refrigerate and serve cold.