Lime Marshmallows are a fun treat by themselves or in a hot drink. Dress them up like Frankenstein for Halloween or dip in chocolate and sprinkles for a Christmas treat.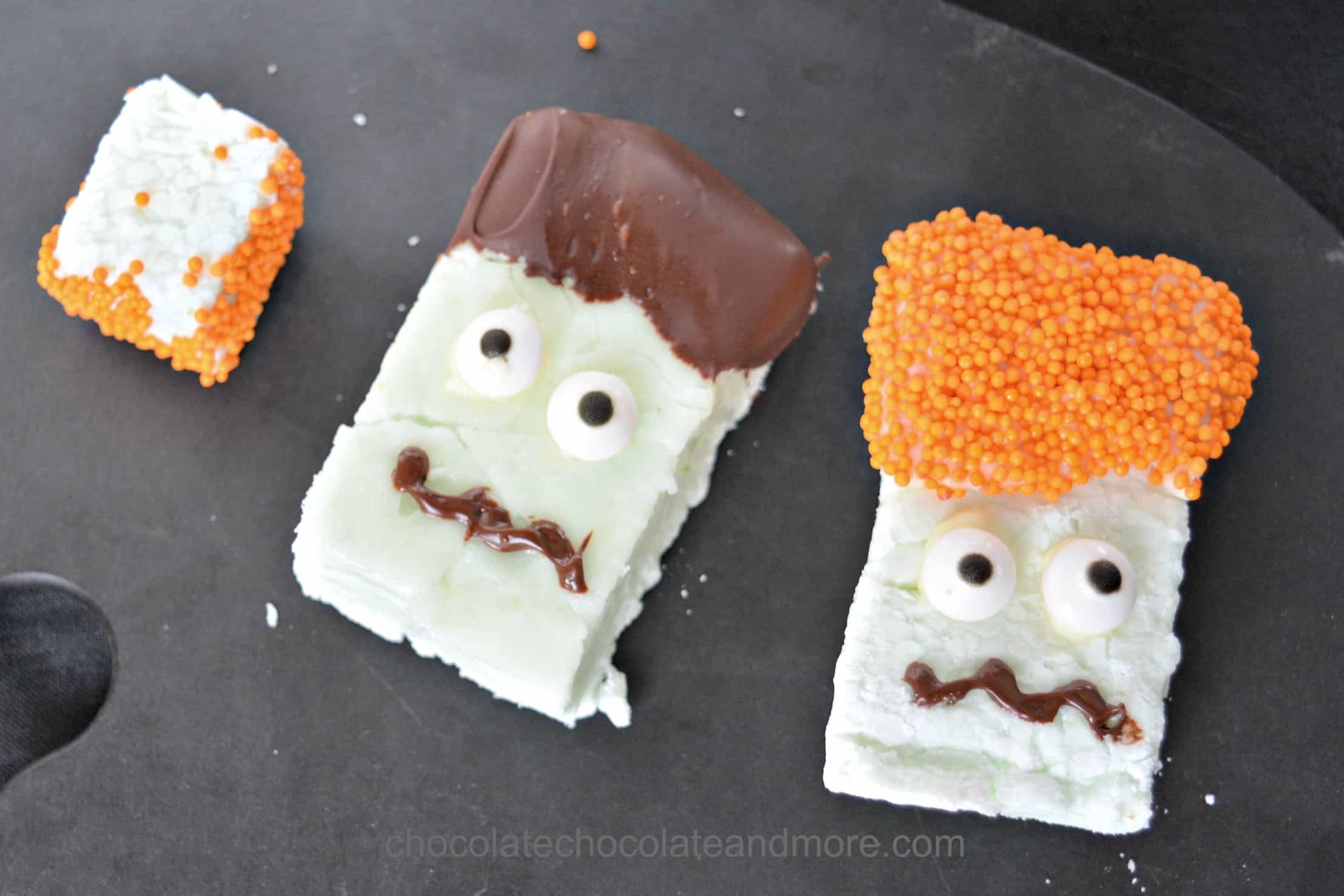 I've been wanting to make marshmallows for some time. It's hard to find marshmallows here in Cambodia and they're really expensive.  Last time I was here I bought a marshmallow cookbook with the idea I'd save some money making my own. Did I make any? Nooooo.
Limes are abundant here and cheap. I really like citrus and the tart flavor goes well with the sweetness of the marshmallow. What to do with yummy slightly green marshmallows? (Aside from eat them of course). Green is a great color for Halloween monster faces and Christmas treats.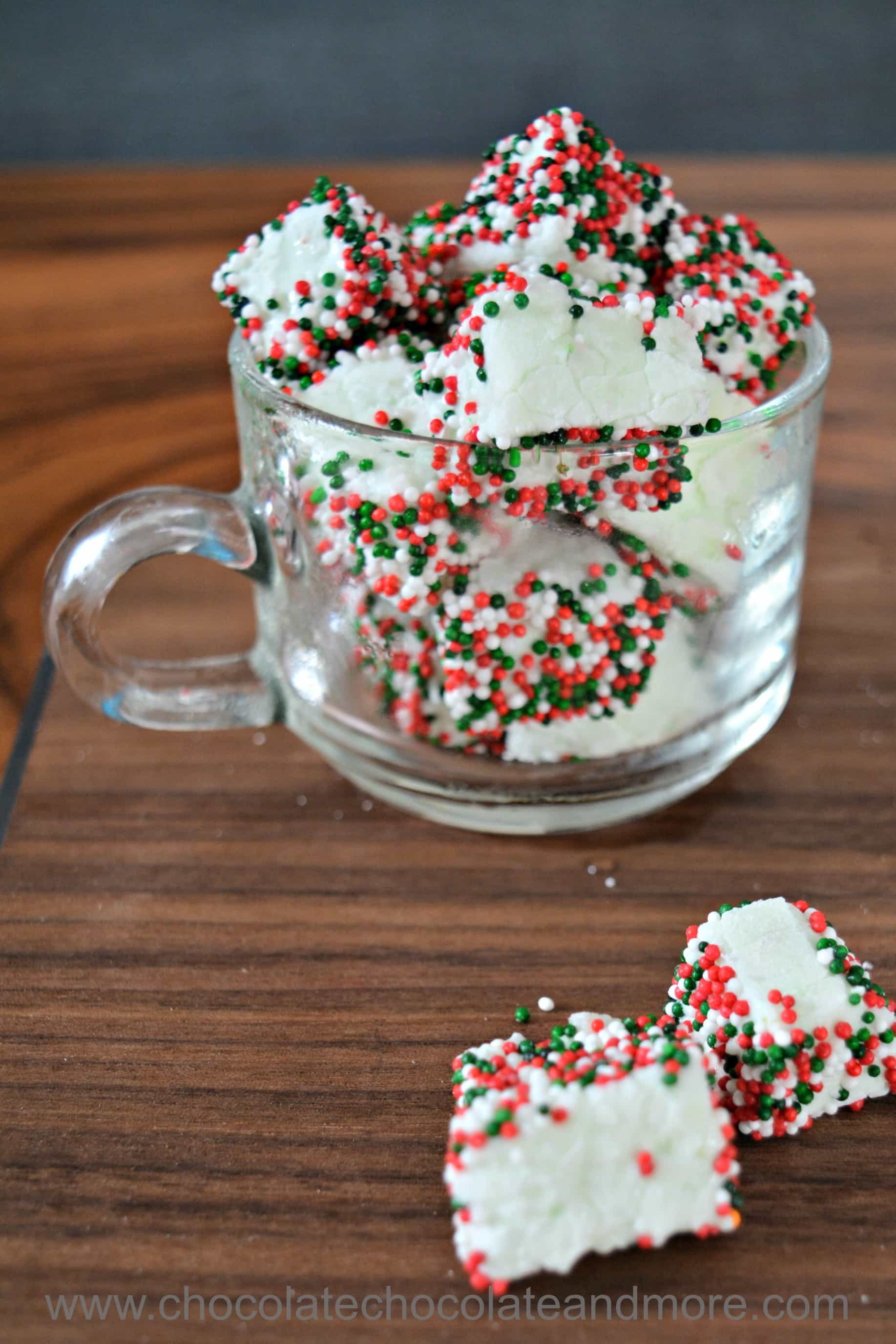 I'm not much of a decorator – gotta work on that. So simple is best.  A few weeks ago I saw these adorable shortbread monster cookies on OMG Desserts and thought, "Now that's something I can do."
Lime marshmallows are not too difficult to make. Basically, you make a boiling hot sugar syrup and mix gelatin and flavorings into the hot syrup. Turn on your stand mixer, beat the egg whites until they're almost stiff. Then you carefully drizzle the hot syrup into the meringue as you continue beating it with a mixer.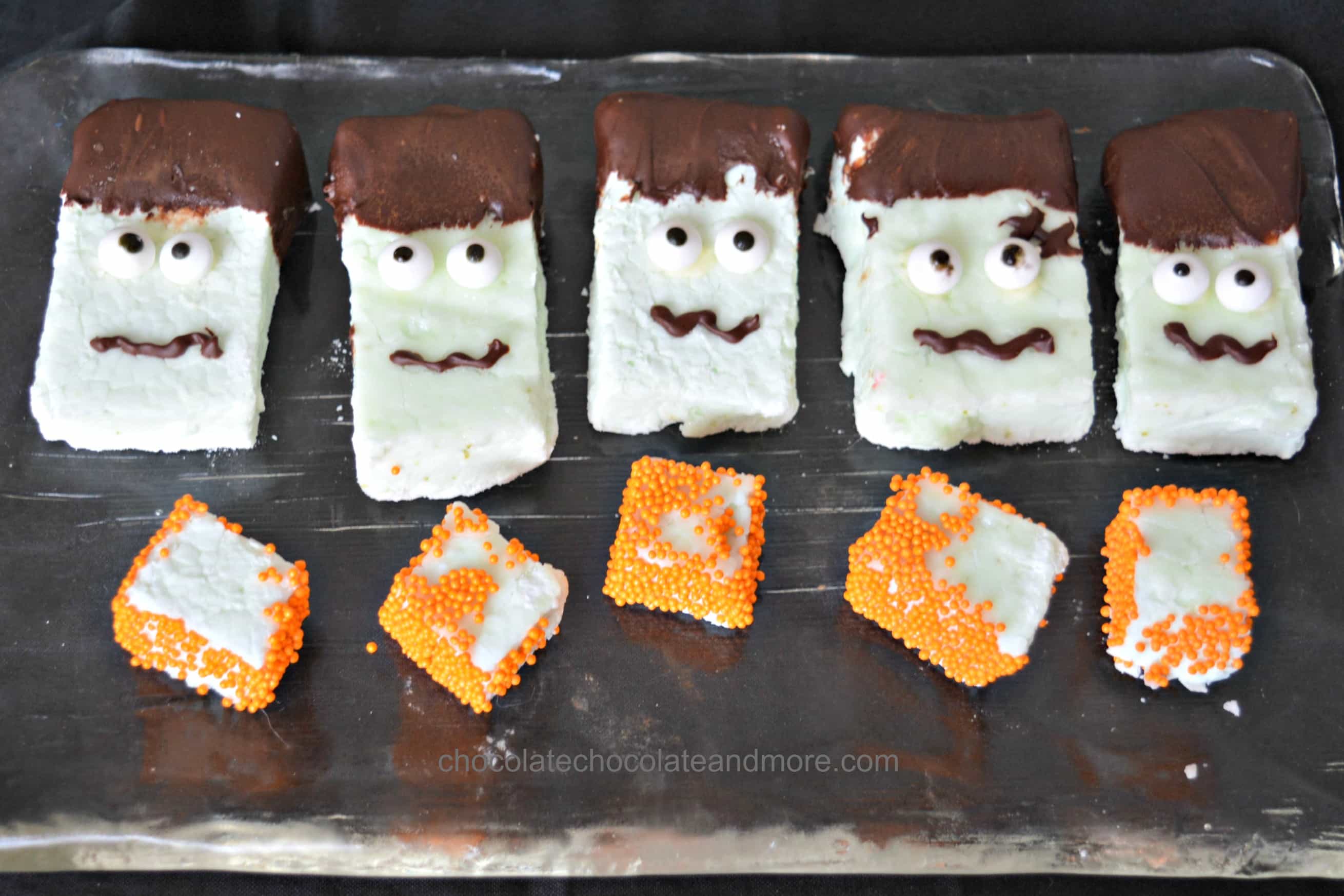 That last part is the tricky step. If you just dump the hot sugar syrup into the egg whites, you'll have scrambled eggs. I don't have a stand mixer so I poured syrup with one hand while mixing with the other. I added very slowly at first (drizzle). Then I sped up to a slow pour after the egg whites were already hot.
Since I was using a hand mixer, I set my mixing bowl in a pot of boiling water. This heated my egg whites while I beat them and stabilized my bowl.
And, yes, the recipe really does call for 5 cups of sugar. This recipe makes a LOT (two 9 x 13″ pans worth). Marshmallows freeze well so you can freeze some for Christmas. You can easily cut the recipe in half if it's too much.
To make the Frankensteins, I dusted off the powdered sugar coating and dipped one end in melted dark chocolate. I glued some candy eye balls on with melted white chocolate. I used the left over melted dark chocolate for the mouths.
You can also use sprinkles to decorate the sides of the marshmallows instead of coating them with powdered sugar. This is really easy to do so young children can decorate their own. Just put your sprinkles in a bowl, drop the freshly cut marshmallows in and turn with a fork. I used red, white and green sprinkles for Christmas Marshmallows and orange ones for Halloween Marshmallows. Pink would be fun for Easter.
Want more lime treats? Try these.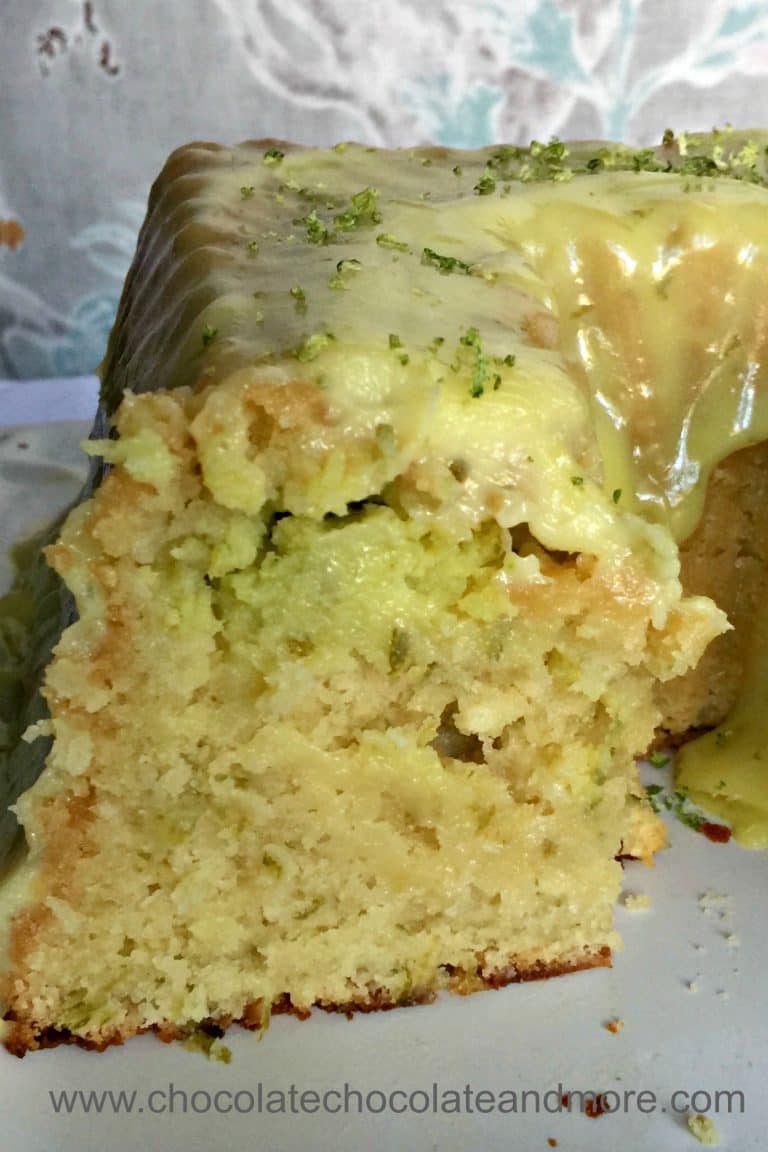 Lime Curd Filled White Chocolate Bundt Cake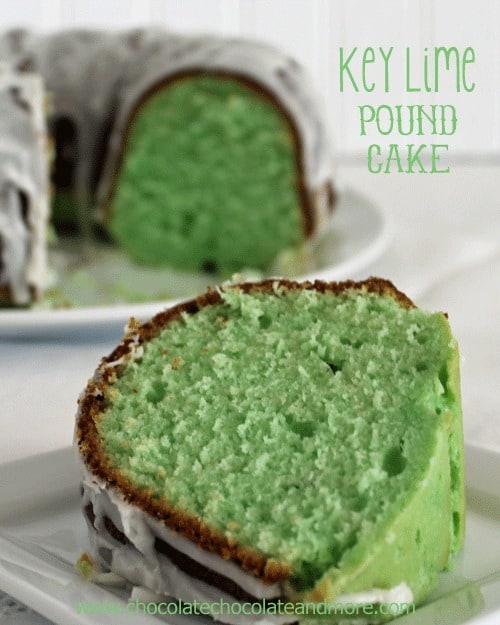 Want more marshmallow treats?
Vanilla marshmallows from Jenni Field Pastry Chef Online