A little black pepper gives a sophisticated zing to dark chocolate. Kampot Pepper Chocolate Bark makes a standout gift or party snack but keep some for yourself so you can savor them at home.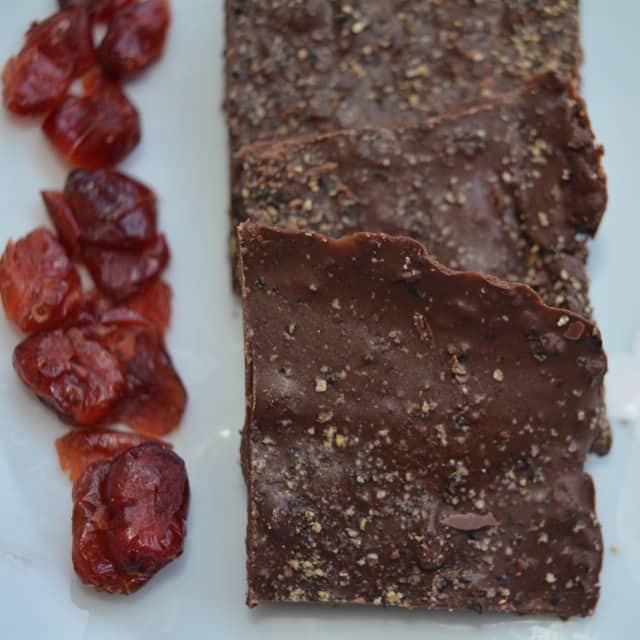 I'm a Texas girl living in Cambodia for a year. Although I love spicy TexMex food, I initially thought adding pepper to chocolate was a bit on the crazy side. However, it's quite tasty when done right. You often see chocolate flavored with chili but a Belgian chocolatier here makes a chocolate with locally grown black pepper. When Joan died, I brought a box of chocolates from Chocolate By the Shoppe so my family could sample Belgian chocolates with a Cambodian twist. Even though the Kampot pepper chocolates weren't as pretty as the others, they disappeared first. The New York Times even wrote about these simple chocolates so I thought I should try to replicate Kampot Pepper Bark for this blog.
Kampot pepper is so flavorful that it has achieved geographical indication (GI) status. GI status indicates regions that are famous for a particular product – like Champagne from France. French chefs so love Kampot pepper that until recently nearly all of the exports went to France. The US, Canada and Germany now import Kampot pepper but France still takes the lion's share. Sadly, they don't export the green berries. Cambodians use the green pepper berries to impart a milder pepper flavor to dishes. One of my favorite Cambodian dishes is stir fried crab with green pepper berries.
If you're lucky, you may be able to find Kampot pepper locally. Amazon carries Organic Kampot Pepper Rare Cambodian Peppercorns Black 2 Ounce. It's expensive and very flavorful but you only need 1 teaspoon for this recipe and 2 ounces of peppercorns will give you enough for about 25 teaspoons so you'll have plenty left to make other wonderful dishes. If you can't find Kampot pepper, you can substitute freshly ground black pepper from your grocery store for Kampot Pepper Chocolate Bark. This recipe makes a small amount you so you can try it but if you're like my family and colleagues, it won't last long. You can find 40 + Chocolate Bark Recipes here.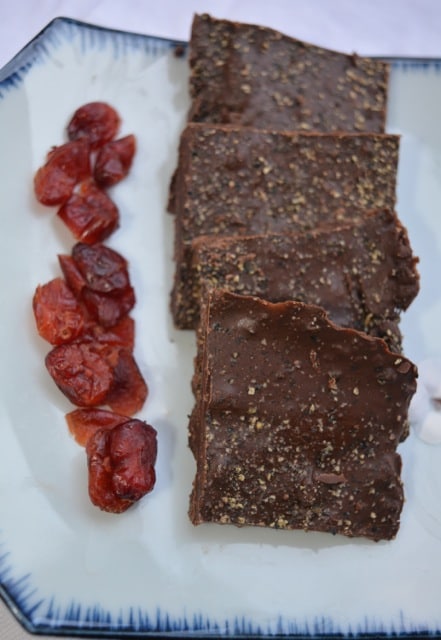 Kampot Pepper Chocolate Bark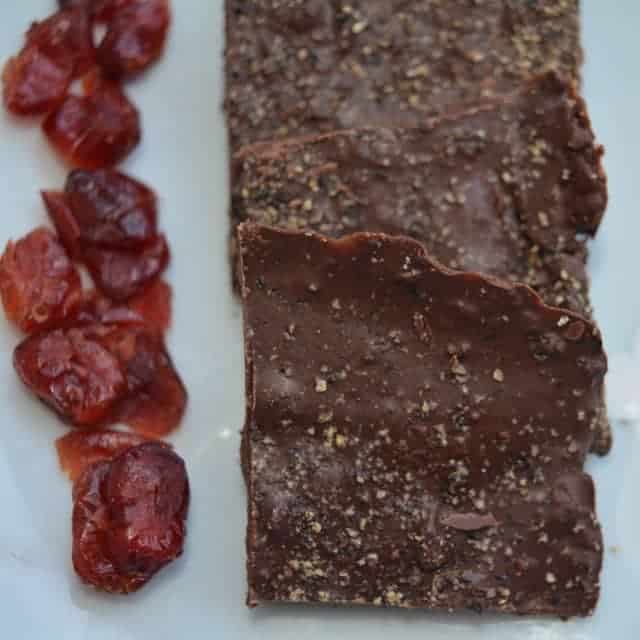 Prep Time 10 minutes

Cook Time 7 minutes

Total Time 17 minutes
Ingredients
2 cups chopped semisweet or dark chocolate, melted
1 teaspoon coarsely ground black pepper (or more if you like it hot!)
1-2 teaspoons cooking oil (optional: if using chocolate chips, omit this if you use chocolate bark or melting disks)
Instructions
Melt the chocolate. Chocolate chips can be dry and grainy when they melt (even without seizing) because they have less oil than other chocolates. If you use chocolate chips, add a sparing amount of vegetable oil (1-2 teaspoons) to give them a thick, smooth melted appearance. If you add too much oil, the chocolate won't solidify so only add just enough to make it smooth.
Spread your melted chocolate out in a pan lined with wax paper, parchment paper, or cling wrap.
Sprinkle the top with coarsely ground pepper. Cool completely. Break or slice into chunks and serve.
Note: I saved a step and some dish washing by melting my chocolate in the top of a cookie tin lined with parchment paper. I spread the chocolate out and placed the lid in a 250° oven for 7 minutes.
A few years ago my friend Maureen, my daughter Becky and I visited a pepper farm in Kampot, Cambodia. Kampot is located in the Southeast corner of Cambodia and there really isn't much there so we made a day trip from our hotel on the coast. Day trips here are a little more rugged than back in the States. We piled in a tuktuk (a wagon pulled by a motorcycle) and drove for about an hour on bumpy country roads to reach the "mountains." The Kampot mountains are quite short (we'd call them hills back home) but they are a definite break from the completely flat terrain. These mountains have perfect soils and climate for growing pepper plants.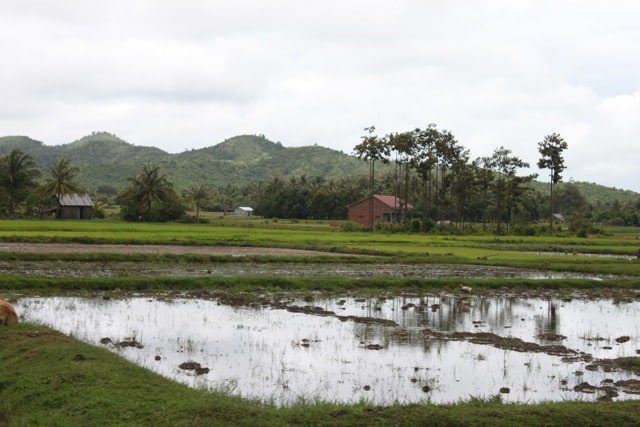 The farmers use tall poles to support the vines and they're planted in rows so it looks like hedges back home. Below is a photo of Maureen and I standing between two rows of pepper vines.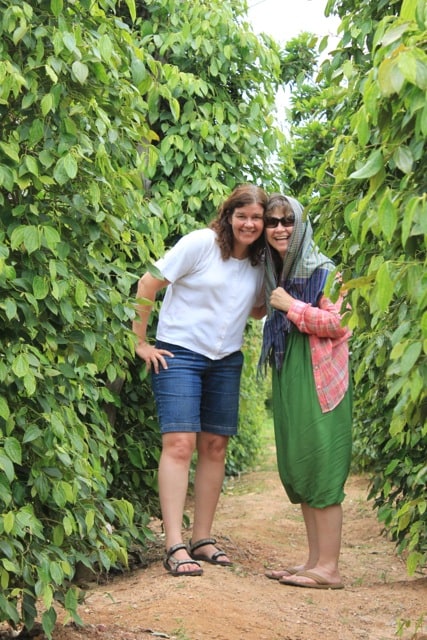 I was surprised to learn that black, red, and white peppers all start as green berries on the Piper nigrum vine.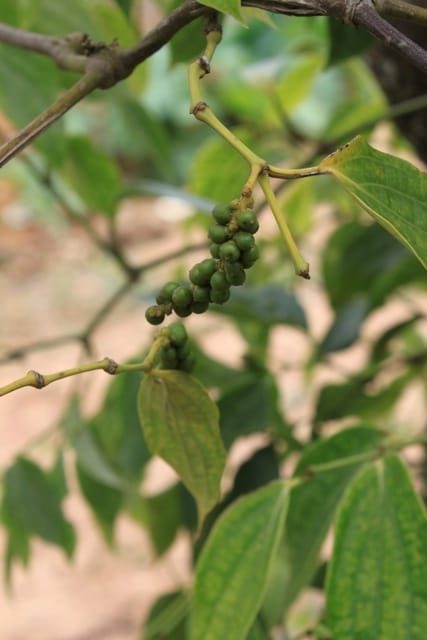 Farmers harvest the green berries and dry them on woven mats to produce black pepper. For white and red pepper, the farmers let the berries ripen to a bright red before they are picked. Red pepper is made by drying the ripe, red berries on a mat. The skins are removed before drying for white pepper which is why white pepper is more expensive than either black or red pepper. You can see the green and red pepper berries drying on a mat in the photo below.