Flourless Double Chocolate Jaffa Cakes are a more chocolaty twist on an old favorite- moist chocolate sponge cake topped with orange curd and dark chocolate. Perfect for an afternoon snack! Enter to win a Deiss zester to make your own citrus desserts!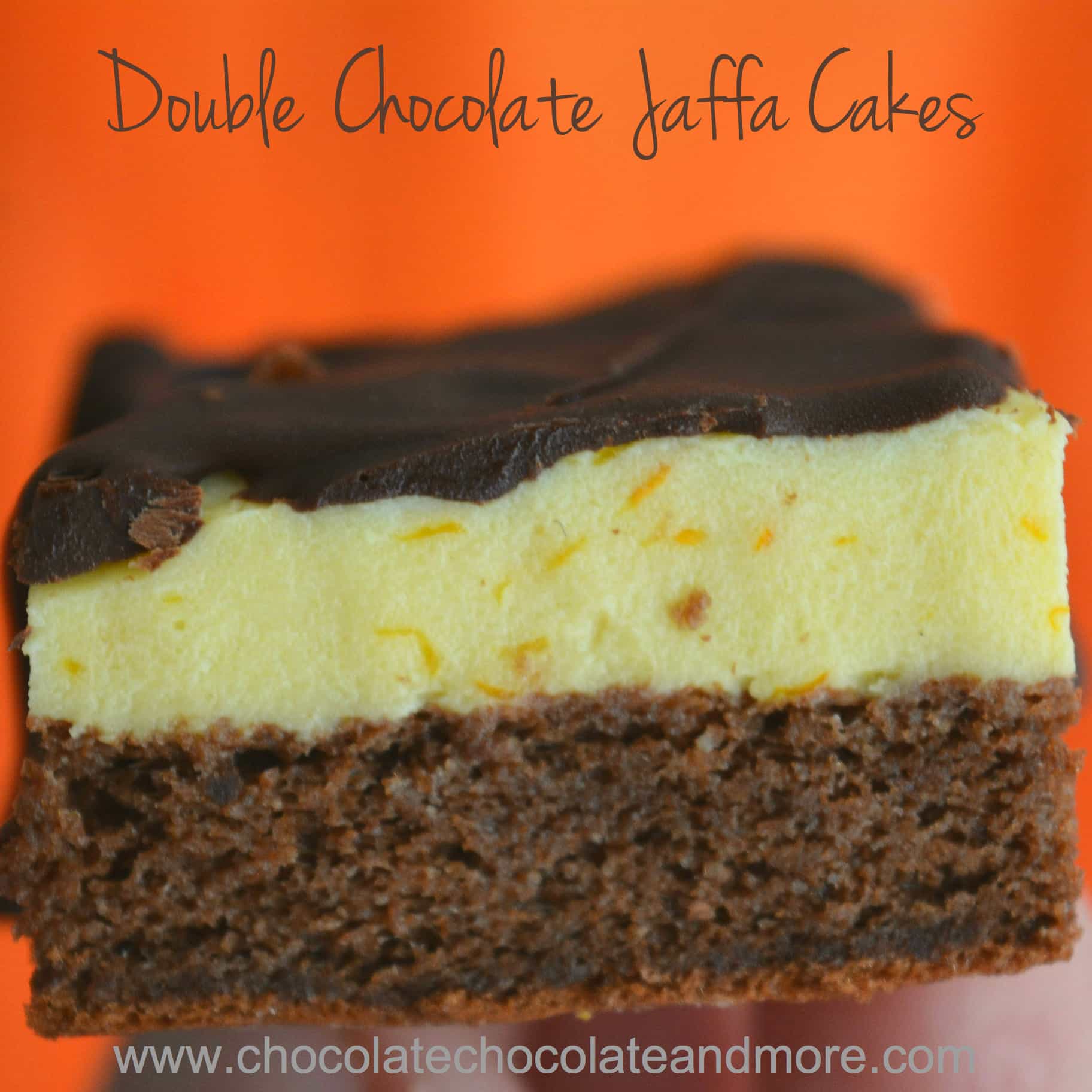 I recently read an article on Jaffa Cakes on the BBC. There's a huge debate in England about whether these treats are cakes or cookies (biscuits in the British vernacular). Since Brits tax cakes and cookies differently, this is a very big deal. I've never had a Jaffa cake. They sounded so good I had to try making one.
Traditional Jaffa cakes are a vanilla sponge topped with orange jelly and dark chocolate. I'm not much of a jelly fan but I love citrus curds. I decided to make an orange curd instead. This reduces the sugar in the recipe but increases the fat. You can always substitute orange marmalade or jelly instead of the curd if you want to reduce the fat.
Substituting a chocolate sponge for the vanilla made these flourless. If you want the traditional vanilla sponge, substitute cake flour for the cocoa in the sponge recipe. Personally, I think you can never have too much chocolate.
Traditional Jaffa cakes are round. I made it easier on myself by making these Flourless Double Chocolate Jaffa Cakes into bars. They taste just as good and there's no waste. You could use muffin cups to make the round version.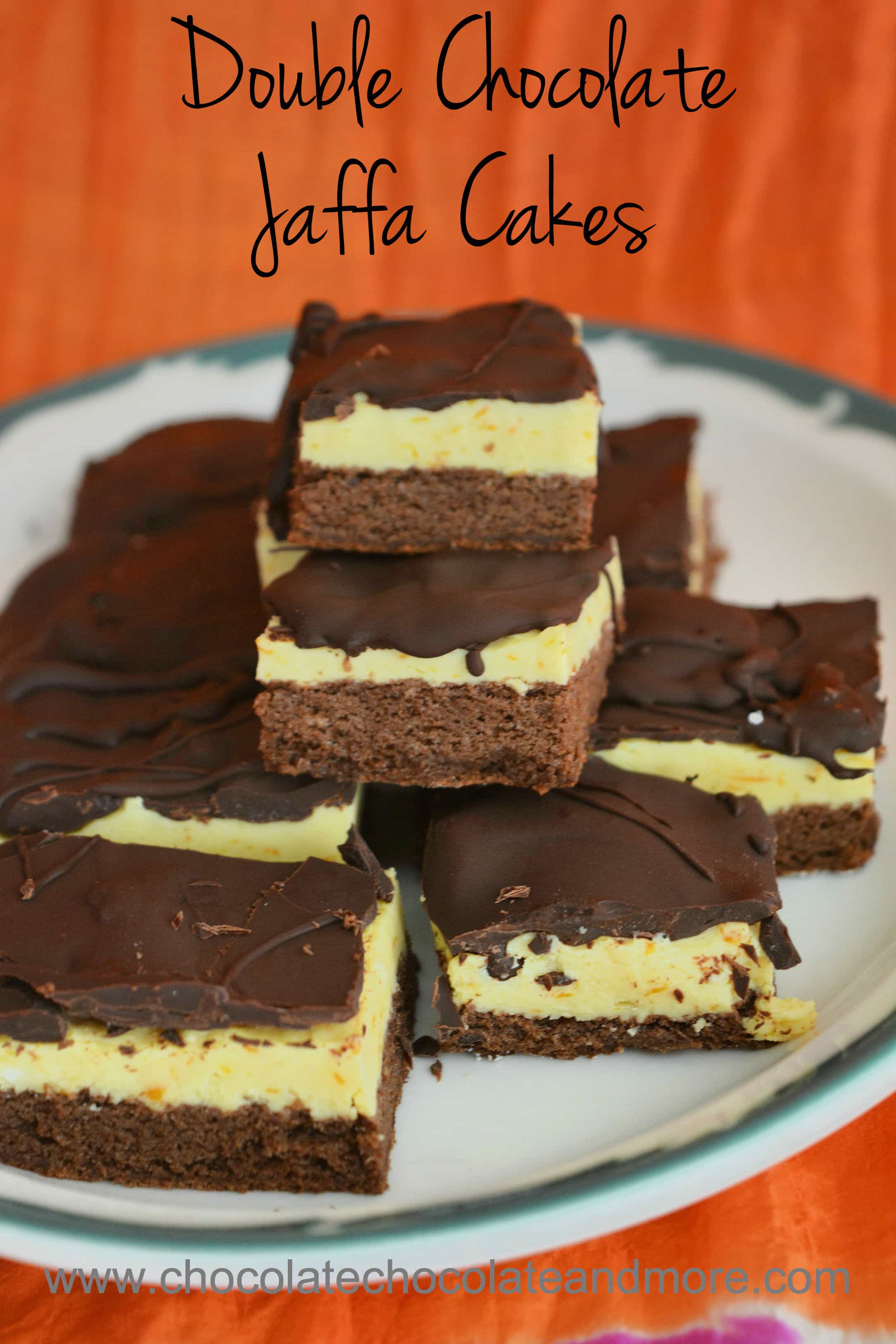 About a month ago Deiss sent me this wonderful zester. I love using it. You can see how cleanly it zested the orange for this recipe. The blade is really sharp and it cleans up so easily. Just run some water over it to remove peel. The handle is also really comfortable to hold. You can win one for yourself as well by entering our contest below. Deiss has generously provided 5 of these zesters for Chocolate, Chocolate and more fans!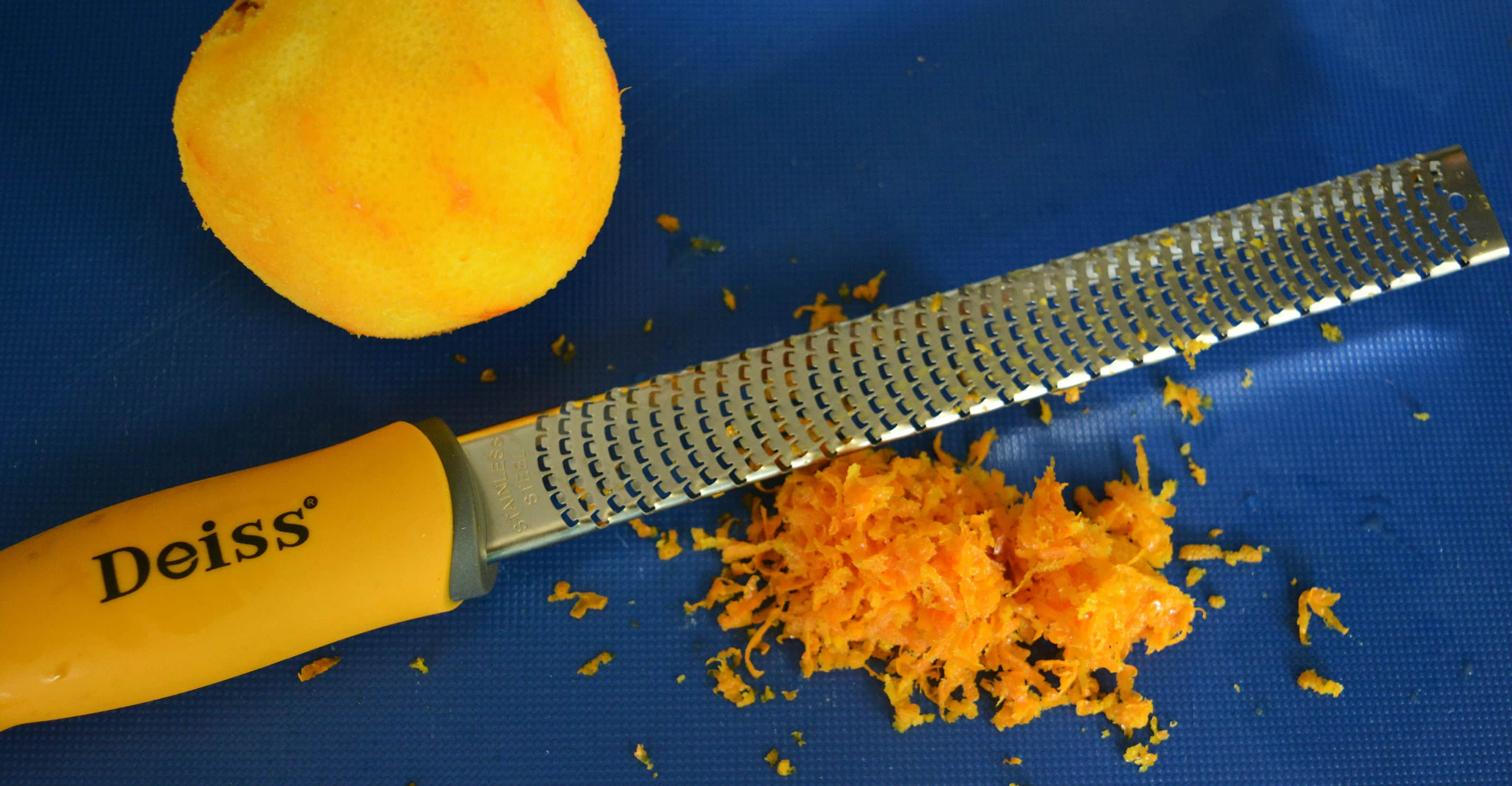 These flourless double chocolate Jaffa cakes are a little more healthy because I used Santa Barbara Chocolate Cocoa Blossom Dark Chocolate. This chocolate is sweetened with coconut palm sugar so it's even better for you than regular dark chocolate. It also has a tangier flavor that goes really well with citrus. You can use any dark chocolate or semi-sweet chips.
Yield: 2 dozen bars
Flourless Double Chocolate Jaffa Cakes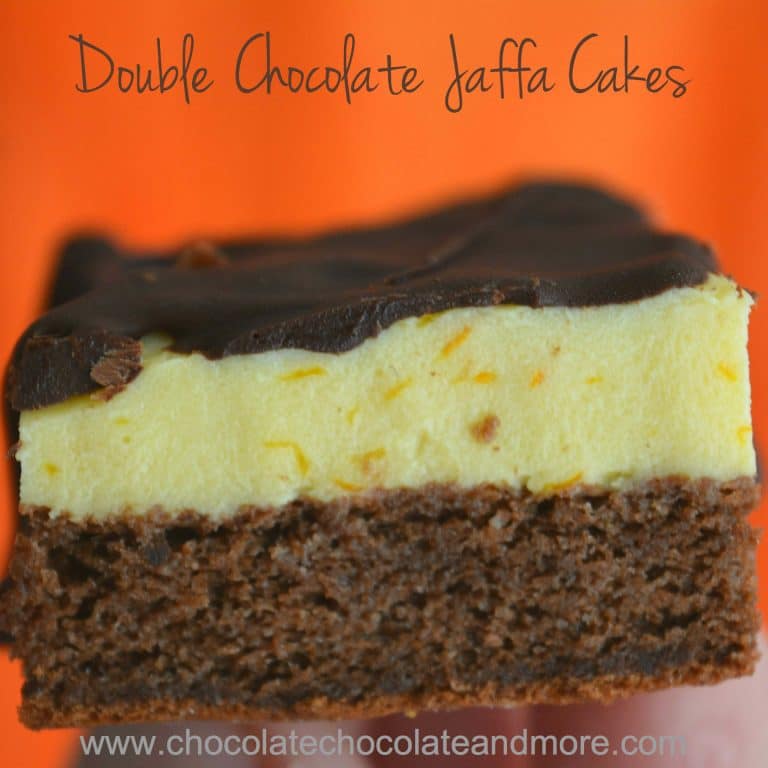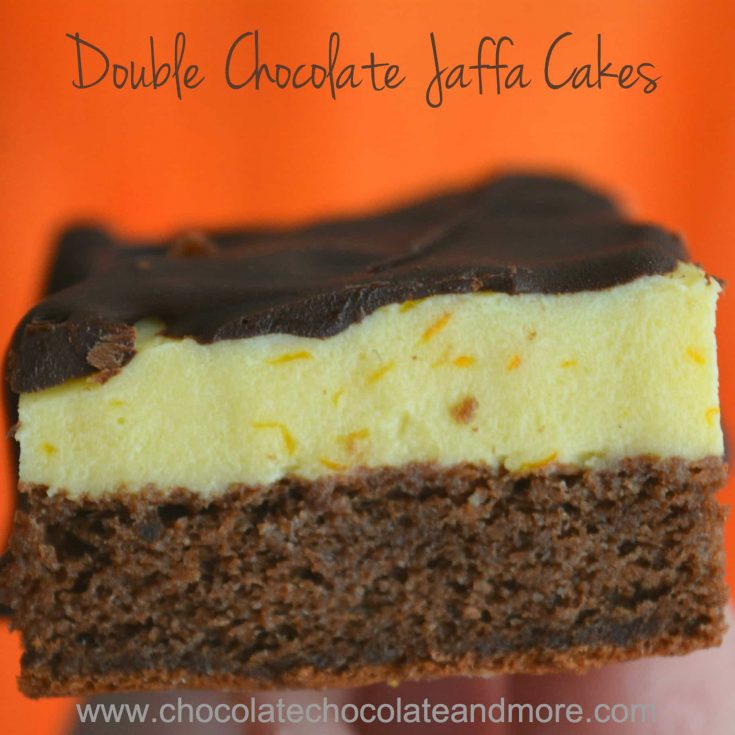 Ingredients
Sponge cake
4 large eggs separated, room temperature
½ cup granulated sugar (divided)
¼ cup cocoa powder
1 teaspoon vanilla
1/8 teaspoon salt
powdered sugar
pinch of cream of tartar
Orange curd
1½ cup orange juice
zest from one orange
6 egg yolks
¼ cup butter cut into small pieces
2 teaspoons gelatin
2 teaspoons orange extract or grapefruit liquor
Topping
Instructions
Orange Curd
Put orange juice, orange zest, and egg yolks in a large saucepan. Cook on medium high until the temperature reaches 171°F. Stir constantly with a whisk. Remove from heat and add butter one piece at a time.
Sprinkle in gelatin and stir to mix. Add orange extract or grapefruit liquor. Cover with plastic wrap so the wrap is directly on top of the curd (no air in between). Refrigerate while you make the sponge cake.
Sponge Cake
Grease a 9 x 13" jelly roll pan (I use cooking oil and a paper towel). Line the bottom with parchment paper and grease the top of the parchment paper.
Place egg yolks and ¼ cup sugar in a large bowl. Beat on high until the yolks are pale and thick.
Stir in cocoa powder, vanilla and salt.
Place egg whites in a separate bowl and beat on high with a whisk attachment for a minute. Add cream of tartar and beat until soft peaks form. Gradually add remaining sugar and beat until stiff peaks form.
Fold egg whites into chocolate mixture one third at a time. Spread in prepared pan. Bake at 375°F for 15 minutes. Top should feel springy when it's done.
Let cool in pan until warm to the touch but not hot. Loosen the sides with a sharp knife. Sprinkle top with powdered sugar and invert onto parchment paper. Let cool completely.
Spread orange curd evenly on top of cake. Spread melted chocolate on top of orange curd. Cut into bars.
Notes
You can substitute 1 cup orange marmalade for the orange curd.

[promosimple id="b3c7″]
You might also like

Chocolate Coconut Orange Mousse Cake
Chocolate Orange Cashew Pastries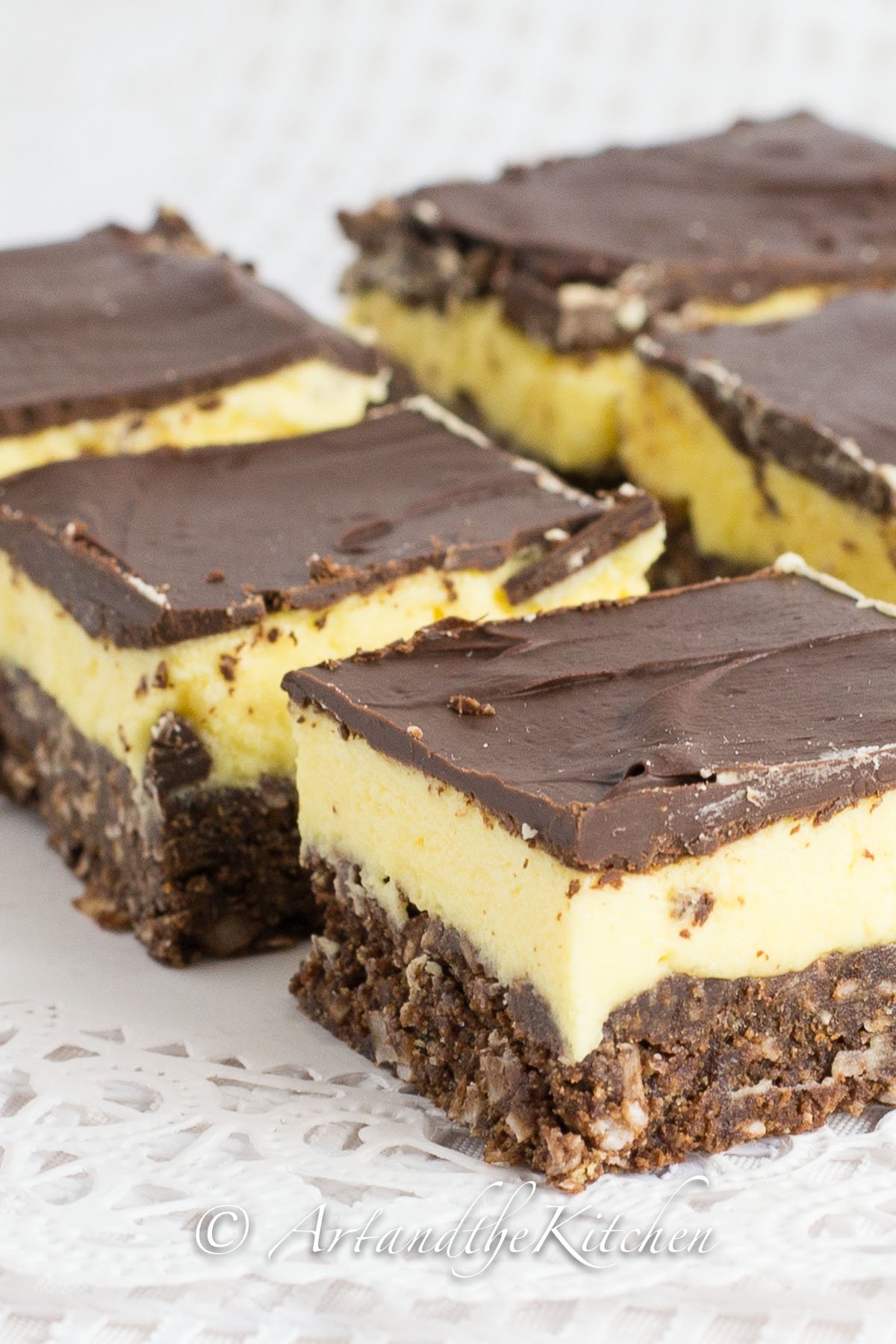 Nanaimo Bars from Art and the Kitchen