Dark chocolate peppermint ganache, moist, flourless chocolate sponge cake, and minty whipped cream filling make this flourless chocolate mint cake log perfect for Saint Patrick's Day or Christmas.
Saint Patrick's Day is just a week away. Becks is coming home on Monday for spring break and she's bringing one of her friends. My son, Tim, got a place of his own and is moving out today. On top of that some roses I ordered came in yesterday and I need to get them planted. So I'm spring cleaning, gardening and stocking up on treats.
I can't imagine celebrating without a cake. Roll cakes are so fun and not really as hard as they look. This one is small so you don't have to roll it while it cools. The flourless chocolate sponge is also really flexible so it doesn't crack like my Buche de Noel does.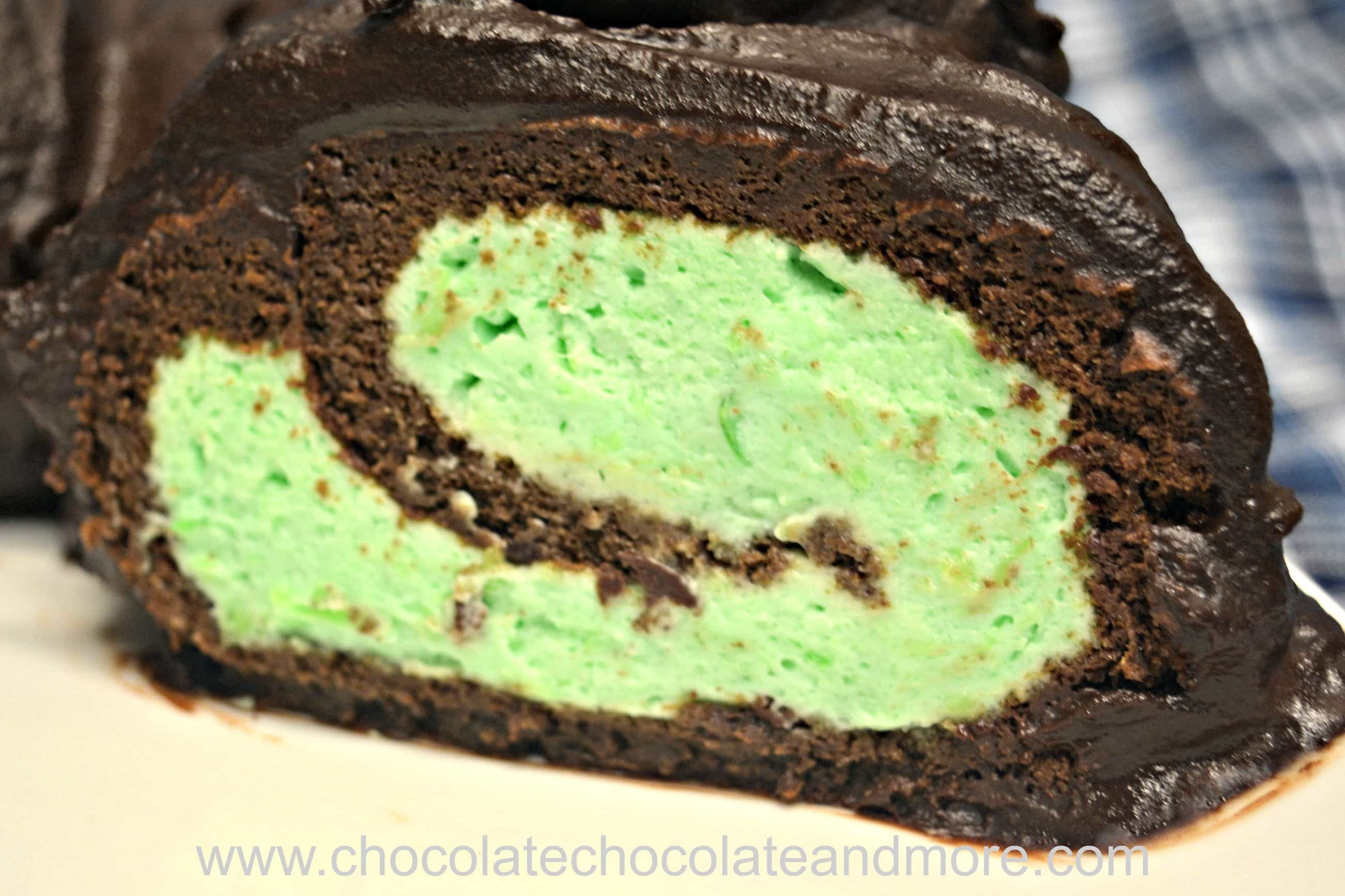 I love chocolate and mint together. You just can't go wrong. I also love whipped cream filling in a chocolate roll cake. It reminds me of Ding Dongs. This cake has Creme de Menthe in the whipped cream filling but you could use peppermint oil and green food coloring for the same effect.
Last fall I learned a trick for making a tight roll on a roll cake. After you roll the cake, put the parchment paper around the cake and put a ruler on the top parchment paper with the long side of the ruler along the cake's edge. Hold the ruler and gently pull on the bottom parchment until the roll is as tight as you want it.
You can decorate your flourless chocolate mint cake log with shamrocks for Saint Patrick's Day or holly leaves and cinnamon candies for Christmas. Don't use holly berries as they're poisonous. Supposedly, the leaves can be brewed into a tea that's good for headaches. I just like how they look and it's an easy garnish.
Yield: 9 - 13 slices
Flourless Chocolate Mint Log Cake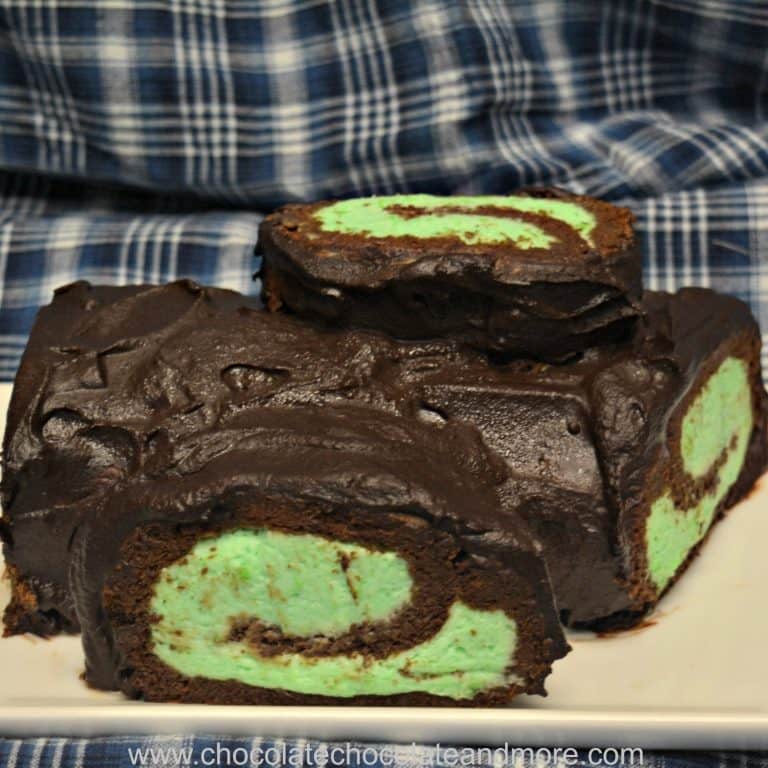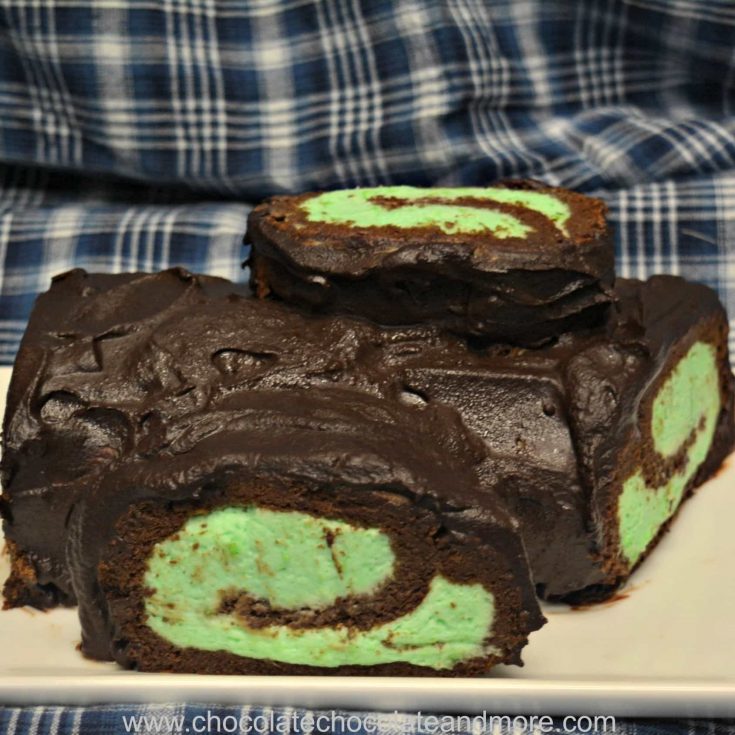 Prep Time 25 minutes

Cook Time 16 minutes

Additional Time 9 minutes

Total Time 50 minutes
Ingredients
Sponge cake
4 large eggs separated, room temperature
½ cup granulated sugar (divided)
¼ cup cocoa powder
1 teaspoon vanilla
1/8 teaspoon salt
pinch of cream of tartar
Powdered sugar
Filling
1 cup whipping cream
¼ cup powdered sugar
½ packet (1 ¼ teaspoon gelatin)
1 tablespoon hot water
¼ cup crème de menthe or 1 teaspoon peppermint extract and a few drops for green food coloring
Dark Chocolate Peppermint Ganache
¾ cup chopped dark chocolate or semisweet chocolate
⅓ cup heavy whipping cream
2 teaspoons peppermint oil
Instructions
Chocolate Sponge cake
Grease a 9 x 13" jelly roll pan (I use cooking oil and a paper towel). Line the bottom with parchment paper and grease the top of the parchment paper.
Place egg yolks and ¼ cup sugar in a large bowl. Beat on high until the yolks are pale and thick.
Stir in cocoa powder, vanilla and salt.
Place egg whites in a separate bowl and beat on high with a whisk attachment for a minute. Add cream of tartar and beat until soft peaks form. Gradually add remaining sugar and beat until stiff peaks form.
Fold egg whites into chocolate mixture one third at a time. Spread in prepared pan. Bake at 375°F for 15 minutes. Top should feel springy when it's done.
Let cool in pan until warm to the touch but not hot. Loosen the sides with a sharp knife. Sprinkle top with powdered sugar and invert onto parchment paper. Remove the bottom parchment (which is on top now). Let cool completely.
Mint Whipped Cream
Beat whipping cream until soft peaks form. Sift powdered sugar over bowl and beat to combine.
Dissolve gelatin in hot water. Mix in Crème de Menthe and add to whipped cream. Beat until stiff.
Dark Chocolate Peppermint Ganache
Heat whipping cream until scalding hot. Add chocolate and let sit for a few minutes. Stir until smooth. Stir in peppermint oil.
Assembly
Spread the peppermint whipped cream over the top of the sponge cake. Leave about 1 inch bare along one side. You will roll the cake toward that side and the filling will spread into the gap.
Use the parchment paper to roll the cake. I rolled mine starting with the 9 inch side so I had a shorter, fatter cake. You can roll along the 13 inch sides to make a longer narrower cake.
When you have rolled the cake, wrap in the parchment paper and refrigerate a few hours until set.
Place the log on the serving plate seam side down and cover with the dark chocolate peppermint ganache (I used a spoon to sculpt mine). If desired, cut the ends off and use as branches.
Refrigerate until ready to serve.
If you like this recipe, you might also like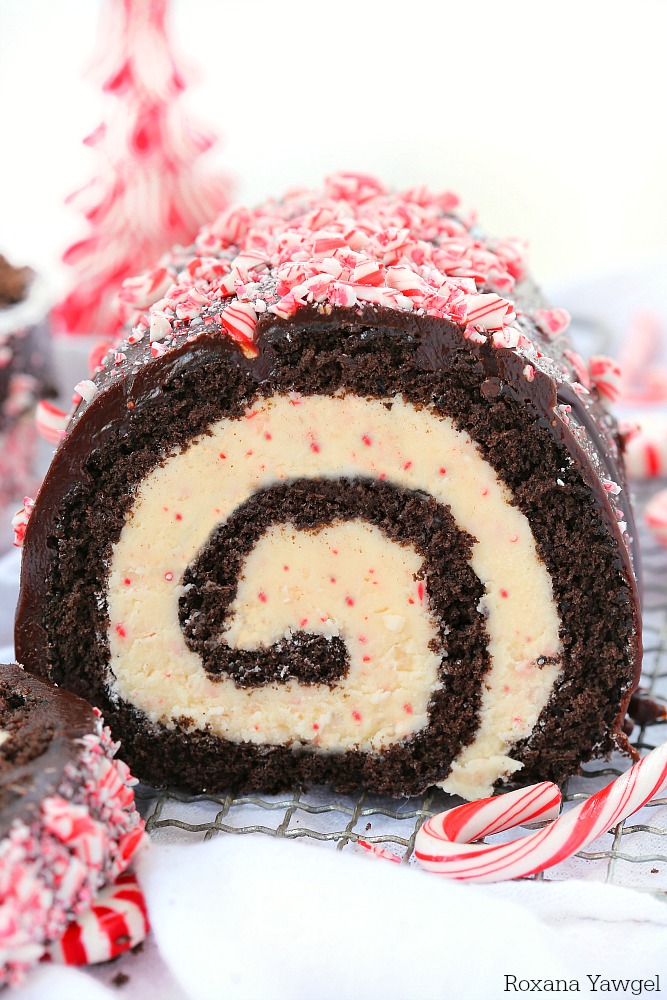 Chocolate Peppermint Bark Cake Roll from A Treats Affair
Midnight Mint Chocolate Cupcakes