You need just three ingredients for this easy salted caramel ice-cream so you can whip it up in a jiffy. Enjoy it plain or add chocolate chips and pecan pieces for turtle ice-cream.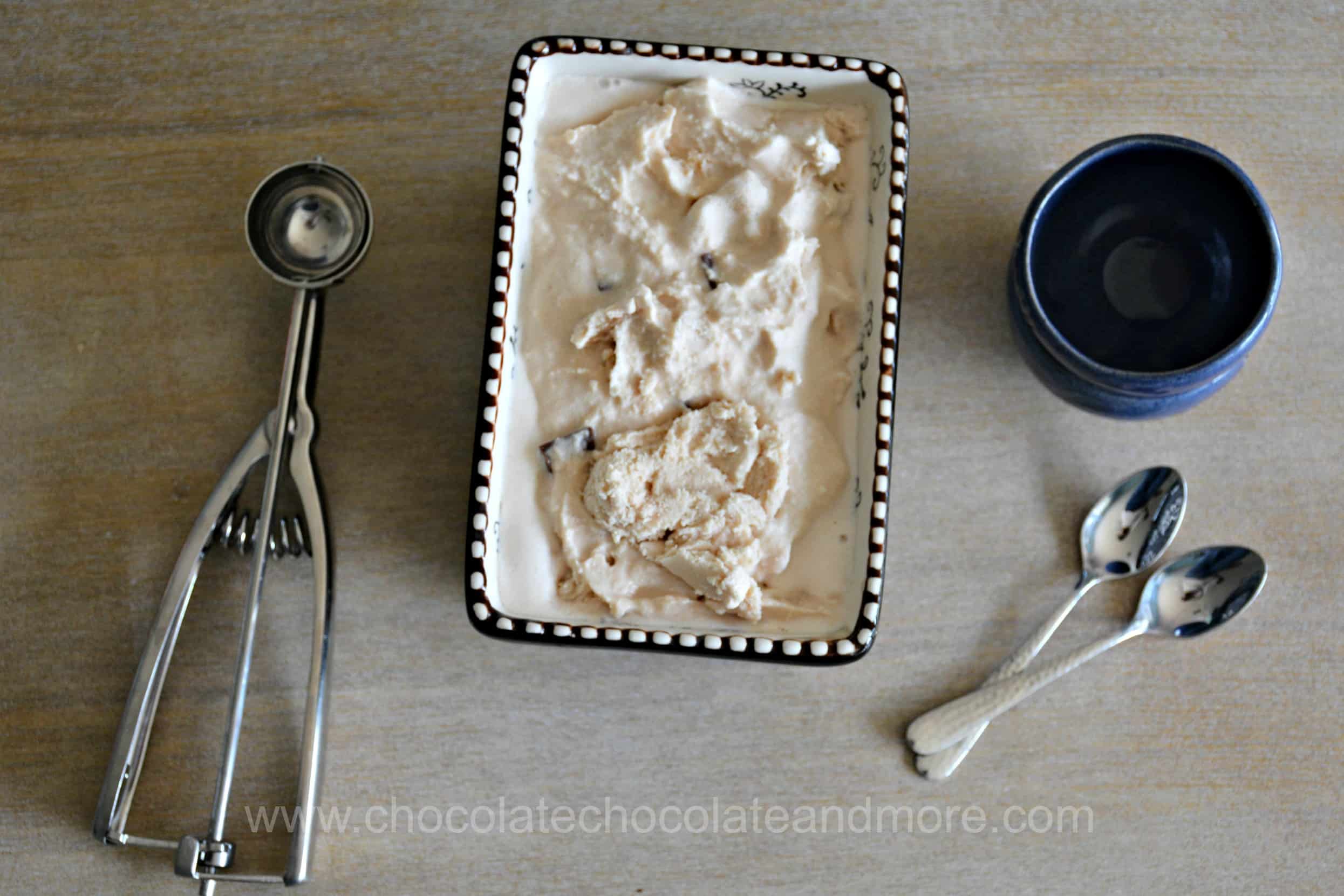 A few months ago Dilettante chocolates contacted me to do a post. I've had their chocolates before. Kids around here sell them for school fundraisers and I'm a sucker for school fundraisers – especially if they involve chocolate.
I already knew Dilettante chocolate bars were high quality so I asked to try their sauces and espresso beans. They sent me a few of their desert toppings and a bag of their chocolate covered espresso beans.
The Sea Salted Caramel Sauce Dessert Topping is also incredible. It's much thicker than other brands' caramel sauces. In fact, I'm thinking about putting the rest of the jar in the fridge to make it more solid so I can use it as a filling for chocolates.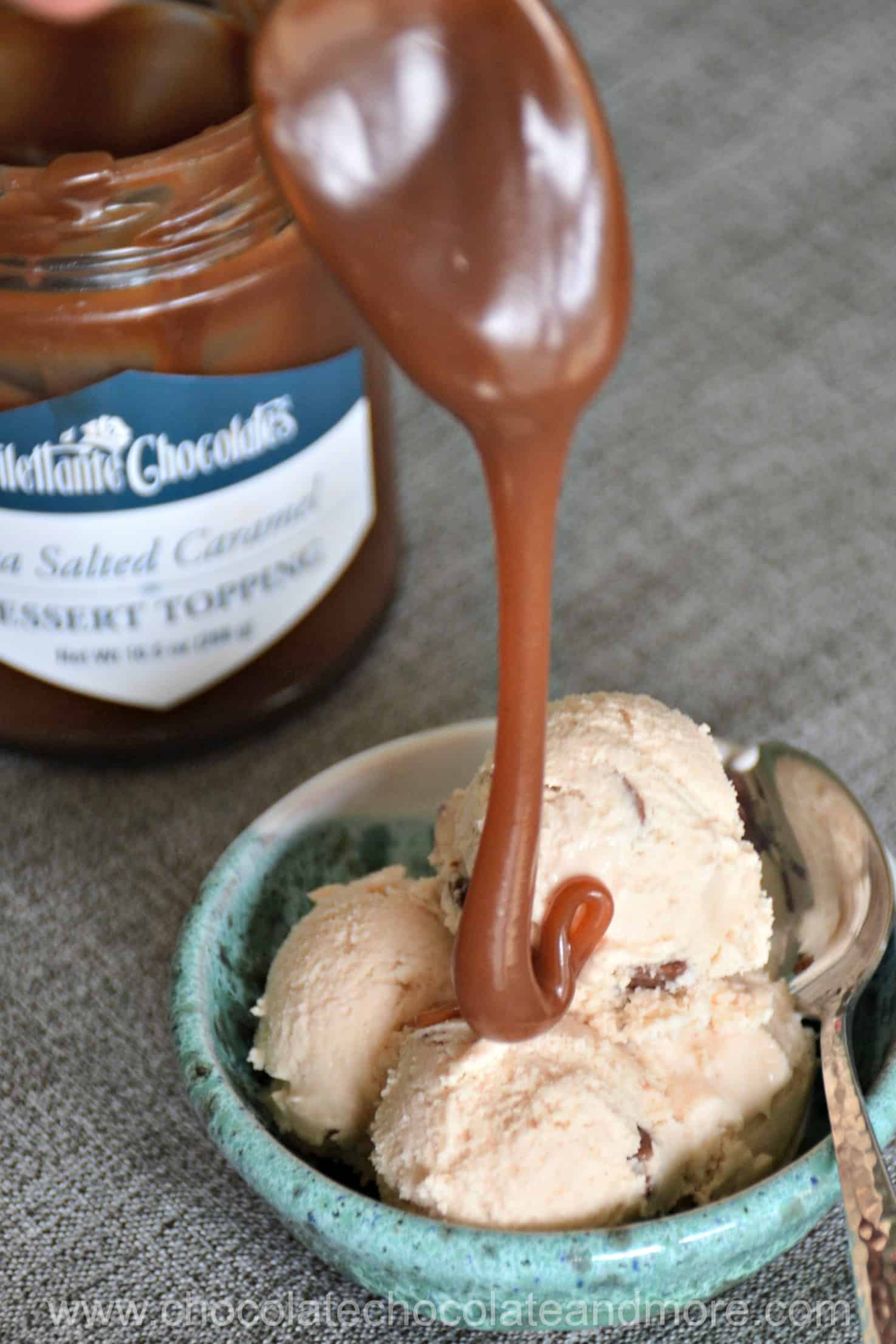 I've been having problems with my oven. It was heating up but not holding the temperature. The repair man told me that the control panel was going and they don't make replacement parts for my oven any more.
It completely died on Thanksgiving morning. It's a wall oven so I had to special order a new one. That one won't be here until December 5 so I'll be concentrating on no-bake desserts for a while.
I made a wonderful turtle ice-cream in September. It starts with homemade caramel and that requires attention. With the holidays, I'm short on attention so it's time to streamline.
The other thing I love about this easy salted caramel ice-cream is its versatility. I added some milk chocolate chips to mine for a caramel candy flavor. You can add toasted pecans for a butter pecan flavor or add both for a pecan turtle flavor. Or, just enjoy it plain. You really can't go wrong.
Of course I did some taste-testing while I was making this. The hot milk with caramel sauce makes a wonderful winter drink. You could think of it as a hot caramel instead of a hot chocolate. Top it with whipped cream and a little chocolate sauce for a holiday treat.
I hope you enjoy this as much as my neighbors and I did!
Yield: a little over 1 quart
Easy Salted Caramel Ice-Cream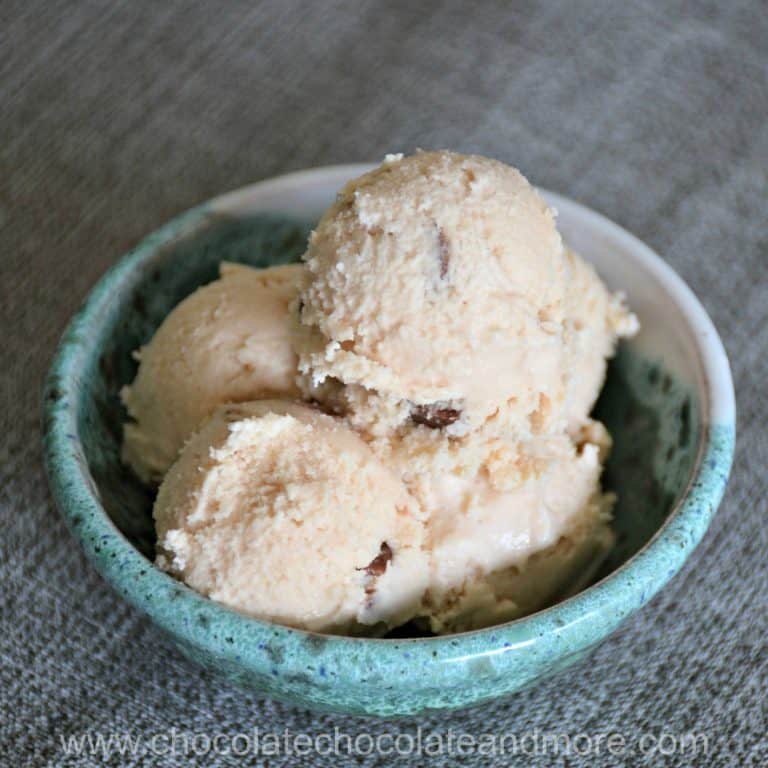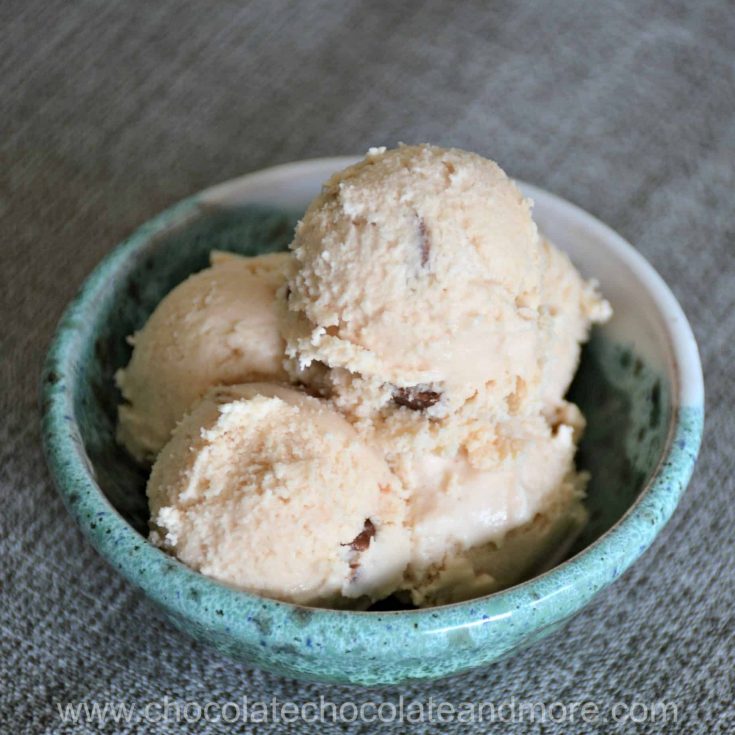 Prep Time 10 minutes

Cook Time 30 minutes

Total Time 40 minutes
Ingredients
Ice-cream base
1/2 cup Dilettante Salted Caramel Sauce
2 cups whole milk
2 cups whipping cream
1 cup milk chocolate chips
1 cup toasted pecan pieces
Instructions
Heat the milk so that it is hot to the touch. Stir in the salted caramel sauce until it is completely dissolved in the hot milk.
Mix in the cold whipping cream.
If needed, refrigerate to get it cold enough for your ice-cream maker.
Freeze according to ice-cream maker directions.
If desired, add 1 cup milk chocolate chips and 1 cup pecans when the ice-cream is almost frozen.
Notes
This recipe can easily be cut in half for a smaller portion. If you add the mix ins, you will have about 1 1/2 quarts ice-cream.
Nutrition Information:
Yield:
12
Serving Size:
1/2 cup
Amount Per Serving: Calories: 302Total Fat: 26gSaturated Fat: 13gTrans Fat: 0gUnsaturated Fat: 11gCholesterol: 52mgSodium: 51mgCarbohydrates: 15gFiber: 1gSugar: 13gProtein: 4g

Nutrition information is provided as a guideline only. Please consult a dietitian if you have specific dietary requirements.

You can buy a single jar of Dilettante Sea Salted Caramel Sauce for $8.65 on their website.
Or if you have Sea Salted Caramel lovers on your Christmas list, you can buy a 3 pack from Amazon for $24 – Dilettante Sea Salted Carmel Sauce Dessert Topping (3 pack)
While you're on the Dilettante site, check out their Ephemere Dark Chocolate Dessert Topping. It literally is truffles in a jar! I plan on making another ice-cream recipe featuring this decadent topping (if I can keep myself from eating it plain).
And, don't forget the chocolate covered espresso beans. I'll be ordering some of those for stocking stuffers since I had to chase Becks away from the ones they sent me.