Creamy Lemon Bars are not too tart and not too sweet – perfect for a summer picnic!
Lemons are a key part to summer refreshment — you can have them in pie, in all kinds of lemonade, on top of your favorite seafood dish. Some prefer their lemon treats tart, some prefer sweet– personally I like right in the middle. I have had various types of lemon bars, but this Creamy Lemon Bar recipe is one that I found on the website of my favorite local grocery store (Wegmans.com) after being given one of theirs at a recent summer picnic.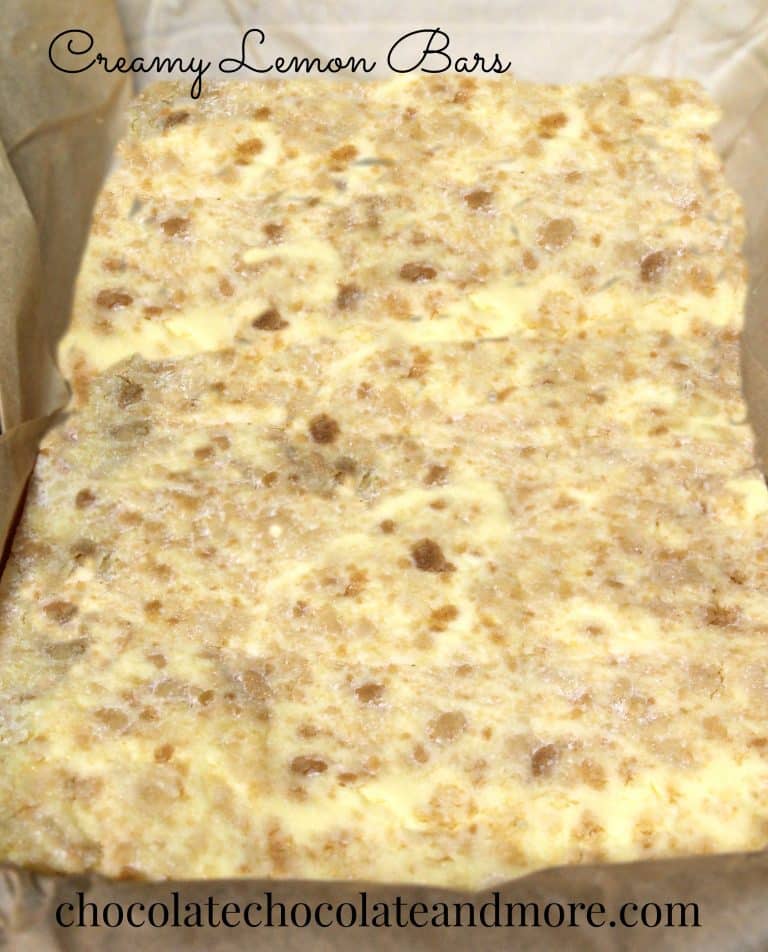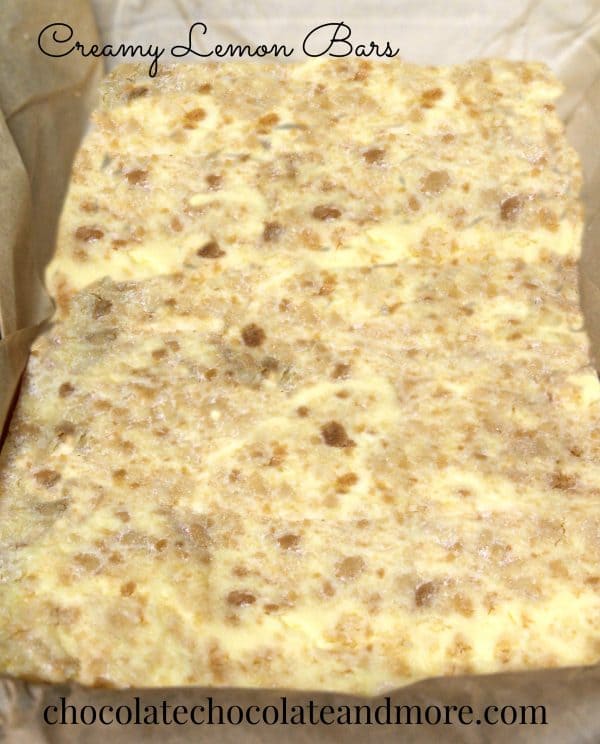 I'll be honest with you — these might be the best lemon bars you ever try. They are a little more sweet than tart (thanks to an added topping of powdered sugar)– just the kind of bright and refreshing treat to have with some fresh berries on top, or a dollop of whipped cream. If you like your lemon treats a little more tart, leave the powdered sugar off the top and replace it with a little bit of lemon zest.
This isn't a quick or relatively easy recipe — there are three stages, they take about an hour to make, and it is suggested you chill the completed bars for about three hours before serving. That said, the finished product is well worth the time and effort you put into creating these creamy treats.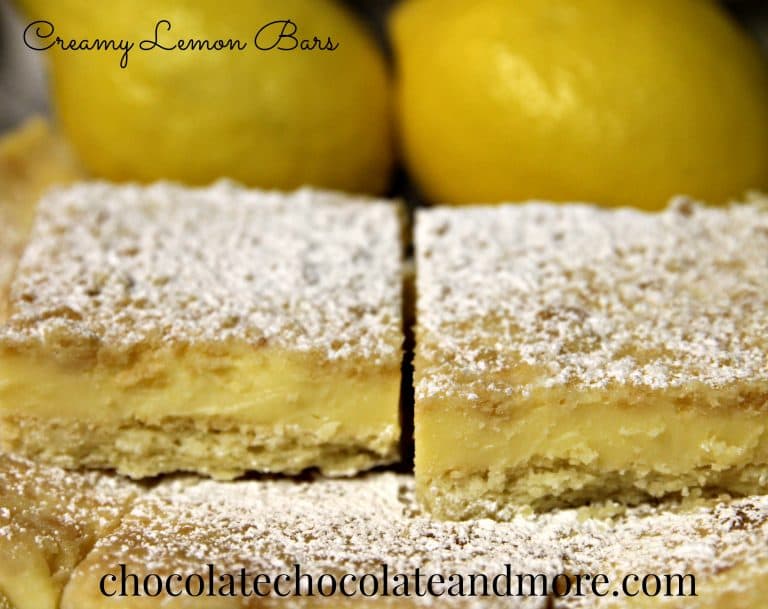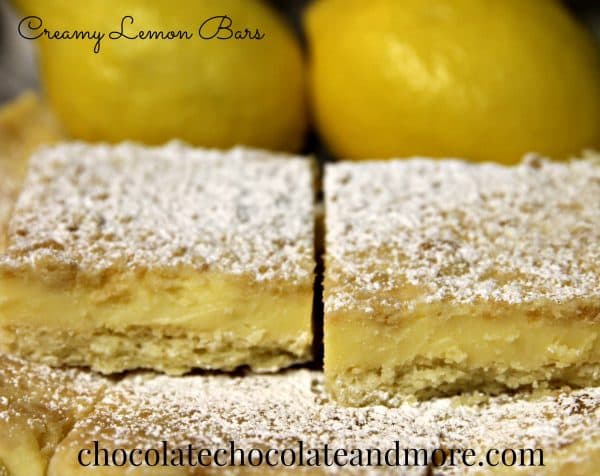 Creamy Lemon Bars can be cut into any size bar you want. I did 24-2″ squares, but you can cut them larger or smaller depending on how many you need. Considering Wegman's sells theirs for $2 each (or $48 a pan), it is a whole lot cheaper to make these at home! I topped mine with fresh raspberries, served them with a tall pitcher of iced raspberry lemonade — and everyone agreed it was a perfect way to beat the summer heat!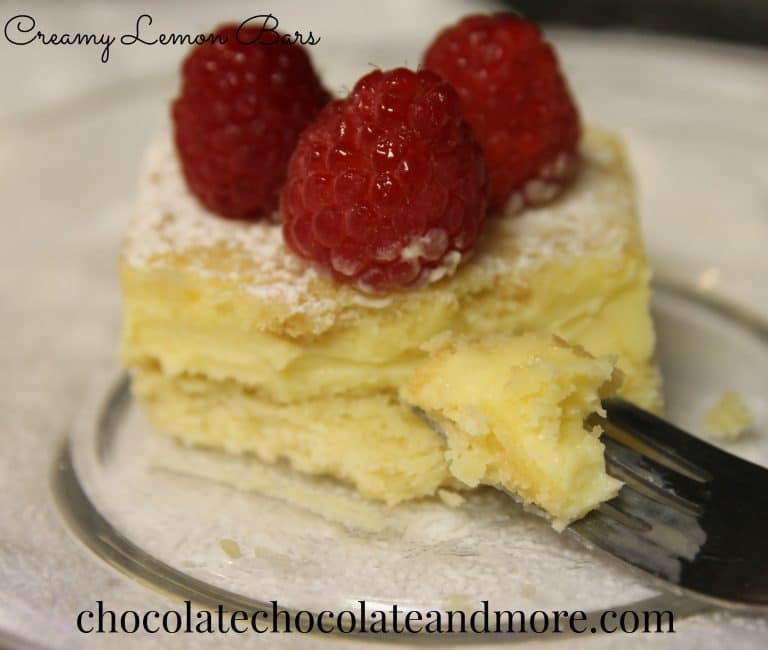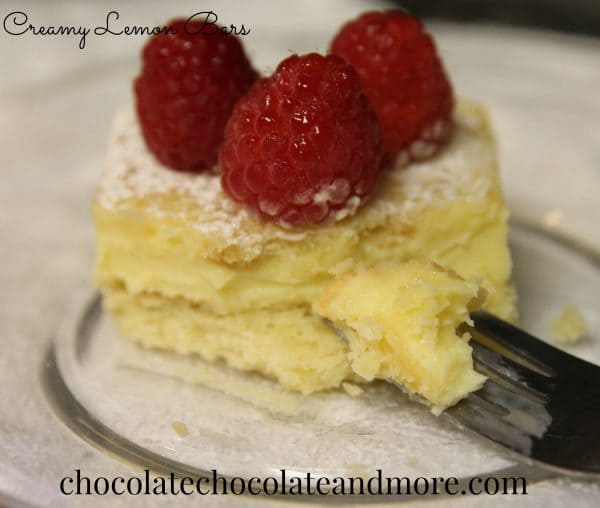 Creamy Lemon Bars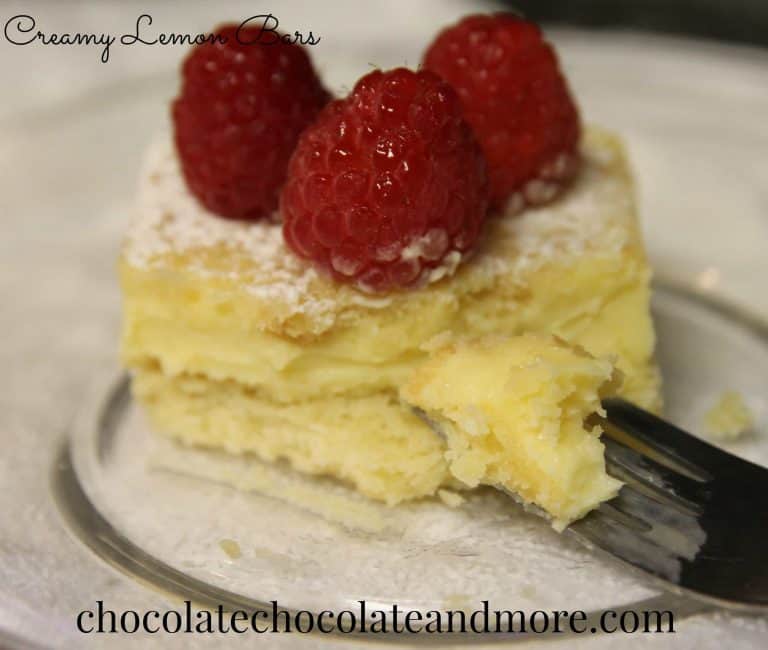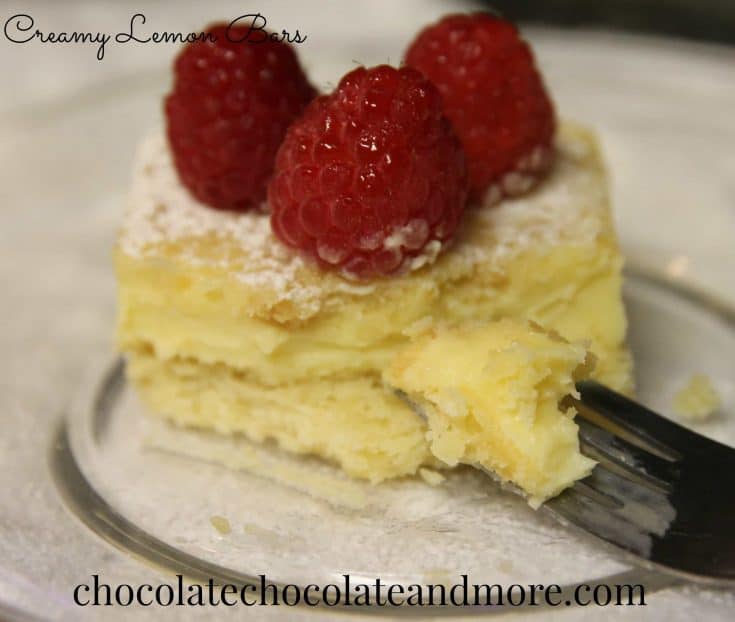 Ingredients
12 tablespoons (1 1/2 sticks) softened unsalted butter
1/3 cup granulated Sugar
3/8 teaspoon salt
1 egg yolk
3/8 teaspoon vanilla extract
1 1/2 cups all-purpose flour
2 tablespoons unsalted butter
1 tablespoon vegetable shortening
2 1/2 tablespoons granulated sugar
1/2 tablespoon honey
1/4 teaspoon salt
1/4 teaspoon vanilla extract
1/2 cup all-purpose flour
1 1/4 teaspoon unflavored gelatine
4 teaspoons water
3 eggs, slightly beaten
1 1/2 cups granulated sugar
1 teaspoon lemon zest (1/2 lemon)
1/4 cup plus 1 teaspoon lemon juice (about 1 1/2 lemons)
1 cup (2 sticks) plus 2 tablespoons softened unsalted butter
1/4 cup powdered sugar
Instructions
Line bottom and sides of 13" x 9" baking pan with parchment paper.
In a mixing bowl at low speed, cream butter, sugar, and salt.
Add egg yolk and vanilla extract..
Slowly add flour and mix on low until combined.
Press dough evenly into a layer in baking pan.
Refrigerate 1 hour.
30 minutes into chilling the dough, preheat oven to 350 degrees and begin making crumble topping.
In a stand mixer (or food processor) at low speed, combine butter, shortening, and sugar.
Cream until combined and lightened, scraping bowl as needed.
Add honey, salt, and vanilla extract and mix until combined.
Slowly add flour and combine until pea-size crumbles form.
Spread crumbles on baking sheet and bake 8-10 min or until brown.
Set aside and allow to cool.
Take the chilled dough out of the refrigerator, prick several times with a fork, and bake 30-35 min or until light brown in color.
While the crust cools, make the lemon cream filling.
Using a small bowl, sprinkle gelatine over water and allow to set.
Using a double boiler over medium heat, combine eggs, sugar, lemon zest and lemon juice, heating to 170 degrees, stirring occasionally: about 8 minutes.
Stir in softened gelatine.
Remove pan from stovetop and let mixture cool to 130 degrees.
Place lemon cream mixture into mixing bowl (or food processor) and add butter until smooth and creamy.
Pour lemon cream mixture over base in pan; sprinkle crumble evenly on top.
Cover and chill approximately 3 hours.
Once chilled, Sprinkle top with powdered sugar (or lemon zest if you want more tart than sweet).
Lift bars using parchment paper and slice into 2" squares (or whatever size you need).
Serve as is, or topped with fresh berries or whipped cream.