These cream filled brownie bites are a yummy mix-up on your basic brownie recipe. The best part of having a creamy filling is that you can make it any flavor your little heart desires! And top it all with a rich chocolate frosting? I just hope this doesn't send you into a sugar coma!
I recently received a wonderful package of goodies from Cocoa Metro, who make amazing, non-alkalized chocolate products from organic Belgian chocolate (you can find their line of products in your local Whole Foods, Fresh Market, Meijers, and even some Targets!)
For this recipe, I used their Belgian Cocoa Powder and chocolate and vanilla extract (yes, the extract has chocolate AND vanilla in it!) Because of the flexibility of this recipe, if you want to change up the flavor, it is as simple as changing the flavor of the extract you use.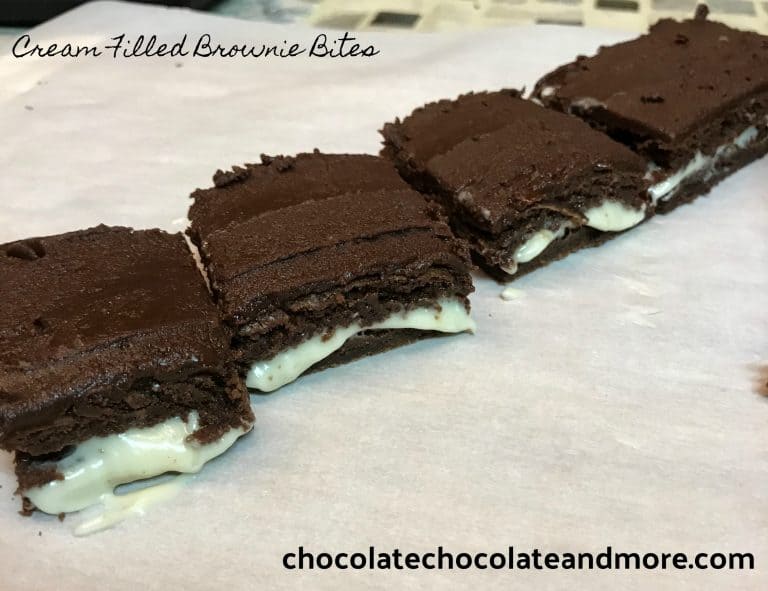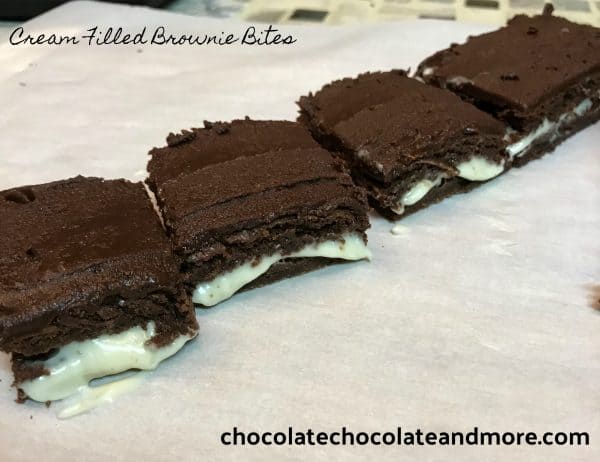 There are three different parts to this recipe — the brownies, the filling and the icing. I was able to make the filling while the brownies baked. I made the icing while the brownies cooled.
You want to make sure you have already made the "brownie sandwich" before you make the icing. The icing is spreadable as soon as you are done whisking it. However, if you allow it to cool, it will get clumpy and will be hard to spread.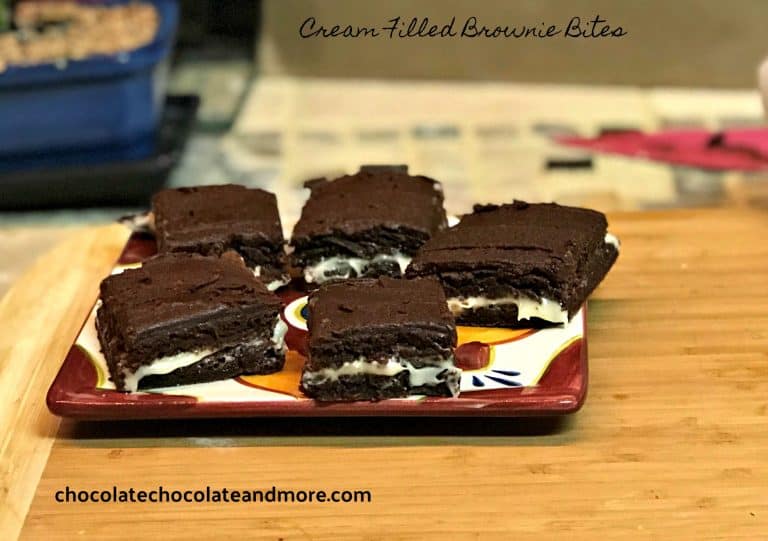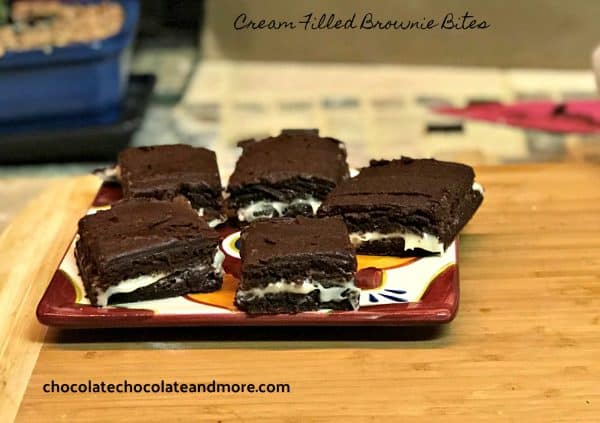 After you frost the brownies, it works best to refrigerate them for about 10 minutes to allow everything to set. This makes it easier to cut into squares without the filling oozing out.
I cut my Cream Filled Brownie Bites into small squares, however you can cut yours into any size or shape you like. You can also top with nuts, berries, candy pieces — whatever you'd like. This is a highly customizable recipe, which is one of the reasons I love it!
Cream Filled Brownie Bites
Ingredients
BROWNIE MIX
1/2 cup butter or margarine (1 stick)
1/3 cup Cocoa Metro Belgian Cocoa
2 eggs
1 cup sugar
1/4 teaspoon baking powder
1/2 cup all-purpose flour
1/4 teaspoon salt
1 teaspoon Cocoa Metro chocolate and vanilla extract
FILLING
4 oz. cream cheese
1 1/2 cups powdered sugar
2 tablespoons softened butter or margarine
1 teaspoon Cocoa Metro chocolate and vanilla extract
ICING
1/4 cup granulated sugar
2 tablespoons water
1/2 cup chocolate chips
Instructions
Preheat oven to 350°F.
Grease a large 9" x 13" baking pan or 15" x 10" jelly roll pan.
Melt butter in small saucepan (be careful not to brown!)
Remove from heat and mix in Cocoa Metro cocoa powder until smooth.
In a separate bowl, beat eggs on low speed.
Gradually add sugar, beating until smooth.
Combine flour, baking powder and salt and add to egg mixture.
Mix in cocoa mixture and Cocoa Metro chocolate and vanilla extract, beating until smooth
Spread batter in prepared pan and bake 12 to 14 minutes or until top springs back when touched lightly in center.
Cool completely in pan on wire rack, and then turn onto a flat surface or cutting board.
Cut brownie in half making two equal sections.
Spread one half with the cream cheese filling (see below) and then top with second half.
Spread the icing (see below) (you can add nuts or other topping if desired.)
After icing has set, cut into bite-sized pieces.
CREAMY FILLING:
Cream together the softened cream cheese, softened butter or margarine and Cocoa Metro chocolate and vanilla extract in a small bowl. Gradually add powdered sugar, and mix until smooth and creamy.
ICING
In a small saucepan over medium-high heat, bring sugar and water to boiling.
Remove from heat, and whisk in chocolate chips, stirring until melted.
Looking for more flavored brownies?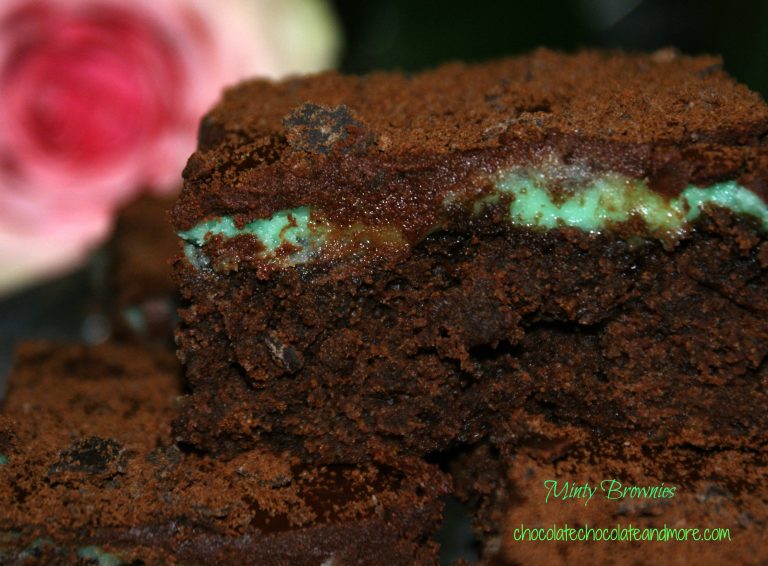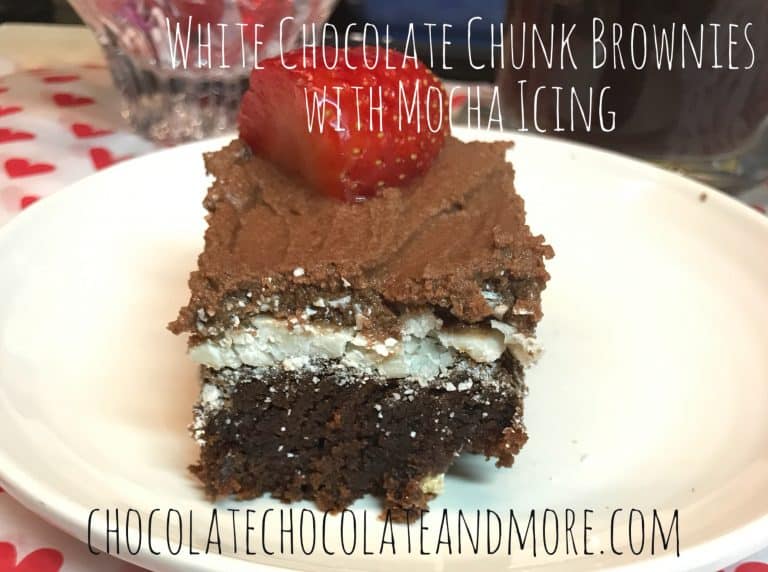 White Chocolate Chunk Brownies with Mocha icing