Chocolate zucchini loaf — not a combination you would usually think of, right? Well this recipe combines a lot of chocolate and a little zucchini to make a delicious treat that might help you sneak some veggies into your child's diet (or yours!)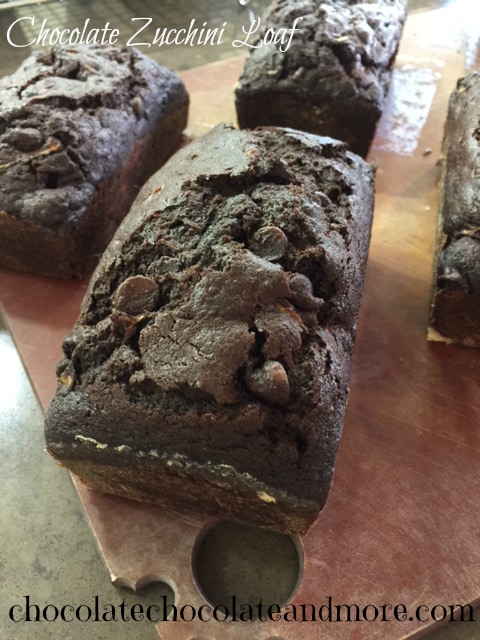 I will admit I am one of those that is NOT a fan of zucchini — or any other squash for that matter. No matter how it has been sliced, baked, or fried, nothing has gotten me to eat it — until now. I recently attended a cooking class at my local Sur la Table, and they showed me that when you make the zucchini small enough, and the chocolate chocolaty enough, you can forget there is anything healthy in your sweet treat. The trick to sneaking the veggie into the loaf is making it as small as possible (unless you like zucchini, then you don't need to make it quite the way I did.)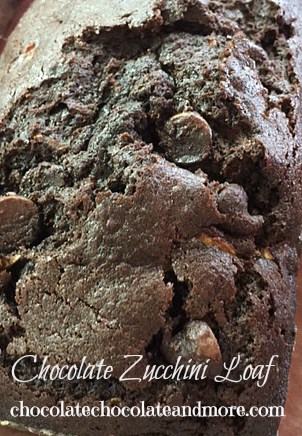 The chocolate in this recipe is provided by cocoa and chocolate chips. The recipe calls for Dutch cocoa — this doesn't mean you have to find cocoa powder from Holland.
In this case "Dutch" is the process in which the cocoa powder is created. (For a good read on the differences between "natural" and "Dutch" processes, I would suggest reading this article from Serious Eats.)
Dutch cocoa has a "neutral" acidity, which means it won't react with other ingredients like baking soda. This also means it will dissolve easier into your recipes, and make them a deeper, darker brown than your lighter "natural" cocoa powder.
Natural cocoa is less processed, more acidic, and thus more bitter. If you grab a container of Hershey's cocoa powder (NOT the dark version), that is Natural cocoa. The Hershey's Special Dark cocoa powder is the Dutch cocoa.
So what does all of this mean? Well, the simple answer is this: if you use Natural cocoa in a recipe with baking soda, they will react with each other and cause your product to "rise" as part of the baking process.
Dutch cocoa will act more as a leavening agent for your baking soda, and thus your recipe won't rise quite as much. In this recipe, it calls for the Dutch, but if all you have is the natural, that is fine, it just might not be quite as rich a chocolate final product.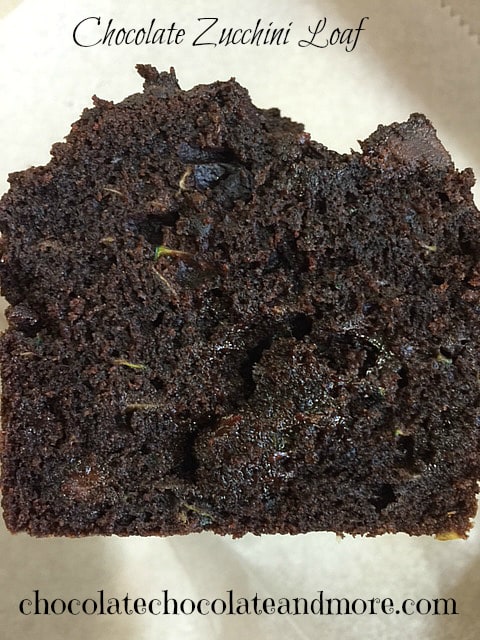 As for the zucchini part of this recipe, as you can see in the picture above, the smaller you chop it, the harder it is to find in the finished product.
If you are a big fan of the squash, then you might want to add larger pieces to have more flavor from the zucchini in the loaf. (I wouldn't suggest large chunks as the moisture from the chopped zucchini is part of what holds this final product together, but smaller chunks likely would work.)
Regardless of how you mix the zucchini and the cocoa, the end product will be a delicious treat with a healthy bend that will make everyone happy!
Chocolate Zucchini Loaf
Ingredients
3/4 cup coconut oil (heated until liquefied) or vegetable oil
1 1/4 cups granulated sugar
1 teaspoon fine sea salt
2 large eggs
1/2 cup plain yogurt
4 cups shredded zucchini
1 teaspoon vanilla bean paste or extract
2 cups unbleached all-purpose flour
3/4 cup Dutch-process cocoa powder
1 teaspoon baking powder
1/2 teaspoon baking soda
1 cup chopped semisweet chocolate (or chocolate chips)
Confectioners' sugar, for dusting cakes
Instructions
Preheat oven to 350 degrees F.
Lightly grease two (6 cup) mini bundt cake or mini loaf pans
In a large mixing bowl, whisk together oil, granulated sugar, salt, eggs, yogurt, zucchini and vanilla
Sift together flour, cocoa powder, baking powder and baking soda into the bowl with wet ingredients
Mix together just until combined
Add chopped chocolate or chocolate chips
Pour batter in equal amounts into prepared pans
Bake for 25 minutes, or until a tooth pick or other cake tester comes out clean when inserted into the center of the cake
Turn out onto wire rack and allow to cool completely
Dust with powdered/confectioners sugar before serving